Yacht Broker Shows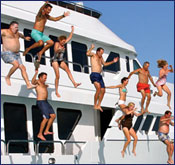 Annually there are two charter luxury yacht boat shows produced for brokers in the Virgin Islands.
One in the British Virgin Islands and the other in the US Virgin Islands. Motor yacht shows have been growing larger and larger, year after year. In these lush aquatic playgrounds of the Virgin Islands the mega yacht has become more and more prevalent as demand for luxurious yacht vacations continues to grow.
These magnificent power yachts are run by professional captains and extremely competent crew members. The crews and captains live on board year round, with the yacht owner frequently asking the captain to move to other island destinations once they have fully enjoyed the splendors of one location.
The purpose in having annual yacht charter broker boat shows is to display an owners' super mega yacht to agents that can acquire customers to book a super yacht vacation or corporate event.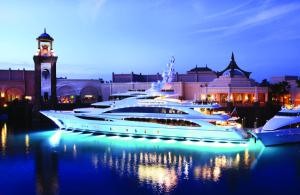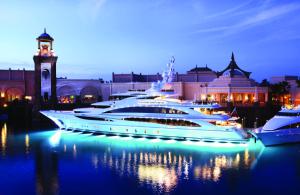 A yacht charter group should inspect all the power yachts on display as well as meeting the captain and crew members so these shows are for charter brokers, including allowing them to discover which are the better vessels and are crewed with the better teams.
Barrington-Hall has been chartering yachts since 1990 and have had many opportunities to have taken our own pictures of all the yachts we charter as well as all the crew teams we have met. Our goal is have a cadre of quality of motor yachts available for charters and we do not focus on just having a large quantity of just any yachts.
We are in an envious position to show our guests current pictures of the crew as well as the vessels we represent.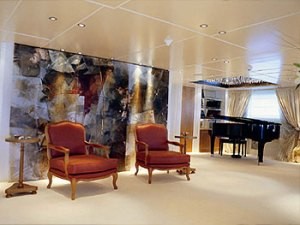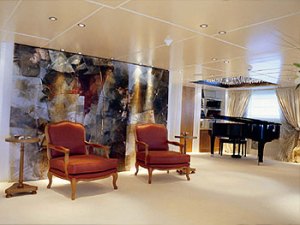 Barrington-Hall is frequently invited by the motor yacht owners to enjoy a lunchtime meal or a super luxury breakfast aboard these luxurious yachts. The benefits are that we get to experience the level of service the crew provides. Additionally, we have enjoyed the excellent cuisine that our guests can enjoy while on board a private yacht vacation.
View this video to see the level of world class service and tantalizing foods available to please even the most discriminating pallets during your stay on board. Of course the large power yacht may well have the better cuisine on board but here is a delightful entry level power boat with a wonderful captain and a magnificent chef on board.
The motor yacht Flame is 65 feet long and is a magnificent vintage power yacht that we enjoyed immensely. So surprised by the quality of this vessel that when asked, the captain took 2 of us out for an entire day to enable us experience the yacht first hand and get acquainted with the crew. We were impressed by the quality and preparation of the cuisine that was served to us on board.
You can view the 65' Flame Video here and at just $15,500 for a week long all-inclusive vacation for 6 adult guests, it is a steal.
After the British Virgin Islands it is off to the wonderful United States Virgin Islands and to inspect their power boats for the next year.
Each year these 2 boats shows alternate with their dates.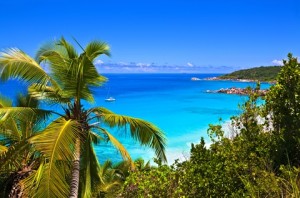 A week in the beautiful Virgin Islands may not be long enough to satisfy your need to see where mother nature combined coral reefs and islands so close together. Foot print free beaches, gin clear water, coconut palms and water sports to keep every child and adult happy. Scuba diving, snorkeling, water skiing, kite surfing, paddle boarding and even ocean kayaks to explore mangrove coves.
There are 32 islands and cays which form the British Virgin Islands. Their beauty above all else is that these islands are formed in a semi-circle which prevents the ocean swell from entering a 25 mile by 5 mile which protects the area so motion problems are never a problem. A perfect aspect is that each island is within eye sight meaning your private yacht can cruise from island to island in about 20 minutes.
This is flat water even when the wind is blowing which is very unusual.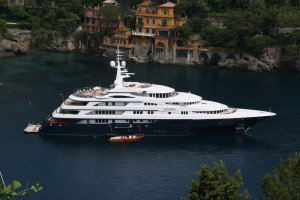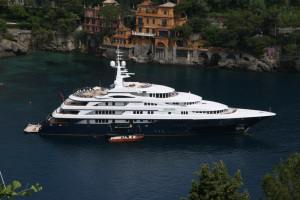 You can cruise in your mega yacht to out of the way hotels and 5 star hotels dotted on various islands in the sun including two locations where you can find an honor bar.
What is an honor bar?
An honor bar is where you walk into a restaurant which is totally open during the day and not one person is in sight, where a fully stocked bar awaits quests for the evening meal and you are welcome to drink whatever you wish to drink. An example is Wilfred's Restaurant, where when you are ready to go you leave the amount of USD on the table for the staff to find when they start their 4-11 shift. Wilfred's is at Pomento Point on Anageda.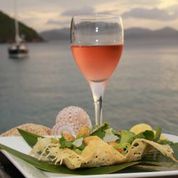 A second honor bar is at Bira's Creek on a lovely beach facing east, this beach has water toys and coconut palms and in one corner you will find an open round thatched cabana.
Look behind the bar and open the wooden refrigerators, there is almost any drink you can imagine. When you leave, have your captain lead you on the beautiful walk to Bira's Creek Hotel to settle up.
Visitors don't want miss going to the Soggy Dolla Bar during the day. You can order their now famous "Pain Killer" or enjoy a night under the coconut palms at Foxy's.
I highly recommend taking a walk around Sandy Cay where this little uninhabited island has thick under growth and leads up to a 75 foot cliff. So take your camera, flip flops and bug spray as this is a side trip well worth taking.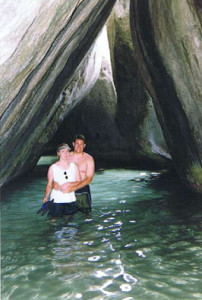 Also, the visit the famous Baths and then you can take a short stroll from the Baths to Devil's Bay which is another 'must do' walk. Don't forget to take your camera and flip flops.
Plus, if you have the time, visit The Bitter End Yacht Club and Caulaquon Barrier Reef where you can snorkel with your motor yacht captain on the outside of this barrier reef, not the simple side of this reef.
The United States Virgin Islands has some wonderful anchorages but no where near as many as the British Virgins.
Cruise on board your motor yacht in the privacy with your family and friends to Megan's Bay. Megan's Bay was recently rated the 8th best bay in the world by Conde Nest and it is simply gorgeous.
Other bays to visit while on your luxury yacht vacation are the Hawksnest Bay, Leinster Bay and Christmas Cove is a wonderful bay to stop and enjoy.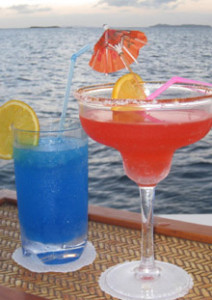 True story here: One evening we were sipping happy hour drinks on board our private yacht when we noticed what we thought was a dog swimming directly out from St John. The only island where the dog could be swimming towards would have been St Croix - located 33 miles away!
Knowing we would feel terribly guilty if we did not try to save the dog, we jumped into a tender and headed off in pursuit. Well, what we thought was a dog was not a dog at all - is was a wild deer!
We ended up getting the deer turned around in the right direction to be able to swim back to land. Once there, he wiggled his tail and quickly disappeared into the under growth of St John. Yes! There are deer in the Virgin Islands.
For luxurious yacht charters in the Bahamas, Caribbean and the Mediterranean call Barrington-Hall on 800-478-2029 or 954-720-0475.
We are professional yacht charter brokers assisting elite clients in their search for the ultimate dream vacation.
Luxury Yacht Charters