Greece Power Yacht Charters

Cyclades Charter Vacations
The Cyclades are a group of islands of varying sizes scattered over the deep blue waters of the Aegean. Some of them are well-known both to the public at large and the international 'jet-set', while others remain little known on the tourist scene. Taken as a whole, they make an ideal Greek sailing holiday destination for visitors of the most varied tastes.
Top 10 Greece Power Yachts All Greece Power Yachts
A fusion of stone, sunlight and sparkling sea, the Cyclades lie to the east of the Peloponnese and south-east of the coast of Attica; they stretch as far as Samos and Ikaria to the east, and are bounded to the south by the Cretan Sea. According to the most likely tradition, they owe their name to the national circle which they appear to form around the sacred isle of Delos.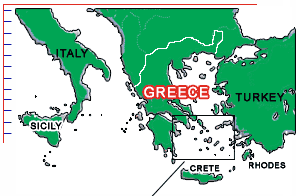 The Cyclades have exercised a powerful charm since ancient times, even though access to them then was not particularly easy. This was the birthplace of one of the Mediterranean's most important civilizations, one which took its name from the islands: the Cycladic civilization (3000 - 100 BC). Geologists attribute the peculiar form which the Cyclades take today to a succession of geological upheavals - earthquakes, volcanic eruptions, movements of the earth's crust - which resulted in the submergence of large chunks of land. Many believe that one such stretch of land was the lost continent of Atlantis.
Top 10 Greece Power Yachts All Greece Power Yachts
The diverse outlines of the islands as they protrude from the blue waters of the Aegean, bathed in the dazzling sunlight and embellished with little white houses, resemble, in the words of the Noble Prize-winning poet Odysseas Elytis, "stone horses with rampant manes", Above all, the people who live here, with their own individual approach to the world, bring to life the narrow alleyways of the villages and the pathways of the countryside, the countless tiny chapels, the windmills, the dovecotes or the wind-beaten hillsides and are yet, in spite of the characteristics which the islands have in common - sparkling sea, sun, the landscape and the austere line of the architecture - each retains its own individual features, which visitors can discover as they explore them one by one.
The Cycladic Islands enjoy a Mediterranean climate, with an average temperature for the year of 18 - 19° C. The winters are mild and the summers - by Greek standards - cool, thanks to the beneficial effects of the seasonal winds known as the 'meltemia'.
The Ionian
Near perfect weather and ideal wind conditions make the Ionian Sea a privileged sailing area. The so called "Green Islands" produce an abundance of vegetation, you will not find in the Aegean. Sailors who want more than just "tick off" the Islands, will discover from Corfu to Zakinthos plenty of lively, interesting ports, fabulous bays for swimming, and unspoiled sandy beaches framed by olive groves and bizarre rocks.
Greece Motor Yacht Charters