Motor Yacht LIBRA Y
At Barrington Hall we provide motor yacht charters around the world on various luxury yachts. The Motor Yacht listed below, LIBRA Y, is one of the many motor yachts we offer for charter. Please contact us for up to date information on LIBRA Y or any other yachts in your desired location.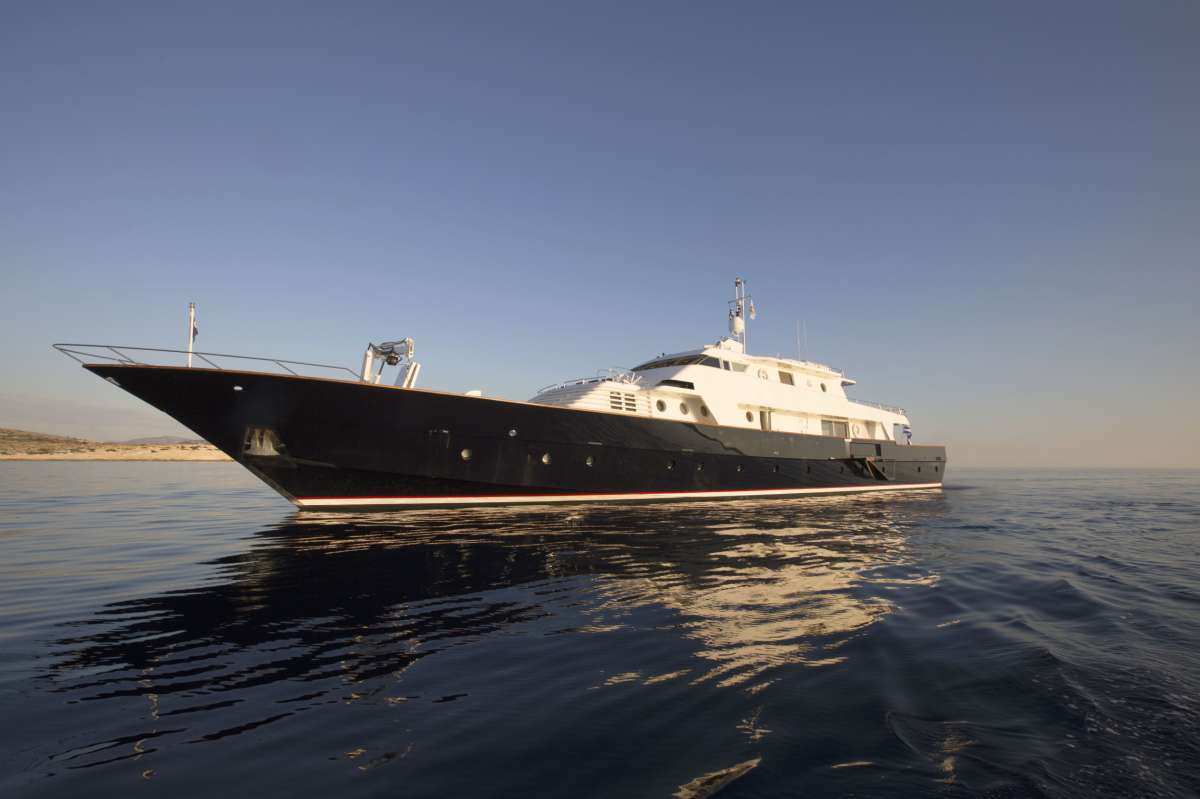 Low Price: €79,000 High Price: €89,000
Accommodations: Main Deck:
Grandiose master cabin
Lower deck:
2 double-bed(Queen) cabins are en suite with their own bathroom and shower.
1 twin bedded cabin plus a double bunk bed cabin also communicate with their own bathroom and shower.
Upper deck:
If needed the upper deck saloon couch can be converted to bed and there is a guest bathroom but no shower.
Amenities
Dinghy Size:
Tender rib Oceanic 5.9m with outboard Yamaha
Dinghy Size:
Tender rib Oceanic 5.9m with outboard Yamaha
Water Sports
Other Toys: Tender rib Oceanic 5.9m with outboard 115HP Yamaha
Tender 5.2m Boston Whaler with 100HP Yamaha
2 x Kayaks
2 x Stand-up paddle
1 x Swimming platform
Water ski (1 pair for adults - 1 mono ski)
1 x wakeboard men
1 x wakeboard women
2 x Tubes
1 x Banana
1 x Seabob
Snorkeling equipment
Scuba diving equipment for 3 certified divers
She has a padi certified guide crew member who can accompany the divers.
Other Toys: Home theater system in maser cabin and salon
LCD TV
Blue-ray DVD
Entertainment systems in all cabins, sat phone/fax, internet, satellite tv, SA tel.
Satellite TV
Communications: 5G Internet with antenna booster
Sat phone/fax
Stefanos Magiatis
Position: Captain
Nationality: Greek

Captain Stefanos was born in 1979 and grew up in Salamina island spending his childhood summers in the islands of the Aegean & Ionian Sea, learning through experiences that made him what he is today. A true ship and sea passionate seaman. Third generation seaman, following the path of his grandfather and his father, professional seamen in the Merchant navy.
He graduated the marine academy of Hydra island and started his professional career in the field of cruise industry starting as a 2nd Officer and Chief Officer later; and after in cargo vessels, responsible for navigation, loading operations and safety ,navigating all over the world. In 2011 he switched to motor yachts which was always an industry that attracted him. When he obtained the Master Mariner License (unlimited tonnage), he grabbed the opportunity to take the command of luxurious yachts and from January 2022 joined the Libra Y. Captain Stefanos speaks fluent English. A low profile personality with communication skills who used to work under normal and extreme conditions. He is a friendly personality equipped with patience and persistence; he is able to manage people giving solutions under pressure. In his free time he likes swimming, bicycling and reading.
Previous yachts: M/Y R.M. ELEGANT, M/Y DOMINO, M/Y NOMAD, M/Y BARENTS SEA JEAN, M/Y ANGEL, M/Y BABA JUNE 3


Athanasios Triantafyllou
Position: Engineer
Nationality: Greek

Thanasis was born in 1984 in Salamina island, Greece, spending his childhood summers in the island of Paros together with his grandfather and his father both professional seamen, which inspired him to become a seaman too. He is responsible for the maintenance and safe operation of all equipment for both crew and guests areas of the vessel, manages and supervises the repairs and overhaulings. He graduated the Marine Academy of Chios island and has served in bulk carriers (cargo vessels) reaching the rank of Chief Engineer in young age. He joined Libra Y in 2022.
Languages: Greek, English


Stratos Domazos
Position: Chef
Nationality: Greek

Born in 1981 in Athens Greece, Stratos started as an apprentice in luxury hotels and awarded restaurants. Having explored through traveling around the world the food culture of various countries he took the next step joining various yachts as a chef. He prides hImself on using the freshest local ingredients available and can often be found sourcing new markets and local delicacies. He strives to ensure excellence in every dish both in taste and appearance. Stratos joined M/Y Libra Y in October 2018.


Jessica Escarda Enero
Position: Chief Stewardess
Nationality: Filipino

Jessica is a highly experienced individual with an impressive training background. Her outstanding leading skills and commitment in the interior department thrived her into the Chief Stewardess role, which she is very fulfilled with. She is passionate about hospitality as well as delivering the highest standards of service onboard Super Yachts. As an easygoing team player, Jessica's bubbly personality always brings uplifting energy and helps to provide an unforgettable holidays to the guests.

Jessica was working as a Stewardess onboard M/Y INSPIRATION for over 10 years with a two years of experience onboard M/Y LASSIA meantime.


John Carlos Macalindong
Position: Steward
Nationality: Philippino

John was born in 2000 in the Philippines. He was working in a construction company and after he moved to hospitality industry to start a career as a steward on charter yachts. He is very well organized, hard working person and very polite. He has passion for his job. He joined M/Y Libra Y in 2022.


Alexis Giannakopoulos
Position: Deckhand
Nationality: Greek

Alexis was born in 1989 in Athens Greece. He has served private and charter yachts in Italy and Greece. He is an extremely refined and discreet person with a great sense of humor. He will share with you his knowledge on water sports. He enjoys spending his free time in nature and with his dogs. Alexis joined M/Y Libra Y in October 2017.


Victor Dimtiriou
Position: Sailor
Nationality: Greek

Viktor was born in 1995 in Halkida, Evoia Island, Greece. After school he was deployed in Special forces and graduated from 3 different army schools of Greek army including paratrooper training. After army he worked as a maritime security in Gulf of Aden for a year. His interest in maritime led him to work in yachts and make more of use his skills for safety and taking care of people on board as well as handling rough conditions in sea. He has lot of experience in handling all types of water sport equipment. He joined M/Y Libra Y in March 2020.