Motor Yacht ECLIPSE 114
At Barrington Hall we provide motor yacht charters around the world on various luxury yachts. The Motor Yacht listed below, ECLIPSE 114, is one of the many motor yachts we offer for charter. Please contact us for up to date information on ECLIPSE 114 or any other yachts in your desired location.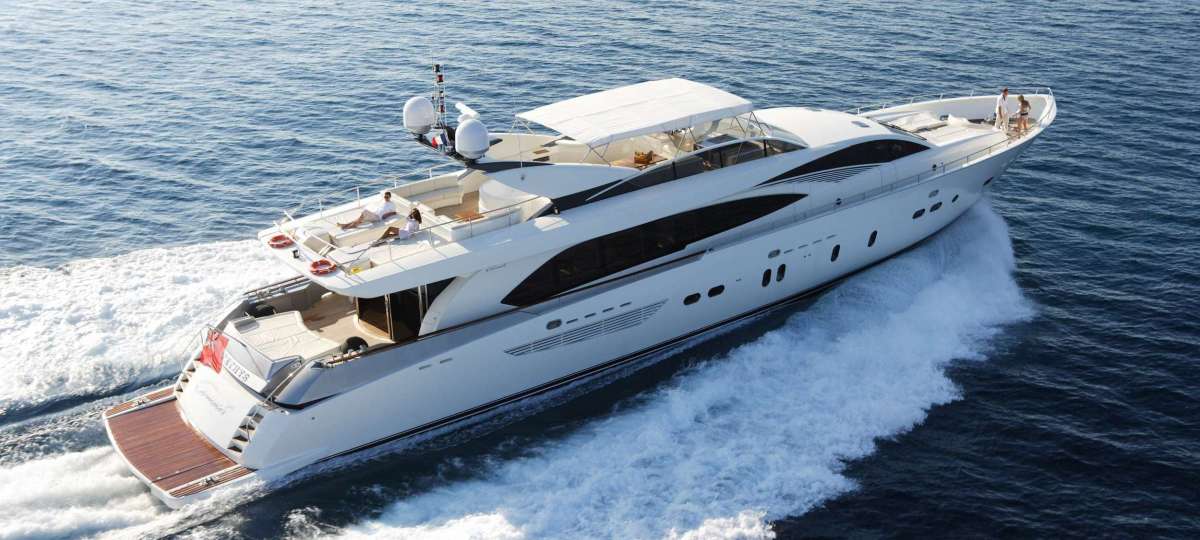 Low Price: $75,000 High Price: $94,500
Accommodations: All the cabins are equipped with queen beds.
Salon headroom: 6'8"
Cabin headroom 6'7"
All cabin beds are 6.5 x 5
Please inquire if dividers are required for the queen beds to be split into two beds.
Amenities
Guest Smokes:
Outside only
Water Sports
Gear Type:
2 fishing rods
Other Toys: One jet ski Seadoo
Floating island
1 Tow Banana (hot dog/sausage)
The tube and sausage are towed behind the jetski/tender,
1 small inflatable dinghy

The fast speeds of Eclipse (cruising at 23 knots - top speed 33 knots) means no stabilizers are required, and the Captain will anchor in calm bays at night for the guest's comfort.

Snorkel gear: masks, fins and snorkels for everybody.
2 stand up paddle boards
1x2 man kayak
Fishing equipment for some sport fishing.
Swim noodles to assist and hold onto while swimming or snorkeling.
We do not have any other motorized watersports on offer, like skis and wakeboards.
Diving and any high-risk watersports are outsourced to outside operators and we are more than happy to organize anything guests want to do.

The swim platform provides a big area where guests can sit on camping chairs and soak in the sun. As well as various other areas on the vessel where people can lay and lounge around and get the golden Caribbean sun-kissed bodies that we living here often take for granted.

We have a 35ft Boston whaler for our main tender with 3 x 300HP engines (seats 10 pax) and a small Highfield 10ft rubber tender with 18HP (seats 3 pax) to get guests from the big tender to and from the beach. A new Tender - a Saxdor 320 GTO will be arriving early April to replace the Boston whaler.

The rectangular Jacuzzi on top deck was replaced a couple of years ago.

Everything is provided onboard. From hair dryers for everyone to sunscreen. Bathrobes and slippers in the cabins and much more.
We do not carry hair curlers or straighteners, as this is more a very personalized piece of equipment.

The vessel is 220v and 60hz. Any electronic and electric equipment that anyone wants to bring, please check it will be compatible.
We can not take any 110v equipment. So, please ensure all electronics are rated 110v - 220v and 50Hz - 60 Hz.
We do offer conversion plugs to enable you to plug in American type plugs into the 220v European outlets.

The whole vessel is equipped with AC throughout.
The music system works on Bluetooth and can connect via the system to listen to your own choice of music. For outside we have a JBL big speaker, that's Bluetooth as well that you can connect to.

Bathrobes, bathroom slippers, towels shampoos, and soaps are provided.

NOTE -If you need extra water toys to be aboard please ask and we shall try to accommodate!
Other Toys: Bose sound system, wifi throughout the yacht.
Eclipse has one of the best internet systems available for streaming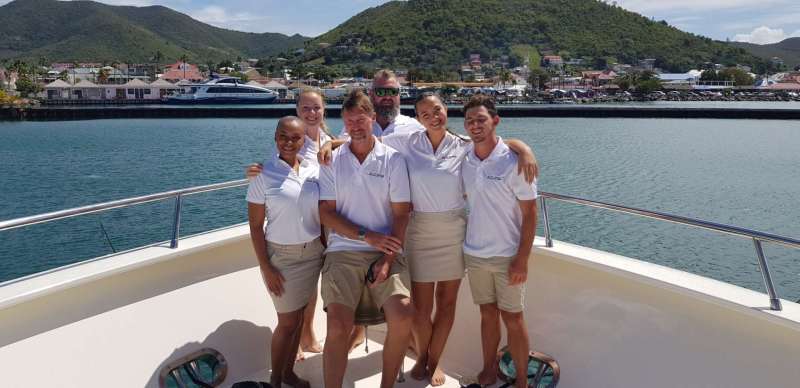 CAPTAIN JACO PIETERSE:
Captain Jacobus Pieterse spent his childhood growing up grew up along the ocean and in the city in his native South Africa. He originally hails from Empangeni, which is a city in KwaZulu-Natal, South Africa, approximately 157 kilometers north of Durban, set in a hill countryside, overlooking a flat coastal plain and the major harbour town of Richards Bay which is 16 kilometers away,
A very friendly, easy going and accessible person, everyone just calls him JACO (pronounced Yako). Besides swimming, Jaco excelled at rugby and boxing as a youth. His love of the water moved him on to a yachting career, he now has 30 years of experience on the water, from chartering, diving, and delivering yachts, both power and sail.

Jaco is an easy to talk to person, who has a sense of adventure and relishes exploring new places. He spent a lot of time cruising the Indian Ocean, which he loves for its vast unspoiled areas. He arrived to Saint Maarten about 6 years ago and has been cruising the local waters there ever since. The area has become a home of sorts, and Jaco has designed interesting venues for all types of guests, depending on what they want to do, be it intensive watersports, horse back riding, touring, or just quiet pristine places to relax. He feels the service on board should tailor to the guest's preferences. From a friendly casual atmosphere to a refined discreet silver service, Jaco will deliver what fits!

His motto is "Be honest and real to yourself and others". His straightforward enthusiasm and attention to details ensures an excellent charter on board Yacht Eclipse!

CHEF - Alison Williams - profile to follow shortly

CHIEF MATE - MARCO DE VILLIERS:
Marco is from Welkom, South Africa. He and his 2 brothers spent time on the farm and in the city growing up. As a child Marco pursued soccer and motor cross, and enjoyed a lot of fishing.

In 2018 Marco decided it was time to see more of the world, and he followed his curiosity and love of the ocean to begin sailing. He decided he really liked yachts and watersports and has been working aboard various vessels ever since. His travels introduced him to one of his favorite locations, The Bahamas. There he was able to hone his yacht and water based skills and learn more of the beautiful underwater world.

Besides his love of the ocean, Marco is a musician and DJ, Besides being there to assist in watersports and adventure, he will see that the music and fun is just right for guests aboard. He is a friendly, hardworking, and helpful part of the Eclipse crew!

His motto is the "Life is amazing and is what it should be!"

CHIEF STEWARDESS - MERUGIA VELDKAMP:
Marugia is from The Netherlands. An adventurous soul, she spent time in Australia acquiring skills that have been a great aid to her job on board Eclipse. She has been waitress, hostess, barista, and bartender and also worked as a housekeeper and a social counselor.
Some of her favorite activities are water sports, singing and Salsa dancing! But, do not let that sweet demeanor fool you, as this athletic young lady is also a black belt in Tae Kwon Do!
Marugia started working on Eclipse as the second stewardess, but her job performance and dedication now have her in the position of Chief Stewardess. She always looks forward to hosting and serving the guests aboard!

2ND STEWARDESS - STEPHANIE

Eclipse normally charters with 6 crew, which includes the tender Captain, and all 6 crew sleep in 3 crew cabins. For charters with smaller groups of 5 or less, there will be 5 crew as the second stewardess will not be required.