Motor Yacht Intervention
At Barrington Hall we provide motor yacht charters around the world on various luxury yachts. The Motor Yacht listed below, Intervention, is one of the many motor yachts we offer for charter. Please contact us for up to date information on Intervention or any other yachts in your desired location.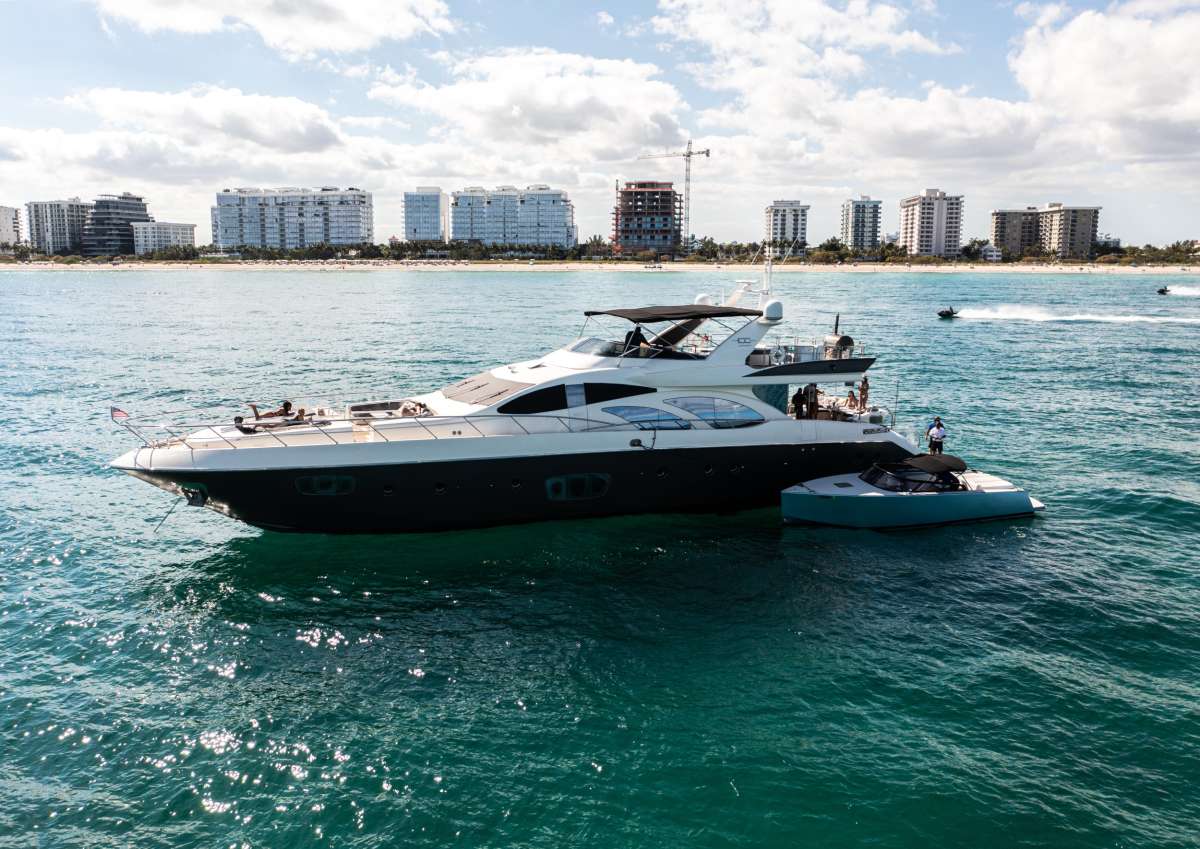 Low Price: $68,000 High Price: $80,000
Amenities
Dinghy Size:
Williams Sportjet 395
Dinghy Size:
Williams Sportjet 395
Water Sports
Other Toys: Water Toys:
2 x 2022 Sea-Doo Spark Trixx Jetskis
2 x 2018 F7 Seabobs
2 x Inflatable Docks
Inflatable Trampoline
Inflatable Netted Pool
6 x Inflatable Sun Chairs
8 x Snorkeling Gear
Mani:
Captain Osmani Cuellar is a highly experienced and personable captain with extensive knowledge of the waters surrounding Miami & the Bahamas. With over 20 years of experience in the maritime industry, he holds a USCG Master 200 GRT Merchant Mariner Credential and is a certified PADI Dive Master, Rescue Diver, and Advanced Open Water diver. He has navigated vessels up to 106ft in various areas, including the Bahamas, the Caribbean, Panama, and South Florida.
Captain Cuellar's experience includes serving as a captain on a private motor yacht, Intervention, where he has been in charge of day and term charters for the past two years. His experience as a commercial fisherman and scuba diver gives him a unique understanding of the local marine life and environment, which he is happy to share with charter guests. His extensive knowledge of the area and his ability to communicate effectively with guests make him an excellent choice for anyone looking to charter a luxury yacht in Miami.

Alain:
Alain Aulet is an experienced mate aboard the luxury charter yacht Intervention. With his Master 100 GRT USCG credentials, Alain has the necessary training and expertise to ensure a safe and comfortable charter for all guests. He is also skilled in driving tenders and jet skis, which adds to the guests' enjoyment during water activities.
Alain's friendly and personable demeanor makes him an asset to the Intervention crew. His maritime experience includes commercial fishing and captaincy, which has honed his leadership and problem-solving skills. His experience cruising the Bahamas and South Florida waters makes him well-versed in local knowledge and capable of facilitating an exceptional charter experience.

Erick:
Placido Erick Guerra is a highly experienced and knowledgeable engineer with a passion for providing exceptional service. With extensive experience maintaining and servicing luxury yachts, including the 100' Azimut Leonardo motor yacht Intervention, Placido is an expert in full generator and motor maintenance, as well as internal and external boat maintenance. He is also skilled in instructing and assisting guests with water sports and tender operations. Placido's personable skills and attention to detail make him an ideal candidate for facilitating a great charter, ensuring that the yacht is in perfect working order and guests have a comfortable and enjoyable experience on board.
Fluent in English and Spanish, Placido is an excellent communicator and works closely with clients to ensure their needs are met. He holds a range of certifications, including STCW, 100-ton master, and first aid & CPR, as well as a certification as a clinical & administrative medical assistant. With experience as both an engineer and a mate, Placido is capable of overseeing the marine side of the trip during charters and working with clients to ensure proper service. His expertise and dedication to providing excellent service make him an asset to any luxury charter yacht operating in Miami and the Bahamas.

Liu:
Chef Liu Corrales is a highly skilled culinary professional and experienced chief stewardess, with a passion for creating exquisite dishes that cater to the client's preferences. She has taken full-advantage of Intervention's genuine woodfire oven - making mouth-watering pizzas, flatbreads, lamb chop, salt-crusted fish, and more. She is also bilingual in Spanish and English, which will allow her to easily communicate with clients and crew members from diverse backgrounds.
As chief stewardess, Liu has honed her personable skills, general client service, and drink service abilities to perfection. She is a fast learner who enjoys following rules and is extremely responsible, ensuring that every detail of the charter is taken care of. With a wealth of experience on various yachts of different sizes, Liu has developed a keen eye for detail and a knack for anticipating clients' needs before they arise, making her an indispensable asset aboard Intervention.