Motor Yacht ITOTO
At Barrington Hall we provide motor yacht charters around the world on various luxury yachts. The Motor Yacht listed below, ITOTO, is one of the many motor yachts we offer for charter. Please contact us for up to date information on ITOTO or any other yachts in your desired location.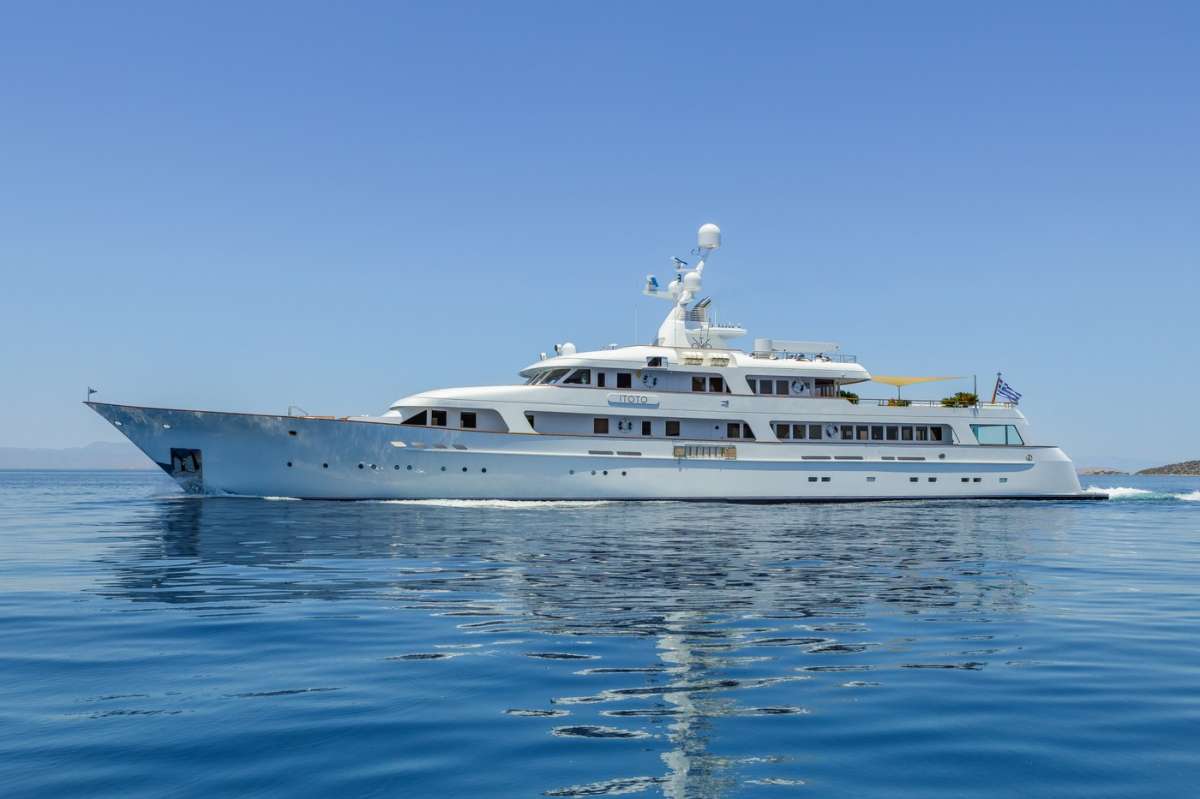 Low Price: €200,000 High Price: €220,000
Accommodations: M/Y ITOTO accomodates up to 12 guests in 8 luxurious cabins

Main Deck:
A Master Suite
A Wardrobe cabin with ensuite facilities
A Vip Cabin

Lower Deck:
Two Double cabins
Four Twin guest cabins
All cabins with ensuite facilities
Amenities
Water Sports
Other Toys: 2 X 5.6m Rib Tenders
2 X Yamaha Jet-Skis
1 x Jet Surf Labuga
2 X F5s Seabobs
2 X Canoe Kayaks,
2 X Paddle boards
1 X Inflatable 3 Persons Banana
1 X Platform Fender 4mtrs
1 X Inflatable Paddle board
1 X Children Small Inflatable Slide
1 X Inflatable Trampoline
2 X Crusher Towable Doughnuts (1 Person)
1 X Towable Lunar Sofa (3 Persons)
1 X Towable Air Stream Ii (2 Persons)
1 X Water Jet Flyboard
1 X Kneeboard
2 X Wakeboard
4 X Water-Skis
Snorkeling, Diving & Fishing Equipment
Various Toys
2 X City Bicycles
Other Toys: Audio Visual Equipment and Deck Facilities:
TV SONY OLED 65'' K in main saloon
TV SONY 75'' with High End ATMOS surround system on upper deck movie room
TV SONY 55'' 4K in master cabin
TVs SONY 43'' in VIP, double cabins
TVs SONY 32" in lower deck cabins
Central Media Digital System with movie server
Apple TVS 4K ( main saloon, upper deck and in all guests' cabins)
Mini iPads in each cabin for music and TV control. Possibility for guests to connect their own iPhone/iPad/Android device.
Party mode allowing for the same music to play on all yacht's decks including Waterproof external wireless Speakers

Sauna room at beach club
Spa Pool at the bow

Gym equipment at Upper Deck:
1 Gym Bench
1 Reformer Pilates
1 Life Fitness Arc Trainer Total Body – X Arc Console
Entertainment,Wireless
1 Group Exercise Bike Ic7 Base/Console,Lf Brnd
Exercise Weights
Fitness Bands
Kettlebell
Captain: Nikolaos Demertzis
Cpt Nikos is a very experienced captain in the Charter Yacht Industry. He was born in 1960 and he is a Greek. He is a graduate of the Merchant Marine Academy of Syros and holds an A' Class Diploma, while having almost 35 years of experience commanding yachts. In addition, his knowledge extends to the entire of the Mediterranean Sea, specializing in Greece, Croatia, Montenegro, Italy, Turkey, Israel and Egypt, including secret bays and unknown to most islands. He has also crossed the Black & the Red Sea, including Aqaba Bay. During his long career in yachting he has served onboard M/Y Light Holic 60m, M/Y Jaz 51m, M/Y Optasia 85m, M/Y O'Pari 3 72m and many others. He has great organizational and crew management skills and always desires to deliver the highest level of services. He loves preparing tailor made cruises and exceeding guests' requirements guaranteeing an unforgettable charter experience. Captain Nikos speaks fluent English and he loves diving, fishing and culinary art.

Chief Officer : Marios Andrianos
Marios is a Greek national, he is a graduate of Maritime Academy of Aspropyrgos. He holds a B' Class Diploma and all the necessary certificates for his position. He started his career on commercial and cruise ships and then entered to the yachting industry serving onboard various yachts. He has cruised through Europe, Far East, Persian Gulf, Suez Canal, USA, Singapore, India, Caribbean, Red Sea. Marios is an expert in water sports and a multi-tasking person with great team spirit and enthusiasm. Marios speaks English and at his spare time, he likes travelling, snowboarding and spearfishing.

Chief Engineer: Alexandros Laopodis
Alexandros was born in 1988 and he is a graduate of the Merchant Marine Academy of Aspropyrgos. He started his career onboard commercial ships and then entered to the yachting industry serving in various yachts such as M/Y Light Holic 62m and M/Y Sorrento 63m. He is very cooperative and willing person and ensures that every system works perfectly and is maintained to the highest standards. He is a Greek national and speaks English and French. His interests are swimming, cycling, travelling and restoration of vehicles.

2nd Engineer: Giannis Georgiadis
Giannis was born in 1990 and he is a graduate of Hellenic Merchant Marine Academy. He has all relevant licenses and certificates, such as Life Saving/Fire Fighting/First Aid, speed boat license, marine compressors certification and safety awareness. He started his career onboard commercial ships and joined ITOTO team in 2022. He is always eager to face new challenges and develop his skills and knowledge. He pays attention to the details so that the yacht runs smoothly and safely at all times and our guests have an amazing holiday experience. He loves his job and enjoys every moment on board.

3rd Engineer: Giorgos Molyviatis
Giorgos was born in 1983 in Athens. He is a graduate of Hellenic Merchant Marine Academy and he has all relevant certificates of a seaman. The yachting industry seduced him very early and for this reason he has been working at yachts since 2008. He has served onboard M/Y Monaco, M/Y Light Holic, M/Y Sorrento. He is a very reliable person who adores supporting his team and fits perfectly in ITOTO's crew. He loves watersports and travelling.

Chef: Nikos Samarniotis
Nikos was born in 1987 in Greece. He holds a bachelor degree in Economics however as his heart was always belonged to cooking he decided to become a chef. He holds a Diploma in Culinary Arts by the Etoile by les Chefs College and started his career at various restaurants. From 2015 until 2017 he moved to Paris, France to expand his experience in international and French cuisine. There he worked at Walt's Restaurant and Le Calife restaurant. When he returned to Greece he worked as a chef at gourmet restaurants and 5 star hotels such as Nolan restaurant, Amanzoe Hotel, Daios Cove Hotel and Athens Capital MGallery hotel. At the same time he offered his services as a private Chef for VIP clients. He is very talented, a Chef with a great knowledge of Mediterranean and International cuisines. Nikos is professional and dedicated and an expert in preparing tailor made menus. He is very creative and competent and he can satisfy the most demanding guests. He speaks English.

Sous Chef : Fotis Fountoukas
Fotis was born in 1989 and he is a Greek national. He holds a degree in culinary arts from Le Monde Culinary Institute and has attended many seminars such as Traditional French festive Cuisine, Health Protocol and Food Safety etc. Having spent 11 years as a Chef at modern and traditional cuisine restaurants, such as Noel, El Jiron etc, Fotis is able to apply his knowledge to the guests' requirements on board ITOTO. He has all the requirements to deal with all the daily responsibilities of a chef on board and prepare delicious dishes. He is a responsible person with excellent organizational and communicational skills. Fotis speaks English.

Chief Steward: Zannis Lyras
Zannis was born in 1971 and holds a bachelor degree in Business Administration & Tourism Management. He has an extensive experience of 29 years in Hospitality industry with the last 5 years serving onboard M/Y Tueq, 78m. He started his career at various 5 star hotels in Athens and Mykonos and he has been involved with restaurant, bar & buffet management. Zannis has attended various seminars to extent his qualifications such as Wine seminars, Restaurant management, Bar and Buffet management, Staff training, Supervising Food Safety in Catering level, Guest's importance for Business etc. Zannis is a professional steward, who offers highly attentive service and has an eye for detail. With his pleasant and welcoming personality caters for every guest's needs making everyone feel like home. He speaks English and French and his interests are soccer, basketball, music, current affairs & theatre.

2nd Stewardess: Eva Barbara Klesk
Barbara was born in 1970 and she is Polish. Prior to joining the yachting industry, Eva has worked in luxury hotels and she has attended staff training and services seminars. Before joining ITOTO in 2021 she had served onboard M/Y Clia and M/Y Lucky Me. She is a great team player and keeps the service at the highest standards making sure that everyone will have a comfortable stay on ITOTO. She speaks English, Polish and Greek.

3rd Stewardess : Chrysa Dalietou
Chrysa was born in 1981 and she is a Greek national. She is a great team player with excellent interpersonal skills. She entered the yachting industry in 2004 and since then she has served onboard many yachts such as M/Y Vera, M/Y Kintaro, M/Y Billa, M/Y Armonia, M/Y Fairlady, M/Y Libertade and M/Y Belita. Chrysa is a highly motivated and enthusiastic person with great social skills.

4th Stewardess: Alexia Stathatou
Alexia was born in 1972 in Greece. She holds a degree in Administration and Economics and during her career she has worked in Customer service for various hotels as Intercontinental, Caravel, Divani Palace & Divani Suites. She is responsible and friendly, always with a smile offering the best service to the clients onboard. She speaks English and her hobbies are tennis, swimming and music.

Bosun : George Markozanes
George was born in 1991 and he is a Greek national. He holds a speed boat license, a PADI open water license and numerous certificates. He has served onboard various yachts such as M/Y Pandion 40m, M/Y Ouranos 50m, M/Y Persefoni 54m. He has a great experience in all water sports ensuring all guests will enjoy the Greek sea. George is a very energetic and communicative person and he speaks English. At his spare time he likes jet-skiing, moto crossing and playing football and basketball.


AB : George Kilismanis
George was born in 1991 and he is a Greek. He is a graduate of the Merchant Marine Academy and he holds a C' Class Diploma. He started his career in Merchant Navy and entered to the yachting Industry in September 2022 with M/Y ITOTO. He is a very responsible and hard working person. He loves team work and he is very social with great sense of humor. George speaks English.

AB: Minas – Dimitrios Serfas
Minas-Dimitrios was born in 1991. He holds a C' Class Captain Cerificate and all the relevant certificates of a seaman. He loves watersports and he also holds a speed boat license since. He started his career on board passenger ships and then entered yachting industry onboard M/Y Light Holic. His pleasant personality and positive energy will make guests' stay aboard ITOTO as delightful as possible. In his spare time he loves fishing, swimming, travelling and playing football.

AB: Panagiotis Georgantopoulos
Panagiotis was born in 1970 and he is a Greek national. After many years on commercial Ships, he entered the yachting Industry in 2007 and he has served onboard M/Y Tueq, M/Y Al Mirqab, M/Y Faribana V, M/Y Prince Abdul Aziz, M/Y Lady Sarya. He is a very pleasant personality and hard working person. He likes roadtrips, motorcycling and cars.