Motor Yacht B HAPPY
At Barrington Hall we provide motor yacht charters around the world on various luxury yachts. The Motor Yacht listed below, B HAPPY, is one of the many motor yachts we offer for charter. Please contact us for up to date information on B HAPPY or any other yachts in your desired location.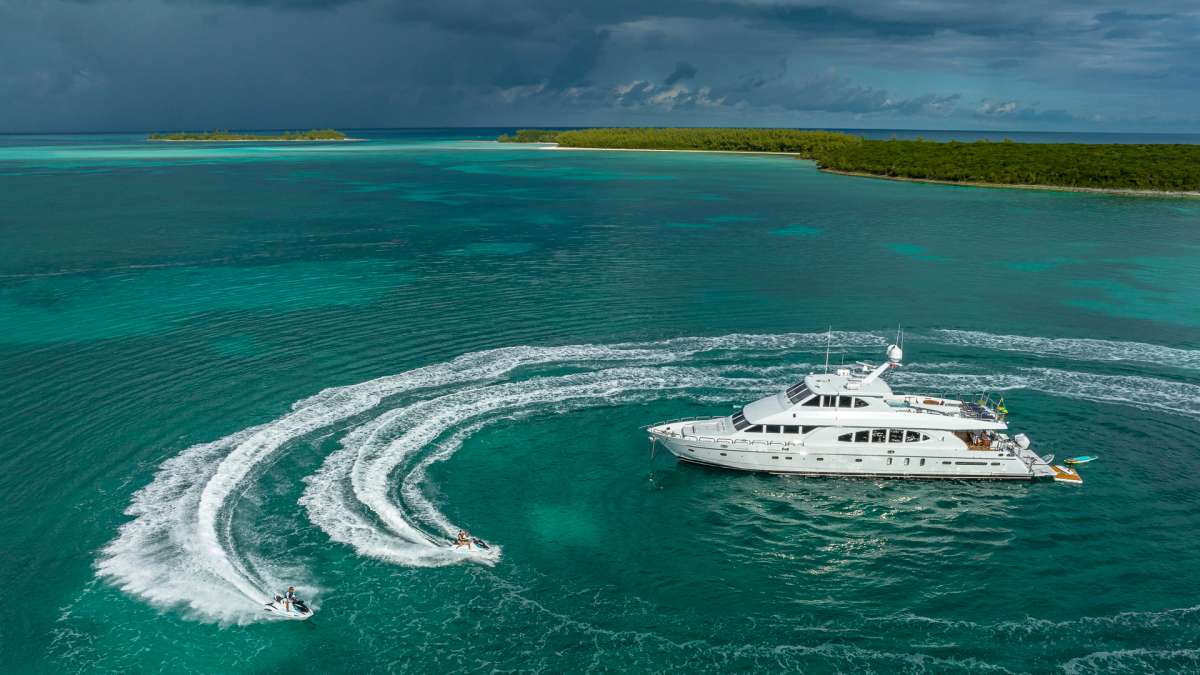 Low Price: $50,000 High Price: $55,000
Amenities
Dinghy Size:
28' Contender (2023)
Dinghy Size:
28' Contender (2023)
Water Sports
Gear Type:
3 rods, Spear fish gun, Hawaii
Other Toys: 28' Contender (2023)
2 Jet Skis (Yamaha 2023)
E-Foil
2 x Inflatable kayaks/stand up paddle boards
Snorkel equipment -8 sets of one size adult sets and 4 children/small adult sets
Fishing Gear - 5 rods, Spear fish gun, Hawaiian spear
Inflatable beach set up – includes chairs, loungers and gazebo/ stretch tents
Inflatable corn hole
Towables
Other Toys: Refit/Maintenance Details:
2022 / 2023 Refit Notes:

-Added a new bar
-Converted one of the twin bedrooms into a queen
-Brand new hot tub
-Automated one of the doors
-Added additional shades on the sun deck making the whole upstairs area shaded
-Extensive service on the water makers
-Every speaker replaced and upgraded
Communications: Starlink - open wifi - included in the rate
Sonos speaker system syncs the entire boat's audio
Apple TV
Youtube TV
Luke Stegen - Captain

Certifications/Education: OOW, 200ton License, Navigation & Radar, ECDIS, GSK, Efficient Deckhand, Survival Craft & Rescue Boat, Advanced Firefighting, STCW 95, Designated Security Duties, Small Powerboat & Rib Master, Familiarization Training Yacht Hand, Yacht Rating Theory
Languages: English
Nationality: South African

Captain Luke grew up in Pietermaritzburg, a small town in South Africa. Although he has no brothers or sisters, he comes from a very large family with lots of cousins who loved to spend family vacations at the beach. Having worked on both yachts and commercial vessels for the last 13 years, Captain Luke has excellent knowledge of every aspect of a boat. He was previously Chief Officer on 145' AT LAST before obtaining his role as Captain. He is keen on keeping the vessel immaculate for the comfort of every guest who steps on board. As an avid photographer and videographer, Captain Luke has the ability to freeze time, capturing with his lens, some of the most special moments spent on board.

After previously stepping away from yachting to study to become a Deck Officer on container vessels, Captain Luke ultimately made his return to what he loves and hasn't looked back since. He is dedicated to providing guests with an exceptional itinerary that is filled with unforgettable experiences. Captain Luke believes in enjoying every moment, which is fitting on board B HAPPY.

In his spare time, Captain Luke enjoys overlanding, hiking, traveling, photography, and drone work.



Kendra Castello - Chef
Education/Certifications: Associates in Science for Nursing
Languages: English
Nationality: American

Kendra grew up in southern coastal Virginia. Spending her childhood in one of the biggest military communities in the world, she has always been around vessels of all sizes and a lover of the ocean.

Kendra started yachting about seven years ago as a way to start a fresh new life while taking her service and hospitality skills to the next level. She has a passion for creating unforgettable, unique experiences and yachting is the best way to fulfill this desire.

Prior to entering the industry, Kendra worked in a variety of restaurants and bars from high-end to mom-and-pop since she was 15 years old. Some of her favorite cuisines to cook are Mexican, Asian fusion, sushi, light lunches, and southern food. She also loves cooking vegan dishes, especially vegan desserts. Many different fresh salads, a variety of pasta, handmade artisanal bread, and some of the most delicious desserts are a few of Kendra's staples. Adjusting menu options and taking requests are never a problem for Kendra as she loves to keep guest satisfaction at the forefront, while also giving herself the ability to try new things. Guests aboard B HAPPY can expect to experience five-star service with a chef who is always willing to go the extra mile with a great attitude and a smile.

When Kendra is not busy preparing a delectable menu, you can find her traveling, and spending time with her family, overlanding with her husband, or enjoying a cozy day reading a book or binge-watching Netflix.



Kerry Coetser - Stewardess
Education/Certifications: STCW, Diplomas in Public Relations and Project Management; Qualified Makeup Artist
Languages Spoken: English
Nationality: South African

Kerry-Lea grew up on a farm in South Africa where she enjoyed fishing and spending time at sea. In 2019, she was looking for a change and craving adventure, so she embarked on a career in the yachting industry. Kerry has years of experience onboard M/Y AT LAST and other vessels ranging from 112' to 165'. Never scared of moving outside of her comfort zone, Kerry is always striving to learn new things about the industry. She takes great pride in planning the ultimate vacation for charter guests, ensuring no detail is left out. Kerry wants everyone who steps on board B HAPPY to feel right at home, with a couple of added perks, and of course breathtaking views.

Travel is her first passion, but she also enjoys snorkeling and is keen to learn how to dive. She's excited to continue to explore the world but her heart will always be at home in South Africa.



Kobus Kraftt – Mate
Education/Certifications: Associates Degree - Business Management; Master Yachts 200 Gross Tons Limited, USCG 100 Ton, STCW, VHF Operations, ENG1
Languages Spoken: English
Nationality: South African

Kobus grew up on a sugar farm in Heatonville, located in the South African province of KwaZulu-Natal. He started his career in the yachting industry in 2012 when he became a deckhand, and fell in love with marine life and being so close to the ocean. He has worked on charters on both the east and west coasts of Florida, and cruising in the Bahamas. He most recently was on board M/Y AT LAST as Chief Mate, working closely with the Captain and Chief Stew to run a busy, successful charter program.

When not working at sea, Kobus enjoys water sports, especially in Staniel Cay, or heading to Cape Town, South Africa for golf and quality time with family and friends.