Motor Yacht LADY ELAINE
At Barrington Hall we provide motor yacht charters around the world on various luxury yachts. The Motor Yacht listed below, LADY ELAINE, is one of the many motor yachts we offer for charter. Please contact us for up to date information on LADY ELAINE or any other yachts in your desired location.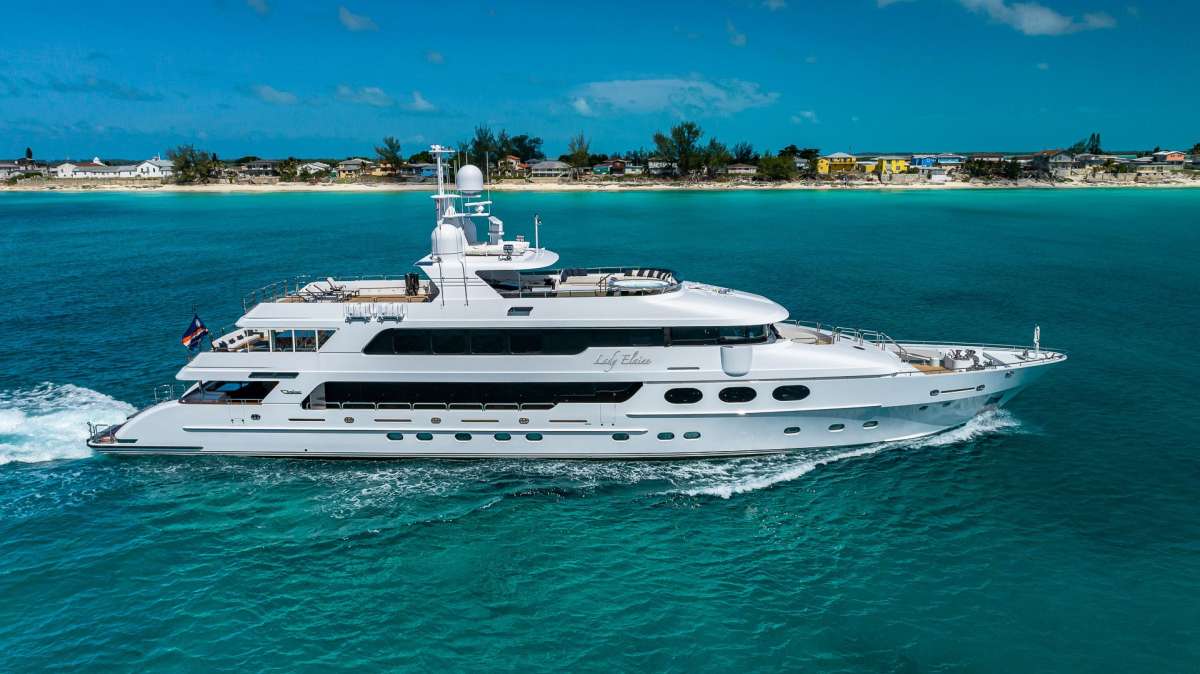 Low Price: $225,000 High Price: $225,000
Accommodations: 6 staterooms accommodating up to 12 guests, complimented by a professional crew of 9.

All accommodations are equipped with an en suite, individual climate control, individual satellite receivers, Kaleidescape Entertainment System, complete blackout drapes, iPod docking stations, Crestron controls, reading lights, robes, slippers, hair-dryers, telephone, intercom, and Wi-Fi access.

#1 - MASTER STATEROOM SUITE
- Situated on the Main Deck.
- Features an Owner's Office with desk with a chair, a 50" flatscreen TV, individual satellite receiver, computer, printer, and Wi-Fi access.
- King bed faces aft
- Features a 60" flat screen TV (hidden behind artwork), surround sound, vanity to port and couch to starboard.
- Forward access to en-suite bath
- Over sized Jacuzzi Tub (TV over tub) and heated floors
- Separate shower, twin sinks, and toilet & bidet.
- The entire Master suite features 6 very large oval windows offering stunning views and plenty of natural light.
- Safe. iPod docking station.


BELOW DECK
Access to the 5 below guest staterooms are lead by a spectacular sculpted spiral stairwell with railings on either side. The guest foyer below also features a mini-bar.

#2 - VIP GUEST STATEROOM: This FULL BEAM stateroom features a walk around King size bed, vanity/desk, and 50" flat screen TV. En-suite bath features an over-sized Jacuzzi tub, heated floors, shower, sink & toilet. Safe. iPod docking station.

#3 - KING GUEST STATEROOM: This stateroom features a walk around King size bed, vanity/desk, and 36" flat screen TV. En-suite bath features a shower, sink & toilet. iPod docking station.

#4 - KING GUEST STATEROOM: This stateroom features a walk around King size bed, vanity/desk, and 36" flat screen TV. En-suite bath features a shower, sink & toilet. iPod docking station.

#5 - TWIN GUEST STATEROOM: This stateroom features a double bed, and a single bed, vanity/desk, and 36" flat screen TV. En-suite bath features a shower, sink & toilet. iPod docking station.

#6 - TWIN GUEST STATEROOM: This stateroom features a double bed, and a single bed, vanity/desk, and 36" flat screen TV. En-suite bath features a shower, sink & toilet. iPod docking station.

All staterooms have Molton Brown bath products, individual climate control, robes, slippers and hairdryers.

Amenities
Dinghy Size:
37' Intrepid
Dinghy Size:
37' Intrepid
Water Sports
Other Toys: 37' (11.2m) Intrepid (2020)
4x waverunners
3x seabobs
Members Only 10 x 10 inflatable float
Inflatable jetski dock with sun loungers
Snorkeling equipment
Basic fishing equipment for trolling
Wakeboard
2x inflatable paddleboards
2x rigid hard bottom kayaks
Rendezvous diving only
Underwater lights under swim platform
Beach setup

Captain David Sloate
Born and raised in southern California, David has been around the water all his life. He started his boating career when he was 15 years old going fishing anytime he could. He received his first Coast Guard license at the age of 22 and has been running boats ever since. David has been many places, but his favorite has been southeast Alaska where the beauty of the landscape and the fishing is plentiful. David's daughter is also in the industry as a chief stewardess.

Chief Officer Tom Tuta
Chief Officer Tom was born in Zadar, which is coastal town of Croatia located in the middle of the Adriatic Sea. After maritime College he completed his OOW unlimited certificate and started his yachting career. His love of sea and adventure, combined with maritime education made him a successful seaman from early ages. Throughout his career he visited most of the Mediterranean countries such as Italy, France, Spain, Malta, Croatia, Montenegro, Monaco, etc. With a positive outlook and a good sense of humor Tom is always reliable and professional. He readily contributes to all aspects of yachting life and rise to any challenge.

Engineer Stephan Bester
Stephan grew up in Pretoria, South Africa and started his professional career in law enforcement, specializing in SWAT and later VIP Protection. Several careers later he gained experience in purchasing & logistics, international sales, running his own ice manufacturing & distribution company, commercial building maintenance and communication infrastructure development. Time spent as a child on coastal vacations awakened the yearning to seek employment on the big blue. Since 2011 Stephan successfully completed multiple Mediterranean and Caribbean seasons and Atlantic crossings while securing his Engineering license. Working with his hands, facing daily challenges, and taking on multiple sized projects makes him tick and he always seek to improve systems, processes and procedures. Stephan is a vivid semi-professional nature photographer and loves flying his drone while maintaining his commercial SCUBA diving license and will soon complete his helicopter pilot license.

Chief Stewardess Tamaryn Smith
Tamaryn was born in Durban, South Africa and moved to a small town in Zimbabwe at a young age where she grew up on a game farm spending most of her time taking care of many animals and enjoying outdoor activities. Excited for a change and passion for the ocean and traveling, she joined the Yachting industry in 2013 where it led to her seasons in the Bahamas, Carribean and Mediterranean. She is very excited to join this great team and welcome you onboard M/Y Lady Elaine and provide you an unforgettable experience.

Second Stewardess Ana Sanchez
Ana was born and raised in Panama City where her and her family shared a passion for boating. She was lured into the yachting industry in 2012 and have had various roles within the interior department, as well as some experience on deck. With several years of hospitality service, Ana will greet you with a welcoming smile. In her free time Ana loves to travel and immerse into different cultures.

Stewardess Rachel Ryan
Rachel Ryan grew up in Wellington, New Zealand. Her older sister introduced her to the yachting industry as they are both alike and enjoy traveling to explore new places. Rachel was excited to go and explore the world and was hired by one her most favorite companies. She worked onboard Disney cruise line as a 'fairy godmother' creating magical moments for young children in the "Bibiddi Bobbidi Boutique". Rachel has many years working as a stewardess onboard yachts. She has worked on both private and charter yachts in many different locations around the world. She has seen parts of the Mediterranean the beautiful beaches in the Caribbean and the Bahamas. One of Rachel's favorite spots to explore was the Fjords in Norway as it was off the beaten track, peaceful and breathtakingly still.

Bosun Cal Aldersley
Cal was born in Annapolis, MD where he grew up fishing, crabbing, and wake boarding on the Chesapeake Bay. At age 13 Cal was a dock hand at a large Marina in Annapolis. At age 16 he founded Annapolis Marine Detailing, hiring several employees. Cal has been a First Mate since he was 17 years old, and after graduating from Salisbury University with a bachelor's degree in Business Management, he moved to Florida to pursue a full-time career in the yachting industry. Cal enjoys surfing, scuba diving, spear fishing, and cooking what he catches. Cal's passion for yachting goes much deeper than his love of boats. He enjoys the friendships with his crew, meeting new guests and seeing their smiles after introducing them to something new, and the respect of the amazing environment he is fortunate to live and work in. Cal strives to make all guests happy, and their experience unforgettable.

Deckhand Daniel Cohen
Daniel Cohen was born and raised in Los Angeles California where his family has enjoyed boating to Catalina Island. He began driving tenders at the age of 5 and by age 13 was docking 50' boats. He graduated the University of Maryland with a degree in Public Health Science and a focus in Pre-medicine. After college he decided to take break from school and pursue his passion for yachts and began his yachting career. He plans to eventually go back to school and become an orthopedic surgeon. When not at work you will find him back home in California visiting family, and friends, playing with his dog, surfing, skiing, hiking, scuba diving, fishing, mountain biking, golfing or watching movies.

Chef Timothy MacDonald
Timothy grew up in Melbourne Australia. His fascination for cuisine became apparent early on in life. Timothy has completed an apprenticeship in cookery and since has spent fifteen years as a head chef in a variety of restaurants in Australia and London. Since, he has made the transition from restaurants to personal cooking on motor yachts and villas. His knowledge of world cuisine ensures that every day guests get an extensive menu to choose from that will satisfy everybody at the table.