Motor Yacht RISING DAWN
At Barrington Hall we provide motor yacht charters around the world on various luxury yachts. The Motor Yacht listed below, RISING DAWN, is one of the many motor yachts we offer for charter. Please contact us for up to date information on RISING DAWN or any other yachts in your desired location.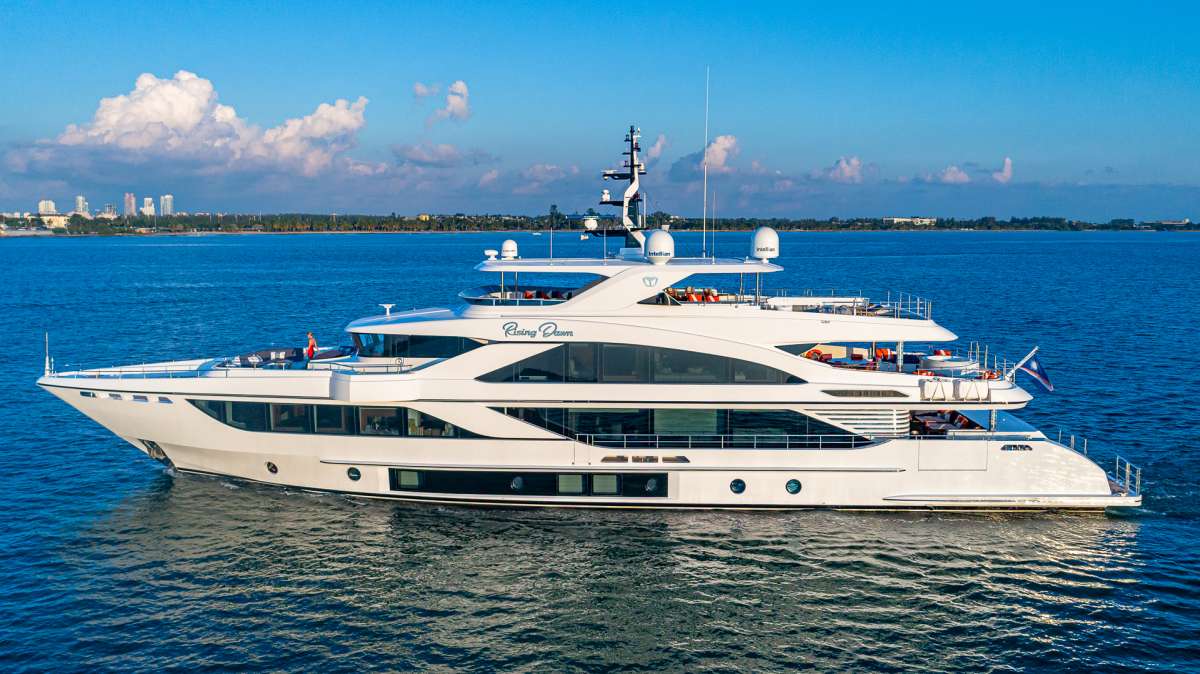 Low Price: $200,000 High Price: $220,000
Builder:
Gulf Craft - Majesty Yachts
Accommodations:
The Majesty 140 has a Master Stateroom on the main deck, a double guest stateroom on the upper deck behind Sky Lounge, two double guest staterooms and two twin guest staterooms located on the lower deck. All guest cabins have an en-suite.
Amenities
Dinghy Size:
34' Grady White
Dinghy Size:
34' Grady White
Water Sports
Other Toys: Tenders & Toys
34' / 10.36m Grady White 2x 350 HP
14' / 4.26m Walker Bay 70 HP
Water slide
2 New wave runners 3 person
Snorkel gear for 12 people +
Water skies
Fishing gear
Towed tubes
Wave runner dock

Communications: Starlink
VSAT
PAUL STENGEL / CAPTAIN

Paul grew up along the Jersey shore where his love for the sea, boating and fishing was an everyday occurrence. Paul's beginning days have taken him to where he is today as a Yacht Captain and has been blessed to have traveled the world. Paul's time spent in the Army and being a Police Officer in Virginia have only sharpened his skills for awareness as a yacht captain.

Paul enjoys meeting new people, seeing new places and loves making guests happy.

Paul is married to wife Melanie for 47 years and they have 2 grown children, Nicholas and Nicholl whom they very proud of. They both have wonderful spouses and were blessed this year by our first grandson – Christen Paul Brabham. Paul and Melanie could not be happier watching this little one grow.

ANDREW TAYLER / FIRST OFFICER

Somewhat of a global nomad Andrew was born and raised in Durban, South Africa where he gained his love of the ocean. Lived 17 years in the United Kingdom, where he gained an architectural degree, worked as an architectural visualizer in the industry until the call of the ocean brought him to yachting in 2009.

For the last four years, Andrew has been flexing his First Mate muscles and knowledge after gaining invaluable experience on larger yachts as second officer. He has a love for the great outdoors and spent his free time in the mountains hiking and exploring and of course anything involving the ocean.

Photography and videography go hand in hand with his passion for new and exotic places. He also enjoys a spot of golfing every now and then.

JOSH GILBERT / BOSUN

Josh grew up in Durban, South Africa where he went to agricultural school until he matriculated before starting his career in the yachting industry on deck. Josh loves being outdoors and being involved in all aspects of the ocean especially fishing, diving, surfing, wakeboarding, and spearfishing. Josh also has his PWC qualification and loves being involved in guest water sport activities.

Travel is also a big passion for him and after 6 years in the yachting industry he has travelled 14 countries around the world. Josh will always bring happiness and smiles whether it may be guests or crew and is a vibrant member to have onboard. Josh is always looking forward to bringing new and exciting experiences and he always make sure guests have a fun filled time wherever we may be.

CULLEN LOWDER / DECKHAND

Born and raised in Austin, Texas. Cullen is a recent college graduate of St. Edward's University.

Cullen has a deep love for nature, the ocean and exploring other cultures. After a study abroad sailing experience in college, Cullen decided to pursue a career on the water. He has an extensive background in watersports like wakeboarding, skiing, wake surfing. A certified rescue diver, Cullen found love for experiencing life underwater as well as on top!

As a guest, you may rest assured that Cullen is over the moon about being a part of the Rising Dawn team. He is eager and dedicated to ensuring that guests have the best experience possible while onboard!

MORGAN NIKSBETT / CHIEF ENGINEER

Morgan is from Fort Lauderdale Florida and is an Australian citizen. His career in the marine industry started at the age of 18 with an engineering background from his father who was a marine engineer for over 25 years and had a big influence on his passion for engineering as well as being on the water. In his spare time Morgan enjoys freshwater fishing, water sports, exercising and reading.

MATTHEW DAVIS / CHEF

Raised under the warm sun of August Town, a quaint village in Kingston, Jamaica, Matthew discovered his culinary passion while savoring the artful creations of his mother, Simone. Matthew holds a diploma in Culinary Arts with six years of professional experience as a Chef under his belt.

Drawing inspiration from French culinary techniques, he excels in crafting exquisite Jamaican and Italian dishes, promising a diverse and memorable dining experience for charter guests.

When he's not wielding a chef's knife or perfecting a new recipe, Matthew unwinds by delving into books and enjoying episodes of "The Office." A true epicurean at heart, he continually seeks out intriguing flavors to delight his palate and further enrich his culinary repertoire.

AMBER HOGG / CHIEF STEWARDESS

Amber grew up in South Africa in a beach town called Durban. Amber comes from a family of 5 and is the eldest of three sisters. As a family they grew up enjoying outdoor adventures and surfing from a young age. Amber studied Corporate Communications for 3 years, which lead to many amazing opportunities including her yachting journey in 2018. After being introduced by a friend she has never looked back.

Yachting has fueled her passion for working with different cultures and teaching people to become the best version of themselves. It has also taken her to so many places she only once dreamed of going. Amber is motivated and determined to achieve her goals and help others do the same, setting the standards high and leading by example.

MICHELLE ROETS / STEWARDESS

Born in Cape Town, South Africa. Speaks English and Afrikaans. Loves South African Rusks, Crunchies, Rooibos Tea, Dogs, Ocean, Beaches, and Goodness in Humanity. Desires travel, seeing the world, working to achieve her dreams.

Enjoyed Business courses in school and sees herself in a vocation that helps people through: Volunteer work, Charity, Fundraisers, Social Work, and Philanthropy. Lived in Panama for two years and became a permanent resident. Making a transition to becoming a permanent yacht stewardess travelling the world.

A Former track runner, you'll see signs of her lightning speed around the boat (Her Chief Stew wants to sew a thunder bolt on her back so everyone can see her) No challenge is too small and always smiling and happy to help and serve guests' needs.

BRENDA DA SILVA LIMA / STEWARDESS

Brenda was born in Brazil and grew up in St Kitts & Nevis where her passion for the water was born. While growing up in the Caribbean, Brenda spent her free time sailing around the islands and enjoying all kinds of water sports. Brenda began her hospitality career working on a private island in the British Virgin Islands delivering her flair in service. Eventually, she paired her love for service and the water and worked on Catamarans as a sole stewardess.
Seeking a new challenge, Brenda transitioned her career into yachting where she still gets to enjoy life on the water all while ensuring guests are enjoying their time on board.