Motor Yacht FORTITUDE
At Barrington Hall we provide motor yacht charters around the world on various luxury yachts. The Motor Yacht listed below, FORTITUDE, is one of the many motor yachts we offer for charter. Please contact us for up to date information on FORTITUDE or any other yachts in your desired location.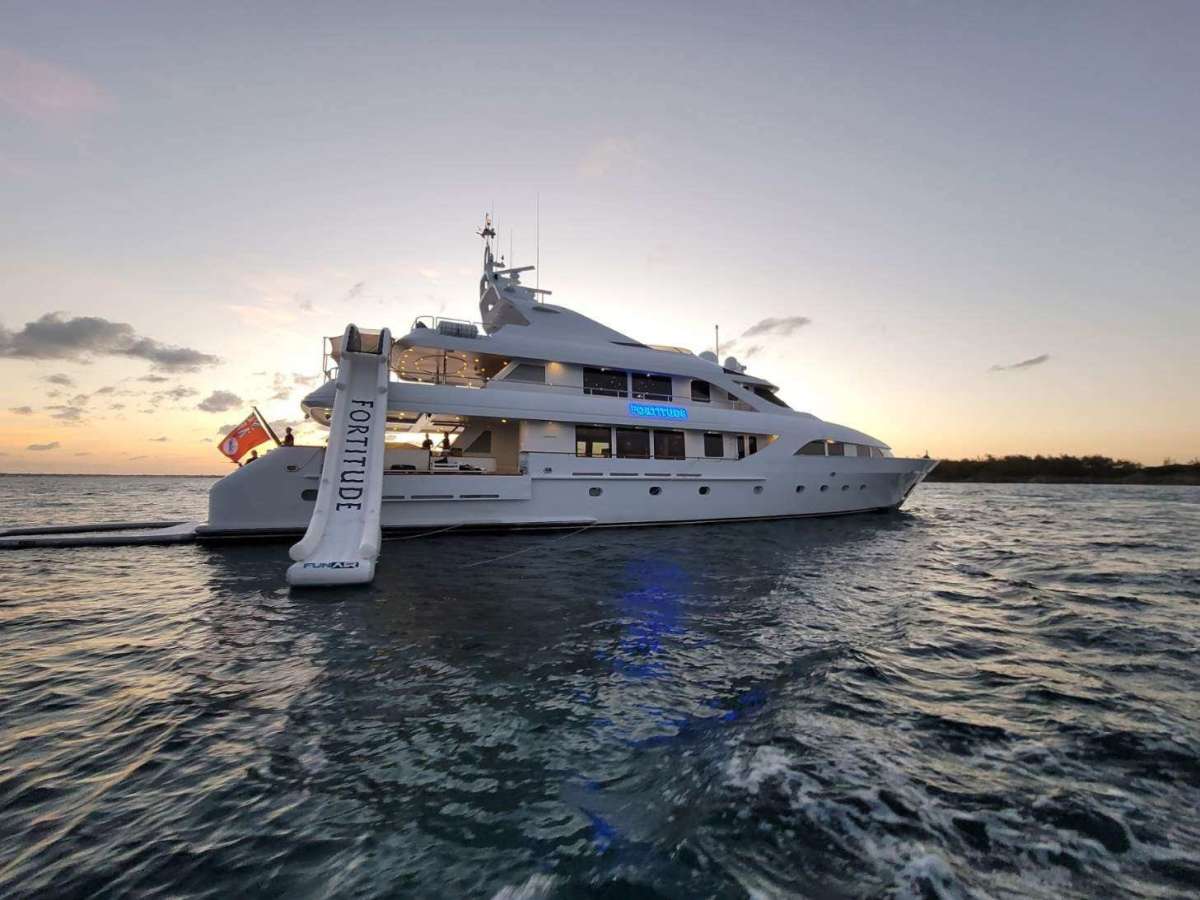 Low Price: $110,000 High Price: $125,000
Builder:
Intermarine Savannah
Accommodations: FORTITUDE is a large volume (28' Beam / 398GT) 136' Tri-Deck M/Y. In 2019/20 FORTITUDE completed an extensive refit, totaling nearly $3 million, which included overhauling the generators, a W-6 service on the main engines, full paint job from the bottom of the keel to the top of the mast, updated electronics, A/V system, and interior soft goods renewal.

This yacht has a well thought out designer interior that is not only spacious, with spectacular views from the main salon, formal dining area and sky lounge but also completely climate-controlled so guests can enjoy the passing vista in complete comfort. Her exterior areas also offer great views and plenty of relaxing and al fresco dining options.

The main salon is spacious with several different seating areas with couches, occasional chairs and a full entertainment system including a 42" Sony TV monitor. The dining area is separate where up to 10 guests can enjoy formal dining and delicious cuisine from the professional chef.

On the upper deck is the sky lounge, with a games table, a comfortable couch to relax on and a bar with stools along with an entertainment system.

The sumptuous master stateroom is on the main deck

The remaining cabins are located on the lower deck accessed via a carpeted guest staircase that leads from the main deck to the grand guest lobby below. Three of the staterooms have queen beds and entertainment systems. The twin cabin has two single beds is suitable for adult guests and can also be used as a nanny or children's cabin.

FORTITUDE's large sundeck offers a curved seating forward, an excellent spot for viewing while underway. There is also a table for casual dining, a fully equipped bar, a large inviting Spa Pool and six large fixed sunbeds at the aft.

On the upper aft deck, aft of the sky lounge is an al fresco dining table, and there is also a large dining table and wet bar on the main aft deck. The aft deck also has stairs leading down to the swim platform.

FORTITUDE is the ideal choice for a vacation, with an extensive array of water toys, an on-deck Spa Pool, spacious decks for sunning, fitness equipment and an excellent entertainment system throughout the yacht.

Power comes from two 2285hp MTU 12V396TE94 diesel engines, which allow a top speed of 18 knots and a cruising speed of 13 knots.

---------------------------------------------------------------------

The private master stateroom located on the main deck features a luxurious king-size bed. The large, his and her bathfeatures marble, a large tub and central shower.

The remaining cabins are located on the lower deck accessed via a carpeted guest staircase that leads from the main deck to the grand guest lobby below. The four guest staterooms include a large VIP stateroom with queen size bed, 2additional queen staterooms, and a twin stateroom. Each guest stateroom features ample space and private bathsfinished in marble, custom wall coverings.
Amenities
Dinghy Size:
37' Axopar Tender
Dinghy Hp:
17 1/5' RIB + 90hp outboard
Dinghy Size:
37' Axopar Tender
Dinghy Hp:
17 1/5' RIB + 90hp outboard
Water Sports
Other Toys: Toy List:
37' Axopar tender
17 1/5' RIB + 90hp outboard
2 Wave runners
Slide
Modular SeaPool with Beach Club Deck and wave runner dock
2 sea sleds
Beach set up
Snorkel gear
Fishing equipment
2 Inflatable paddleboards
53' Suenoswith captain and mate available for fishing at an additional $25,000 per week
Other Toys: Gym Equipment:
Peloton
Pilates mats
Free weights
Communications:
SATcom, SSB:Sea 7157, Cellular Phone System, 1) ACR Electronics RLB35, CAT 1, (2) SART ACR Electronics 2708, (1)VSAT VOIP, Satellite phone Globalstar GSP 2800/2900, Satcom KVH Tracphone F55, VSAT SeaTel 4006 BroadbandMaritime, SAT-TV Communication system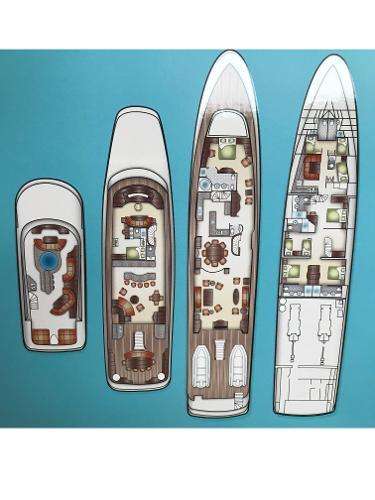 Michael Murphy
Captain
American
Captain Murphy is a true water man. He and his family always lived on the water. When he was 11 years old his parents bought a house in Key Largo Florida and that is when the salt water got into his blood. Fishing and diving in the Keys laid the path for a life on the water. In 1990 Capt Murph started as a deckhand for Clipper Cruise Line. For 11 years following Capt Murph learned the nuances of small ship hospitality, guest services, and some very exclusive cruising areas. After getting his Captains license in 1994, he earned his way up to Captain of the small ship cruise line of American Canadian Caribbean Cruise line. In the late 90's he started working seasonally on yachts, and then in 2005 became full time in the yachting industry as the Captain on the 120' Christiansen "Kakela". Today as a seasoned Captain "Murph" leads a team of professionals and provides an enjoyable cruising experience creating memories of a lifetime.


Dario Suarez Plua
Chef
Ecuadorian
Chef Dario Ricardo Suarez Plua was born and raised in Guayaquil, Ecuador. He entered the boating world in 2008, at the age of 29. Beforehand, he had worked in luxury hotels and restaurants, deciding to make the switch to cruise ships completely out of curiosity. Dario sailed the Enchanted Islands on the Galapagos Explorer Cruise, then worked as Executive Chef for Silversea Cruises and Celebrity Cruises for a total of nine years. Throughout his journeys, Dario has traveled to the Galapagos Islands, Margarita Island, Peru, San Andres, Chile Southern Cone, Flank Islands, Panama, Spain, Canada, and Miami. Other than the obvious—cooking—his hobbies include reading and writing about his life. He especially loves to cook for his children. When asked about his treatment of onboard guests, Dario revealed that for him, the guests are like "a group of friends" for whom he loves to cook, and "with great respect" he likes to "please their culinary tastes". Since he is originally from Ecuador, Spanish is his first language, and he also speaks English. As a result of his experiences as a chef in the boating industry, he shared that he has fallen "in love with the sea".


Alexandra Del Pozo Carreno
Chief Stewardess
Equador
Chief Stewardess Alexandra Mariuxi Del Pozo Carreño was born and raised in Guayaquil, Ecuador. Her first language is Spanish, but she is also fluent in English. She started in the boating industry in 2011, working as a cruise manager in the Galapagos Islands for over six years. She transitioned to the yachting industry when a company came to Galapagos to recruit personnel to work onboard a yacht. In addition to the cruise ships in the Galapagos Islands, Alexandra also worked as chief stewardess on many private and charter boats. During her career, she has had the chance to travel to the Galapagos Islands, the Bahamas, Costa Rica, Cancun, La Paz, Turks and Caicos, and Dominican Republic, among other locations. Alexandra likes to spend time with friends and especially loves to enjoy vacation time with family. She also really appreciates a day off on the beach. On the topic of treatment of guests, she shares that "the most important thing for me is to always treat them professionally and respectfully, making their stay on board one of the most pleasant and unique experiences they ever had, without losing the touch of personal charisma that I give to each one of them."


Joel Corbeira Gutierrez
1st officer
Mexican
Joel is from Mexico. He started his career on commercial and dive vessels. He worked up to being captain on 106' yacht in Turkey. His travels include Turkey, Greece, Italy, France and the Bahamas. He enjoys sports, movies and spending time with his family and friends. Joel always gives his best to make guest feel happy onboard. He treats guest with respect and has an excellent attitude. Joel looks forward to assisting the guest in whatever they request in order to give an incredible experience onboard!


Eduardo Velasco Tadeo
Deckhand
Mexican
Eduardo is from Mexico. The sea has always been his passion. Part of his family is dedicated to work at sea. He started in the industry with fishing and dive boats. Since then, Eduardo has worked on numerous boats and has travel to Mexico, Honduras and the Bahamas. Eduardo always has a big smile and treats guest with respect. Everyday he stives to improve his skills to give guest the best experience on board Fortitude!


Christopher Flippen
Engineer
Mexican
Christopher Flippen is from Puerto Vallarta, Mexico. He joined the boating industry in December 2016, when he had to look for new job opportunities due to the recession in the offshore industry in July 2016. One of the opportunities he was offered was on yachts in Puerto Vallarta. Other than working on offshore vessels for 14 years, he has also worked on a 98' Princess yacht , a 120' Intermarine, and a 145' Cheoy Lee. He has traveled up and down the west coast of Mexico and the east coast of the US, as well as all over the Caribbean. In Mexico, he has been to Cancun, Cozumel, Holbox, Acapulco, Ixtapa, Puerto Vallarta, Los Cabos, La Paz, and the Sea of Cortez. On the east coast of the US, he has visited Miami, Fort Lauderdale, Charleston, Savannah, Atlantic City, Port Jefferson, and New York. In the Caribbean, he has traveled to the Bahamas, Turks and Caicos, Puerto Rico, and the US Virgin Islands. His hobbies are walking, fishing, and listening to music. He treats guests with kindness and respect. With his experience, knowledge, and passion in his work, he always attempts to do his best to "make each guest's experience on board the yacht comfortable and satisfying in every way imaginable." Hailing from Mexico, he is fluent in Spanish