Motor Yacht ASTERIA
At Barrington Hall we provide motor yacht charters around the world on various luxury yachts. The Motor Yacht listed below, ASTERIA, is one of the many motor yachts we offer for charter. Please contact us for up to date information on ASTERIA or any other yachts in your desired location.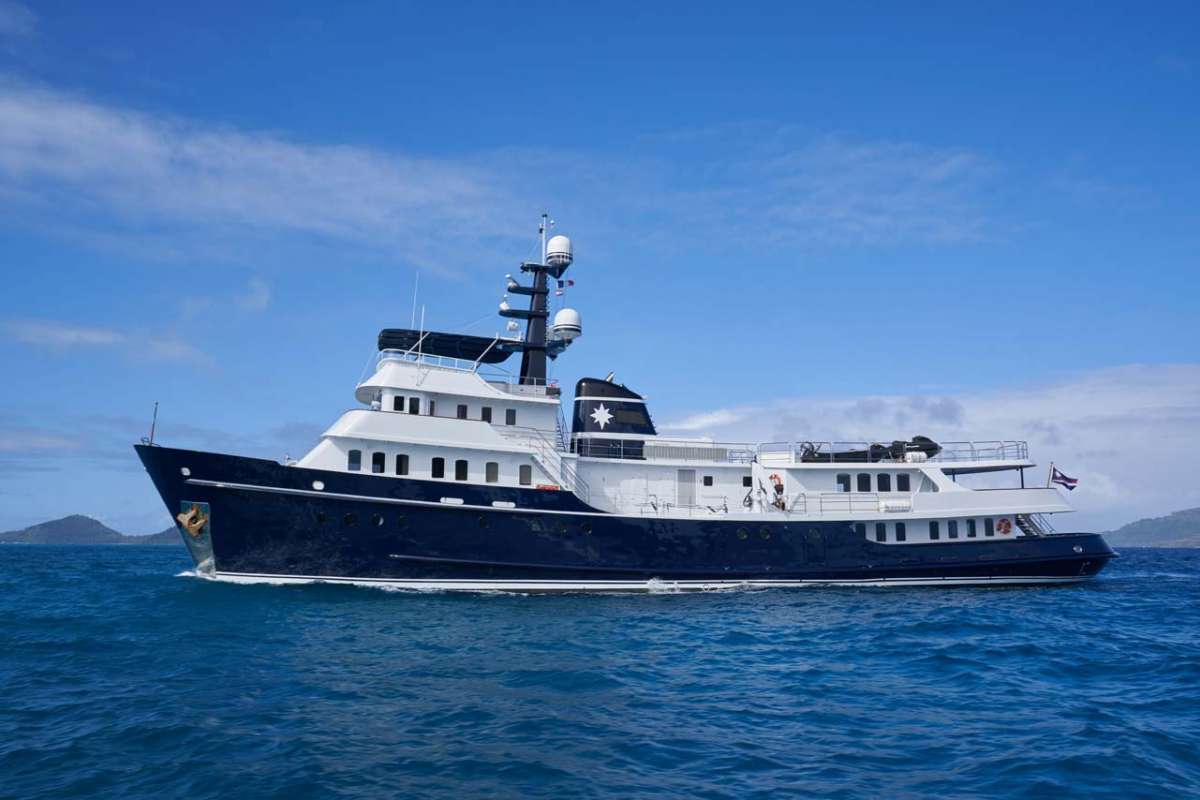 Low Price: $250,000 High Price: $275,000
Accommodations:
12 Guests in 6 Staterooms. 1 x Owner's Suite, 4 x double cabins, 1 x twin cabin, 1 x children's cabin
Amenities
Dinghy Size:
Northwind Extreme Enforcer Tender 8.5m
Dinghy Size:
Northwind Extreme Enforcer Tender 8.5m
Water Sports
Other Toys: Northwind Extreme Tender with Enclosed All-Weather Protection
8.5m (12 max)
6.5m Tino Tender with Jet Propulsion
2 x Zodiak MK4 Mil Pro
2 x Jet Ski Seadoo Wake Sport
2 x Rigged Kayak
2 x Rigged Paddleboard
2 x Picos sailing laser
1 x Inflatable windsurf adult and child
1 x Set on Golf range practice
3 x Wake board Adult and Kids
Water ski set Adult and Kids
2 x Dive compressors including Nitrox
8 x Full set dive gear
4 x Full set cold water dive gear
3 x Full kite surf gear
12 x Set of snorkeling gear
1 x Inflatable water towable
Children's beach toys
Big game fishing equipment
Recreational fishing equipment
2 x Underwater torpedo
Full beach party setup
Nautiboy swim platform
CAPTAIN | Franck Catsuris | France
Franck was brought up in Beaulieu Sur Mer in the French Riviera near Monaco and has been on boats all his life. He started sailing when he was just 7 years old and hasn't stopped since. He has cruised most of the world's oceans and has worked on private and charter yachts. He loves sailing and water sports including wakeboarding, windsurfing and kite surfing. Some highlights of his career include participating on regattas aboard S/Y TUGIA belonging to the Monaco Yacht Club. Captain Franck was given the Philippines Coast Guard title for saving lives from a sinking ferry in Manila. He is married to Carole, purser of Asteria. For over 25 years, Carole and Captain Franck have traveled the world together. As an adventurer at heart, Captain Franck is always eager to cruise in new places to offer his guests the best experience on board in the safest way possible.

PURSER | Carole Catsuris | France
Carole is originally from the center of France, a renowned region for its cheese and beautiful landscape. By age 14 she moved to the French Riviera. At 19 she started working in luxury retail stores in Monaco including Hermes. Carole met Captain Franck at the first ever Monaco Yacht Show back in 1994. Since then, they have been inseparable and have decided to travel the world together, in 2000 they got married in Phuket. Carole started working on yachts a few years later as a stewardess/cook/deckhand, later as a Chief Stewardess and now completing her yachting career as a Purser. She loves meeting new people, trying new food, and making friends around the world. Carole takes great pride in making sure her guests have the most enjoyable days possible when cruising on Asteria.

CHIEF OFFICER | Stephan Turchini | France
Stephan is born in the South of France, then his parents moved to Gabon in Africa, where he grew up. He started in the Yachting industry in 1996, he decided to join the French Navy for a couple of years before he went back to work on yachts. Stephan has cruised all oceans except the Pacific, which is on his bucket list. He has visited over 50 countries and cruised more than 105,000 miles. Besides his passion for boats, Stephan loves diving and all water sports like Kite Surfing and Wakeboarding. His main passion is fishing and he is always keen to go shopping to find a new toy to complete his equipment.

When not at sea, Stephan likes to go back to his retreat in the mountainside in the South of France, where he built a small workshop where he shares his time making handcrafting leather products and enjoying nature and its surroundings. Captain Franck and Stephan have worked on several charter & private boats together. Stephan has excellent seamanship and enjoys always taking care of his guests.

BOSUN | Ali Najeeb Mohammed | Maldives
Ali is born in the Maldives, in the region of SH on Feydhoo Island, he is part of a big family with 3 brothers and 3 sisters. Since he was 11 years old, he has been cruising on boats with his uncle and with the school. At 16 he got his first paid job as a deckhand. For many years he was employed on day charter boats and luxury resorts. When he was 24, he wanted to experience the world. He decided to try out the shipping industry, but after a couple of years, he was contacted to work on private yachts and chose to try this new direction. In 1998 he joined the crew of Lady Moora, the biggest yacht in the world at the time. He oversaw the fishing, Diving, and Watersports working and traveling often with the family for 13 years. Ali is married and the father of 3 daughters, and after such an extended period away from his loved ones, he moved back to his country working as a Captain on 30m charter Boats and back to the luxury resorts program. Last year, Captain Franck who was cruising at the time in the Maldives on an explorer yacht, asked Ali to join his team, so he could bring extra local knowledge to the trip. Ali knows those islands like the back of his hand. When Franck joined Asteria, he could not see anyone else for the job, Ali is bringing a lot of his fishing experience on board Asteria. He is very proud to have caught 12 sailfish and a 420 kg marlin in the Maldives and has participated in many international fishing game competitions. He has visited 28 countries while at sea, he has a big interest in the environment, and enjoys watching and playing soccer while at home.

DECKHAND / DIVING INSTRUCTOR | Jedd Larsen | South Africa
Jedd was born and raised in beautiful South Africa. Diving has always been a passion of his and being drawn to the water led him towards scuba diving. He is a certified divemaster and has been scuba diving for almost a decade now. Jedd picked up sailing and surfing from a young age as well. He decided that he wanted to work on boats and as soon as he finished school, he went on to complete his yacht master tickets. Jedd started working on yachts in the local marina in Cape Town to gain some experience. In the past he was able to board a variety of sailing vessels that took him on amazing adventures from Ibiza to west coast of Italy. Afterwards, he was fortunate enough to join his current boat, Asteria. He is now able to use the skills that he has obtained over the years and put them all into this position. He is currently the divemaster and deckhand onboard Asteria. Being the divemaster onboard, Jedd is in charge of all dive operations, services and maintenance of all the dive equipment, along with planning and leading of dives with guests. With all his experience it is certain that you will have an amazing time if you come along for a dive with him. His goal is to work his way up within the industry and become one of the youngest captains out there.

DECKHAND / DRONE SPECIALIST | Dylan Tunmer | South Africa
Dylan is aged 23 and was born in South Africa, he was raised in the small coastal town of Knysna, where he was introduced to the ocean at a very young age. Since 2017 Dylan has been a rescue crew member for the National Sea Rescue service in South Africa. He has done many rescues and responded to many outs since he joined. Dylan has fostered a great respect for the ocean and plans to progress his career in yachting as well as rescue operations. Besides the ocean, Dylan is obsessed with Aviation and plans to get his Pilot's license in the coming years. This explains his enjoyment of Drone piloting and with that comes videography, having this skill makes him able to let the guests have their best memories never forgotten.

CHIEF ENGINEER | Edgar Fajardo | Mexico
Edgar is from Tampico – Mexico -famous for UFO sightings and as the legend says an alien base 40 km from the city's beaches deep underwater. He has loved the sea since he was a little child, so when it was time to choose his career, he decided to attend the Maritime Academy and he became an Engineer. He worked on bulk carriers and offshore vessels in Mexico, Singapore, and Egypt, so his dream to travel the world started to become alive. With Asteria, due to their itinerary, another dream of his becomes reality, and that is to make snow angels, as he never touched snow before. He loves diving, sandboarding, and camping and he drives off-road vehicles. He is very excited about being part of the Asteria crew and looking forward to a whole new adventure.

SECOND ENGINEER | Oscar Lara | Mexico
Oscar is 27 years young and proud to be Mexican. He graduated from Merchant marine school in Mexico. His first boat was the Rio Balsas, a 242m bulk carrier; he continued working in the commercial industry for four years until he was introduced to the yachting industry. His first yacht was a 6s m where he spent 4 months as a temporary 2nd engineer. They had a successful long boss trip in Miami after that 1 month on n shipyard until the end of his temporary contract. Then he went to Savannah, GA to help in a refit of a sailing yacht for 5 months. After that, he joined Asteria as temporary engineer which eventually became permanent. He believes it is good to have a bubbly personality because that helps to have a very good job environment. He is always happy to help in all areas. He enjoys cooking in his free time. He can make very good Mexican dishes also and when we talk about making a barbecue, he is your guy. He has a can-do attitude and always looks at the bright side of things.

CHEF | Lorenzelli Pierre-Yves | France
Chef Lorenzelli has worked as a chef since he was 20 years old. He began in different hotels and restaurants, he has spent the last seven years on yachts. Asteria is chef Lorenzelli's 4th yacht. Chef Lorenzelli has cruised the Mediterranean, Southern Hemisphere, Asia, Oceania, Caribbean, and all-around South America. He had the opportunity to see a wide range of cuisine, and to work in high-end restaurants. Working on a boat is a great opportunity for him to join two of his passions: cooking and traveling. With her interesting itinerary, Asteria appealed to him, and he is looking forward to the future challenges this type of expeditions will give him.

CHIEF STEWARDESS | Silvia Mantea | Romania
Silvia, 44 years old, grew up on a small farm in Romania, in a loving family, surrounded by nature and many pets. In school, developed an affinity for literature and foreign languages. She tried different jobs on land, seeking to understand what would give her satisfaction, but nothing seemed interesting enough until she came across yachting. There is no other thing to thrill her more than being surrounded by like-minded people in an environment encouraging diversity and a healthy lifestyle. Today she has 16 years of service on motor yachts up to 140m.

SECOND STEWARDESS | Lenka Cicatkova | Slovakia
Lenka, 30 years old, is from a beautiful country - Slovakia. After her university studies in Prague, Czech Republic she moved back to Slovakia and found a passion for event organizing, especially weddings. She organized over 90 mostly international weddings, including over 300 guests. For the summer season, she was a sole stewardess in the Mediterranean region on motor and sailing yachts up to 24-meters. She has hosted families, groups of friends, bachelor parties, and weddings but also corporate events and teambuilding. She is willing to make your experience as personalized to you as possible, but also let you experience and learn something new. She loves sailing! A couple of years ago, she bought with her friends a small sailing yacht (micro category) and for a few seasons they raced on regional championships. She finished five NYC marathons and two halves. She is into hiking, climbing, gliding… She loves adventures! And a good book or podcast with cup of coffee.

THIRD STEWARDESS | Maricruz Valdez | Mexico
Mari is from Cancun – Mexico, a small paradise as she calls it, with amazing turquoise water. She left the country for the USA when she was 15 years old where she graduated high school and then she had various jobs from baby-sitting to loan officer. In hospitality, she started as a hostess in vacation clubs where she had the opportunity to work in Hard Rock Hotels for seven years. It was in 2021 when she found her first opportunity to work as a stewardess on a private yacht. She hopes to continue in this industry as long as possible to enjoy, learn and meet great people from all over the world.