Motor Yacht BELLA TU
At Barrington Hall we provide motor yacht charters around the world on various luxury yachts. The Motor Yacht listed below, BELLA TU, is one of the many motor yachts we offer for charter. Please contact us for up to date information on BELLA TU or any other yachts in your desired location.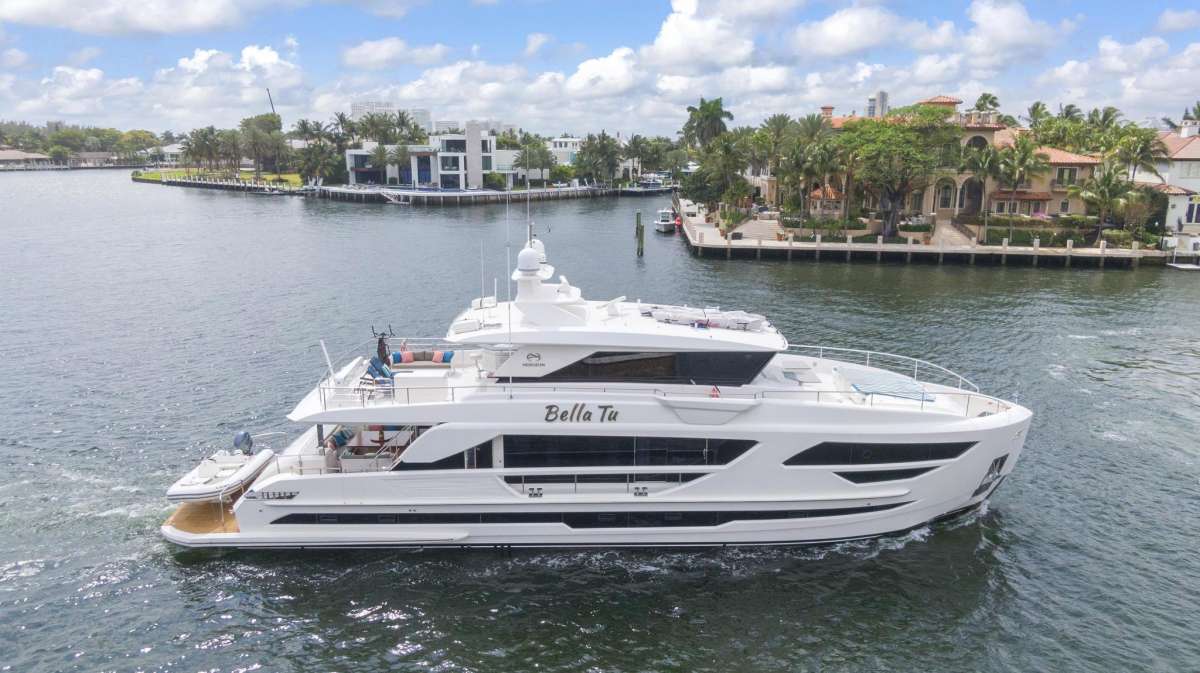 Low Price: $85,000 High Price: $95,000
Amenities
Dinghy Size:
16' Zodiac RIB Tender
Dinghy Size:
16' Zodiac RIB Tender
Water Sports
CAPTAIN (rotational) | Hartley McCloskey | American
Captain Hartley is truly a salty sailor having experienced every role onboard over the last 20 plus years. A graduate of the University of South Carolina, his travels have taken him all around the world. From numerous trans-Atlantic crossings to sailing regattas in Newport, Hartley brings his years of experience in Captaining and safely maintaining the vessels under his command to the BELLA TU program. He has worked on yachts ranging from 60' Sailboats to 170' Motor Yachts including a 15-year stint onboard a busy 112' charter boat in the Caribbean which not only honed his skills as an excellent Charter Captain but also as Grill Master, as he loves to cook too. He looks forward to welcoming you onboard and sharing some of his many 'Sea Stories'.

CAPTAIN (rotational) | Scott Sheffel | American
Captain Scott's yachting career started when he bought his first boat, a 16 Prindle cat at the age of 18. Scott sailed off the beaches of South Florida before owning and renting, even teaching sailing on Lake Tahoe for many summers. Scott moved back to Florida in 1992 and was hired for his first real job in the industry at Tropical Diversions where he started in maintenance and worked his way up to head Captain obtaining his USCG master's license in 1994, which he has since upgraded to 500 tons. He has run sailboats, both mono haul, and cats, sportfish, and motor yachts, both private and for charter up to 125'. He has cruised and fished the waters of the Atlantic and Caribbean from Venezuela to the Bay of Fundy, and the Pacific from Columbia to California, including multiple Panama canal crossings and some time in the waters off New Zealand.

As a captain, Scott prioritizes the safety and proper care of the vessel while ensuring that the guests have the best possible experience. He has always taken great pride in providing unforgettable experiences, whether it be taking guests to a secluded beach on a beautiful island in the Bahamas, snorkeling on a colorful reef in crystal clear water, fishing for marlin off Bermuda, catching snapper for dinner in the keys, relaxing day cruise to Block Island, docking in South Beach to enjoy the party scene, or just enjoying a cocktail and sunset on the aft deck. He has an extensive watersports background including fishing, spearfishing, diving, wakeboarding, kiteboarding, and surfing. "With a great crew, we are able to cater to the diverse needs of any client". He also has an extensive maintenance background and there are few situations that he has not previously dealt with. In short "I love what I do and enjoy sharing the experience with others!"

CHEF | Jessica Filkins | American
Jessica enjoys cooking all types of cuisine. She specializes in catering to guests' specific dietary preferences such as vegan, gluten-free, and keto. She is skilled in preparing food that tastes delicious, looks beautiful, and adheres to her high standards of quality, sustainability, health, and nutrition. Jessica also offers her services as a yoga teacher and energy healer on board the yacht as requested. She loves surfing, spearfishing, taking underwater photos, traveling, dancing, and hosting retreats. If you enjoy seafood, you may find yourself eating fish that Jessica speared herself! Jessica has had a lifelong passion for cooking. Her parents indulged her from an early age in baking and meal prep. Jessica grew up on Block Island and was homeschooled on her parent's yacht in the Bahamas, learning to appreciate the finer art of catching, preparing, and presenting seafood. She graduated from Colorado College in 2011 with a BA in philosophy and psychology. In the summers she drove the launch on Block Island Harbor and worked at restaurants. Following an illness during her junior year of college, Jessica learned the value of healing herself through specific diets and alternative medicine. She became interested in the study of the gut microbiome and the science of treating food as medicine. In 2013 she attended the Institute of Integrative Nutrition and became a certified health coach. She subsequently started a turmeric herbal tea company called 'Jahmu' in 2014 which she ran for 6 years.

Her career as a yacht chef began in 2019. Since then she has cheffed on both sailing and motor yachts ranging from 50ft to 120ft in the Caribbean, Bahamas, and New England. Her experience in sourcing the freshest produce, meats, and seafood and treating them with reverence and uniqueness of presentation adds to her value as a chef. Her mission is to provide the best experience possible for her guests and for them to leave feeling well-nourished, satisfied, healthy, and inspired!

STEWARDESS | Shakyra Johnson | American
Shakyra graduated from The New York Restaurant School with an Associate of Occupational Studies in Culinary Management and has worked in some of the finest restaurants in New York City. She has over twenty years of experience in hospitality and enjoys it immensely. Her goal is to be an asset to any program that she is a part of and to always strive to exceed the guest's expectations. She feels that Yachting is such a dynamic field that it encourages her to be innovative and stay creative. Shakyra is looking forward to having you aboard.

MATE | Micah Herron | American
Micah grew up in the deserts of Tucson Arizona. While backpacking in Hawaii, he came across a sailing youth hostel and he quickly fell in love with the ocean. With a very strong engineering mindset, he rose through the ranks as a crew and service technician. Boasting over 10 years in the industry, Micah loves taking new adventures and making new friends along the way, while striving to upgrade his captain's license to 200-tons.