Motor Yacht ELEMENT
At Barrington Hall we provide motor yacht charters around the world on various luxury yachts. The Motor Yacht listed below, ELEMENT, is one of the many motor yachts we offer for charter. Please contact us for up to date information on ELEMENT or any other yachts in your desired location.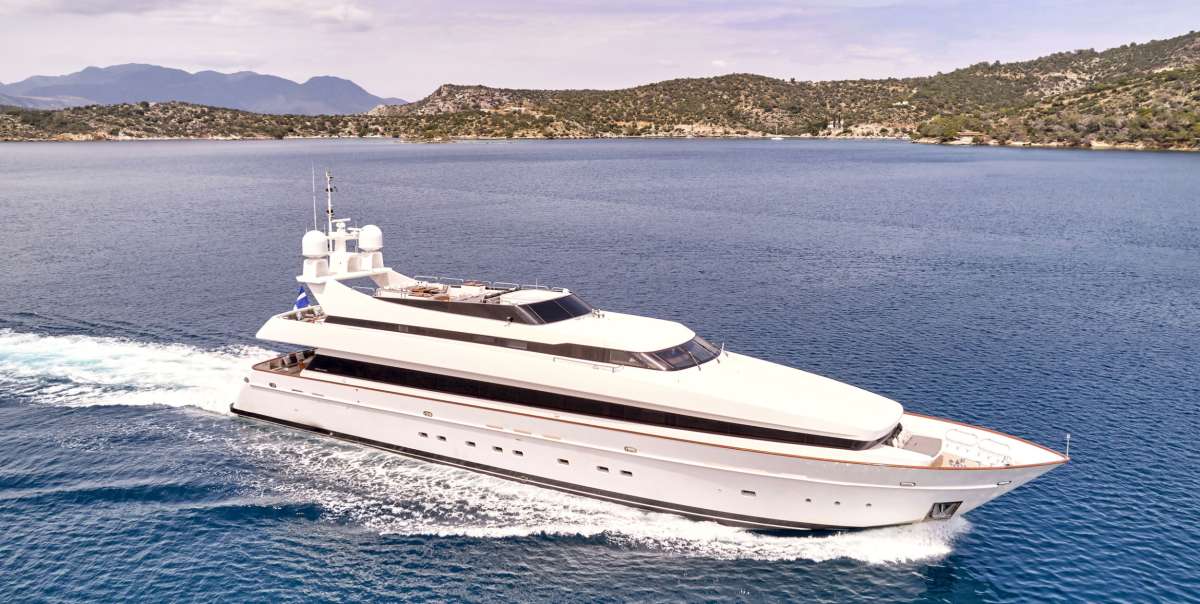 Low Price: €120,000 High Price: €135,000
Builder:
Cantieri di Pisa, Italy
Accommodations: 1 x Master Suite on the main deck
1 x Master Suite located on the lower deck
2 x Double Staterooms on the lower deck
2 x Twin Staterooms on the lower deck

Amenities
Water Sports
Other Toys: 1 x Ribeye 4.3m Rib tender with Yamaha (70HP) Outboard engine
2 x Sea-Doo Spark Trixx (2 seater)
2 x Stand-up paddleboards
1x Seabob
1 x Inflatable butterfly tube (2-seater)
1 x Inflatable banana (4-seater)
2 x sets Adult waterskis
1 x set Children waterskis
2 x medium Slalom water ski
1 x large Slalom waterski
1 x medium wakeboard
1 x large wakeboard
Mask/snorkel and fin sets for 10 adults and 5 children

Assorted fishing gear (3x trawling rods; 1 x spinning rod)
Fishing equipment
Captain: Giannis Kozakis
Nationality: Greek

Captain Giannis holds a Captain's First Class Diploma and has more than 28 years of experience in high-specification luxury motor yachts, including luxury yachts over 45m+. He holds Certificates in SSO, GMDSS, ARPA, Radar, Fire Fighting and First Aid. With excellent knowledge of the East and West Med, the Aegean and Ionian waters, Captain Giannis can be relied on to recommend the right place for the right occasion, from cosmopolitan full-service beach clubs in popular islands to deserted sandy beaches off the beaten track. His hobbies include scuba diving, fishing and construing thermal airplane models. Captain Giannis speaks excellent English and has two children.

Chief officer: Petros Kozakis
Nationality: Greek

Chief officer Petros Kozakis studied at the Merchant Marine Academy of Aspropyrgos and he is certified in GMDSS, SHIP SECURITY, FIRE FIGHTING, LIFE-SAVING, AND EMERGENCY MEDICAL CARE. He is the holder of CAPTAIN CLASS C' DIPLOMA.
Petros has 9 years of experience managing all types of passenger ships and for the last 4 years he held the position of Chief officer on M/Y ''RINI-V'' before joining the team of Element. He is continuously learning and improving his skills and he is compassionate, kind and genuinely cares for others. He hopes to grow as a professional and progress his way up through the ranks in the yachting industry. He has hotel management experience, and he loves yachting, for the challenge, variety, and opportunities it offers as well as all of the incredible people he has been lucky to meet. In his spare time, he enjoys fishing and keeping fit and absolutely loves anything to do with martial arts.

2nd officer: Giannis Konstantinidis
Nationality: Greek

Giannis has more than 20 years of experience as a First Engineer across the maritime sector, from high-tech motor yachts to large commercial ships. He holds certificates in SSO, Life-Saving, First Aid, and Fire Fighting. He has steadily built strong experience and a firm background. Giannis is an asset to the team and brings along with him positive traits such as excellent communication and organizational skills, flexibility, adaptability, and team spirit. His friendly nature and high sense of responsibility and safety awareness ensure a safe cruise for all on board, whilst the guests can enjoy a relaxing time.

Chief Engineer: Vangelis Smpiliris
Nationality: Greek

Vangelis was born in Greece and graduated from Greek Merchant Marine Academy as Chief Engineer. He has worked on board merchant vessels for many years, gaining experience and knowledge before joining the yachting industry. Vangelis is in charge of the overall management of the Engineering department and maintenance of all safety and critical equipment. He is an enthusiastic and positive team member, with a great eye for detail. During his spare time, he loves sports including basketball and football! Vangelis speaks English and Greek.


Chef: Ilias Chrysovergis
Nationality: Greek

Ilias was born in 1980 and is an extraordinary asset to the team. He has been building his career and gaining experience since 2004 at 5* hotels and Michelin * restaurants . Ilias has completed a chef diploma at the art of cooking institute of hotel and culinary arts. He was nominated as the ''chef de rotisserie' in 2018 in Paris. His love for creating culinary delicacies motivates him to further expand his knowledge and professionalism. Ilias is looking forward to welcoming his guests onboard and pampering them with his top-notch cuisine. He speaks Greek and English.

Officer & Chief Stewardess: Zoe Patsoureniou
Nationality: Greek

Zoe has over 20 years of experience in providing impeccable service onboard luxury motor yachts and is an excellent team member with great communication skills. With extraordinary attention to detail, Zoe is able to anticipate the needs of her guests in advance and is exceptional with children. She also holds a Skipper license Class A, very experienced at sea and works calmly under pressure. Zoe has worked with Captain Giannis onboard previous yachts, and is extremely professional and an asset to the team!

2nd Stewardess: Efthimia Theodorakopoulou
Nationality: Greek

Efthimia was born in 1982 and joined the yachting industry in 2020 and has gained extensive experience working onboard 40+m luxury yachts. She is extremely hardworking and dedicated to taking care of her guests, with her gentle and friendly manner. Efthimia is polite and communicative, and her priority is to make her guests feel like they are at home. She is very organized, detail-oriented, and dedicated. She speaks English and Greek. In her free time, she loves keeping fit and is a qualified instructor in basic Aerobic Steps, Power Cycling, Muay Thai, Aqua Fitness as well as group exercise programs with gym equipment.


3rd Stewardess: Maitress Padaong
Nationality: Filipino

Maritess was born in the Phillippines in 1977 and has been working onboard 35+m luxury charter yachts for the last couple of years. Having obtained a Bachelor's degree in social work, her passion for people led her to stewardship in the yachting industry. In her free time she enjoys travelling.


Bosun: Everlito B Saludes
Nationality: Filipino

Everlito was born in 1973 and is an experienced seaman. He has BSc in Marine Transportation from the Agro-Industrial Foundation College of the Phillippines. He commenced his career in 1993 at sea onboard cargo vessels building experience and knowledge. Everlitio switched to the luxury yachting industry two years later in 1995 where he has remained ever since. He is dedicated and committed and ensures the safety of all onboard.