Motor Yacht OCEANOS
At Barrington Hall we provide motor yacht charters around the world on various luxury yachts. The Motor Yacht listed below, OCEANOS, is one of the many motor yachts we offer for charter. Please contact us for up to date information on OCEANOS or any other yachts in your desired location.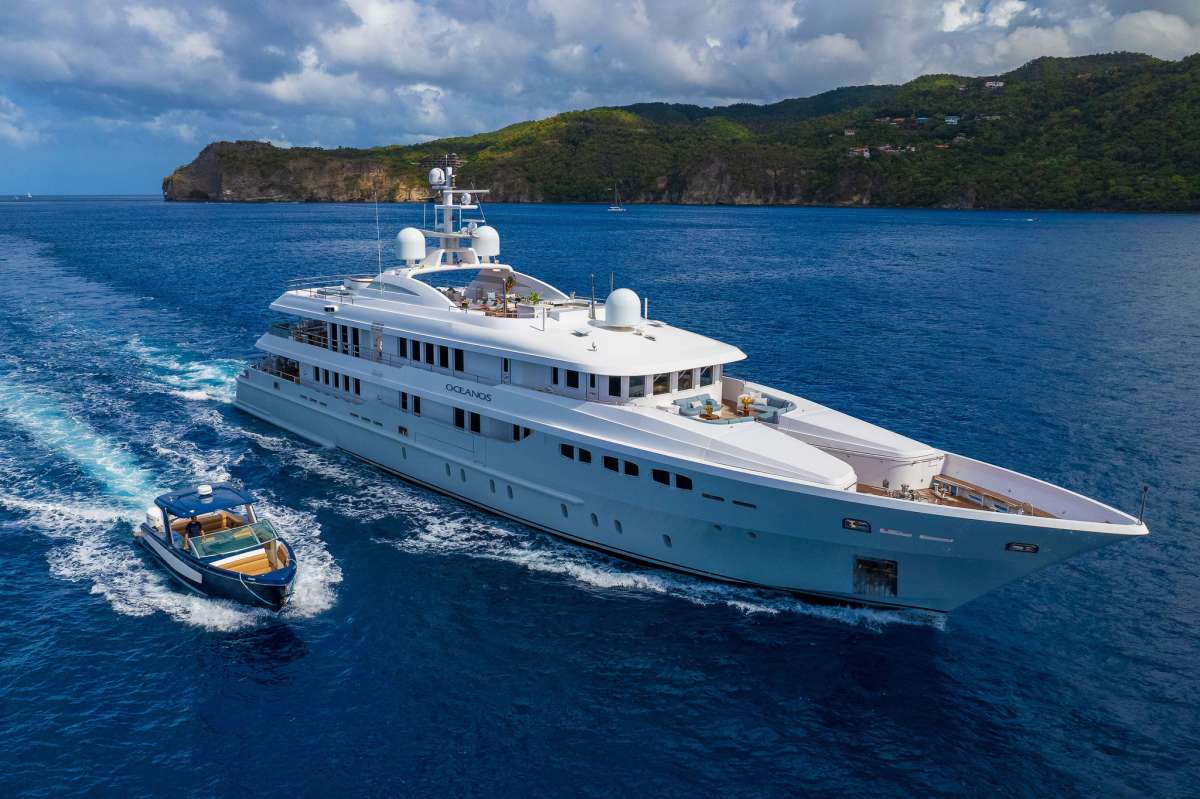 Low Price: $250,000 High Price: $275,000
Accommodations:
12 Guests in 7 Staterooms
Amenities
Dinghy Size:
2020 36' Aviara limousine style tender with
Dinghy Size:
2020 36' Aviara limousine style tender with
Water Sports
Boarding Ladder:
2 x Nautibuoy Boarding Ladders
Other Toys: 2020 36' Aviara limousine style tender with 3 x 300 Mercury outboards
2022 12' AB hard bottom inflatable tender with 30hp Yamaha 4-stroke
18' Zar rib tender 1 x 150hp Suzuki
2 x 2022 Yamaha EX Deluxe Wave Runners
2 x Fliteboard 100L with Wings
3 x Seabob F5s
F5s Quick Charger
4 x Tahe SUP Yak 10'6
1 x Nautibuoy Voyager platform(525)
2 x GoCycle G4
2 x Wakeboards
1 x Children's Wakeboard
1 x Mono Ski
1 x Children's Ski
5 x Towable tubes (various sizes)
Wake surf
Selection of Water Skis
Snorkeling equipment
Light fishing gear
Beach games
STEPHEN BURKE | Captain | Australian
Stephen was born and raised in rural New South Wales, Australia. He was always one to be involved
in various sports and learned how to sail small catamarans at the age of 10. Notably, he represented
his home state in field hockey as a teenager. Immediately after graduating High School, he attended
the University of Wollongong NSW, to study exercise science. He later received his Bachelor of
Science degree and worked as a personal trainer, before the overwhelming urge to travel overseas
grew. At 24, Stephen set forth on an adventure beginning in Europe. While the Balearic in islands of
Spain, he discovered the once unknown life of yachting and completed his trans-Atlantic crossing on
a 75' sloop in 1996. Shortly after that, he began working as a junior deckhand aboard 140'-170' motor
yachts. Along the way, Stephen has been well mentored by prolific Captains in the industry and
worked his way through the ranks steadily for over 21 years from Deckhand and Bosun to Deck Officer
and Captain. His welcoming demeanor, enthusiasm for travel, and keen sense of leadership lend
themselves perfectly to the role of captain.

DAMIAN VALCIC | Chief Officer | Australian
Damian was born in the city of Adelaide, South Australia. Two years later the family moved to a small
town called Port Lincoln, South Australia. Coming from a fishing and farming town
surrounded by the coast it was hard not to fall in love with the water. Growing up with his dad's
passion for fishing, he did find himself joining his father on weekend fishing trips. At the age of
twenty Damian left his hometown and went to work in the Tropic North East of Australia in a small
town called Port Douglas, Queensland. South Australia did lure him back for a couple of years
before he jumped on a plane for the USA. After living in the Pacific Northwest for a year he took
a trip to Florida, where met a friend from his hometown of Port Lincoln who introduced him to the
yachts in South Florida.

RICARDO DE ZWAAN | Head Chef | Colombian
Chef Ricardo De Zwaan brings a blend of Columbian, Dutch, and Thai cultures to the table.
Originally from Colombia, Chef Ricardo has called Thailand home for the last 17 years. From a young
age, Ricardo has been passionate about becoming a chef. Today, Ricardo has spent over 31 years in
the culinary arts, creating edible masterpieces. He describes his cooking style as colorful, fresh, and
innovative. Combining three different cultures into one delicious palette is what really gives
Ricardo's food that 'wow' factor. In his free time, Ricardo enjoys riding his bike, fine dining, and
indulging in life's many wonders with his family and friends. Chef Ricardo would like to welcome all
guests aboard motor yacht OCEANOS. Sit back, relax, and let Ricardo and his team provide the rest.

GRANT DENYER | Bosun | South African
Grant Denyer was born and raised in Johannesburg, South Africa. He was an active kid who loved
the outdoors and his water sports. He swam regionally for most of his school career while always
engaged in other sports, most recently CrossFit and yoga. After high school, he studied for a
bachelor's of Entrepreneurship at the University of Pretoria, which gave him the inspiration to start
a catering company. He ran the company for 3 years until selling it and moving to the coast (Cape
Town) and consulted in HR for big corporates until the sense of adventure overcame him. He then
decided to pack his bags and set sail for the US. His sister is a chef in the yachting industry and
convinced him to give it a go, so, at the age of 24, he embarked on a new career in yachting. He
started his journey in South Florida and the Bahamas for the first year and then moved over to the
Caribbean and the Mediterranean for a few years.

JEAN MARTIZ | Deckhand | South African
Jean comes from a very sport-orientated background when growing up in Durban, South Africa. He
is a very avid fisherman and loves spending time in and around the water. When not at sea, Jean
loves spending time on the golf course and staying active. As a deckhand onboard M/Y Oceanos, he
looks forward to giving you an experience onboard you will never forget through their wide range of
water toys. Jean has been the primary tender driver as he has been driving boats from a young age
on his father's fishing boat all over South Africa and Mozambique. Sailing all over the world has been
an amazing experience for him as he has been in the Mediterranean and the Caribbean Sea and
hopes one day to sail to the Indian Ocean as well.

DIVIAN DE CLERK | Deckhand | South African
Divan was raised on a beautiful Safari Reserve in Bela Bela, Limpopo Province, South Africa. His love
for wildlife, the ocean, watersports, and fishing are what led him to his career in the yachting
industry. His best memories growing up were with his father, either on offshore fishing trips or flying.
He studied for a postgraduate B.Com Degree in Marketing, at the University of the Free State, South
Africa. During this time, he spent studying, he played rugby at a Provincial level as well as club
rugby. These years developed his skills in teamwork and discipline, which are very evident in his
work as a deckhand. He continues to show a strong work ethic and contributes a lot of energy to the
crew's morale.

LAURETA DAUTARAITE | Chief Stewardess | Lithuantian
Loreta or 'Lola' to some is our dynamic and outgoing Chief stewardess. Lola grew up in Lithuania, in
a small town, but she is a girl with big ambition. She already speaks 4 languages and she will surely
be able to speak your language for the duration of your trip! Having spent 12 years working on
yachts, including the high-profile Alfa-Nero, Loreta is at the top of her game and will ensure that all
guests have the holiday of a lifetime! When Lola is not working she loves to travel, eat well and stay
fit. Even with her great talents in yoga, they can be a difficult combination to balance.......but it is
one she does well! Loreta and her dream team are here to make sure you wear smiles from sunrise to
sunset and that your trip on Oceanos is one that you'll never forget.

JESSICA TAYLOR | Second Stewardess | South African
Jessica is from Ballito, a tropical little surf town in South Africa. Her love for the ocean and marine
life is what drew her into the yachting industry. She grew up in a large, loving family that was
involved in the Hospitality industry. At University she studied for her Degree in Visual
Communications, majoring in Graphic Design and Photography. After graduation, she worked in
Aspen, Colorado, for a ski season. For a while, she bounced between seasonal work either skiing or
yachting. She is also a Divemaster, and Yoga Teacher, and has now settled into her career as a 2nd
Stewardess. She has a passion for hospitality and travel.

JOHANA VALBUENA | Stewardess | Colombian
Johana was born and raised in Bucaramanga, Colombia. After High School, Johana studied and
attained a Bachelor of Science Degree in Industrial Engineering. Before joining the yachting
industry, Johana worked as an Engineer in Colombia and as an Au pair for 2 years in the USA.
Johana has a passion for travel and is detailed oriented to attending to any task at hand. She joined
the yachting industry in 2021 and has since decided to gain experience to build a career in yachting.

FRIDA DE LA ROSA | Stewardess | Mexican
Frida was born in a small town in Mexico called Atlixco. Some consider this to be the
gastronomic hub of Mexico, and Frida agrees 100%. Frida loves traveling and for this reason, she
decided to become a stewardess so that she can build on her previous experience of being a
cosmetologist and travel the world. She loves the ocean and the Beach and hopes to settle in a
shoreside town one day. Currently, she lives in Cancun, Mexico where she has spent the last seven
years in high-class resorts in the spa department.

TASHAWNA ALLEN | Rotational Chief Engineer | Jamaican
Tashawna was born in Clarendon, Jamaica. She grew up in this area surrounded by family and
friends. She has two children of her own, which she loves to spend time with on her rotational
holiday. She studied at Caribbean Maritime University and worked in the commercial industry (gas
tankers) for 7 years. She then ventured into yachting in 2015. Having come from bigger boats, as
large as 140m, she knew that she had the experience and skills to attain the role of a chief engineer/
sole engineer. She now holds this important title and strives everyday to prove her worth on M/Y
Oceanos. She is a very valuable member of the team!

MIKEL MCLAWRENCE | Rotational Chief Engineer | Vincentian
Mikel was born in Carriacou, the largest island in the Grenadines, rich for its boat-building culture
and white sandy beaches. His parents are shipwrights by trade, and he was exposed to this rich
culture at a very young age. After graduating from the Caribbean Martine University of Jamaica, he
worked in the commercial industry for many years where he acquired many skills and knowledge in
the operation, maintenance, and repair of marine equipment. Two years ago, he decided to venture
into the yachting industry because of his knowledge, and experience, and being an extrovert, he was
able to adapt very quickly to the change in environment.