Motor Yacht KASHMIR
At Barrington Hall we provide motor yacht charters around the world on various luxury yachts. The Motor Yacht listed below, KASHMIR, is one of the many motor yachts we offer for charter. Please contact us for up to date information on KASHMIR or any other yachts in your desired location.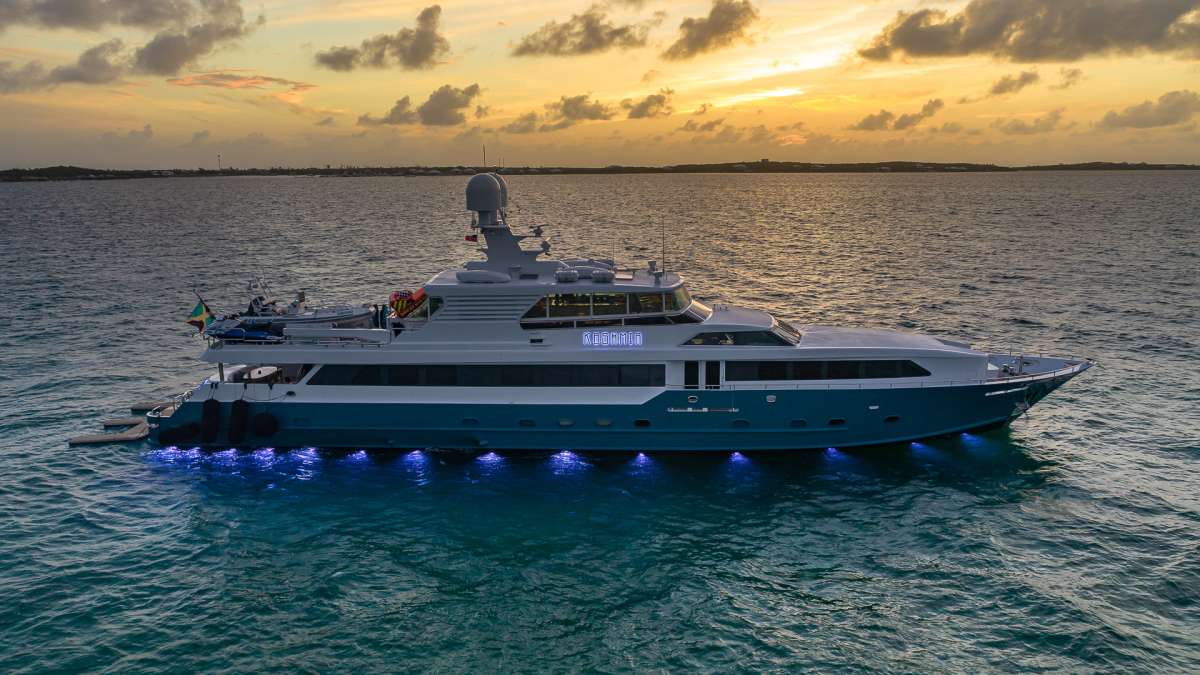 Low Price: $110,000 High Price: $130,000
Accommodations: Guest Accommodations

Forward of the salon, dining room and galley, is the on-deck master stateroom named "Cat Cay". The XL large king bed faces forward, with night stands to either side, and a large flat screen TV at the foot of the bed. The room offers plenty of walk-in wardrobe space, and large side windows. Forward of the room, is a "his" and "hers" bath, with the spaces separated by a Jacuzzi spa, shower stall, and another smaller TV.

Below deck are five, beautifully appointed guest staterooms, all with ensuite baths, access to the Kaleidescape entertainment system, and wifi. In the lower foyer, aft, are two identical king bed cabins, named the "Freeport" (starboard side) and "Nassau" (port side) cabins. Forward of them port side are two more cabins, named the "Exuma" (single cabin) and "Bimini" (twin cabin). One sleeps three, while the other sleeps two, utilizing pullman beds. All the way forward is the VIP "Andros" cabin. It features a King size bed forward, with a generous sitting room aft.
Amenities
Dinghy Size:
32' Intrepid 2X 300 Yamahas
Dinghy Size:
32' Intrepid 2X 300 Yamahas
Water Sports
Swim Platform:
Jetski dock/swim platform
Other Toys: 32' Intrepid 2X 300 Yamahas
18' Novurania 115 Yamaha
Jetski dock/swim platform
WATER SLIDE!! Custom blue to match her hull
x2 VX limited 2021 Yamaha 3 person WaveRunners
x2 F5 Seabobs
x2 BOTE inflatable stand up paddle boards
Wakeboard- Adults & Kids
Water Skis
Surfboard
Super Mable towable 4 person
Ace Racing towable 1 person
Full compliment of mask, fins, and snorkel
Brownies 3rd Lung
Trawling fishing gear x4 rods
Spear fishing gear x4 spears

Complete Beach Setup:
Gazebo's
Beach chairs
Tables
Umbrellas
Assortment of beach toys and games
BBQ Grill

Drone and Gopro for guest video

*Requests considered
Communications: Wifi connection on board
STARLINK, VOIP x2
Phone
Printer
David Laird "Dave" | Captain
Education/Certifications: Bachelor of Business Administration in Management and Accounting; USCG 500T; PADI Divemaster and NAUI Dive Instructor
Languages Spoken: English and Spanish

Captain Dave was born in Clear Lake, Texas, close to Galveston Bay and the Gulf of Mexico. After graduating from college and working in accounting for eight years, the ocean was calling to him so he cashed in his retirement plan and moved to Florida. His love of yachting started in 1998 and over the past two decades, he has worked on charter yachts on the east and west coasts of Canada and the U.S., the Caribbean, Mexico, the Bahamas, and Central America. You may remember Captain David from the 157' Big Sky, Lady Sara, Liberty and the 130' Westport Milk Money. From these yachts, David gained extensive cruising experience in the Bahamas, Caribbean, and North and Central America. David's charter reputation is simple: listen to the guest, offer suggestions, and give the guest what they want. In addition to being a successful charter yacht captain, David is also a certified NAUI Dive Instructor.



Kimberleigh-May van Jaarsveld | First Officer
Certifications/Education: Advanced Diver, Master of yachts 200 ton
Languages: English, Afrikaans

Kim grew up in a small town in the midlands in South Africa. She spent a lot of time around the water being on the dam, river, or ocean. Sports was a huge part of Kim's life as she played field hockey, track and field, cross country, cricket, squash, and tennis. She won many awards during her time at high school including "Sports Woman of the Year" twice. Kim also holds several records in her name on the athletics field. She is now a qualified field hockey coach and umpire. After finishing high school, Kim wasn't sure what she wanted to study. With her grandparents owning yacht training facilities currently located in South Africa and the USA, Kim has always been familiar with the industry. She decided to join yachting as a gap year and six years later, she's still here. Kim has now been working on charter boats for four years. She carries with her a bubbly personality that gravitates towards guests. On board she loves to take care of the photography to capture the guests' finest moments. Aside from 133' KASHMIR, Kim has also worked on vessels such as M/Y NITA K M/Y FORE ACES, and M/Y ISLAND HEIRESS. She is currently striving to become a Captain before the age of 30.

In her spare time, Kim loves practicing yoga, photography, playing water sports, travelling, diving, and hiking. She can't wait to provide guests with an unforgettable time that is filled with lots of memories to share with loved ones.



Timothy "Tim" Lock – Chef
Education/Certifications: CITY AND GUILDS [ CHEFS COARSE ], CSES
O LEVELS
Languages: English
Nationality: British

Introducing Chef Tim, a culinary maestro hailing from the picturesque towns of Dartmouth and Brixham on the Devon coast. In his younger years, Tim's prowess in swimming earned him numerous awards before transitioning to rugby, where he proudly represented the county of Devon for three years, clinching two county cups. With a passion for the sea, Tim embarked on his yachting journey in 2000 after three years working on charter barges in France.

Over the past 16 years in the yachting world, Tim has left a trail of satisfied guests on both private and charter yachts. His extensive travels include cruising the West Coast USA, East Coast USA, Bahamas, Mediterranean Sea, Thailand, Malaysia, Panama Canal, Suez Canal, Canada, Central America, Mexico, and four Atlantic crossings on his own boat. Notably, he treasures his time in Thailand for its relaxation and the warmth of its people.

Bringing a wealth of experience and understanding of the yachting realm, Tim is dedicated to ensuring guests have an unforgettable charter experience. A versatile chef, he is adept at various cuisines and can accommodate diverse dietary requests. Beyond the galley, Tim's hobbies include hitting the gym, indulging in fly fishing, and immersing himself in a good read. With a deep passion for fishing, his motto, "every day's a school day," reflects his continuous quest for knowledge.

Prior to his role on motor yacht Kashmir, Chef Tim showcased his culinary artistry on various distinguished yachts, including M/Y RELENTLESS, M/Y NORTHERN LIGHT, M/Y MILK MONEY, M/Y ARGYLE, and M/Y D NATALIN. His rich experience on these vessels further underscores his expertise and commitment to delivering exceptional culinary experiences at sea.

In the yachting industry, Tim aspires to chef to the best of his capabilities, while outside of yachting, he dreams of cultivating a harmonious family life. Get ready for a culinary journey with Chef Tim, where every meal is crafted with expertise and served with a side of passion.



Hyacinth Arceo | Chief Stew
Certifications/Education: BA of Science in Banking & Finance, Live in caregiving program & international Home Management
Languages: English, Tagalog and conversational Spanish

Hyacinth, Originally from the Philippines, she stands as the second child among three siblings, bringing a positive attitude, a delightful sense of humor, and the ability to harmonize with diverse personalities of various nationalities.

Hyacinth's passion for embracing new experiences in different places resonates in her vibrant character. Having cruised the Eastern Mediterranean, Canada, Alaska, Mexico, and the Caribbean Islands, she places the happiness of her guests at the forefront. Her goal is to curate a once-in-a-lifetime experience, ensuring families bond and create lasting memories.

Before embarking on her yachting journey in 2012, Hyacinth served as a financial educator, adding a unique perspective to her role. Hyacinth has been a valuable part of various yachts, including PLAN A, MAGIC, FOUR WISHES, and LIBERTY, before joining the crew of Motor Yacht Kashmir. When she's not on board, you'll find her engaging in charity work, demonstrating her commitment to making a positive impact beyond the yachting world.

Hyacinth's hobbies include biking and exploring new destinations. As a devoted mother to her only son, a caring daughter to her elderly mother, and a sweet sister to her siblings, she radiates warmth and responsibility. Her fun and responsible demeanor also make her a cherished friend to everyone around her. Hyacinth lives by the motto, "Don't do unto others what you don't want done unto you," embodying a philosophy of mutual respect and kindness.




Anna Miguel – 2nd Stewardess
Education/Certifications: B.S Recreational Even & Sport Management, STCW
Languages: English
Nationality: American

Anna, the vibrant Second Stew aboard motor yacht Kashmir. Hailing from Denton, TX, Anna's upbringing shaped her love for outdoor activities, from running cross country to playing volleyball. Embracing her passion for travel and the sea, Anna ventured into yachting a year ago, leaving behind her role as a Groups and Event Coordinator in hospitality.

Anna's yachting journey has seen her contribute to the excellence of yachts such as M/Y Hannah, M/Y Serenity, and M/Y My Way. Her attention to detail and infectious, bubbly personality make her a valuable asset to the team on Kashmir. Primarily cruising the Bahamas, she holds a special affinity for Pig Island.

With aspirations to ascend to the role of Chief Stew within the yachting industry, Anna envisions a future beyond yachting that includes building a family. She is dedicated to ensuring charter guests have a fun and memorable experience, offering impeccable service. Beyond the yacht, Anna finds joy in outdoor activities like hiking, paddleboarding, and cycling. Her life motto? "Live every day to the fullest."




Hugh Marshall | Chief Engineer
Certifications/Education: Class III/ I License Engineer Unlimited, CLass III/II Chief Engineer Unlimited License BST,AFF,MEA,PSCRB,SMAW,SA,MEA,ERRM&HELM Certificates
Languages: English

Hugh, Originally from St. Catherine, Jamaica, Hugh grew up with two brothers and two sisters, cultivating a love for sports, particularly football and cricket. In June of 2022, he joined the Kashmir crew and has been ensuring the smooth operation of all critical equipment onboard as the Chief Engineer.

Before entering the yachting industry, Hugh worked as a marine engineer, bringing a wealth of technical expertise to his role. Having previously cruised the Bahamas and St. Martin, he is dedicated to ensuring charter guests have a wonderful time onboard Kashmir.

Hugh's commitment to continuous improvement is reflected in his hobbies, which include reading to enhance his engineering skills. Beyond yachting, he has a passion for teaching and can share his knowledge in both marine engineering and poultry farming. Guided by the motto "By the sweat of your brow, you shall eat bread," Hugh believes that hard work is the key to success.




Brandon Scholtz – Deckhand
Education/Certifications: Yacht Master 200tons, Day Skipper Theory, Diesel Engines VHF Radio, Personal Water Craft Instructor, Radar, Tender Operations, Deckhand Course, STCW, Power Boat Level 2
Languages: English, Afrikaans
Nationality: South African

Brandon, the dynamic Deckhand of Motor Yacht Kashmir, whose journey reflects a passion for the sea, sports, and creating unforgettable experiences for guests. Raised near the beach with his parents and brother, Brandon's love for boating was ignited at a young age, earning his first license at just 16 years old.

A standout athlete in high school, excelling in swimming and offroad MX enduro racing, Brandon's diverse background includes a stint in hospitality in Dubai, where he served as the Head of Server for two years and dabbled in mechanical engineering. His journey into yachting commenced in 2020, and he has been on charter yachts for seven months, leaving a lasting impression with his positive energy.

Onboard Kashmir, Brandon handles maintenance, water sports, and fishing, channeling his expertise to ensure a seamless and enjoyable experience for guests. His professional history and experience cruising the Mediterranean, Bahamas, Turkey, and his favorite destination, Ibiza, have equipped him with a well-rounded skill set.

With aspirations to become a yacht captain, Brandon's enthusiasm shines through his commitment to leading by example. Street hockey, singing, and dancing are among his hobbies, reflecting his vibrant and lively personality. Brandon's motto, "Lead by example," encapsulates his dedication to positivity, teamwork, and ensuring every moment onboard Kashmir is filled with joy and excitement.