Motor Yacht ALALYA
At Barrington Hall we provide motor yacht charters around the world on various luxury yachts. The Motor Yacht listed below, ALALYA, is one of the many motor yachts we offer for charter. Please contact us for up to date information on ALALYA or any other yachts in your desired location.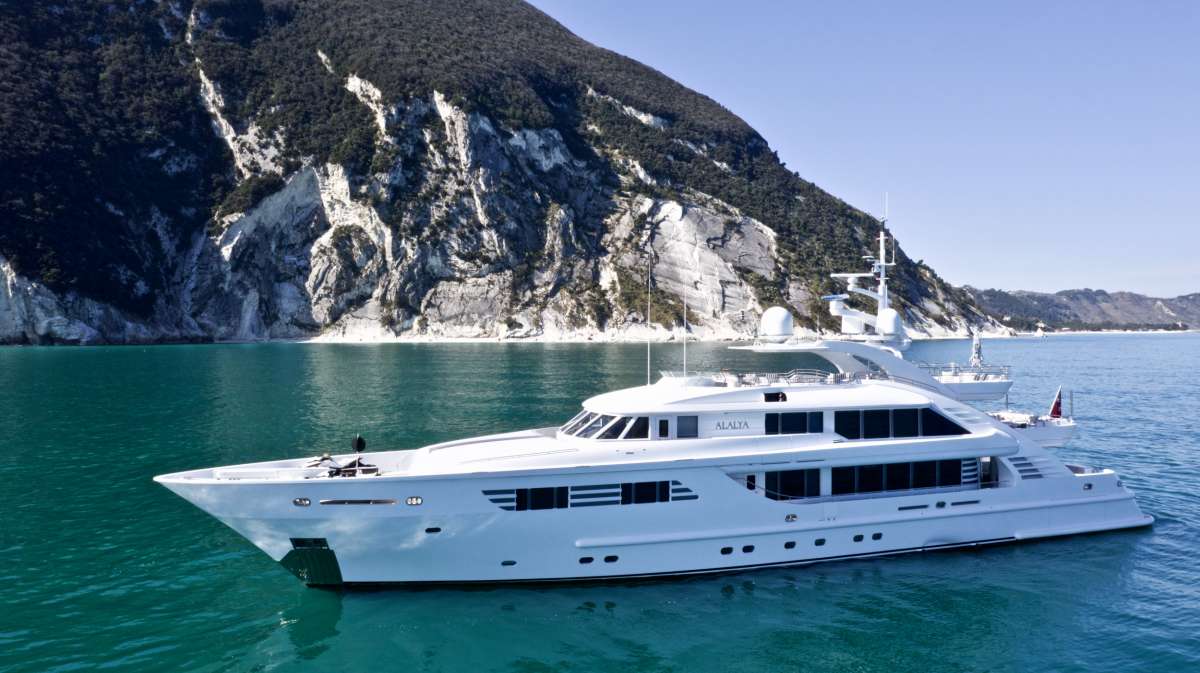 Low Price: €160,000 High Price: €180,000
Builder:
ISA, RODRIGUEZ GROUP ITALY
Amenities
Dinghy Size:
Novurania 540 LP
Dinghy Size:
Novurania 540 LP
Water Sports
Other Toys: - 2x Electric bicycle
- 2x Electric scooter

CAPTAIN
LOVRE ŠUPE
Nationality: Croatian
Lovre started his nautical journey as a skipper on sailing boats and daily cruise boats. He worked on two smaller motor yachts, Ferretti 731 and Leopard 23 as a solo crew member, later he joined M/Y Pride in 2013 as a deckhand and worked his way up to Chief Officer. In 2019 he took over M/Y ALALYA as a Captain.
Lovre is calm, professional, and always gives his best. He takes huge pride, both in his own and his team's accomplishments. Both a team player and a leader, Lovre is always ready to help. With personal integrity, common sense, and attention to fine detail, he aims to provide an enjoyable and exhilarating charter experience. After more than 10 years of experience, he has vast operational and technical knowledge. His outstanding knowledge of yachting legal and classification matters allows him to advise and guide all parties, ensuring all the guests are in safe hands. His enthusiasm for yachting is noticeable, making every charter experience all the better.
Lovre knows the Mediterranean extremely well (Cote d'Azur, Greece, Turkey, Italy, Spain, and Croatia) and he has completed several trans-ocean cruises.

CHIEF OFFICER
ANDREA ALBAN
Nationality: Italian
Andrea comes from Padova, Italy. He has acquired significant work experience and enjoyed a versatile career starting as a junior officer on cargo ships, after graduating from Nautical High School. His career in the yachting industry started after three years at the Faculty of Maritime Studies.
Andrea is an ambitious person as he sees himself becoming a motor yacht captain in the future. He works hard and uses every opportunity to better himself or learn something new. With a yacht master offshore certificate, he looks forward to expanding his yachting qualifications and traveling onboard M/Y ALALYA.

CHIEF ENGINEER
HRVOJE MEDANIĆ
Nationality: Croatian
Hrvoje started his maritime career as an Engineer Cadet onboard a commercial vessel. He has been part of the marine industry for over 20 years and has gained the experience and knowledge to hold a Chief Engineer over 3000kW certificate. Most of his experience, Hrvoje gained on vessels in the 30 to 60 meters size range.
Hrvoje loves to share his knowledge and is always available for a chat or a tour of the engine room. He strives to give guests that 6-star service. His mechanical aptitude, engineering knowledge, and energetic personality ensure that all the equipment, yacht
systems, tenders, and toys are running smoothly.

CHEF
VELIMIR LAJŠIĆ
Nationality: Croatian
A hardworking, enthusiastic, and creative Chef with 13 years of restaurant experience prior to working in the yacht industry. Velimir is used to working in high-pressure environments, both onboard and during land-based employments. He has efficiently managed a team of chefs, conducting their training to handle tasks proficiently, but worked as a Sole Chef as well, catering to 20+ people on daily basis. Chef Velimir is extremely flexible and easily adjusts to every guest's or crew member's specific preference, a real team player!
In the off-season, Velimir works in Michelin Star restaurants to gain more valuable experience and improve his skills.
Previous experience:
43m M/Y Eva4eva
25m M/Y Tranquilita
Ritz Carlton Aqua ***
Restaurant Ron Blaauw **
Restaurant Maaemo ***
Restaurant Rutz **
Dubravkin Put - Executive Sous Chef

CHIEF STEWARDESS
HANA BULJEVIĆ
Nationality: Croatian
Confident, vibrant, and a hard worker, Hana has been in the yachting industry since 2012. She has extensive work experience both in the hotel industry and onboard luxury yachts. Her hostessing skills have reached an advanced level over the years, excelling in table setting, flower arrangement, cocktail, wine and food knowledge. Hana has a real passion for the service industry and will always do her best to make sure that the guests enjoy their time during their charter.
Hana pays attention to even the smallest details, she is discrete and always has a positive outlook, even in stressful situations. There is nothing that cannot be handled with grace if you approach it with a smile!
Her educational background is in hospitality management and marketing, welcome skills in this industry.

2ND STEWARDESS
JOSIPA BILIĆ
Nationality: Croatian
Josipa is highly adaptable to all kinds of situations and a great team player. A combination of a strong personality, customer-oriented approach, and the ability to communicate very clearly makes her a perfect choice for this position. She is a hardworking, energetic, patient, reliable person with a pronounced sense of responsibility, able to handle all kinds of unexpected situations.
Her desire to explore the world and experience different cultures led her to pursue a yachting career, so in 2018 she joined M/Y Agram crew.
She continually strives for the highest standard of service and takes great pride in working hard to ensure their charter experience is one of a lifetime.

3RD STEWARDESS
TBC

BOSUN
ŠIME LUŠTICA
Nationality: Croatian
Šime grew up on the Croatian coast and spent a lot of time around the sea. He has been in the yachting industry for 6 years. Šime is a very calm person which is reflected through the whole yacht, not only on the deck department.
If it has something to do with the sea, Šime is a fan. Motor yachts, scuba diving, swimming, the wonderful life under the sun and near the sea. You can find Šime enjoying a number of shore-based sports. He is a skilled fisherman and loves the active lifestyle, but he is not a stranger to relaxing and enjoying a good book on occasion.

DECKHAND
MARIJA UHODA
Nationality: Croatian
Marija grew up to be a keen sailor, she was a member of Croatian sailing representation and participated in many national and international regattas as an active competitor. She has been a part of the maritime industry for most of her life, through hobbies, education and work. She worked both as a stewardess and a skipper in a number of charter companies and gained valuable experience which allowed her to take up the role of a deckhand comfortably.
Marija loves outdoor activities and spends her free time rock climbing and mountaineering. She also loves yoga and pottery making.