Motor Yacht ETERNITY
At Barrington Hall we provide motor yacht charters around the world on various luxury yachts. The Motor Yacht listed below, ETERNITY, is one of the many motor yachts we offer for charter. Please contact us for up to date information on ETERNITY or any other yachts in your desired location.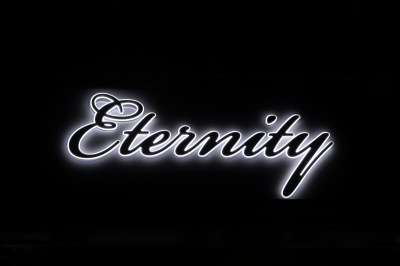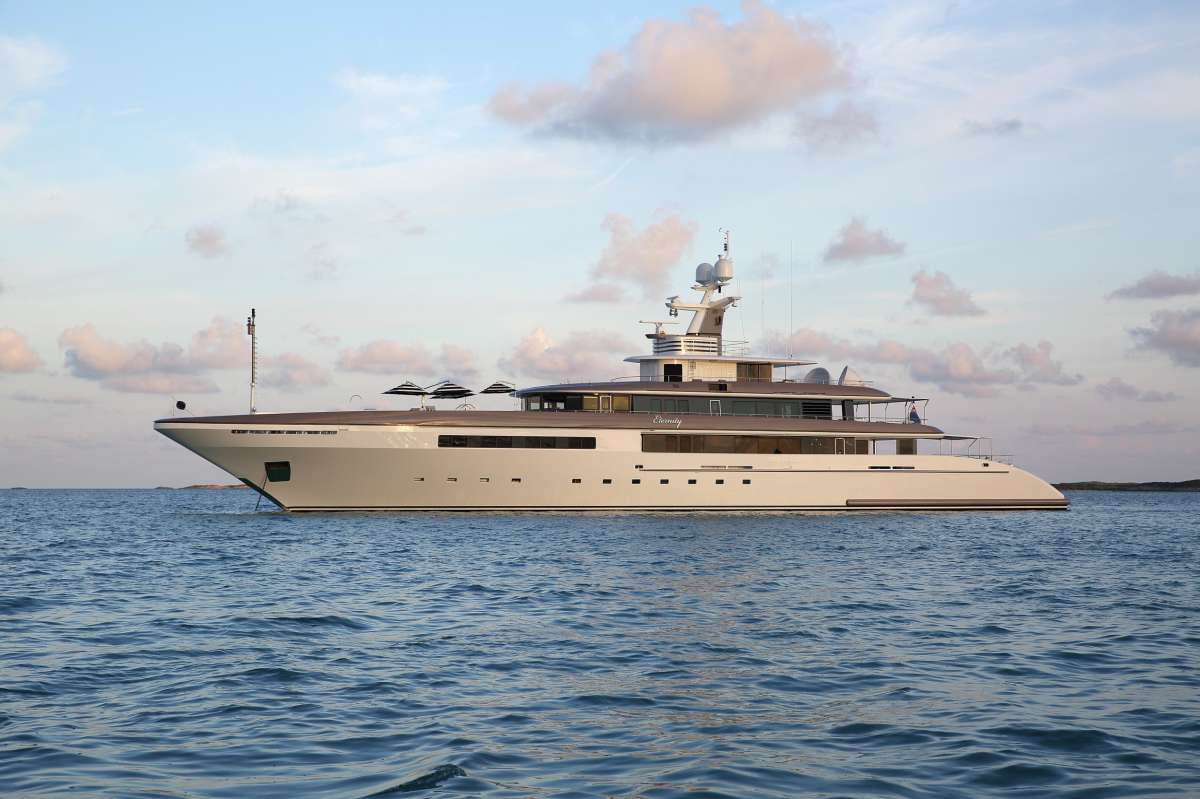 Low Price: $390,000 High Price: $420,000
Amenities
Water Sports
Other Toys: WATERSPORTS AND RECREATION
– 2 x FX SVHO Wave Runners
– Flyboard with 9m/30ft hose
– 2 x Aquaglide Columbia 130 Inflatable Kayaks
– 2 x SeaBobs
– 2 x Inflatable Stand-up Paddleboards
– Lift Electric Hydrofoil Board
– FUNAIR Water Slide - bridge deck to waterline slide
– Aquaglide King of the Mountain Inflatable Climbing Wall and Slide
– Rebound 3.6m/12ft water trampoline
– FUNAIR 4m/13ft x 4m/13ft Inflatable Lagoon Pool
– 2 x Nautiboy 800 x 675 Runway/floating mat
– 4 x 1.8m/6ft foam rollup mats
– Snorkeling gear - various sizes
– Waterskis, wakeboards & tows, Metro Banana Boat (5 person)
– Retro Winged Inflatable (3 person), Inflatable Raptor (2 person)
– 4 x Aquaglide Single Donuts
– Beach BBQ set-up, full array of beach toys

TANDEM OPTIONS AVAILABLE: The ETERNITY Fleet offers exciting options in addition:
ISLAND TIME: 53' HCB Suenos Center Console Yacht with 4 x 375hp - cruising at 45kts. Transfer from Albany Marina to the Exumas in an hour!
REEL TIME: 50' Viking Sport Fish - for the core angler, enjoy an offshore fishing vessel

Oversized foredeck Jacuzzi (5.25m /17.3ft x 2.6m /8.5ft) doubles as an exercise pool with several current resistance speeds.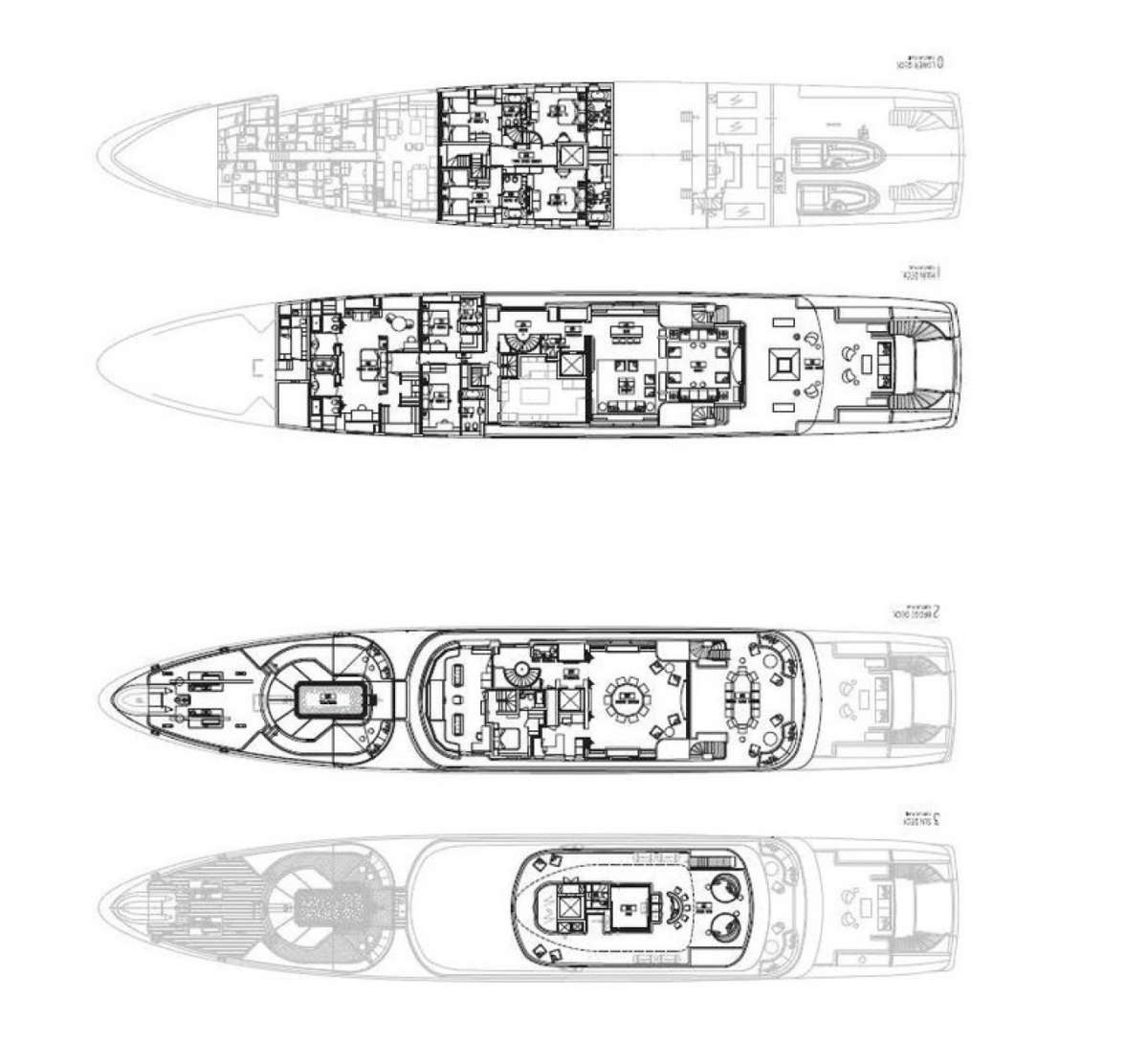 ALDON BEUKMAN — Rotational Captain — South African
Captain Aldon was born in George, South Africa and grew up in Yzerfontien, a small fishing village on the west coast of South Africa. His parents owned a small shack on the beach so from an early age he was taught to love and respect the ocean, only taking what you really need. Following grade school, Aldon worked as a commercial fisherman, gaining beneficial knowledge of safety practices and proper vessel handling in high seas off the western coast of South Africa. In 2007, just before taking a position on an offshore oil rig, Aldon was presented with an open deckhand position through a friend. He then made the easy transition to yachting and has worked his way through the ranks to gain the title of Captain. Aldon has managed, planned and enjoyed the entire ETERNITY refit in 2018, and excels in creating a pleasant working environment for his crew. A generous and thoughtful attitude guarantee all ideas are heard and ensure the most practical solution to any problem is taken. Aldon strives to turn vacations into adventures, and dreams into memories.

Previous Yachts: M/Y G-FORCE(40m), M/Y TACANUYA (55m), M/Y MEAMINA (60m), M/Y SAI RAM (52m), M/Y AVIVA (68m)
Interests: Fitness, surfing, fishing, rugby, real estate


NICHOLAS ALLERY — Rotational Captain — Australian
Nicholas' typically Australian good humor, camaraderie and leadership skills have lead him in a successful career as a superyacht captain. Starting as a deck hand, Nicholas has worked his way through the ranks and gained experience on a huge variety of vessels. Nick has now held his Master license for
yachts up to 3000GT for over five years, so you can rest assured that you're in safe hands. Nicholas has cruised the world over, including high risk waters, and commands his ship with incredible awareness and confidence.


KATIE JENSEN — Rotational Purser — New Zealander
Katie was born in Whangarei, a city on the east coast of New Zealand's north Island. Katie spent her childhood in Cairns, Australia until she was 13, when her family moved back to New Zealand to the town of Gisborne. Katie's adolescence has always included being close to the sea, giving her plenty of time to master surfing and diving. During her schooling, Katie has worked as a bar manager and a maitre d and In 2006 Katie completed her diploma in Travel and Tourism from the New Zealand Transport Agency. With her people skills and her education under her belt, Katie then took a position as a travel consultant, where she stayed for 7 years, learning the ins and outs of itinerary planning, immigration laws, accounting, and most importantly the emphasis of making dreams become reality. It was the year 2010 when Katie decided to take her talents back to sea that she had fallen in love with in her younger days and joined the yachting industry. With an keen eye for design, Katie is the perfect addition ETERNITY, creating unique, creative spaces throughout this impressive yacht. Her expertise and dependability are unmatched, and the perfectionist aspect to her work is apparent in any task that she is given.

Previous Yachts​: M/Y EQUANIMITY (92m)​, M/Y AVIVA (69m)
Interests: Fashion​, fitness​, food​, diving​, surfing


DANIEL WELLMAN — Rotational Purser — British
Daniel was born and raised in the coastal town of Southsea in Hampshire, UK. From an early age, he had a passion for the ocean, spending his childhood
splashing in the English Channel to weekends on a sailing yacht, cruising around the Isle of Wight. Daniel began his yachting career back in 2011 and took the decision to relocate to the South of France. After day-working on several vessels throughout the Mediterranean season, Daniel landed his first permanent role as a steward on the acclaimed charter yacht Titania. After a successful yachting career, Daniel has climbed the ranks and is now our rotational Purser onboard Eternity. Daniel understands the importance of adapting to all guests and boat needs, ensuring that guests' needs are put first, including comfort, relaxation, and hospitality. Daniel loves to travel and enjoys soaking up the eclectic mix of cultures, people, and food to be found around the many areas he has visited. When Daniel is back in the UK you'll most likely find him embracing the countryside with a 'Picante' at
Soho Farmhouse.


DIJANA BUBANJA — Chief Stewardess — Montenegrin
Growing up in Tivat, Montenegro, Dijana combines her love for the ocean, traveling and making people happy as her main reasons she joined yachting in 2013. Her previous work experience of fitness, real estate, and restaurant hospitality has shaped her into the positive and energetic hard worker she is today aboard ETERNITY. She shares a passion and enthusiasm with her fellow crewmembers toward the job. What she loves most about chartering is meeting different guests and seeing them enjoy themselves; especially when they appreciate all the efforts the crew has put in to make their vacation unforgettable. Dijana looks forward to welcoming and serving you.