Motor Yacht INDIA
At Barrington Hall we provide motor yacht charters around the world on various luxury yachts. The Motor Yacht listed below, INDIA, is one of the many motor yachts we offer for charter. Please contact us for up to date information on INDIA or any other yachts in your desired location.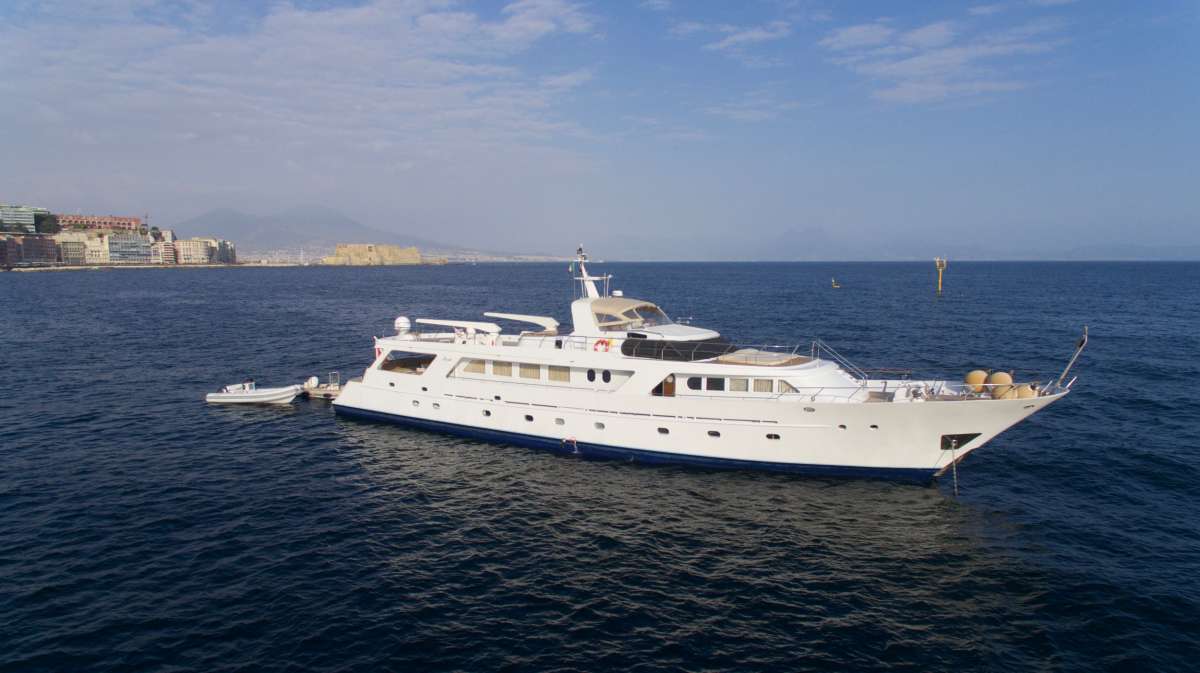 Low Price: $45,000 High Price: $58,000
Accommodations: - Master stateroom: located on the main deck forward. It is a large room with an abundant space for stowage, closets, drawers, a safe, with a small hallway and a zone which can be used as a desk space.
Big flat screen TV on the wall allows an excellent visibility. The completely renovated master bathroom, in marble and wood, is very spacious and includes a bidet. Also the bathroom permits an abundant stowage and the shower zone is extremely capacious. The silence of the Master bedroom is not disturbed by any rumours from generators or navigation.
- VIP Stateroom: located on the lower deck at stern. It is larger than Master Stateroom, considering its wardrobe, hallway and the stowage spaces. Also here there is a small desk space and a small sofa. The completely renovated bathroom, in marble and wood, offers all comfort, including a bidet.
- Guest Staterooms: Two Twin Guests Rooms are located on the lower deck separated by the central hallway. They are very spacious, with 2 cosy single beds each and both offer a good stowage, bathrooms with all comfort, including a bidet. Both rooms can offer the third Pullman bed located above the bed on the corridor side.
Amenities
Water Sports
Captain:
Jean-Michel PASTOR, French
Date of Birth: 4th Dec 1967
Languages spoken: English (Fluent), French (fluent, mother-tong), Italian (basic)

Jean-Michel was born in Nice, current home port of MY INDIA he took command of in winter 2021/2022.
Unlike most MY captains, Jean-Michel has circumnavigated the globe on sailing and motor yachts, discovering some of the most beautiful areas of the world: Panama and the Pacific, Indonesia and the China Sea, the Caribbean and most of the Mediterranean. More than 60,000 nm were covered in the last 20 years: not only will you be in safe hands, but you will also most probably learn some interesting aspects of Yachting culture and civilisations.
Jean-Michel is also very hands-on and the yachts under his command have no secret for him. He has a great character and has many other talents you will discover; just a hint: try Jean-Michel on cooking!

Chef:
Mizzan RAHMAN, Bengladeshi
Date of Birth: 23/08/1963
Languages spoken: English (Fluent), Italian (Fluent), Bengali (Fluent, mother-tongue)

Mizzan started working in the Yachting Industry fifteen years ago and has been on board INDIA since 2015.
He's a very skilled seamen and is definitely used to luxury service: before embarking, he acquired a lifelong experience as a chef, working for the King of Abu Dhabi, the Karachi Club and for several other clubs in Pakistan, Turkey and Greece!
His talents as Chef developed with culinary experiences and influence from all parts of the world. More recently, Mizzan embraced Italian cuisine which he masters!

Chief engineer:
Giuseppe LEONE, Italian
Date of Birth: 29/08/1966
Languages: Italian (Fluent) and English

Giuseppe is a dedicated chief engineer with a lot of experience in Yachting.
He first joined the Boat industry in 1989 as a militare sergeant and then pursued his career as a chief engineer on various commercial and private yachts. During his career, Giuseppe crossed the Pacific, the Atlantic and the Indian oceans which left him with memorable souvenirs.

Deckhand:
Yann ROBIN, French
Date of Birth: 17/03/1981
Languages spoken: French, English and Italian

Yann lived in Australia for 2 years in the beautiful cities of Sydney, Melbourne and Brisbane where he worked as a waiter. In 2018, with a real passion for boats and sailing, he decided to return to France to join the Yachting industry. He started his career as a deckhand on the 18m M/Y GUSH and pursued the next year on the 79m M/Y SS DELPHINE where he acquired a lot of experience.
With his very kind and friendly personality, Yann will make you spend an unforgettable charter!

Stewardess:
Davina RICARD, French
Date of Birth: 11/04/1985
Languages spoken: French and English

Davina is a very dedicated stewardess who is always pleased to serve the guests with the best attention. In 2017, her love for the sea brought her on her first yacht in Martinique. With her very good culinary skills she also operated as a cook on several catamarans. Davina is very dynamic, rigorous and always smiling. It is always a big pleasure to have her around!

Stewardess:
Julie BEAUCHEF, French
Languages: French (Fluent), English and Spanish

Julie started her career in the Yachting industry in 2021 as a deckhand on a sailing yacht. She then acquired a lot more experience as a stewardess the following year. Julie has a strong interest for quality service and attention to details which makes her a very competent stewardess.
With her motivation and her sweetness, Julie will take care of the guests with the best attention!