Motor Yacht PRINCESS L
At Barrington Hall we provide motor yacht charters around the world on various luxury yachts. The Motor Yacht listed below, PRINCESS L, is one of the many motor yachts we offer for charter. Please contact us for up to date information on PRINCESS L or any other yachts in your desired location.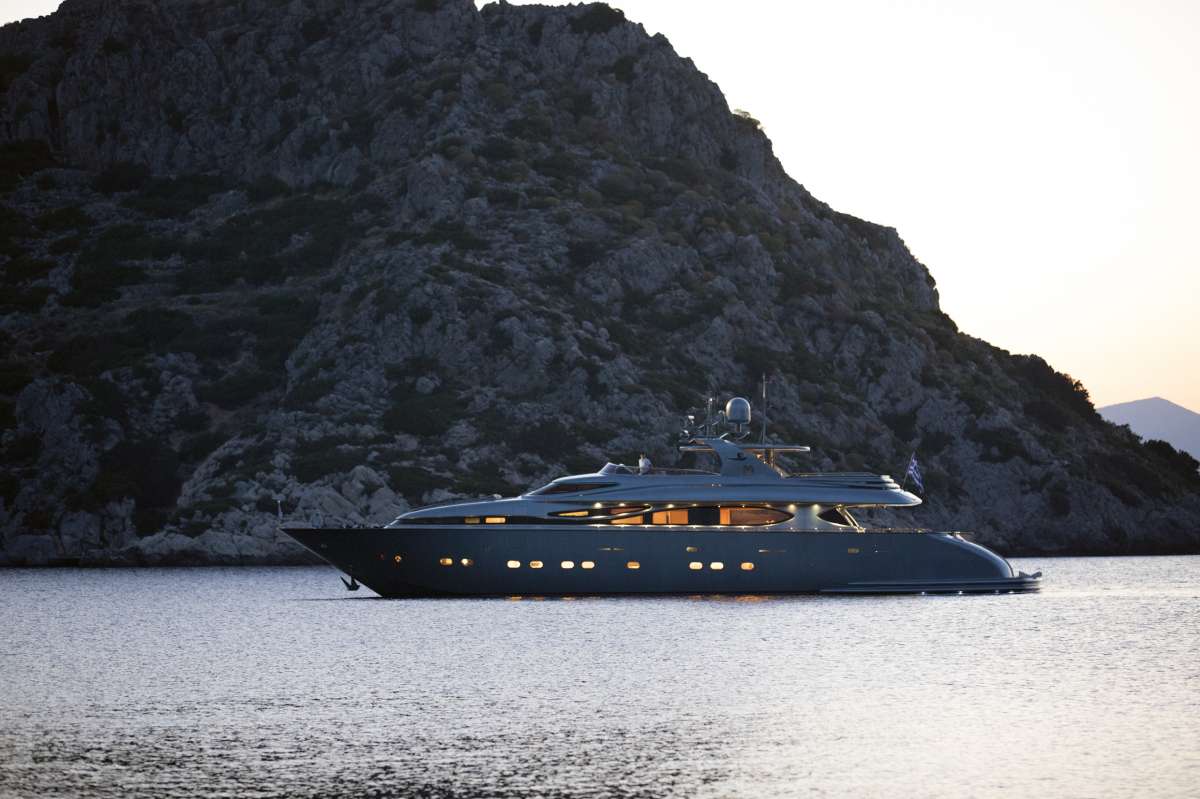 Low Price: €62,500 High Price: €67,500
Accommodations: - 1 Master Suite on the lower deck (20 m2) / bed dimensions 1,95m x 1,80m (thickness of mattress 18,5 cm)
- 1 VIP Cabin on the main deck (15 m2) / bed dimensions 1,90m x 1,64m (thickness of mattress 18 cm)
- 1 VIP Cabin on the lower deck (15 m2) / bed dimensions 1,95m x 1,80m (thickness of mattress 18 cm)
- 2 Twin Cabins on the lower deck with one pullman berth each (S: 5,5 m2 / P: 4,5 m2) / single beds dimensions 1,88m x 0,85m (thickness of mattress 18 cm), pullman beds dimensions 1,65m x 0,62m (thickness of mattress 13 cm)
All cabins with en-suite facilities.
Amenities
Generator:
1 x Kholer & 1 x Onan
Dinghy Size:
Tender ZAR ZF3
Dinghy Size:
Tender ZAR ZF3
Water Sports
Other Toys: Banana (3 pax)
2 Canoe Exo Bays 1
Captain: Konstantinos Fraggistas
Konstantinos was born in 1985 in Lamia but raised in Piraeus, Greece. Because of his great love for the sea he joined the Merchant Marine Academy from where he graduated with a Captain Class A Certificate, he then went on to acquire a Masters of passengers and cargo ship unlimited gross tonnage. His career started at cargo ships where he developed both his seamanship and his character. He later turned to the Yachting Industry where he has been working for the past 7 years. He strives for the safety and pleasure of his passengers and the proper maintenance of each boat.

Chef: John Kypriotis
Chef John was born in Athens in 1976 and graduated from the School of Tourism in Thessaloniki in early 90's. Since then, he had worked as a Chef in Greek Islands, such as Santorini, Mykonos and Paros, in various restaurants and hotels. He had also lived and worked for 1 year in Switzerland, while for the last 4 years he has been working as a Chef in the yachting sector. He originates from a country where food is a cultural thing, so he decided to get involved with cooking in a professional way and become a successful Chef. His target has always been the experience within the whole spectrum of contemporary Greek cuisine as well as Mediterranean gastronomy. The guests will be more than satisfied from his dishes, as he always manages to design the exact menus that guests would like to taste.

Chief Engineer: Christos Lamproulis
A Multi skilled qualified Marine Engineer with over 10yrs sea going experience in the efficient running of a variety of Marine propulsion and Auxiliary systems at Cruise (Celebrity and TUI). Good communication skills with the ability to build rapport with people at all levels.

Chief Stewardess: Effie Lambadi
Effie has an innate ability to organize, a skill developed even more during her 8-year career working for the VIP world.
Always smiling, she is ready and willing to take care of guests and make them feel welcome and comfortable. Effie's priority is courtesy, discretion, and professionalism, aiming for total satisfaction of her clients. It is a challenge for her to resolve any difficult situation.
She loves the sea and her profession, which is to your benefit! Her philosophy is the acceptance and respect of human values.

Steward: Michael Curada
Michael was born in 1966 and comes from Philippines. He speaks English and Greek. He has successfully graduated from the Department of Science in Marine Transportation. He has a really strong background in yachting as a deckhand and as a cabin steward. He is a hardworking member of Princess L team and always there to assist every guest with a big smile on his face. He is licensed in Officer in-Charge of navigation Watch and holds a Diploma in Operation of a Vessel. He has also completed all safety training. Michael is an honest and enthusiastic person and will make sure that the guests feel comfortable, enjoy themselves and have the best time of their lives onboard.

Deckhand: Phivos Vamvakaris
Phivos is twenty-two years old, born in Athens and raised in Ancient Epidaurus, a small seaside village.
He was drawn to the sea from a young age, starting with sailing for five years, afterwards helping local fishermen and for the last three years working as a crew member on yachts.
In his spare time, he enjoys snorkeling, fishing and diving. As a person who strives for progress, he aims to become a Captain one day. He is very polite and helpful with the guests in order to create an unforgettable experience for them.