Motor Yacht OCULUS
At Barrington Hall we provide motor yacht charters around the world on various luxury yachts. The Motor Yacht listed below, OCULUS, is one of the many motor yachts we offer for charter. Please contact us for up to date information on OCULUS or any other yachts in your desired location.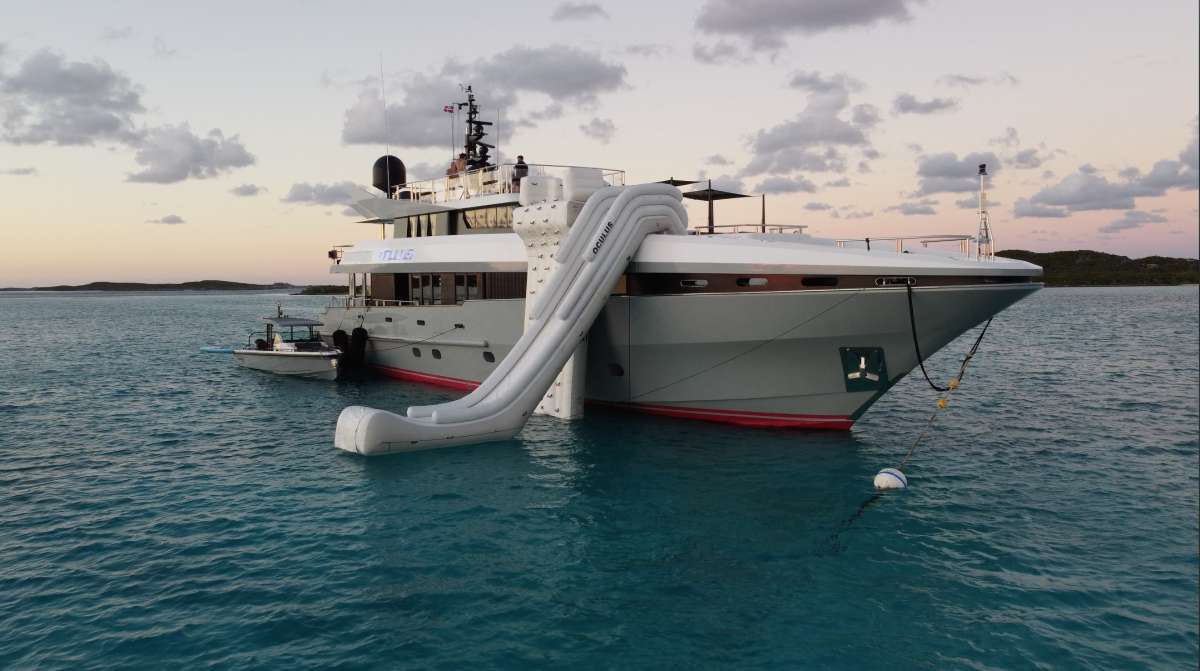 Low Price: $95,000 High Price: $120,000
Accommodations: On deck Master Stateroom with King bed

VIP Stateroom with Queen bed (above main salon)

Lower deck Twin Stateroom (Starboard)

Lower deck Twin Stateroom (Forward Starboard Convertible to King bed)

Lower deck Queen Stateroom (Port)
Amenities
Water Sports
Other Toys: 37′ Axoper Sun Top (2020)
12′ Infatable Tender RIB
3 Seadoo Spark Jetskis
Water slide
Rock climbing wall
30′ swimming pool
Snuba scuba diving forced air system
Snorkeling gear
Spear fishing gear
Kite surfing gear for low/high wind
Hydrofoil
Wake board
Waterskis
Tube
Surfboards
4 Inflatable Paddleboards
1 Giant 7 person Inflatable Paddleboard
Full set of fishing equipment
Other Toys: Direct tv
Apple TV
Noble tech
Garmings
65" Samsung smart TV in the Salon
55" Samsung smart TV in the on deck master, Twin stateroom, queen stateroom and the VIP.
65" in the twin convertible stateroom
Communications:
SAT phone
Tom Yost: Captain
Nationality: USA

Captain Tom is a highly professional, attention to detail individual with 45 + years experience on the water. As a private Yacht owner for 25 of his 45 years on the water he fully understands what is expected of a Captain and his crew and the safety and responsibilities that these positions demand and most import how to make your charter vacation one to remember! He is educated, well spoken. He is a critical calm thinker in the most demanding situations, always placing safety first and he is trained in CPR, Advanced First Aid, AED, STCW 95, Bridge Resource management, Radar Unlimited, and crew placement. He is a seasoned professional with USCG Masters License and over 75,000 nautical miles in the waters of the US East Coast, Atlantic Ocean, ICW, Gulf of Mexico, Bahamas, & Caribbean and the western rivers, Mississippi, Tennessee, and Ohio on Yachts and ships up to 302'. Combine this with the professional crew he has assembled on the Motor Yacht Oculus and he guarantees your luxury yacht charter vacation will be one you remember for many years to come.



Victoria: Chief Stewardess
Nationality: USA

Born in New York City, New York and grew up in Tampa, Florida. Victoria has her BA in Psychology from the University of South Florida and also completed a culinary internship in Florence, Italy studying the cuisine of all the different regions of Italy. Before Victoria began her yachting career, she worked in various 5 Star hospitality settings within Tampa Florida and abroad Newcastle, Australia. Victoria is certified in Silver Service and craft cocktails as an experienced mixologist. During Victoria's time in Australia, and eventually took on leadership role where I was overseeing all aspects of hospitality operations.

Bringing fifteen years of hospitality experiences, my passion for providing the ultimate guest experience and love for the sea and travel is why I chose the yachting industry. Victoria is a seasoned hospitality and guest services professional with a skill set that sets her apart from the crowd. As Chief Stewardess on Oculus's Victoria has a reputation of satisfying guests' needs with initiative and being proactive in order to meet those needs before the guests can realize it on their own. Combine her qualities together with her creative eye for decorative and themed table settings makes Victoria the perfect fit for the young energetic 5 Star service team on Oculus.
During Victoria's spare time, she enjoys staying fit, cooking, photography, and traveling. Victoria leads her interior team by example assuring the guest needs are met to the highest level of service available in the industry and promises memories of a lifetime to all guest on an Oculus Charter.



Juan Caudra: Chef
Nationality: USA

The dinner is set for your Oculus Charter, but preparations have been underway for a longtime. Dinner for 10 or more and the Oculus Executive Chef Juan Cuadra takes it in stride. He's catered meals for thousands, cooked dinner for Michael Jordan and arranged parties for Jack Nicholson. Before that, he was a Marine. Little fazes him. But he is excited about this (and every) Oculus Charter Season!

"I love to showcase my food, on Oculus charters" he says. I take our guest around the world featuring cuisines from around the globe. Chef Juan learned and developed his love for cooking from devoted parents somewhere south of the border. But he grew up in Miami, where his father was an engineer and his mother a dentist. They were devoted parents and taught him a lot (dedication, education, pride), but not about life in the kitchen.
In Miami, friends from Colombia, Venezuela and Brazil taught him their cooking styles. At the fabled Cordon Bleu cooking school (where he was first in his class), he studied haute cuisine. As a Marine, he took quick cooking jobs on his time off in Egypt, South Korea, Japan or wherever he was deployed … except for his two tours in Iraq (no time for cooking there).
Chef Juan began his career in Yachting in 2010 when he met Captain Tom YOST and his yachting career has expanded throughout the Caribbean and Southern Bahamas. Chef Juan has once again joined the crew on Oculus under the command of Captain Tom YOST and guarantee to bring his unique talents to every charter filled with memories of a lifetime!



Tristan: First Mate
Nationality: South African

Tristan was born July 11, 2000 and raised in South Africa and attended a private boarding school (kingswood college), upon graduating from school Tristan left his small hometown and began his career in Yachting. After a season in Cape Town where He completed the required courses needed to excel in the industry he worked for a few months locally in Cape Town and then followed by a season in the Mediterranean (Spain) where he perfected his skills and knowledge on Mega Yachts. Tristan joined Oculus in 2020 as a senior deck hand and was quickly promoted to 1st Mate. Tristan runs the complete exterior deck operation on Oculus and together with his team always has Oculus looking good!
Tristan is a fully certified and well qualified 1st Mate and runs a "tight ship". Together with his deck crew Oculus will always be "ready to go" providing guest with memories that will last a lifetime!



Jeff: Chief Engineer
Nationality: USA / Bahamas

Jeff has one sister, a half-brother and two children, son 26 and daughter 24.
Jeff was given his first boat at 3 years old and was allowed to venture out in the harbor on his own since the age of 8. Jeff has owned boats his entire life. Born in Miami USA and raised on Harbor Island Bahamas, Jeff is a Certified Master Chief Engineer with a USCG 200t QMED certification. He was raised in the Bahamas and educated in the United States. Jeff is certified and trained on Cat , Detroit, and MTU engines. Jeff has 25+ years of hands in experience as an engineer. He has a degree in Electrical Mechanical Engineering.

Jeff grew up in the Bahamas during an era where it wasn't called fishing, it was called "Catching" and took advantage of every opportunity he could. Jeff became a PADI certified diver at age 13. He spent a few seasons diving lobster commercially out of Spanish Wells Bahamas, where he gained a vast knowledge of Bahamian waters and a passion for life at Sea.

Jeff started earning his sea time early on, taking part in and running boat deliveries to and from Harbour Island while running the Double Trouble dive boat for Valentine's Dive Center at Valentine's Yacht Club on Harbor Island.

Jeff joined Oculus in 2020 and has been a key member of the crew and team keeping Oculus running in tip top condition. He has a long 10+ year working relation with the Oculus Captain and together they promise Oculus guest a customized itinerary to create memories of a lifetime during their charter!



Griffin: Bosun Mate
Nationality: USA

Griffin was born August 1st 1997, growing up in Southern New Hampshire. Griff has 3 siblings, 1 older and 2 younger who our twins. Growing up in a competitive household Griffin was always playing all sports, but mainly football, basketball and volleyball. He was the quarterback for his High School football team, winning a state championship and also was a division 1 New Hampshire player of the year for volleyball. Griffin always loved the outdoors, but especially being out on the water. Griffin has been boating his entire life which is where he developed his passion for being out on the water. Over the years on the lake Griffin found a love for all water sports. Griffin excelled in wakeboarding, wakesurfing, and water skiing and obtained his instructional certificate for water sports as a master instructor. Griffin is also an avid surfer and enjoys surfing. Other than water sports Griffin also enjoys snorkeling and fishing. Off the water Griffin goes mountain biking around the local trails and even goes up to the mountains to mountain bike parks. During the winter months Griffin is also an avid alpine skier. He has skied all across the United States. His favorite mountains thus far have been Mt. Baker out in Washington State and the mountain he has spent the most time on, Bretton Woods in New Hampshire.

Griffin joined the yachting industry in 2019, and after perfecting his industry skills, Griffin joined Oculus in 2020 as the ships Bosun mate and Water-sports instructor. Griffin has acquired multiple certifications and training such as STCW 95, advanced first aid, navigation watch rating and powerboat level II to name a few. Griffin along with his fellow crew guarantees to make the guest on Oculus full of memories that will last a lifetime!!