Motor Yacht OCULUS
At Barrington Hall we provide motor yacht charters around the world on various luxury yachts. The Motor Yacht listed below, OCULUS, is one of the many motor yachts we offer for charter. Please contact us for up to date information on OCULUS or any other yachts in your desired location.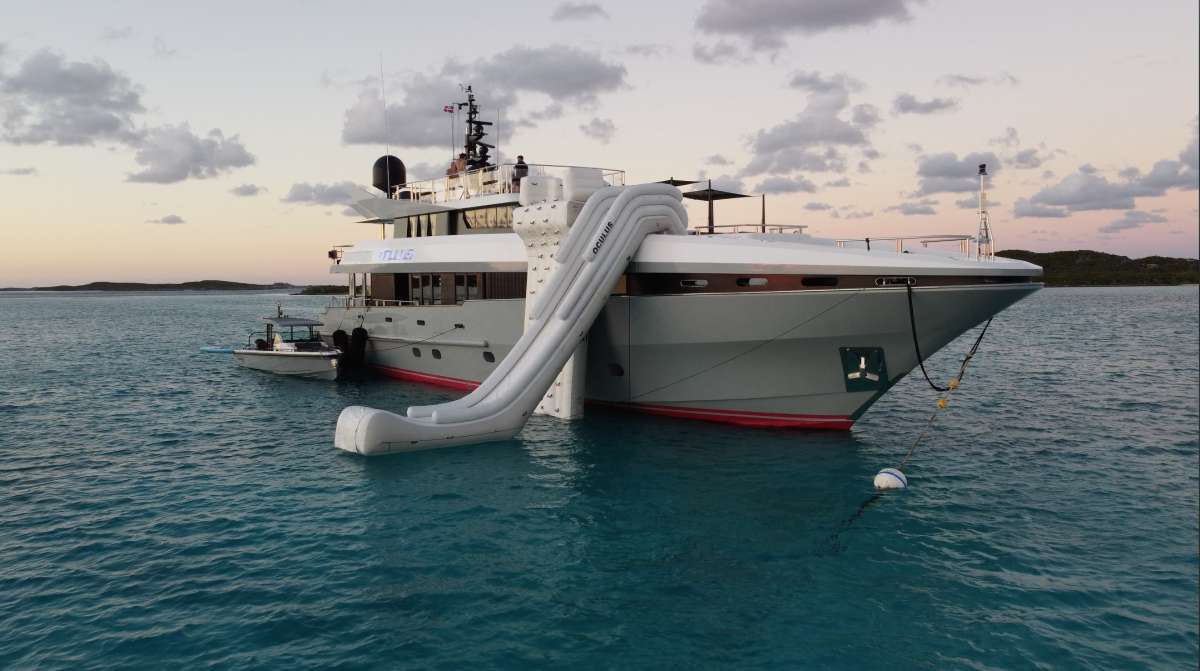 Low Price: $95,000 High Price: $120,000
Accommodations: On deck Master Stateroom with King bed

VIP Stateroom with Queen bed (above main salon)

Lower deck Twin Stateroom (Starboard)

Lower deck Twin Stateroom (Forward Starboard Convertible to King bed)

Lower deck Queen Stateroom (Port)
Amenities
Water Sports
Other Toys: 37′ Axoper Sun Top (2020)
3 Seadoo Spark Jetskis
Water slide
Rock climbing wall
Snorkeling gear
Spear fishing gear
Kite surfing gear for low/high wind
Hydrofoil
Wake board
Waterskis
Tube
Surfboards
4 Inflatable Paddleboards
1 Giant 7 person Inflatable Paddleboard
Full set of fishing equipment
Other Toys: Direct tv
Apple TV
Noble tech
Garmings
65" Samsung smart TV in the Salon
55" Samsung smart TV in the on deck master, Twin stateroom, queen stateroom and the VIP.
65" in the twin convertible stateroom
Communications:
SAT phone
Andre Swanepoel I Captain
Education/Certificates: MASTER 500 - BELGIUM, MCA MASTER 200 UNLIMITED - COMMERCIAL, OOW 500GT, OOW GSK, RADAR ARPA, STCW, ENG-1, ADVANCED SEA SURVIVAL, EDH, MARINE DIESEL ENGINEERING, BASIC HOTEL SERVICE, OPPERATIONAL PROCEDURES, SHIPS CONSTRUCTION, YACHT ENGINEER CRAFT, PADI OPEN WATER
Languages: English, Afrikaans, Spanish

Andre grew up in South Africa and spent most of his youth in Durban and Richards Bay. With both of these cities being along the Indian Ocean, his passion for the water came early. In 2000, Andre sailed from South Africa to the Caribbean, where he decided to settle for a few years to start his yachting career. Here he worked on day charter yachts and ferry boats before leaving for the UK in 2003 to complete his Captains License. Since then, he has been on numerous motor and sailing yachts as an Engineer, First Mate, and Captain since 2005. Prior to entering the yachting industry, Andre worked as a Logistics coordinator in Richards Bay.
Andre has now done ten years on charter boats with eight of them being as Captain. He carries great knowledge of the areas they charter and can make great recommendations and itineraries. The safety of the vessel, crew, and guests remain his top priority at all times. Aside from 128' OCULUS, Andre has worked on 163' GOLDEN CELL, 138' STATUS QUO, 112' KALEEN and more. He has cruised the Mediterranean, Africa, Central America, Bahamas, all of the Caribbean, 4 Atlantic Crossings, and the USA's East Coast.

In his spare time, you can find him golfing and fishing. Andre is eager to show guests a great adventure onboard OCULUS that they can share with friends and family for many years to come.



Bea Stapor I Chief Stew
Education/Certificates: Master's Degree of Economics, specialization: Business Management
Languages: Polish, English

Bea grew up in Poland but spent quite a bit of time in Berlin, Germany where her mom lives. After graduating in her early 20s, she immigrated to England where she lived for ten years. She now resides in sunny Florida where she hopes to become a Real Estate House Manager one day. Prior to joining the yachting industry, Bea was an office administrator and assistant for a major magazine company in Soho, London for over five years. She has also worked in HR and as a PA.
Bea first stepped into the yachting scene in 2014 after ten rainy years in London. She has now held the Chief Stewardess position for over two years on both private and charter vessels. When you are onboard with Bea, she is sure to provide an unforgettable experience. From organizing themed nights and decorating, to making the best specialty cocktails, Bea puts great detail and care into her work. Aside from 128' OCULUS, she also worked on 213' ETERNITY, 170' VICTORIA DEL MAR, 131' ENDEAVOUR, and 131' JUST SAYIN. In her seven years in yachting, Bea has travelled to the South Pacific, Fiji Island, French Polynesia, Nothern Europe, Mediterranean, Greenland, Canada and more.

In her spare time, Bea likes to meditate, practice yoga, read, dive and stay active. Bea can't wait to provide the highest level of service to every guest who walks onboard 128' OCULUS.



Taylor de Jong I 2nd Stewardess
Education/Certificates: STCW, ENG1, Security Awareness and Designated Duties, Food Safety and Hygiene Level 2
Languages: English

Taylor grew up in Chesapeake, Virginia with her two brothers and sister. Travelling became an early passion of hers as she would often take trips with her family. Taylor recently joined the yachting industry after working in hospitality and being a hairstylist for many years. Taylor works tirelessly to ensure the interior of the boat is kept at the highest of standards. Her positive and vibrant attitude has proven to be a favorite amongst guests.

When Taylor is not busy ensuring an amazing guest experience she enjoys running, surfing, travelling and practicing yoga. Taylor can't wait to welcome guests onboard 128' OCULUS for a relaxed and unforgettable experience.



D'Andre Hepburn | Chef
languages: English

Chef DAndre Hepburn was born and raised in Nassau Bahamas. D'Andre begin cooking with his mom at an early age and developed a love for culinary arts. From there he made a career path and received formal training at Monroe College, working alongside some of the world's most renowned chefs, in New York, which is where my culinary career began. His creativity and culinary skills have brought him international recognition. Chef D'Andre artistic style and infectious passion for food has carried him throughout the world. Following formal training, he decided to take things to the next level and became focused on experiencing different cuisine to soon incorporate into his inventive style of cooking. Chef D'Andre take pride in the ability to adapt formal training and techniques into a role as a visionary. In New York he spent a lot of time working with Daniel Boulud who helped shaped and molded his career. For the past two years D'Andre worked on various Motor Yachts as a private Chef traveling the world and experiencing different food culture. Chef D'Andre can't wait to welcome guests aboard his table on 128' OCULUS.



Lachlan Josland I Mate
Education/Certificates: Outdoor Education Degree, Yacht Master Offshore, GMDSS, Nav and Radar, Efficient Deckhand, First Aid, STCW, Security Awareness, PSCRB, ECDIS, GSK, Padi Open Water, ENG1 medical, SRC, Advanced Fire Fighting, PB2, Sailing Day Skippers, ARPA
Languages: English

Lachlan hails from Christchurch, New Zealand. Growing up he lived very close to the beach where he quickly fell in love with the ocean. In 2012, Lachlan entered yachting after he bought a one-way ticket to Europe, landing his first job on a sailing yacht cruising around the Mediterranean. He has now worked in the industry for over eight years on yachts ranging from 98' to 282'. Prior to entering yachting, Lachlan was in the hospitality industry for many years – even as a chef! Lachlan has over five years of experience on charter boats. He loves being able to enhance the guest experience by providing a safe and exciting adventure through water toys. As much as Lachlan loves being Mate, he is currently working his way up the ranks to eventually become Captain one day.

When you can't find Lachlan onboard, you can find him surfing, snowboarding, fishing, diving, or playing water sports. He can even teach surfing, kite surfing, spear fishing, rock-climbing and white-water rafting. Lachlan gets excited when he sees guests excited so he constantly pushes himself to show them the best experience possible onboard 128' OCULUS.



Remy Viard I Engineer
Education/Certificates: Industrial Electronics and Software Engineer
Languages: Native French, English, Spanish

Remy hails from Marseille, a port city in the South of France. After growing up by the Mediterranean Sea, he eventually entered the yachting industry in the summer of 2002 right in his own backyard, the South of France. Since then, Remy has worked as a Mate and Engineer on both motor and sailing yachts, ranging from 100' to 144'. During his time at sea, he has cruised the Mediterranean, Caribbean, and the East Coast of the US. Remy is excited to continue his career onboard 128' OCULUS aiding in a safe and pleasant charter experience for every guest who comes onboard.



Darko Jovanovski I Bosun
Education/Certificates: Senior Coach of Fitness and Recreation, Yacht Rating, PBL2, PDSD, PWC, STCW, ENG1, Crowd Management, Crisis Management & Human
Languages: English, Native Serbian, Macedonian

Darko was born in Tetovo, Serbia and grew up in Macedonia. Playing semi pro soccer and working as a Personal Trainer since 2008, he has always had a huge love for sports. In 2016, Darko decided to join the yachting industry as he was drawn to the dynamic environment. Darko prides himself on being a team player and is always there when help is needed. Since the start of his yachting career, he has been onboard, M/Y Xerxseas, M/Y Papi Papa, M/Y Silvana, M/Y Touch, and M/Y At Last.

When you can't find Darko offering a helping hand, you can find him playing soccer, basketball, tennis or working out in the gym. Darko can't wait to give guests an adventure of a lifetime onboard 128' OCULUS.