Motor Yacht KEFI
At Barrington Hall we provide motor yacht charters around the world on various luxury yachts. The Motor Yacht listed below, KEFI, is one of the many motor yachts we offer for charter. Please contact us for up to date information on KEFI or any other yachts in your desired location.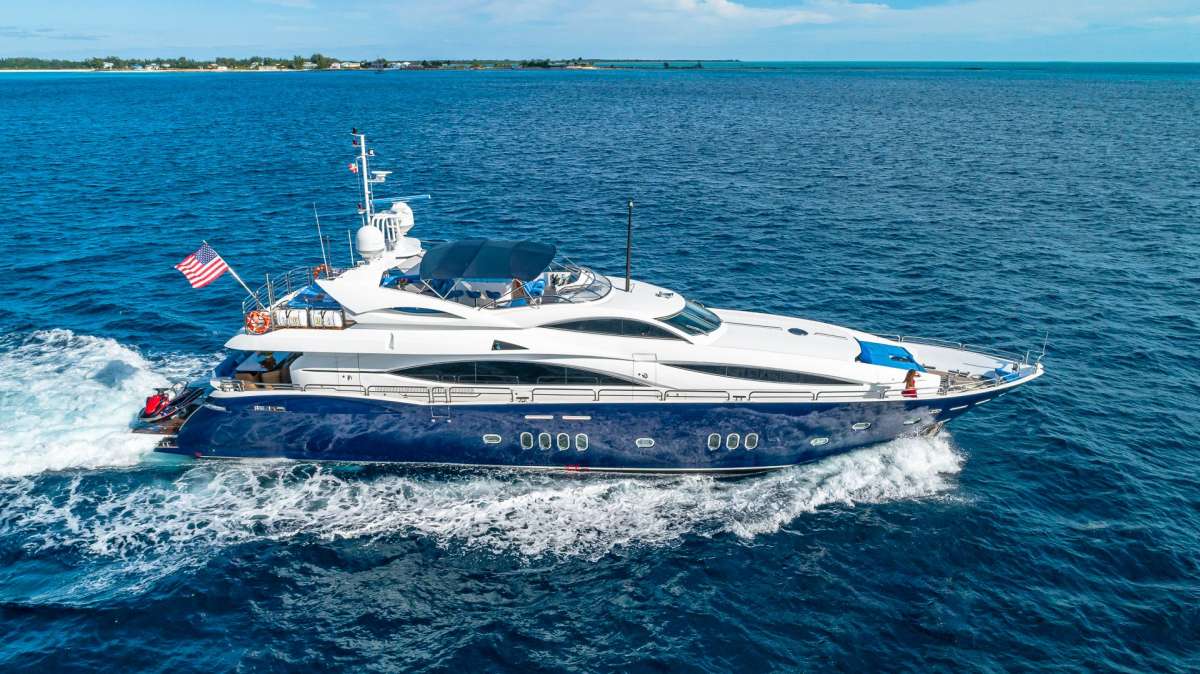 Low Price: $44,000 High Price: $50,600
Accommodations: KEFI is a Sunseeker 105 yacht measuring 32 meters (105 Feet) in length, built by Sunseeker Yachts in 2004. She was the only Sunseeker 105 Yacht to be built to and achieve the MCA large yacht code within this award winning line. She is able to accommodate up to 8 charter guests in 4 well appointed cabins.

KEFI'S NOTABLE FEATURES: Fast and sleek ~ Impressive space throughout ~ Great range of water toys ~ High speed stabilizers underway.

The yacht has been fitted to a very high standard throughout. Her streamlined design is sleek and sporty and she effortlessly combines style and sophistication with power and performance.

KEFI has a sophisticated and elegant décor, designed by Ken Freivokh, and finished in tones of cream and chocolate. Her interior features a spacious and open layout that provides warm and welcoming spaces for friends and family to gather. Her exterior deck spaces are equally as impressive, offering a variety of options for relaxing in the sun or shade.

KEFI accommodation are comprise of a master suite, 1 VIP stateroom, and 2 convertible twin/king cabins. This versatile design make it the perfect boat for couples or family! She is also capable of carrying up to 5 crew onboard in 3 cabins to ensure a relaxed luxury yacht experience.
Amenities
Dinghy Size:
Sea hunt 28' 2019
Dinghy Size:
Sea hunt 28' 2019
Water Sports
Other Toys:
Floating island, Board games, Knee board
Captain – Johann Faubel
Johann grew up on the sunny shores of Miami, Florida. After high school Johann enlisted in the U.S. Coast Guard. During his 4 year enlistment he served as an engineer aboard Coast Guard Cutters in Puerto Rico, the Caribbean and Virginia. After his term in the military he decided to make the transition into yachting and work his way up to Captain aboard yachts in South Florida. From the Gulf of Mexico to Connecticut, and the Exumas to the Virgin Islands Johann likely has a story to share if you're interested, and wants you to know that KEFI's comfortable bridge sofas are always available as a great place to converse while the world slides past. Johann holds a Master 500 ton license and has built the perfect crew for KEFI to provide Five Star service to it's guests. His hobbies include fishing, overlanding, travelling and building project cars. When he isn't onboard Johann can be found in Fort Lauderdale, Florida enjoying days off or travelling the world. Languages - Spanish, German

Chef - Jose Raúl Navarro
José Raul Navarro comes with 25 years of experience and a mastery of cooking and kitchen operations. After graduating the CIA (Culinary Institute of America) in New York in 1996 he travelled the world to learn from different cultures and cuisines. He has previous experience working in yachts as Head Chef and culinary strategist ensuring the best food preparation meeting the best hygiene standards with passion a creativity. He is also versed on the legal requirements related to public health, chemical safety and usage, fire procedures and safety, kitchen cleanliness and food care requirements. During his outstanding career he was awarded the young chef award at Ambrosia restaurant in Mexico City, the best cook recognition awarded by the French Alliance institutes and the best innovative cuisine in Seville, Spain, his restaurant appeared on the Repsol guide for the cities best restaurant. He looks forward to serving you with the most exquisite cuisine aboard Motor Yacht Kefi. Languages - Spanish and Italian

Deck/Stew – Ariadne Juvelis
Being born and raised in South Florida, Ari found her nitch for the ocean and the yachting & sailing community at a very young age. She has taken every opportunity to be on the water. Her late uncle, an IGFA Hall of Fame member was instrumental in her love of the sea. She has experienced over 200 hours of sea time before becoming an adult. Ari made the leap into the yachting community in her early twenties knowing that working at sea was her calling. Since the beginning of her career, Ari has experienced working on a variety of vessels ranging from 20m to 40m, learning the ins and out of the trade from working experience. She takes great pride in providing and creating a memorable experience for all. Coming from a multi-cultural background she has a passion for discovering new destinations and cultures.
A wandering nurturer: On her time off Ari is traveling, meeting new people, painting and exploring her own back yard in downtown Fort Lauderdale doing outdoor pursuits such as kayaking, wake surfing, free diving, and skateboarding, but enjoys being with her family more than anything else, Ari is delighted to provide you with a personable, memorable, safe and unforgettable experience with motor yacht KEFI

Chief Stewardess –Theresa Bonds
Theresa has spent most of her life in a small town called LuLu in North Florida.After high school Theresa spent 29 years as a Cosmetologist/Barber in management and customer service. Theresa also worked in Distribution Logistics for 10 years. In 2012, Theresa graduated FGC as a Phlebotomist and EKG.In 2013 after Theresa's youngest child graduated, Theresa decided she wanted to get away from the small town she grew up in and experience life in the city. Theresa found herself in ST Petersburg FL for a year and that's when Theresa found out about the yachting industry. In 2014 Theresa made her way to Fort Lauderdale where she continued working as a Barber. In 2017 after gaining more knowledge about the yachting industry Theresa decided to make a career change to yachting and has loved every minute of the 4 years.She loves meeting new people and exploring new destinations. Yachting has given Theresa the opportunity to explore a life that she could had never imagined. During Theresa's down time she enjoys walks on the beach, bike rides, kayaking, paddle boarding, travel and most of all she enjoys visiting her family and spending 'me with her grandbabies. Fun fact about Theresa, she has also worked on a few T.V. shows ( Ballers, Bloodline, Graceland). Theresa will most definitely make sure you have a wonderful time on board with your guests and make wonderful memories to last a lifetime. Theresa life motto( we are not here for a longtime but here for a goodtime)

Stewardess – Melina Lablanc
Melina is French Canadian born in Montreal, Quebec . She relocated to Barbados with her mother at the age of 19. Being a competitive swimmer growing up she always had a great passion for the water. Working in an office for 5 years she decided to have a career change and explore the great outdoors. While living in Barbados she saw beautiful yachts come to the island and decided it would be the perfect career to pursue.She has been in yachting since 2017 and has a passion for the industry. Melina is highly motivated and eager to please all guests.

Mate/Engineer - Angel Gonzalez
Angel was born in Manzanillo, Colima Mexico. He come from a family of 9 merchant marine. I am a graduate of the merchant nautical school of Mazatlan, Sinaloa Mexico. He worked for 5 years offshore as a second engineer and later as chief engineer. Angel has approximately 6 years of experience in yachting. His hobbies are motorcycle riding, loves fishing, swimming, and diving. When he is not working on board he lives at home with his wife, daughter and Pomerian puppy.