Motor Yacht NOW OR NEVER
At Barrington Hall we provide motor yacht charters around the world on various luxury yachts. The Motor Yacht listed below, NOW OR NEVER, is one of the many motor yachts we offer for charter. Please contact us for up to date information on NOW OR NEVER or any other yachts in your desired location.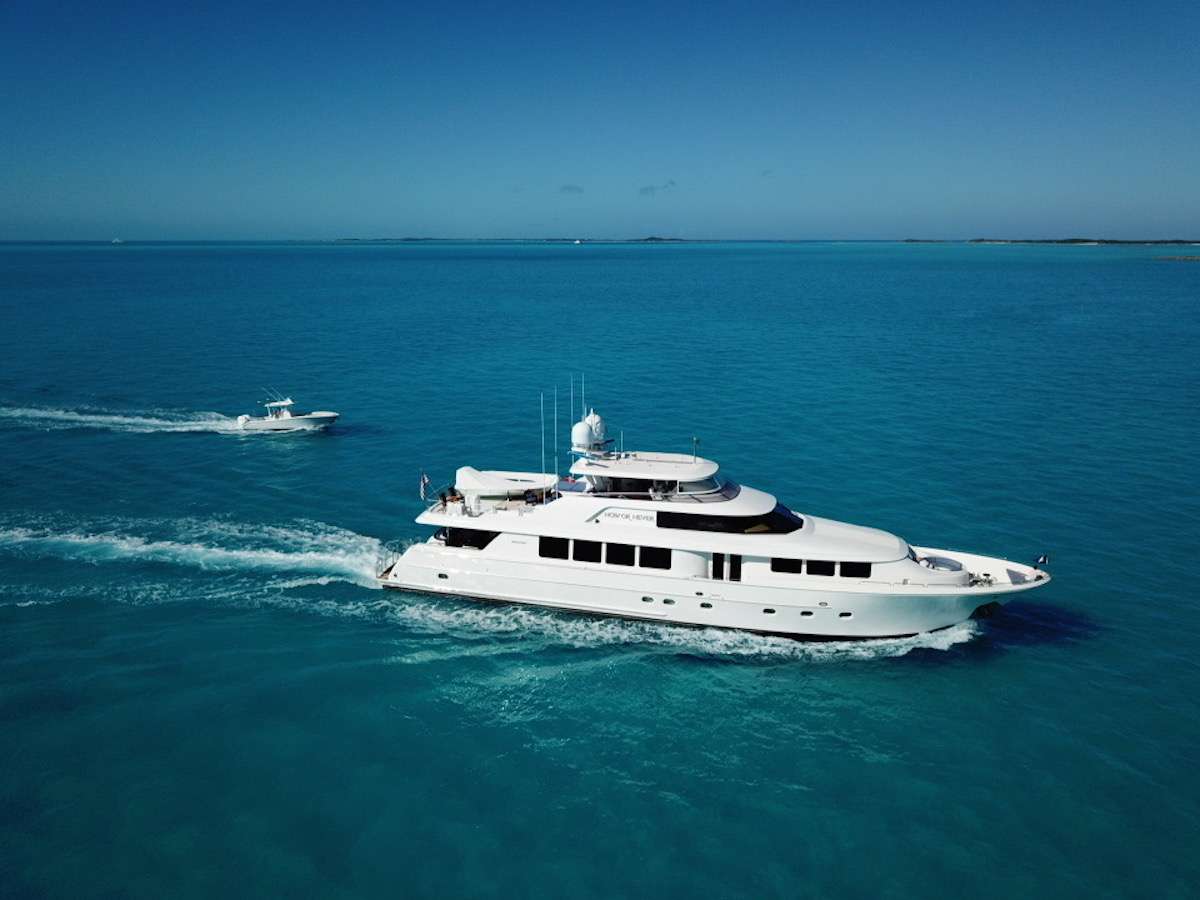 Low Price: $55,000 High Price: $55,000
Amenities
Dinghy Size:
2019 32' Yellowfin with twin 350hp + 17' Hells Bay Flats Boat
Dinghy Size:
2019 32' Yellowfin with twin 350hp + 17' Hells Bay Flats Boat
Water Sports
Gear Type:
Offshore and Fly fishing
Other Toys: 2019 32' Yellowfin with twin 350hp - Fully rigged for offshore fishing
17' Hells Bay flats boat - Fully rigged for inshore and fly fishing
2 Seabobs
2 paddle boards
2 kayaks
Brownie's Third Lung
snorkel gear
towable tubes
wakeboard
water skis
CAPTAIN VANCE ALLEGRE
Vance was born is Huntington Beach California where he grew his passion of being on the water, fishing surfing and diving. He joined yachting eight years ago starting off in the engine room and then moving out on deck. Having sailed from as far east as Turkey to the Dry Tortugas and as far north as Boston and all throughout the Caribbean, he specialized in Northeast, Florida and Bahamas. While having experience in both private and charter his main goal is to insure everyone's safety onboard while provide an unforgettable experience. During his free time, Vance enjoys fishing, surfing, spearfishing, hiking and yoga.


MATE NICHOLAS EXTON
Nick was born in St- Thomas, USVI. He grew up surrounded by the Caribbean waters and quickly fell in the boating world. He has worked extensively on many sailboats, yachts and fishing vessels. His passion for the water is easily noticeable as he enjoys all types of fishing, diving and boating on his time off. He currently holds a USCG 100-ton Merchant Mariner license. He has been working in the private yachting industry for the last year and is always looking to further his knowledge. You can always find Nick smiling and looking for adventure.


CHEF ALUN MAHOUN
Alun grew up in the Bay Area of San Francisco. He attended Johnson Whales culinary school where he developed his passion for food. He has been a chef on yachts for over 20 years and continues to further develop his techniques. He really enjoys being at sea and the travelling to exotic locations. He loves using the finest and most fresh ingredients to create amazing dishes. His hobbies include swimming, ping pong and golfing.


STEWARDESS ADRIENNE MCKENNA
Adrienne was born in Harrisburg, PA and grew up in New Jersey. She loves the outdoors and keeping active. She is happiest when she is out on the water. She has over ten years in the hospitality business and enjoys hobbies such as golfing, fishing, traveling, and exploring new places. The aspect Adrienne enjoys the most about the yachting industry is keeping the guests smiling and offering top notch service.


DECKHAND CONNOR LINDSAY
Connor was born in St. Louis Missouri and grew up in Southern California. He attended community college for 2 years while living aboard his Cal 25 sailboat where he found his love for the water. After college, Connor found a crew position on a 38-foot sailboat and set out on what was supposed to be a two-year trip around the world. After a short three months the trip came to an end when COVID hit. Connor left the boat at Puerto Vallarta and continued on foot backpacking down Central America. In June 2021 Connor left for Florida to continue his career on the water with NOW OR NEVER.