Motor Yacht Il Sole
At Barrington Hall we provide motor yacht charters around the world on various luxury yachts. The Motor Yacht listed below, Il Sole, is one of the many motor yachts we offer for charter. Please contact us for up to date information on Il Sole or any other yachts in your desired location.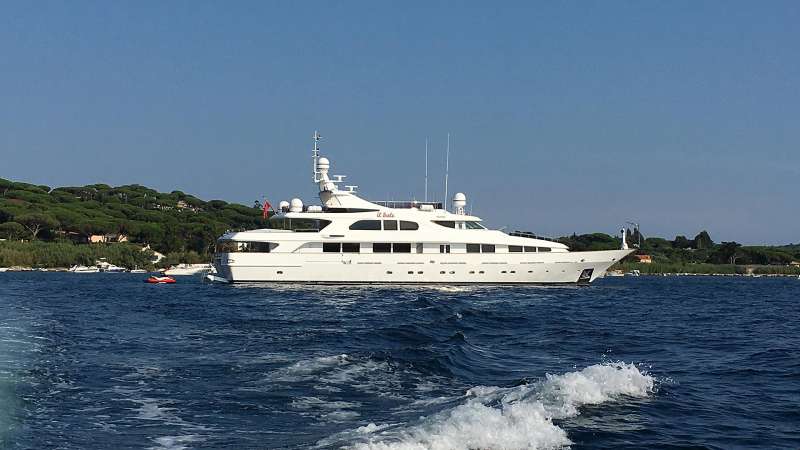 Low Price: €125,000 High Price: €155,000
Accommodations: Up to 12 guests are accommodated in 6 well-appointed cabins comprising a master on the main deck with walk-in wardrobe, office area and en-suite bathroom equipped with Jacuzzi bath and steam bath. A further 2 VIP cabins and 3 twin cabins are located on the lower deck.

Main deck
-------------
Salon:

Sumptuous sofas, built-in popup TV, bar with a collection of games.
Separate dining area with large table and seating for up to 12 guests. The dining table can be converted into a custom made Roulette / Casino table. Galleried landing leading to a day head, upper and lower decks and master cabin.

Master cabin:
With king bed 200x200cm, TV, walk-in wardrobe, vanity. Italian black and gold marble en-suite bathroom with his and her sinks, hammam/steam shower and bath. A private office area with desk, storage and telephone completes the master cabin.

Lower deck
--------------
Cabins:
2 equal size VIP Cabins featuring Queen beds (160x200cm), vanity, walk-in wardrobes and en-suite bathroom finished in Italian marble
3 twin cabins with 2 beds each of 90x200cm with en-suite shower rooms

Mid-deck
-----------

Sky lounge - Marble-topped bar with 2 relaxed seating areas comprising sofas, armchairs and library. Original Louis Vuitton day head with Italian marble. Opening onto mid-deck exterior dining area with large table seating 12 guests.

Sun deck
-----------

Sunbathing area with sun beds and Jacuzzi that can be covered and converted into an additional lounging area with cushions. Italian grey marble bar with BBQ, casual seating and dining table. Additional seating forward with sofas and low table.
Amenities
Dinghy Size:
6.60m tender 150hp Yamaha, brand new
Dinghy Size:
6.60m tender 150hp Yamaha, brand new
Water Sports
Other Toys: Inflatable toys: 1-3 persons banana, 1- 2 persons couch, 1-2 persons donut, 1- 3 persons inflatable mattress,


Other Toys: Sky Lounge Theater with HD Film Projector
Kaleidescape AV System and Blu-ray Vault
SAT TVGym equipment:
Yoga mats
Dumbell
Balloon
Communications:
entertainment system: Kaleidescape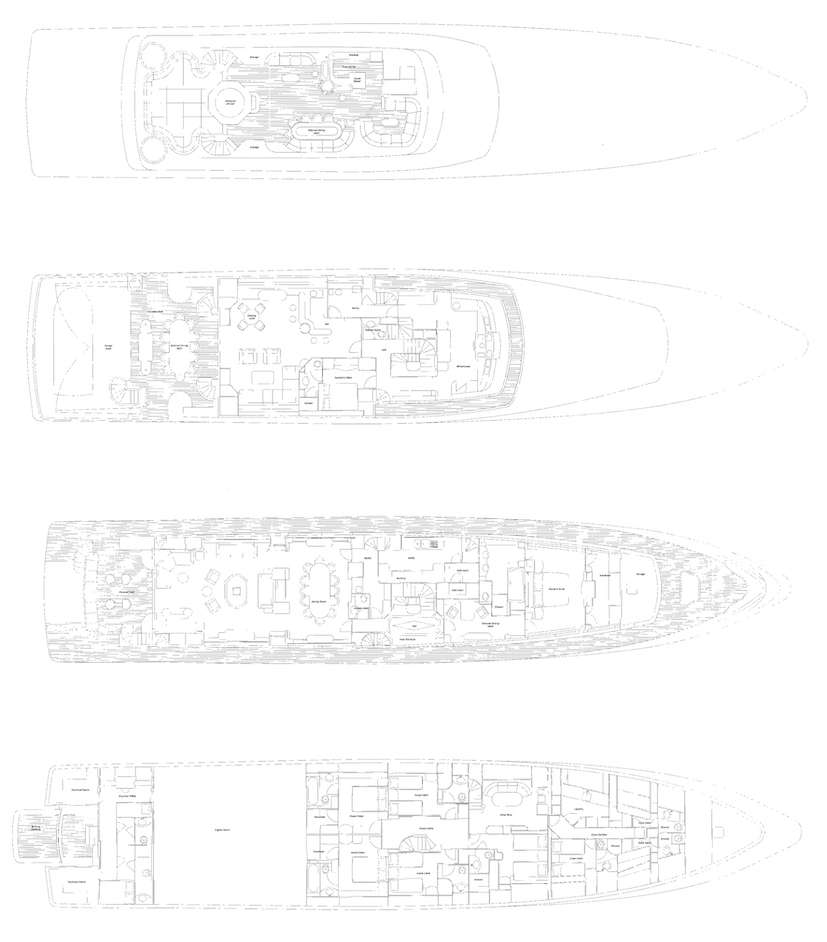 Name: Georgii MYGORIAN
Position: CAPTAIN
Nationality: Ukrainian, 40 years old

Spoken languages: Ukrainian, Russian, French, Spanish and Romanian fluent; English and Italian intermediate.

Georgii is a calm, friendly and focussed Captain who takes great pride in ensuring guests receive the highest level of service as well as a charter itinerary that will delight everyone. Having been in the yachting industry for almost 10 years, Georgii has a deep understanding of what separates a good charter from as exceptional one – he is skilled at planning a perfect voyage that brings travel photos to life! He also believes that a strong, cohesive crew makes all the difference and ensures every aspect of maintaining and running a yacht is undertaken professionally and efficiently. Having spent many years navigating the Mediterranean, Georgii is always delighted to show guests the very best areas. Some of his favourite cruising and anchorage spots are Ibiza and Formentera as the landscapes and atmosphere are varied, diverse and beautiful.
-----------------------------------

Name: Catalin CAPATANA
Position: FIRST OFFICER
Nationality: Romanian, 35 years old

Spoken languages: Romanian and English fluent; Spanish basic.

Catalin is a professional and experienced First Officer whose passion for the oceans and sailing led him into yachting. His priority on board is the safety of guests, crew and ship but being a natural people-person with a great sense of humour, Mihai enjoys nothing more than helping to provide a fun and exciting voyage, navigating to beautiful areas of the Mediterranean. His bright outlook and unwavering patience will endear guests throughout their charter and his eagerness to assist with Jet skis and water sports equipment will ensure endless fun for guests of all ages.

In Catalin's spare time he enjoys watersports and riding sport bikes where he can sometimes be found at track days or riding across Europe.
-----------------------------

Name: Florin ADOCHITEI
Position: CHIEF ENGINEER
Nationality: Romanian, 29 years old

Spoken languages: Romanian and English fluent.

Florin has always had a fascination with the inner workings of machinery and so naturally studied engineering. After graduating as a naval electromechanical engineer, he joined the yachting industry as a way to combine his love of travelling and meeting new people with his career. Precise and focused, Florin is meticulous in his work, ensuring all systems on board are functioning properly.

---------------------------------------

Name: Olga
Position: 1st STEWARDESS
Ukrainian, 36 years old

Spoken languages: Ukrainian, English & Russian fluent

Olga has previously worked on several yachts for charter prior to her embarkation on M/Y IL SOLE since 2014, ranging from 23 meter to 35 meters. She went to the Maritime Academy in Kherson and used to work on cruise ship. Now, with more than 8 years of experience in the yachting industry, she offers a great level of service, always with courtesy and a positive attitude. Hard worker and team player, Olga will do her best to please the guests in coordination with the other stewardesses.
In her spare time, Olga likes to read, do sport and study psychology
Position: CHIEF STEWARDESS
Nationality: Ukrainian, 27 years old,

---------------------------------------

Name: IULIAN PUIU
Position CHEF
Nationality: Romanian, 53 years old

Spoken languages: Romanian fluent; English intermediate

With an extensive experience in several ambassies, cruise line and restaurants with some awarded with Michelin Star, Iulian have a high standard for its cuisine and more than 20 years of activity. From the Mediterranean (French and Italian) to the Asian cuisine (Thai, Indian), Iulian will adapt its recipes depending on the clients' preferences either vegan, gluten free or both but always work with seasonal and fresh products. He has worked in a specialized Fusion restaurant as well as pastry chef after getting a special training from Stephane Glacier, 'Meilleur Ouvrier de France' 2000, which differentiate him from other yacht's chefs. Iulian recently joined M/Y IL SOLE in early 2022 to provide its services and expertise in cuisine to the guests on board.
In his free time, Iulian likes to fish, play tennis, football and travel.

----------------------------------------


-----------------------------


----------------------------------

Name: Stefan CORNELIU
Position: Deckhand
Nationality: Romanian, 28 years old

Spoken languages: Romanian and English fluent, Spanish intermediate

After beginning his career at sea as a naval deck cadet, Stefan joined Il Sole 2 years ago. Bringing his experience together with his light-hearted and jovial nature, Stefan is happier when guests are having a great time. In his spare time, Stefan is a keen rugby player. Also enjoying water sports, he is always happy to help the guests when they use the water toys.
----------------------------------

Name: Dorin RIZEA
Position: Deckhand
Nationality: Romanian, 29 years old

Spoken languages: Romanian and English fluent; Spanish basic

Dorin's experience as deckhand began over 6 years ago when he started working on board tugboats. Having built knowledge and confidence, Dorin joined the crew of EDT Offshore and worked on support vessels in the
high-stress oil and gas industry. Interested by the yachting industry, Dorin joined the crew of Il Sole in 2017 and relishes the opportunities to provide a high level of service.

Name: Roman PETIN
Position: Deckhand
Nationality : Uzbekistan/ Spanish Resident, 39 years old

Spoken languages: Russian and Spanish fluent; English basic

Roman joined Il Sole over 2 years ago, Roman is a knowledgeable deckhand, undertaking all tasks to ensure exteriors are extremely well maintained as well as ensuring the safety of guests on board and while they play on the sea. Keen on water sports, Roman is on hand to help guests use all the toys and equipment so they enjoy the maximum while on the sea.