Motor Yacht Genesia
At Barrington Hall we provide motor yacht charters around the world on various luxury yachts. The Motor Yacht listed below, Genesia, is one of the many motor yachts we offer for charter. Please contact us for up to date information on Genesia or any other yachts in your desired location.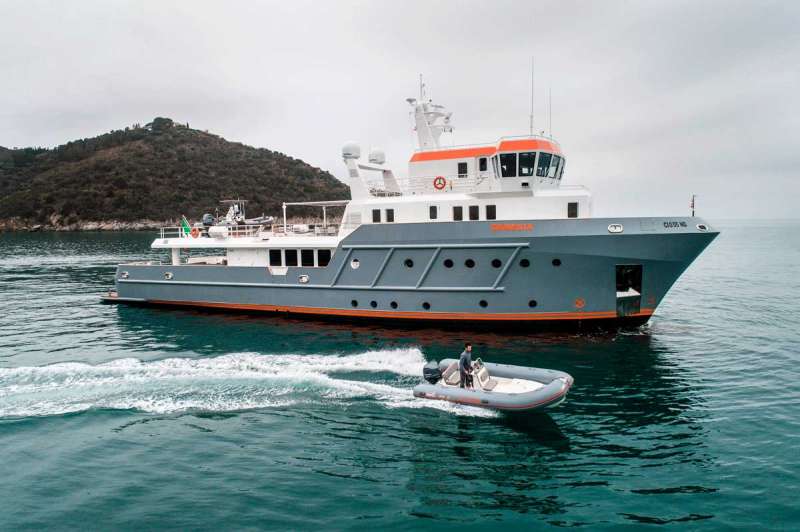 Low Price: €120,000 High Price: €130,000
Amenities
Water Sports
Other Toys: 2 x SUP including one with a detachable sail
1 inflatable canoe
2 wakeboards
1 pair of waterski
15 snorkelling pipes
2 sailing boats
Fishing gear
13 swimming goggles
13 masks
13 long flippers
9 swimming buys
1 inflatable life ring for children
3 wet suits
10 life jackets for water sports
200 hp tender
40 hp tender
Maria Rametto Captain 45 – Italian
Born in Imperia, she got her diploma at the Nautical College in 1992. She started sailing when she was a child and she never stopped. She loves sailing ship and she took part of many sailing races. She is an enthusiast of the sea and she is also instructor in sailing boats. After this, she moved to Yachting world on board on M/Y Dionea 52 mt. as deckhand. She worked as first office on board M/Y Prometej 40 meters, an old Icebreaker converted in a luxurious commercial yacht since 2007. In 2008, she took the command of M/Y Prometej until 2013 sailing around the Med. Between 2013 and 2016 she joins as 1° mate on S/Y OHANA 50 meter and then on S/Y Happy Taurus 30 meters sailing around Atlantic and Pacific Ocean. In 2016 starts to follow the re-built of Genesia in Cantieri Navali Chioggia and she took the command of Genesia in the 2017.

Quinto Di Felice Chief Engineer 62 – Italian
It's hard to tell Quinto's experience in few words. Quinto provides us with 40 years of sea experience behind his belt. He sailed on every kind of working boats from fishing boats to big supply vessels. He joins in the yacht word in 2006 on board of Ariete Primo a luxurious Yacht of 45 meters until 2012. In 2013 he moved to on tug Boats until 2016 when he joined on Genesia since the beginning of construction. He is a specialized mechanic, absolutely able to fix everything.

Strawinski Lucjusz Chief Officer – 43 – Polland
Lutek was born in Gdansk on the Baltic Sea coast. Speaks English, Italian and Polish. Lutek graduated Sociology and Psychology. Has always been strongly connected to sea and yachts. Has Tall ship and racing experience. For the past 20 years was working as a deckhand, first officer and skipper on sailing and motor yachts up to 68m. He joined M/Y Genesia a year ago after completing his 12th Atlantic crossing.
Calm and helpful he is a great point of reference for all the crew.


Federico Jacopo Deckhand – 23 Italian
The youngest of the crew dragged by a great passion for the sea. Jacopo joined the crew of Genesia during the winter 2018. He worked as deckhand for two years on "Southern Cross" a vintage 40 meters Sailing Boat. Serious and helpful he takes good care of the deck together with the first officer.

Di Carlo Federica Chef – 48 Italian
Federica was born in Genova and she cultivated the passion for cooking since she was a child. She speaks English, French, Spanish and some Greek. She worked for 10 years in the yacht world, then in 2014 she moved ashore working for an important Restaurant in Genova " Il Michelaccio " . In June 2018 she joined the Genesia crew surprising everyone with her fantastic cuisine. She's a real galley professional, she prepares with care and dedication all her dishes always able to vary and surprise. She loves new challenges and always manages to please guests and crew at the best.


Cirino Michela Hostess – 38 Italian
Born in Sarno , south of Italy , she starts her career very young as bartender on land. Then she moved on yacht world in 2007 starting on board of Ariete Primo a 40 meters luxurious Yacht. Patient and caring she is a great team worker, able to satisfy all the guest's needs. She speaks fluently English and French. She join on Genesia in 2019 .

Minelli Veronica Hostess – 44 Italian
Born in Livorno she starts her career in yacht world in 2006 . She show off 13 years of experience as hostess both on sailing yacht and motor Yacht . She has a multi-faceted attitude and she is a sunny and lively person. She speaks fluent English and joined in Genesia crew in April 2019.


Talida Stroie Hostess – 38 Romanian
Talida has a strong passion for the sea, she is graduated in " Marine Biology and Ecotecnology " and in "Psychology " . She attended a course to became sommelier, she started to work on yachts in 2005 and she never stopped. She is a great worker and adapts to all situation. She is also a very good deckhand. She speaks fluent English and Italian. She join in Genesia Crew in 2019.