Motor Yacht PATHOS
At Barrington Hall we provide motor yacht charters around the world on various luxury yachts. The Motor Yacht listed below, PATHOS, is one of the many motor yachts we offer for charter. Please contact us for up to date information on PATHOS or any other yachts in your desired location.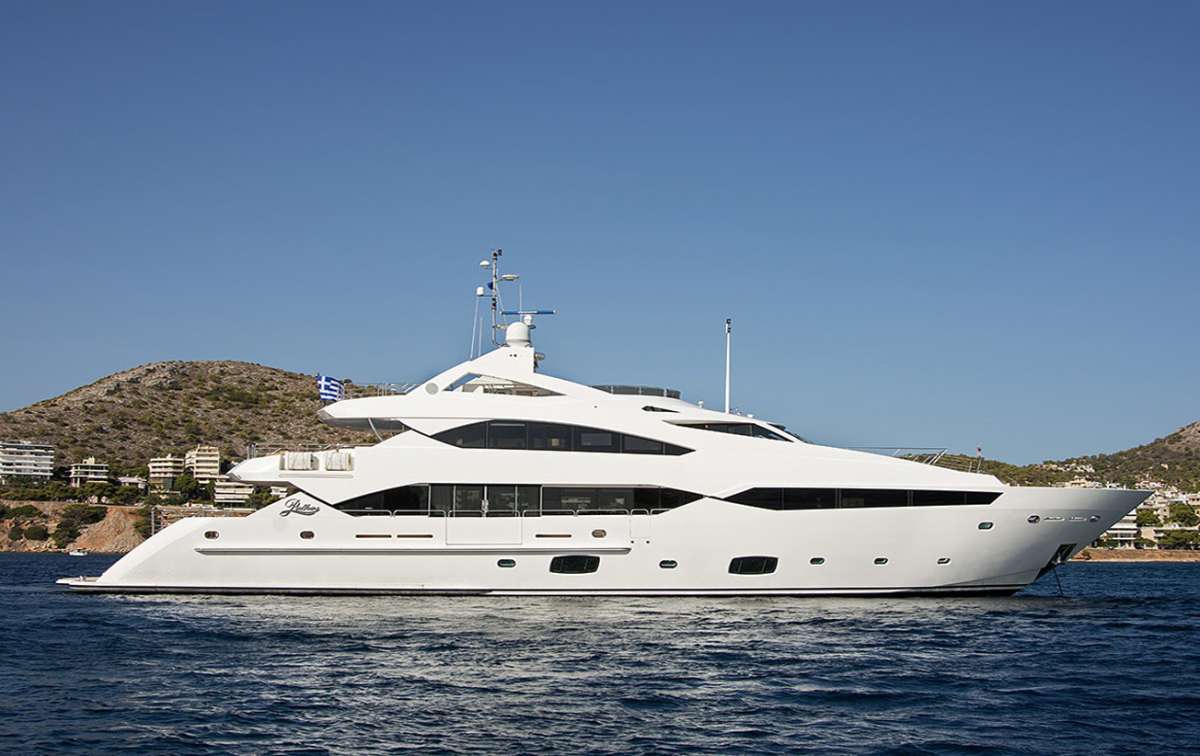 Low Price: €130,000 High Price: €155,000
Accommodations: 1x Master Suite on upper deck with a King size bed
1x VIP Suite on main deck with a King size bed
2x VIP Suites on lower deck with Queen size beds
2x Twin Staterooms on lower deck (both convert to double staterooms)
Amenities
Water Sports
Other Toys: Tenders:
1x Pascoe Shuttle 6.20m with Yanmar 180 hp
1x Avon 3.40m with Honda 15 hp

Toys:
2 x Sea-Doo 225Rx (2-seater)
1 x Water ski set
2 x Seabobs
1 x Tube
1 x Banana
2 x Stand up paddleboards
2 x canoes (2-seater)
1 x Kneeboard
Fishing Equipment (masks, flippers, fishing rod)
Other Toys: - LCD Samsung TV's in all cabins
- 1x Aqualite LCD 42 (Waterproof) TV on upper deck
- 1x Aqualite LCD 42 (Waterproof) TV on sun deck
- BOSE int./ext. speakers in the salon and portable speakers
Communications: - GSM
- Inmarsat.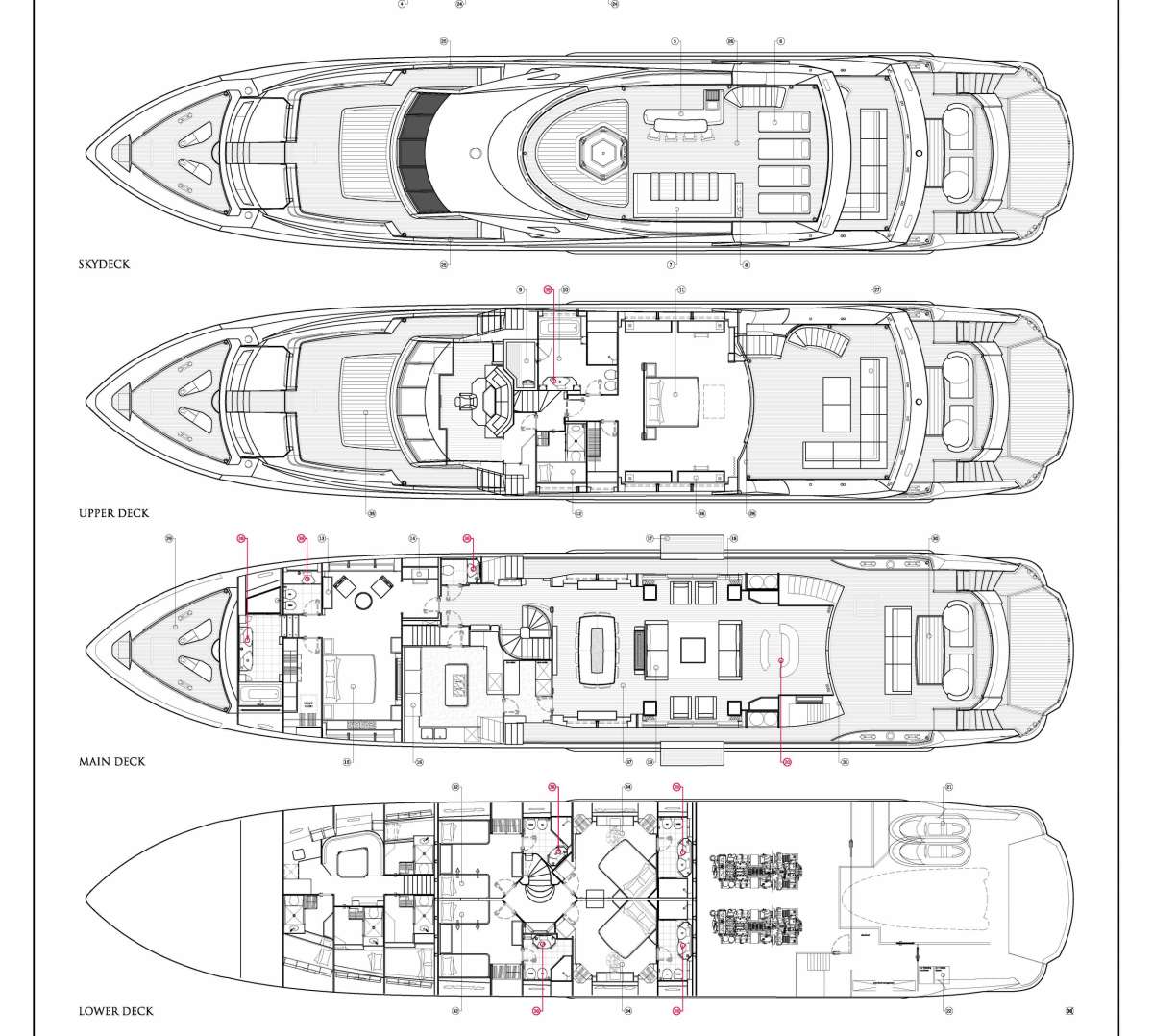 C R E W P R O F I L E

M / Y P A T H O S

Captain, Panos Zorzos
Cpt Panos was born in 1969 in Athens, Greece. He graduated from the Merchant Μarine Academy in Hydra, in 1991. He is married and has one child. Cpt. Panos has been in command of many renowned yachts for the past 25 years before joining M/Y PATHOS. He joined M/Y Pathos in 2017 with a lot of expectations and ambitions. With a vast experience of the Aegean & Ionian Sea destinations (half of them in the Mediterranean Sea, mostly south France, and Italy) he can tailor-make your ideal itinerary around the islands & assist you with arranging your onshore activities. Cpt. Panos speaks English & Greek fluently and has a great sense of humor! His hobbies include cinema, movies, walking, soccer, and scuba diving.

Chief Officer, Avrilios Lolos
Avrilios Lolos was born in 1997 in Athens, Greece and graduated from the Merchant Marine Academy in Athens. After completing his studies Avrilios started working as a chief officer on underwater cable laying ships. After lots of overseas trips, he decided that yachting was a better fit and joined Pathos. Avrilios loves his country and is totally convinced that every island in Greece can become a memorable place for your vacations. In his free time he enjoys wakeboarding and working out. He is fluent in English.

Chief Engineer, Alexandros Karsanidis (Alex)
Chief Engineer Alexandros was born in 1972 in Athens, Greece, and graduated from the Merchant Marine Academy in Athens. He has worked with Captain Panos in the past and joined M/Y PATHOS in 2017. He is married and has 2 children. Alex commenced his career onboard tanker vessels, building experience, and knowledge, he then decided to switch his career and joined the yachting industry in 2001. He had previously worked together with Cpt. Panos for 6 very successful years onboard two luxury yachts. He speaks fluent English and Greek. Alex enjoys spending his free time cycling & reading books. He holds both a speedboat and a scuba diver license.

Chef, Fotis Koutantos
Fotis was born in 1973 in Athens. He has been working on Pathos since 2018. He is married and has 3 kids. He holds diplomas in Cooking and Patisserie from the "School of Tourism Professionals" in Anavyssos. Fotis started as a chef in some of the most well-known restaurants in Athens and has been in the yachting industry since 2012. Fotis is also a consulting chef in restaurants helping with their menu structure as well as their cuisine setup and training needs. He uses his talent and knowledge of fish to create new dishes inspired by Greek and Asian cuisine. He speaks fluent English & also communicates well in Italian. During his free time when not attending cooking seminars and exploring new creations & cuisine trends, he enjoys reading.

Chief Stewardess, Dorina Marcu
Dorina was born in 1985 in Moldolva. she holds a law degree from the International University of Moldova and a diploma in Food and Beverage Management from Le Monde, Institute of Hotel and Tourism Studies in Athens, Greece. Dorina has been involved in the field of yachting for nine years and she has extensive experience on private and commercial yachts. She believes in continuous professional development, so she attends silver service, baristas, food and wine pairing seminars. She is married and has a seven year old son. Her mother tongue is Romanian and she is fluent in Greek and English. During her free time, she enjoys playing tennis and jogging.

2nd Stewardess, Eliza Galanou
Eliza Galanou was born in 1985 in Athens, Greece. After high school, Eliza immediately started working in the hospitality industry. With cocktail making, service and housekeeping experience, Eliza always attempts to deliver high standards. She is both intuitive and attentive, which ensures that the needs of guests are handled discreetly and quickly, making their stay on Pathos relaxing and enjoyable. She is fluent in English and enjoys working out and taking her dogs for walks.

3rd Stewardess, Cyril Adupe
Cyril was born in 1984 in the Philippines, and for the past 17 years, she has been living in Greece. Ever since she came to Greece, she has been working in the Tourism and Yachting industry specializing in hospitality and housekeeping. Her work experience includes working at five-star hotels and luxurious yachts. Cyril has been working on yachts for the past eight years. She speaks fluent English, Filipino, and Greek. She is married and has two kids.

Bosun, Christos Kantzilidis
Christos was born in 1977 in Koln, Germany, and graduated from the Merchant Maritime Academy in Thessaloniki. After the completion of his studies, Christos started working on Marshall Ships for 5 years, he then joined the yachting industry, where he has been successfully working on both private and charter motor yachts for the past 14 years. Christos's sailing experience has taken him all over the Mediterranean Sea. He is a qualified rescue diver as well as a keen drone pilot enthusiast. Christos is happily married with two children and during his free time, he enjoys playing football as well as reading. Christos speaks Greek and English.

Deckhand, Jerick Pol Reterba
Jerick Pol was born in 1978, after high school graduation he left the Philippines and has been living in Greece since 2003. With various previous experiences on different sized boats he joined Pathos four years ago. Jerick is very communicative and easygoing. He has a passion for Taekwondo and mountain bike trails.