Motor Yacht ZALIV III
At Barrington Hall we provide motor yacht charters around the world on various luxury yachts. The Motor Yacht listed below, ZALIV III, is one of the many motor yachts we offer for charter. Please contact us for up to date information on ZALIV III or any other yachts in your desired location.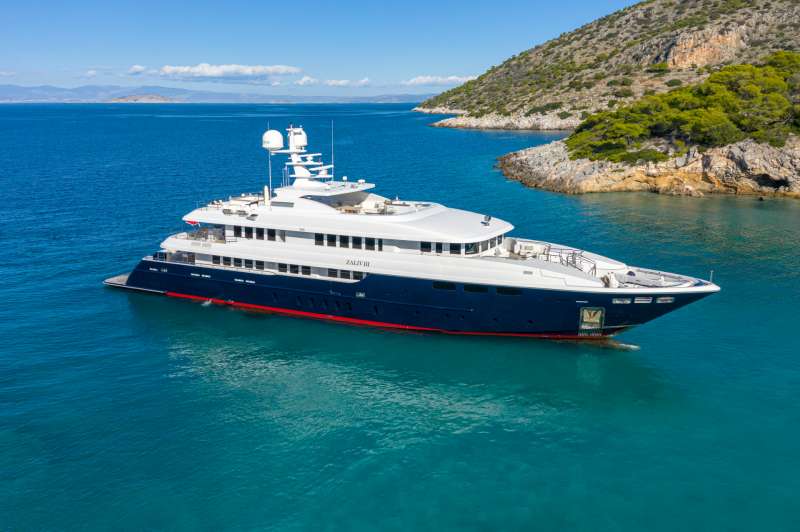 Low Price: €195,000 High Price: €225,000
Accommodations: Upper deck:
One master cabin with a king size bed, his and hers bathroom, jacuzzi, shower, steam bath & walk in closet. A private lounge area with an office, wine cellar and cigars humidifier & a private deck area.
One spa room with a steam bath.
Main deck:
One VIP cabin with a king size bed, jacuzzi, shower, steam bath, walk in closet and an office area with two pullman berths.
Lower deck:
Two double cabins with a queen size bed and ensuite facilities (shower & steam bath).
Two twin cabins with a pullman berth and ensuite facilities.
RGB LED Lighting in all baths/chromotherapy
Safe box in all cabins

A Spa Therapist offers spa treatments to all guests onboard during the charters
Amenities
Minimum Age:
Children must be supervised by
Generator:
2 x 105 kw each northern light
Water Sports
Other Toys: One Tender Novurania 5.40m with 170hp Mercury
One Lomac 4.3m with outboard Yamaha 4 stroke
Jet Ski SEA DOO 215HP (2seater)
Jet Ski YAMAHA 245 HP (3seater)
Super Jet Ski Yamaha (Standing type)
Lampuga boost electric surfboard
Seabob
Flyboard
2 x Canoe
2 x SUP Paddle
Wakeboard
Windsurfing
Water Skis (for adults & kids)
Banana
Tubes
Fishing & Snorkeling equipment

Gym equipment:
Treadmill Amila Power AC
Elliptical machine Kettler
Pilates ball
Tranes try
3 pcs exercising rubbers that you pull 4 gym mats
4 rubber kettlebells (2 x 6 kg + 2 x 8 kg)

Other Toys: State-of-the-art audio/video with media players throughout the yacht.
i-Pod docking station
Playstation

The two dining tables can become one for up to 24 guests on the sundeck.
he dining table in the main deck can be converted to a big backgammon table.

Communications: Fax/Telephone SATELITE & GSM
Satcom System GLOBE WIRELESS I-250&IRIDIUM IG 251LOG
Intercom
GMDSS
VHF SAILOR RT 5022
Wi-Fi internet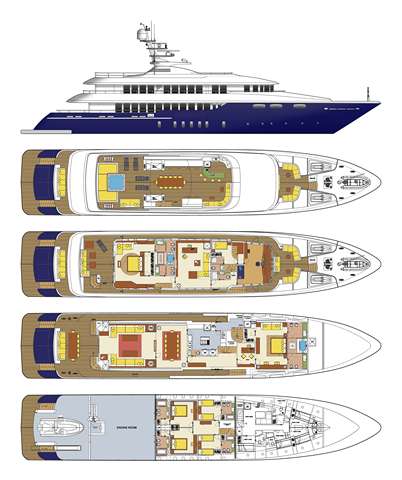 CAPTAIN -STRATOS TALIADOUROS
Stratos was born in 1956 and is a Greek national. He graduated from the National Merchant Marine Academy in 1977 and holds an A Class Captain's diploma. He also holds all Certificates according to IMO, such as Advanced Fire Fighting, Life Saving Appliances, Crisis Management, Medical Care on Board Ship, Passenger Safety, and a Speedboat License. He is further certified for use of survival crafts, rescue boats and emergency procedures. He has worked onboard merchant ships before joining yachting in 1989. He has worked on private and charter yachts such as M/Y FADI, ZALIV and ZALIV II. He is married with two children and speaks fluent English and Turkish. During his free time he enjoys swimming, travelling and hiking. Captain Stratos' extensive knowledge of Mediterranean sea is a valuable asset and ensures a successful charter.

CHIEF OFFICER – GKONTZOS KONSTANTINOS TZIOVANI
Konstantinos was born in 1984 in Arta, Greece. He graduated from the Merchant Marine Academy in Epirus, Greece in 2007. He holds all Certificates such as Advanced Fire Fighting, Tanker Safety, Ship Security Officer, Life Saving Appliances, Crisis Management/Simulator/Ship Handling, Management of Change, Medical Care on Board Ship, Passenger Safety, Specialized Training for 'Gas Instruments', for 'RO-RO/PASENGER SHIPS' and has also a speedboat license. He has 9 years of experience in yachts of all types and sizes. He speaks fluent English. Konstantinos has a passion for traveling, diving and all water sports.

CHIEF ENGINEER- THODORIS KIKIDAS
Kostas was born in Greece in 1974. He holds an A Class Engineer Diploma and all the necessary certificates; Higher Level Training, Advanced safety and Firefighting, ERM/ERS, RO-RO Passengers ships V/2, V/3. He started his career in 1994 onboard merchant ships and entered the yachting industry in 2003 serving on charter yachts such as M/Y Gina M, M/Y Celeste & M/Y Allegra. He speaks fluent English. He is married and in his free time enjoys computers and music.

ENGINEER - NIKOLAOS BAKOKILIAS
Nikolaos was born in Greece in 1980. He has been a certificated engineer since 2004. He graduated from the Merchant Marine Academy of Crete with all the necessary certificate; Life Saving, Anti-piracy training seminar, Risk Assessment/Management OHSAS 18001, Shipboard Safety Officer ,ISM CODE Implementation ,Tanker Safety Basic ,Tanker Safety in Advance, Safety and Fire Rescue, Ship security Officer, Risk Assessment/Management in the Shipping Industry Marine Incident Investigation. He has 11 years of experience on ocean going ships and charter yachts. He speaks fluent English and he is married with two children. He has very good knowledge of MS Office. His hobbies are cinematography, literature and travelling. He also loves football and he is an active member of an amateur football team.

CHEF – ALEXANDROS LAZZOULI
Alexandros was born in 1981 in Greece. After completing his culinary studies at "Le Monde Institute", Alexandros started his career at Island restaurant. Prior joining Zaliv III team he has worked at famous restaurants and hotels such as Hilton and Grande Bretagne and onboard private yachts. During his career he has also attended numerous gastronomy seminars such as "Creative French cuisine" with the Michelin star holder executive chef Jerome Serves, food hygiene H.A.C.C.P. system and many more. In 2007 was awarded with the first prize at the culinary contest that was held in Hilton Athens hotel. He is an expert in International cuisines but his great love is the Greek and Mediterranean gastronomy. Alexandros is well versed in haute cuisine food preparation but equally comfortable with simple, straight forward cooking with passion and respect for quality and detail. Chef Alexandros ensures that dining onboard M/Y Zaliv III will be an unforgettable experience.

CHIEF STEWARDESS – BELEA ADRIANA ANA
Adriana was born in 1979, a Romanian national. She has certificate in Economics and Administrative Studies. She has also studied for 3 years at "Fundeni Nursing College" and during her practice she was nurse in the military hospital for one year. She has attended beauty courses, seminars in photography and PYA GUEST Yacht Interior, Yacht Interior, Basic Food Service & Wine, Bartending &Mixology Introduction Modules. She has worked in luxurious restaurants and hotels, onboard cruise ships since 2005 and two years onboard M/Y Magna Grecia. She joined Zaliv III's crew in 2015 and has become a valuable team member. She is a very active and hard working person who always smiles and guarantees impeccable service to all guests. She speaks fluent English, Romanian, Greek and basic Spanish. She holds a speedboat license and loves photography, reading and cooking.

2ND STEWARDESS – EVA VOGIATZI
Eva was born in 1978, a Greek national. She holds a butler service certificate, speed boat license, Firefighting certificate, and Lifesaving license. She has worked in the Ministry of Culture and the last 5 years on various charter yachts and she has gained a great experience. She is a diligent and enthusiastic person who pays great attention to detail and offers excellent service to all clients onboard. She speaks English and she loves travelling.

STEWARD – JASON CHAIKALIS
Chief Steward Jason is a Greek national. He is a graduate of "Le Bouveret" culinary arts academy of Switzerland and also holds a bartending certificate from the Ritz Paris. He has worked at Le Mirador Kempinski in Lake Geneva where he gained great service experience in fine dining and in organizing events and banqueting. After that he has serviced at the awarded with Michelin stars restaurants in London "Fat Duck" and "Le Gavroche". Before joining Zaliv III, Jason was working at Grande Bretagne. He is a very pleasant and professional person . He speaks fluent English and intermediate French. He is single and during his free time he enjoys cooking, traveling, playing tennis and participating in environmental activities.

STEWARD/DECK HAND - VIC ARQUELADA
VIC was born in Philippines and he has been living in Greece since 1991. He joined yachting in 1997 on M/Y ZALIV till 2002, M/Y ZALIV II till 2003 and now in M/Y ZALIV III. Before Yachting he had 6 years' experience in restaurants and hotels. Vic speaks Greek and English He is married with two children and he likes swimming and listening to music.

SPA THERAPIST – FATIMA OGRODNIK
Fatima has a degree in Physical Therapy and Spa Therapist Beauty & Management. She has worked in most renowned Hotel Spa and Resort Spa such as Astir Palace, Myconian Ambassador and Grande Bretagne and onboard spa. She has a wide knowledge of various facial and body treatments, therapies and services. She has excellent Technical skills in wellness and she has also attended aromatherapy and deep tissue seminars. Fatima offers spa treatments to all clients during the charter. She speaks Polish, English and Greek. In her free time she likes reading and swimming, cooking and traveling.

BOSUN- DIONYSIOS FOTIOU
Dionysios was born in Katerini, Greece in 1966. He has 18 years' experience in the Ocean going Merchant Ships. Since 1992, he has worked on various motor yachts such as M/Y CARMEN FONTANA, M/Y CARMEN SERENA, M/Y ALMYRA, M/Y HIMERA, M/Y IRIS, M/Y ZALIV II and till now in M/Y ZALIV III. He holds a certificate of Bosun, Lifesaving, Fire Fighting, Speedboat license, Bunkering Responsible and Rescue. He is married with one child. Dionysios speaks English and in his free time he likes fishing and swimming.

BOSUN- VASILEIOS KARATHANASIS
Vasileios was born in 1982 in Greece. He holds a Sailor's License and Life Saving & Fire Fighting, S.T.C.W. A-V/3, A-V/2, and Ship Security Officer (SSO) Certificates. He entered yachting in 2013 and since then he has worked onboard M/Y TROPICANA, M/Y CUDU, M/Y ENDLESS SUMMER and M/Y APANEMIA. Vasileios is full of willing and team spirit. He speaks English. He is single and enjoys sports and travelling.