Motor Yacht LADY SHARON GALE
At Barrington Hall we provide motor yacht charters around the world on various luxury yachts. The Motor Yacht listed below, LADY SHARON GALE, is one of the many motor yachts we offer for charter. Please contact us for up to date information on LADY SHARON GALE or any other yachts in your desired location.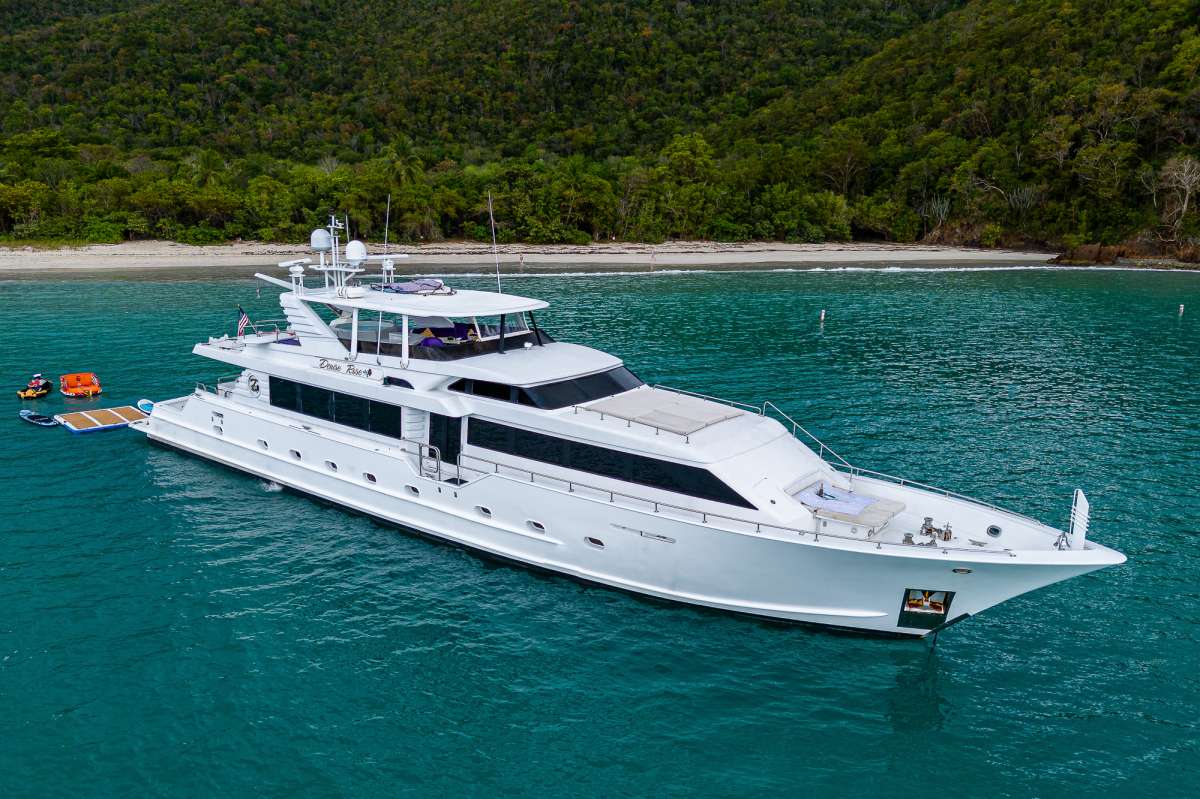 Low Price: $42,000 High Price: $42,000
Accommodations: Originally commissioned as Varsity Jacket and then becoming Strait Jacket, LADY SHARON GALE has a successful charter history, a brand new updated interior, and is ready to resume making memories of a vacation of a lifetime.

On deck, Lady Sharon Gale offers an unusually large and multifunctional cockpit which is original to the yacht's construction. All outdoor living areas are easily accessed via comfortable stairs that transition from the cockpit to aft deck to the fly bridge. The fixed hardtop provides sun protection while the Jacuzzi and bow areas have great sunning spaces..

LADY SHARON GALE'S interior is beautifully paneled in satin finished maple throughout. The furnishings, fabrics and stone are of the highest quality. The decor is cohesive and comfortable, and provides a perfect combination of informal elegance. The main salon caters to practical and informal day to day living with comfortable furnishings, a formal dining area, living room area, and full entertainment system. Forward in the galley, she features the enormous Broward "country kitchen" that provides for a casual dining space and comfortable spot to converse with the chef.

Below, the master stateroom features a king size bed, large flat screen TV with all of the entertainment options, cedar lined closet and his-and-hers baths. Two of the guest staterooms are identical, and offer a double bed in addition to one twin bed in each cabin. A VIP stateroom is unusually large, and features a queen size bed, very large and comfortable en suite bathroom with shower, and occupies the entire bow area.


Amenities
Dinghy Size:
30' towed tender
Dinghy Size:
30' towed tender
Water Sports
Other Toys: The 30' Towable Tender is complete with bathroom + capacity for 10. Twin Yamaha 205.5' Southport 2900TE.
Additionally the yacht has an AB 12 inflatable tender with 25hp carrying 6 passengers.
Other Toys: All new updated TV's and entertainment systems. Direct Sat TV in all rooms.

Fly bridge with customized table with seating for dining, large Jacuzzi and sunning areas.

Communications:
Sat Com, cellular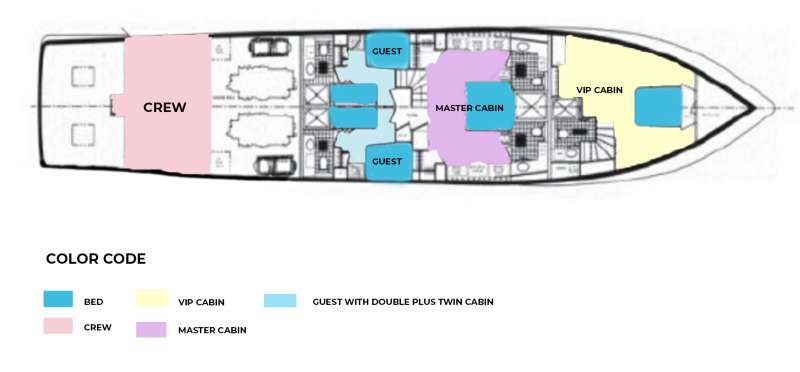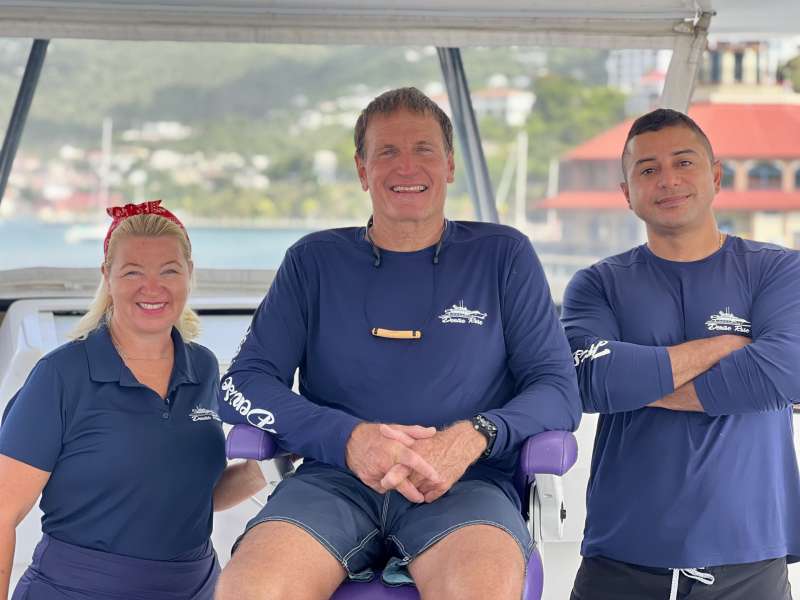 CAPTAIN - TBA

ENGINEER FRANCISCUS PETRUS CORNELIUS - (Netherlands)
Frans is a seriously talented Jack-of-all-trades. If you've got some gizmo that you can't quite figure out how to fix, Frans seems to have a sixth sense about those things. He's held a lot of interesting jobs over the years that have demanded exactly this sort of adaptive genius.

As a young man in the Netherlands, Frans worked for a few years in construction before joining the military and training in first aid. After completing his service, he joined a traveling carnival, working with customers and building, maintaining and repairing the rides and attractions. Then he became a truck driver and after that he was the maintenance manager of 90 apartments in Amsterdam. In 2014, Frans moved to Dutch St. Maarten to manage a private villa that was also rented to guests. All of these experiences placed a critical emphasis on safety, which is also first priority on LADY SHARON GALE.

CHEF MARTIN PARSONS - (Great Britain)
Martin says he was lucky to grow up in the small town of Exeter set against the backdrop of the lovely rolling hills of Devon, England. Situated twenty minutes from the south coast and one hour from the north coast, family dog walks to the coast, or on the moors, were very common. Friends describe him as kind, loyal, and friendly. They still call him Mart, Marty and now Chef. He always loved sports and aggressive inline skating took up a lot of his time. He also took ski lessons. He made it on to the Exeter ski team and eventually spent six months at Courchevel, the French Alps ski resort center, perfecting his technique.

While Marty was still in school he landed a part-time job as a chef. He found his calling. He says, "As soon as school finished I started a chef apprenticeship and never looked back! But, I am fairly new to the yachting industry. I got my first foot in the door through an old head chef I knew. He asked me to be his crew chef on board a 68-meter superyacht with 18 crew." Now, Martin is excited to be exclusively in charge of the galley on LADY SHARON GALE. He is even planning special cooking classes for interested guests.

Martin has 17 years of culinary experience. He was trained at a Michelin Star restaurant in classical French/European cuisine, and has an extensive repertoire of international cuisines. He has held numerous prestigious positions at restaurants in Great Britain, in France, and aboard superyachts. His resume includes Sous Chef at Gordon Ramsey Restaurants, Waldorf Astoria Trianon Palace Versailles.

Martin says, "I love European food, particularly French and Italian, but I also love Japanese cuisine, Thai curry, broths and salads, as well as Mexican food. My guests often like dishes the most, which require the least effort. We chefs have a saying; less is more. Let the ingredients speak for themselves." For more professional insights into gourmet cooking, or just to be spoiled with fabulous fare on a beautiful yacht, charter LADY SHARON GALE!

STEWARDESS LISA VAN VEGHEL - (Netherlands)
Lisa grew up in The Netherlands, in a tiny village with a population of just 800. She lived with Mom, Dad and two older sisters. The local dam and channel were favorite summer spots for swimming, water play and walking the dog. It was an idyllic environment.

Lisa remembers being very active as a child. "I couldn't sit still. I played with other kids, made forts, played ball, skated and ice skated. I was a competitive tennis player and won many awards, always coming in first or second place. I was prepared to attend a sports academy after I finished high school to become a gym teacher. Then problems started with both of my knees. I went to a therapist for four years but, even after extensive treatments, I had to give up because I did not get better." Instead, Lisa opted to attend Avans University and was awarded a degree in business innovations. She moved to St. Maarten in 2013.

This year, despite other offers, Lisa had "the best feeling" about Lady Sharon Gale and accepted a position as the stewardess on board. She especially likes the team spirit. Everyone agrees their top priority is to give the guests the best vacation they can have. For the crew, this means providing silver service and privacy, yet with interactive activities always available to guests. If you'd like to play some beach tennis or board games, she's a ready opponent. Still very athletic, join Lisa and Captain Keith for a boot camp workout. Or, when you're ready to relax on deck and enjoy the scenery, Lisa has an awesome collection of tropical cocktail recipes from her bartending days. She'll help you find your bliss aboard Lady Sharon Gale, however you envision it.