Motor Yacht DRAGON
At Barrington Hall we provide motor yacht charters around the world on various luxury yachts. The Motor Yacht listed below, DRAGON, is one of the many motor yachts we offer for charter. Please contact us for up to date information on DRAGON or any other yachts in your desired location.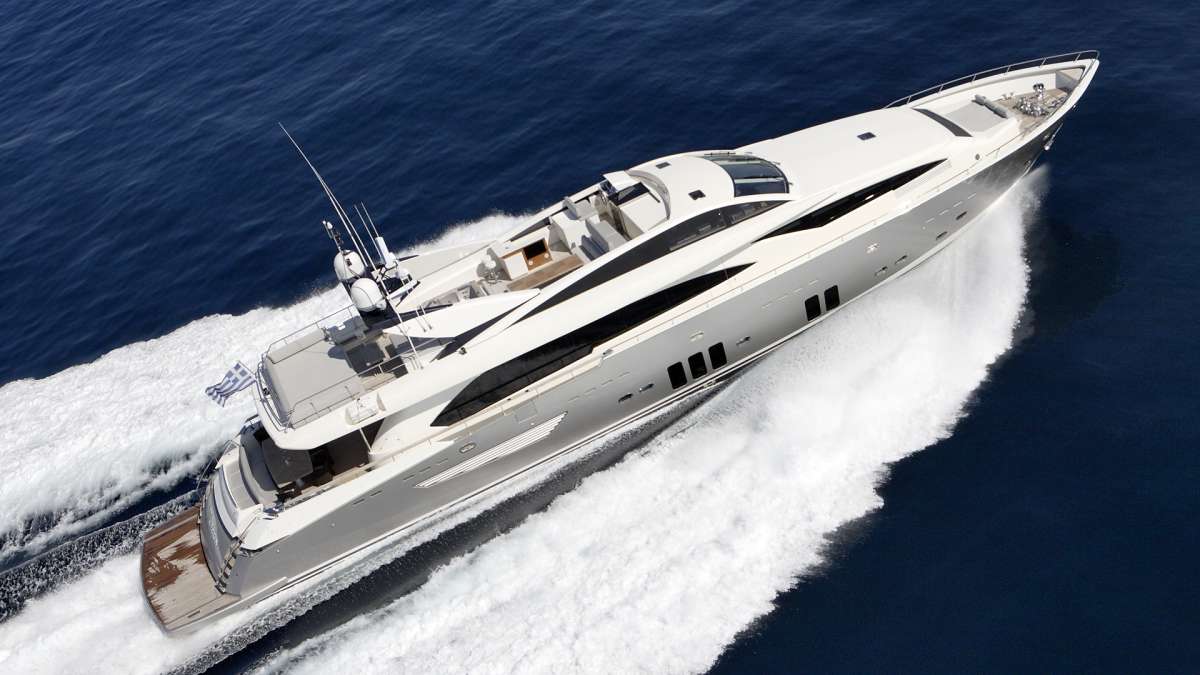 Low Price: €100,000 High Price: €105,000
Accommodations: 1 Master Suite on main deck
1 Master Suite on lower deck
2 VIP Suites on lower deck
2 Twin cabins with 1 pullman berth each on lower deck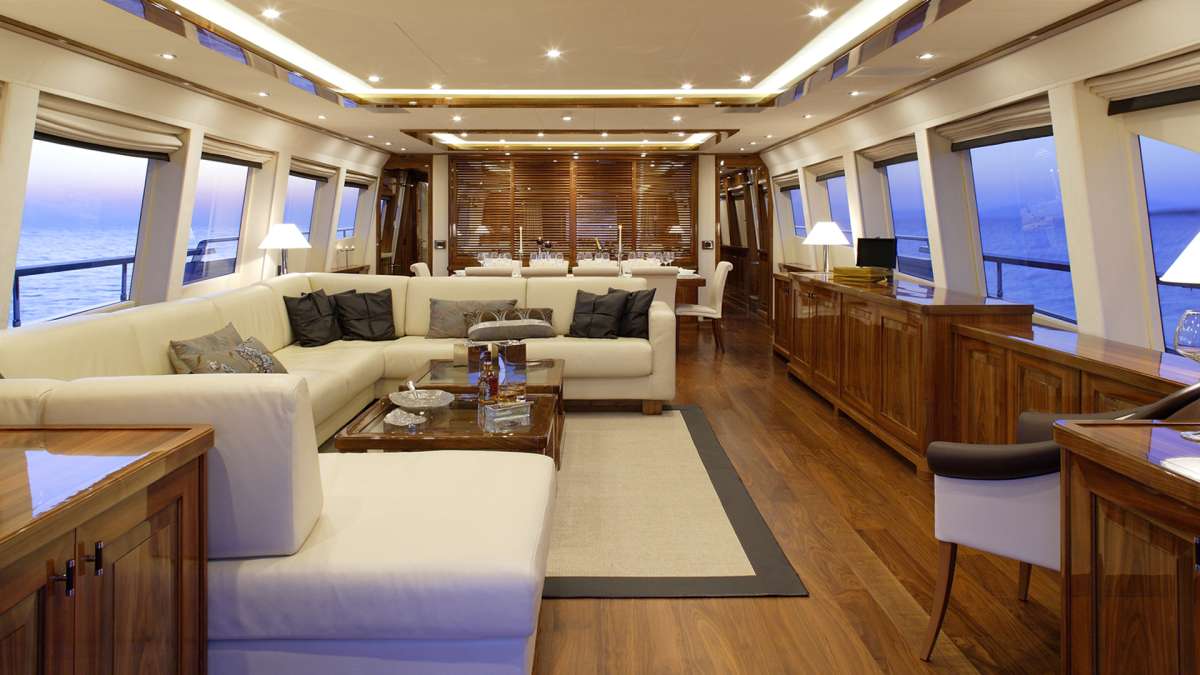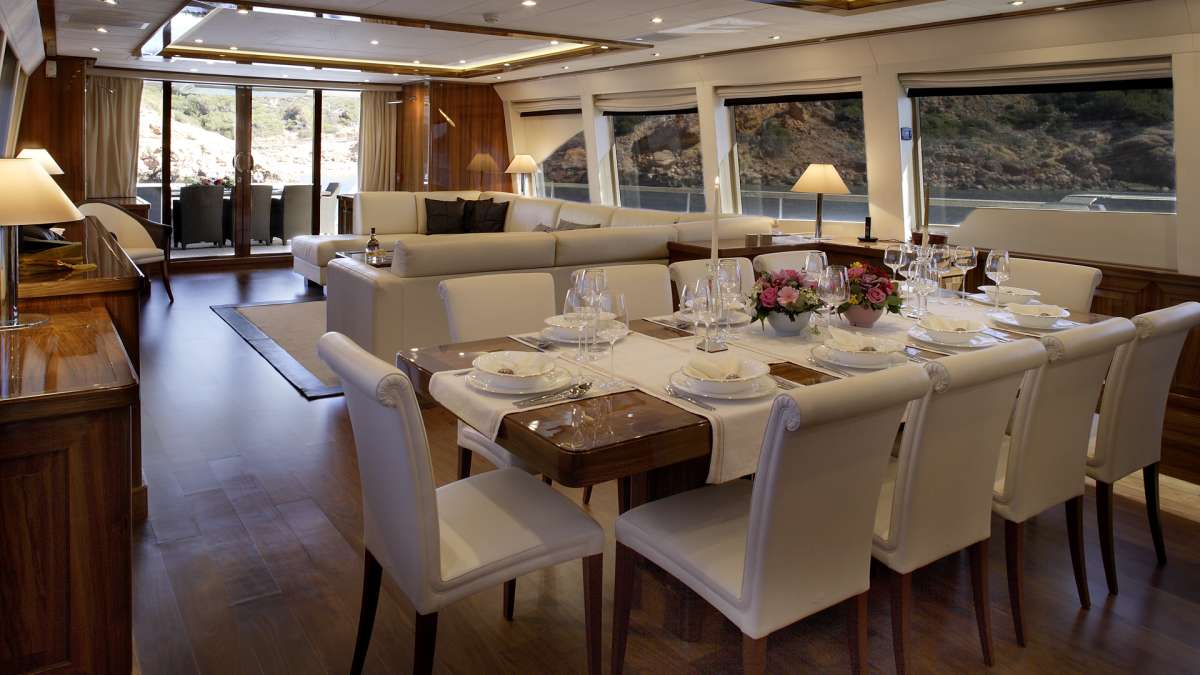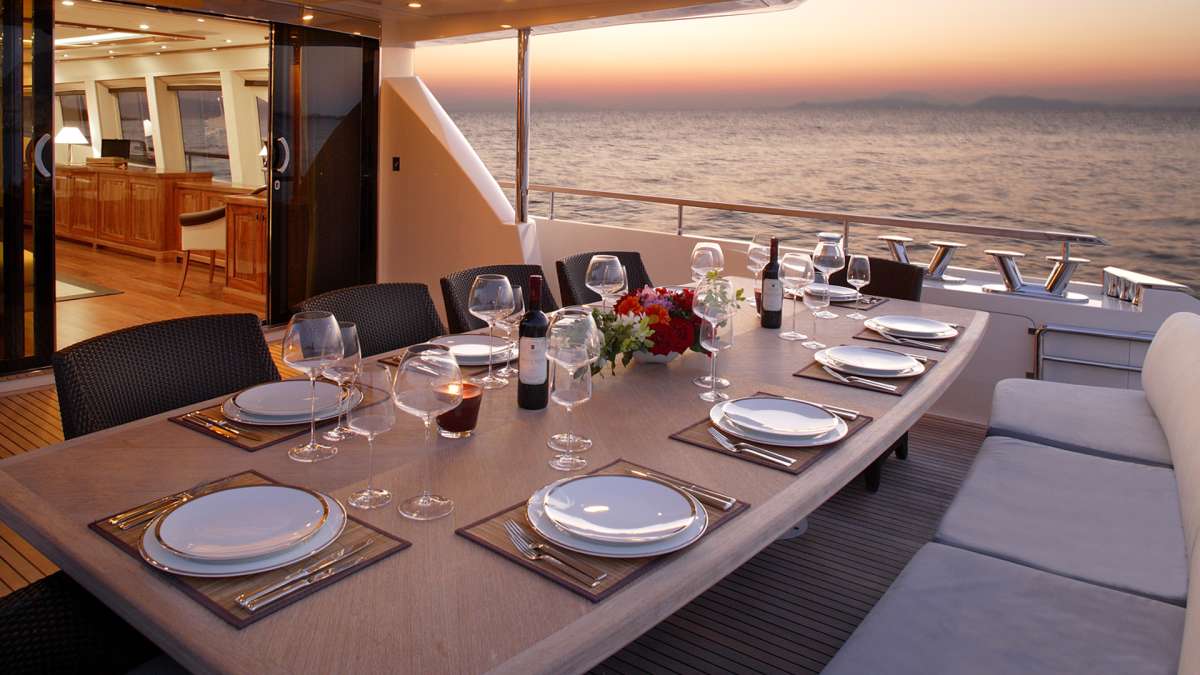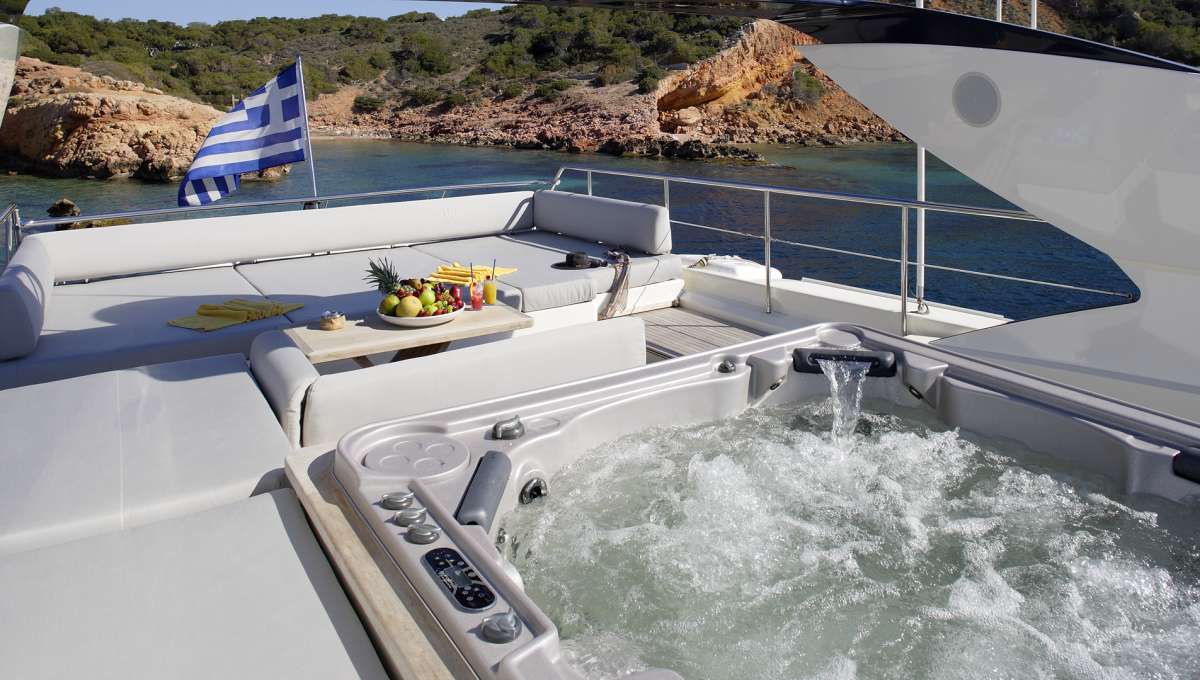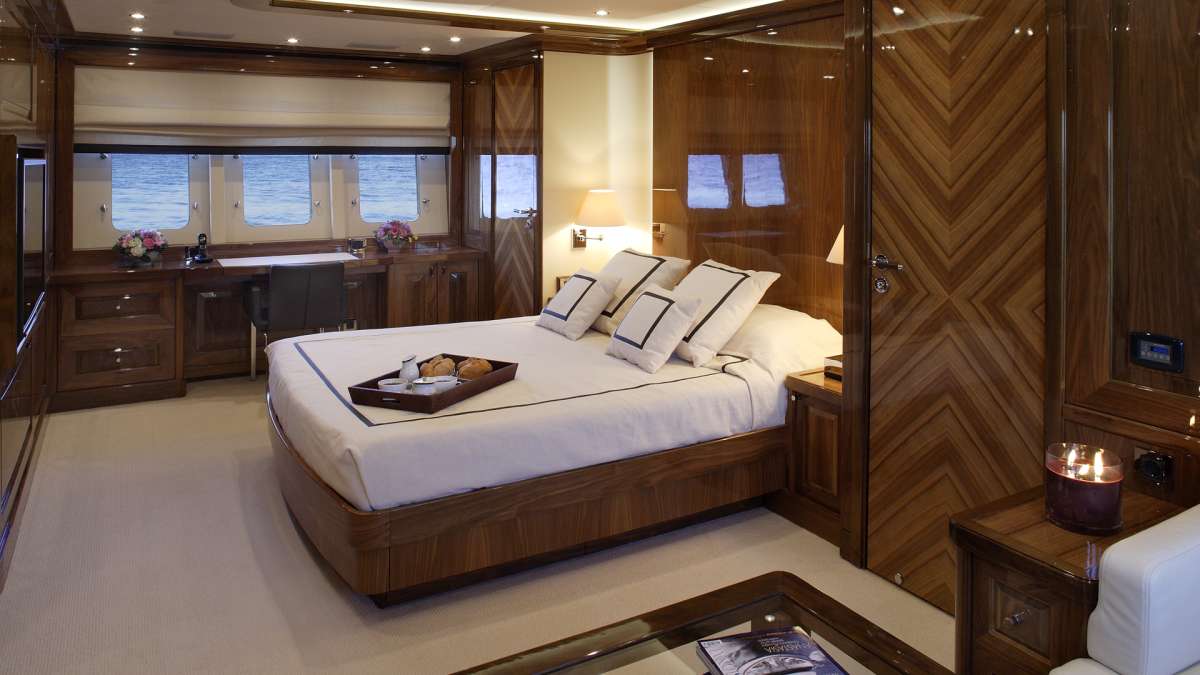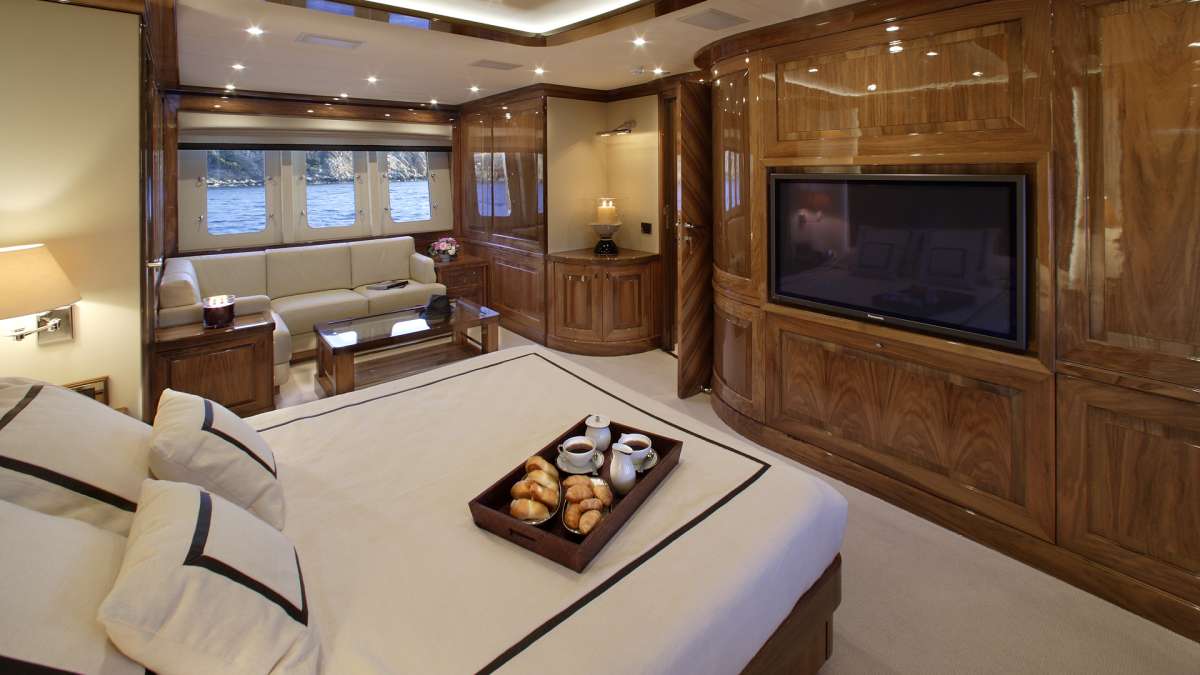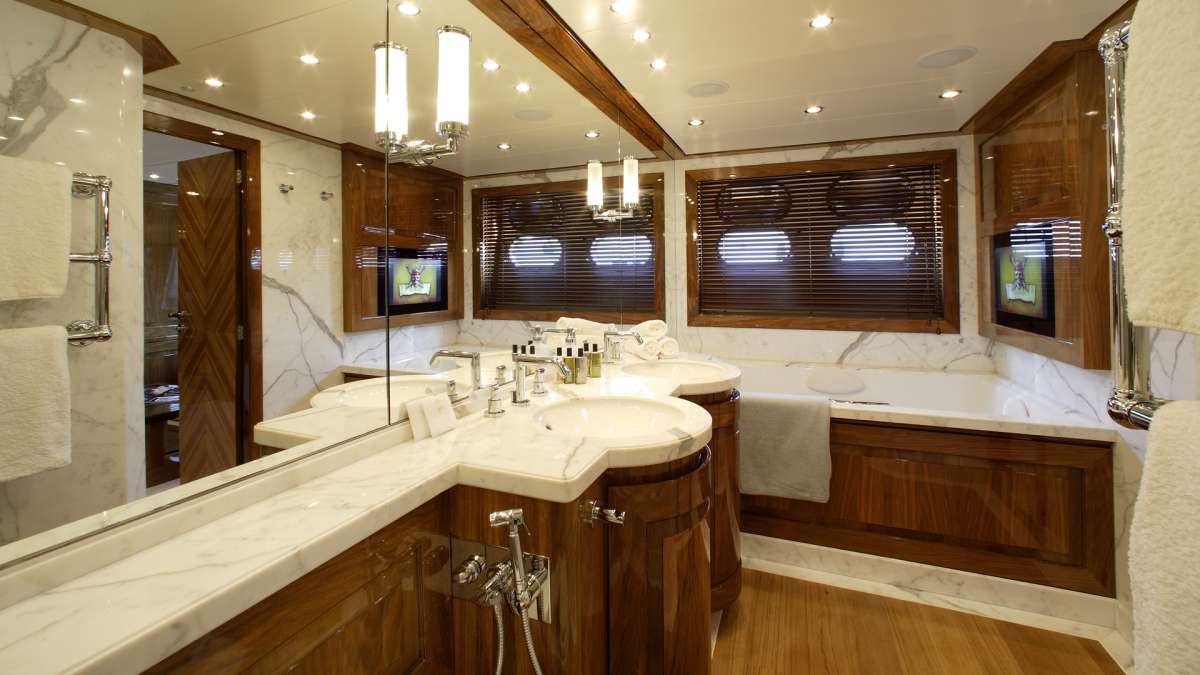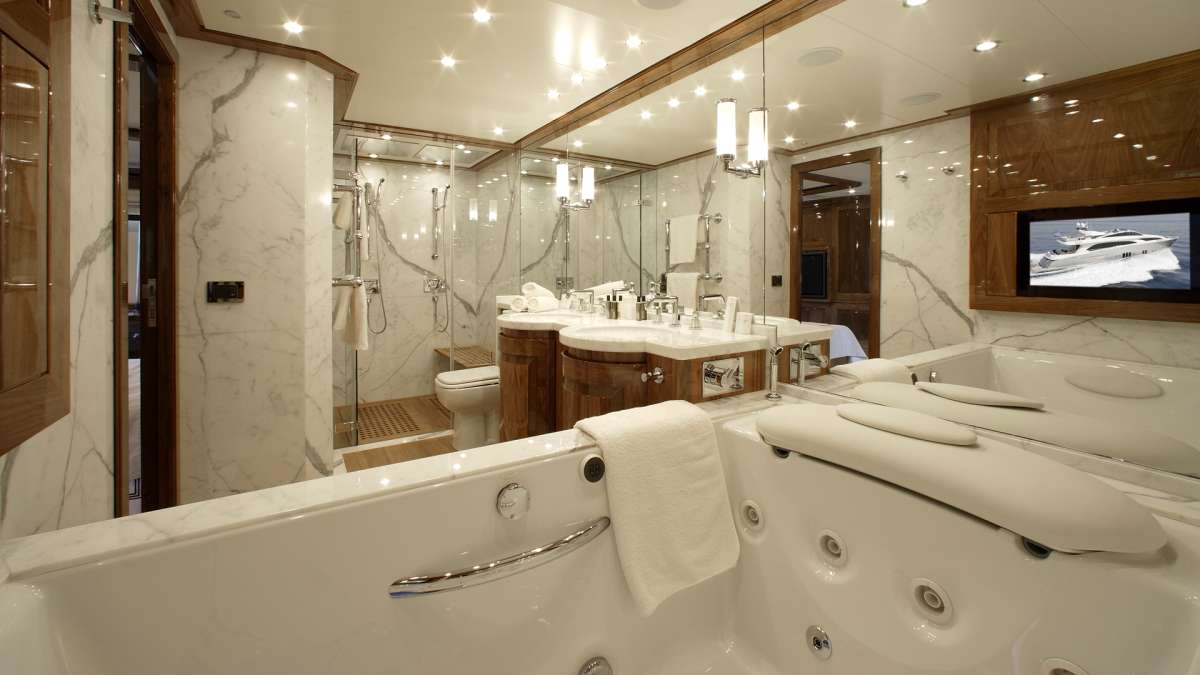 Amenities
Water Sports
Other Toys: Manufacturer Model Engine
1 x Novurania Equator 540 LP inflatable tender Volvo Penta D3-190 hp
1 x Novurania 430 DL O/B Yamaha F70 – 70 hp
1 x Sea Doo GTX – Limited ROTAX - 260 hp

Water toys:

1 x Seabob F5s
2 x Adult's Skis
1 x Teenager's/Women's Skis
1 X Kid's skis
1 x Pro Monoski
3 x Wakeboards
2 x Paddleboards
4 x Jobe Hydra Tubes
1 x Jobe Sea Esta 3 person couch tube
1 x Jobe Sonar 4 person couch tube
1 x Spitfire Conelly Tube
1 x Zapata Flyboard
1 x Zapata Jetpack
1 x tube Radar Twisted Science
1 x Wakesurf Conelly
3 x Diving equipment


Other Toys: Plasma / Flat screen 50' . Tv's with dvd in master cabin , Tv's with dvd/vcr/hi-fi in all other cabins , Surround-sound systems. Jacuzzi at flybridge

Communications:
latest state of the art communication facilities. Internet/e-mail services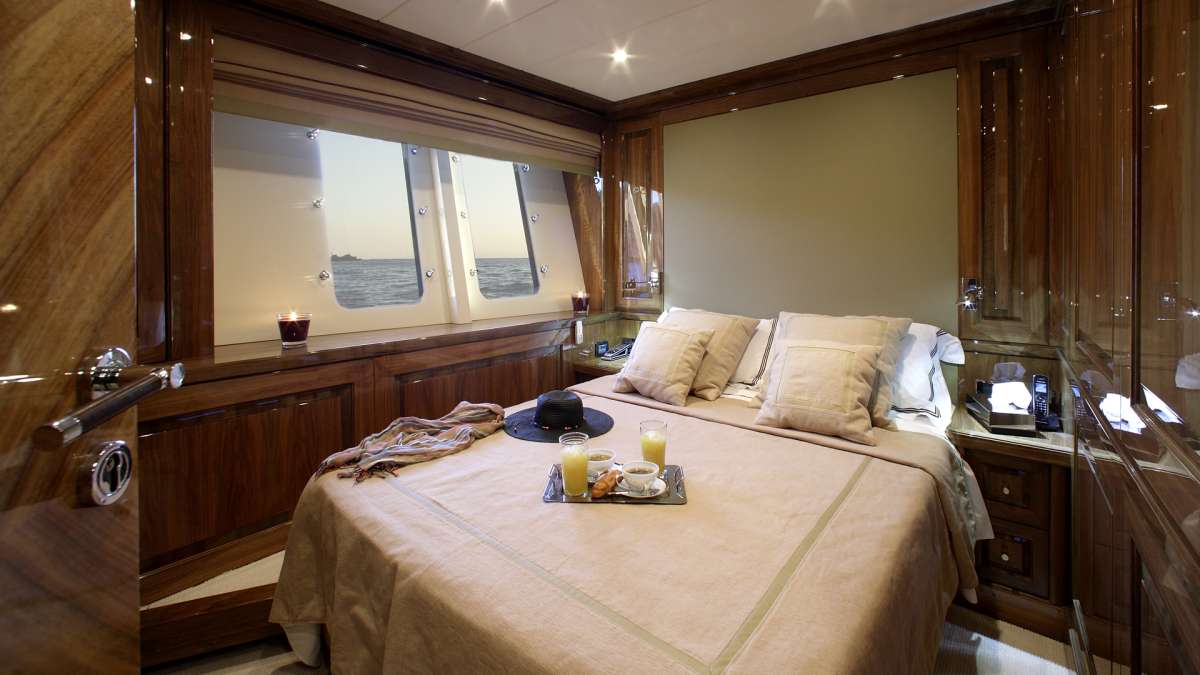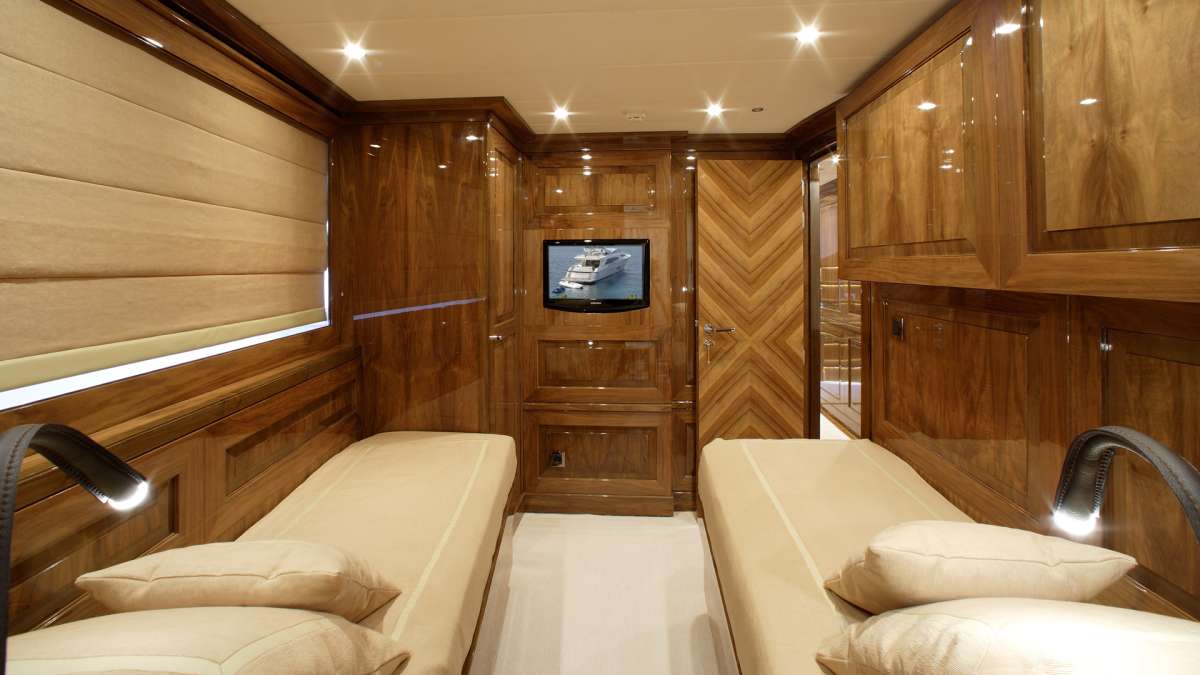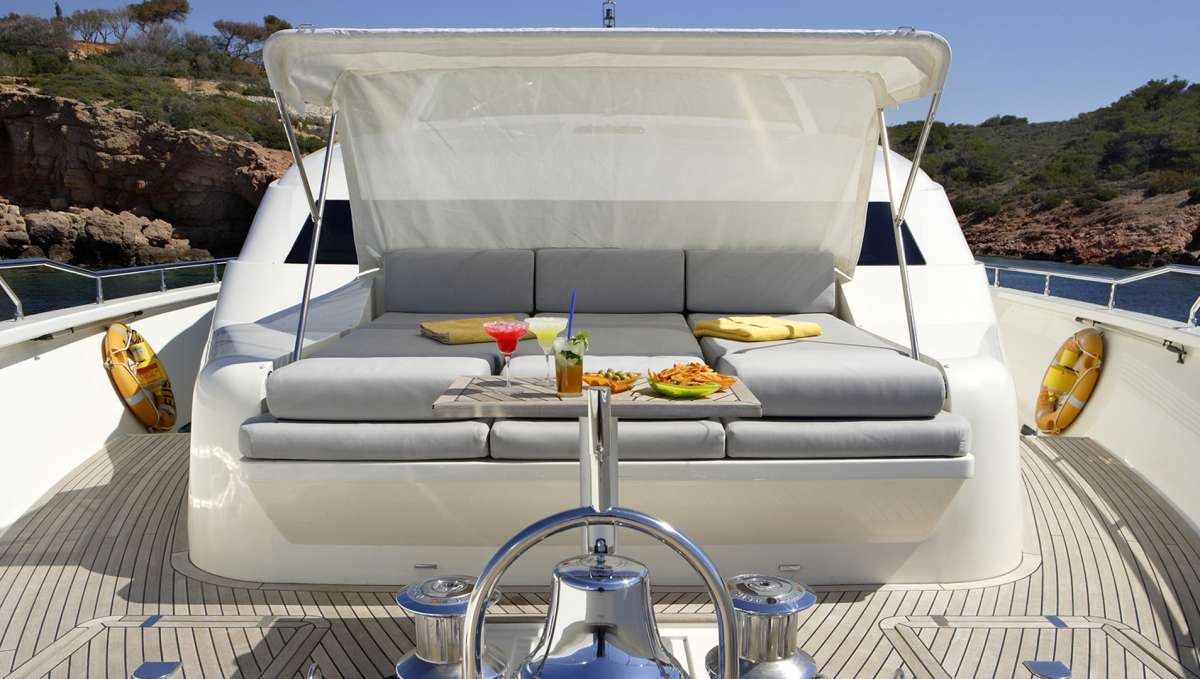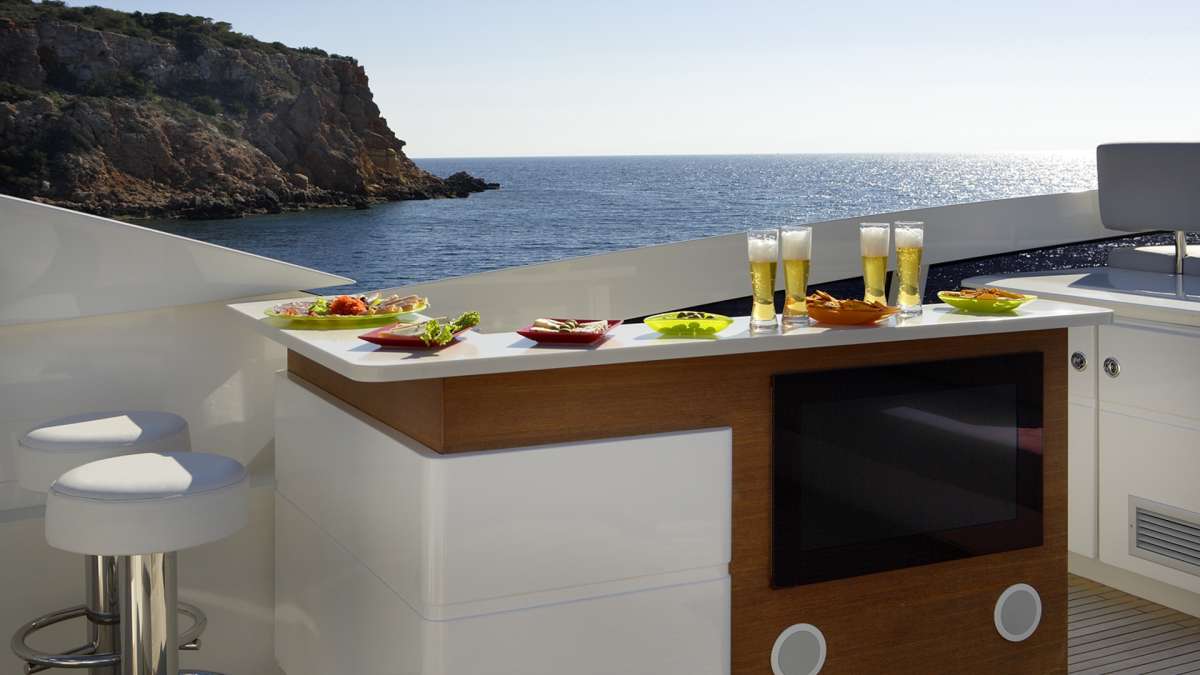 CREW PROFILE 2019

The Team
Dragon has a crew of 8 who have been brought together for their "can do" attitude and their genuine enthusiasm for assuring that guests have a memorable experience onboard. They have a high sense of responsibility and safety awareness and participate in ongoing training programs aboard the yacht. The varied cultures and backgrounds of the crew have resulted in a dedicated team, which provides an exciting and friendly atmosphere. The crew of the luxury motor yacht DRAGON look forward to welcoming you onboard and offering you a lifetime experience with the highest standards.

Michael Deliezas – Captain
Greek • Age: 39 • Speaks German, French and English

Captain Michael has nineteen years experience in the marine industry ranging from unlimited tonnage tankers to cruising ships and passenger ships, carrying thousands of passengers daily. He has extensively cruised the Eastern and Western Mediterranean as well as the North Atlantic. Michael was the surveying captain of Dragon while she was being built. He paid specialized attention to all details in order to have the yacht finished to the highest standards possible. His early years were spent studying and practicing in the Naval Academy as an Officer and Michael graduated from the Merchant Marine Academy of Aspropyrgos. He offers an enthusiasm that blends well with the positive attitude of the entire crew. As the Captain, he takes great pride in creating tailor-made yacht cruise experiences for each charter. He works closely with his guests to ensure that all of their needs and wants are met. His love for travelling provides Michael with the passion to research and organize all kinds of activities for the enhancement of the onboard experience. Michael is a certified water ski/wakeboard, Flyboard and Diving instructor.

Nick Kalimeris – Chief Officer
Greek • Age: 36 • Speaks English

Similarly to the Captain, Nick graduated from the Merchant Marine Academy of Aspropyrgos.
With all required marine licences and certifications under his belt, he has certainly made the most of his career at sea. Nick first joined the yachting industry back in 2007, after serving many years on passenger ships. Nick brings a disciplined approach to each and every task. Whether he is on watch navigating the Dragon, or transporting guests on the tender, clients can feel confident and safe in the knowledge that they are in the most capable hands. He aims to provide an enjoyable and friendly time on board M/Y Dragon. It is his second year working with Captain Michael.

Christos Diamantis – Chief Engineer
Greek • Age: 40 • Speaks English

Christos grew up in Perama (the main location of the shipping industry in Greece). He graduated as an officer from the Merchant Marine Academy of Crete.
Christos has been in the yachting industry for over 10 years and brings a great deal of experience and knowledge to ensure the smooth operation of the yacht and her services. Even through Christos is available 24 hours a day to deal with engineering issues, he is also always willing to assist with deck activities and water sports and will even prepare an unforgettable cocktail for you. Christos has completed all safety training; he is a rescue diver and a PADI diving master. It is his fourteenth year working with Captain Michael.

Rene Honrada – Chef
Filipino • Age: 45 • Speaks English and Greek

Rene was born in the Philippines where he attended Culinary Schooling. His passion for food has taken him around the world, cooking for fine dining restaurants, hotels, private residences and then many yachts. Rene has been the winner of International Yacht Chef cooking competitions, five times over. He has a flair for Asian cuisine but since he's lived in Greece for twenty two years, he looked to develop his skills in Mediterranean gourmet cooking and can now give any Greek chef a run for their money.
Rene always aims to please and goes above and beyond, in order for the Dragon guests to have the most enjoyable culinary experience whilst onboard.

Tatiana Michailidou – Chief Stewardess
Greek • Age: 30 • Speaks English, German and Russian

Tatiana holds a diploma in Hotel and F&B services and has attended seminars in event planning, Financing Management, Silver Service (PYA) and wine services. She is considered a hospitality expert, originally gaining her experience from working in hotels such as Mitsis group and the Atlantica group, where she worked as a waitress, bartender and head receptionist. Six years ago she transferred to luxury charter yachts due to her love for the sea and has never looked back. She has worked on several renowned luxury motor yachts before joining the Dragon. She is enthusiastic about her job and has a very friendly personality which puts the Dragon clients straight away at ease. She strives to provide top quality service to the guests in order for them to have the best and most relaxing experience whilst onboard. Anastasia has completed all safety training and it is her second year working with Captain Michael. Tatiana is PADI certified rescue scuba diver and has completed all STCW training. She also holds a speedboat license. It is her first year working with Captain Michael.

Anastasia Berki – Stewardess
Greek • Age: 29 • Speaks English and Italian

Anastasia studied clinical psychology but her love for travelling brought her onboard the Dragon. She enjoys the hospitality industry and is attentive to guests at all times which is very characteristic of the Dragon crew members. With her approachable and cheerful manner, she aims to elevate the guest's experience.Anastasia has completed all safety training and it is her second year working with Captain Michael.

Gerardo Gil Piol – Deckhand
Filipino • Age: 36 • Speaks English and Greek

This is Gil's fourteenth year in the luxury yachting industry. He has a strong background in unlimited tonnage commercial ships as a deck hand and as a boatswain. He is an able seaman with high sense of responsibility and awareness and will be there to assist wherever needed. He has successfully graduated from the Marine school of Batangas as a seaman and completed all safety training. It is also his fourteenth year working with Captain Michael.

Dimitris Arvanitis – Deckhand
Greek • Age: 27 • Speaks English

Dimitri (Jim) joined the Dragon after having worked as a cabin steward for a couple of years on very successful charter yachts in Greece. After school he obtained all his STCW certificates and made his way into Passenger ships as cabin steward and host. He is a hard working member of our team and will always be there to assist with a big smile on his face. He has completed all safety training.It is his fifth year working with Captain Michael.