Motor Yacht ENDLESS SUMMER
At Barrington Hall we provide motor yacht charters around the world on various luxury yachts. The Motor Yacht listed below, ENDLESS SUMMER, is one of the many motor yachts we offer for charter. Please contact us for up to date information on ENDLESS SUMMER or any other yachts in your desired location.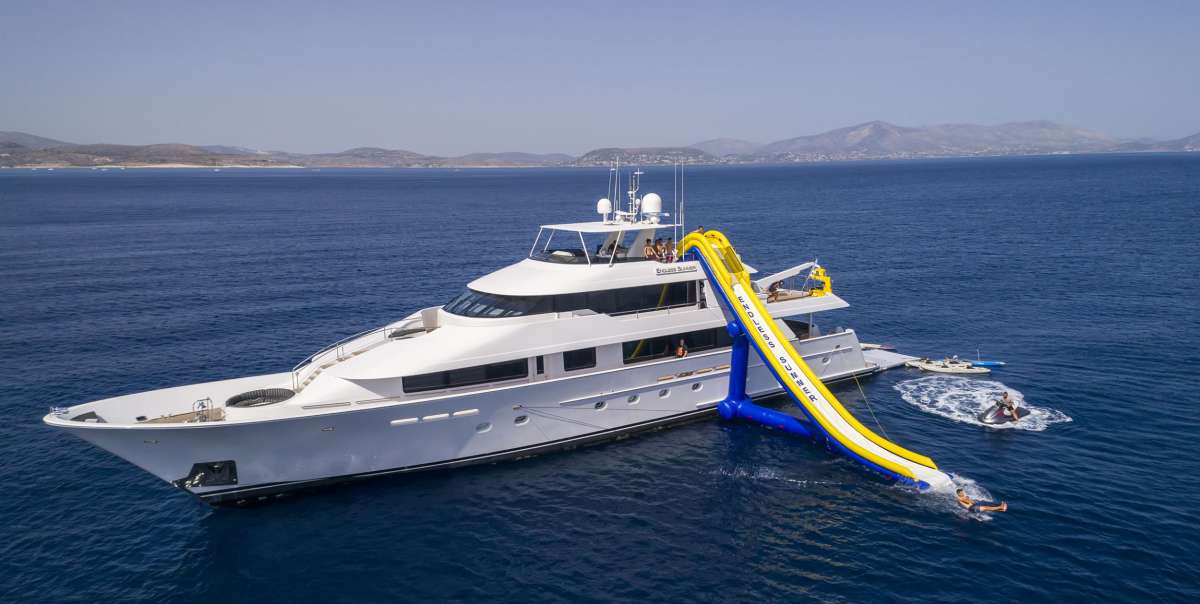 Low Price: €89,000 High Price: €105,000
Accommodations: 1 Master Suite on main deck
1 VIP Suite on upper deck (convertible to salon)
2 VIP Suites on lower deck
2 Twin Staterooms on Lower deck with 1 Pullman berth each (convertible to double beds)
Amenities
Dinghy Size:
NAUTICA 5,5m
Dinghy Size:
NAUTICA 5,5m
Water Sports
Other Toys: Tender: Nautica 5,5m - Yamaha engine 150hp

Water sports:
1 x Eclipse Mirage SUP
1 x SUP
2 x Yamaha 1200cc wave runners (3 person)
2 x Canoes
1 set x Water Ski for adults
1 set x Water skis for children
2 x Wake boards
1 x Tube
1 x sofa for 4 persons
Fishing gear
1 x Seabob water scooter F5
1 x extra removable brand new swimming platform
Special Feature: WATER SLIDE

1 x Jetsurf (upon request - at Charterer's expense)

Other Toys: ZERO SPEED Naiad speed stabilizers
10 person Jacuzzi
2 x barbecue grills (Fly Bridge Deck & 1 portable)
inside & outside bars.

TVs in each cabin:
- Master: 40"
- VIP Cabin: 48"
- Guest staterooms 24"
- Main Salon: 55"
Communications:
Communications & entertainment: WiFi internet access State-of-the-art audio-visual systems, satellite television, DVD movies, board games, Airplay.
Captain Christos Zoulas
Nationality: Greek
Date of birth: September 20, 1960

Captain Christos holds a Class A Certificate and is a graduate of the Merchant Marine Academy of Aspropyrgos. He initially commenced his career onboard crude oil carriers from 1978 to 1986, sailing worldwide and building experience and knowledge. He then shifted to large passenger vessels as Captain until 1994, and then further specialized his attention on tourism and the luxury yachting industry where he has been working since. This is his second year aboard Endless summer, and with his vast experience, knowledge and love for the sea , Christos ensures a beautiful cruise for his guests onboard! He speaks fluent English and is also the Secretary of a well-established Sailing Sports club since 2006. On his free time, he enjoys water sports, music, cinema, diving and finishing. Christos is married with two daughters.

Chief Engineer Konstantinos Liakopoulos
Nationality: Greek
Date of birth: February 2, 1966

Konstantinos graduated from the Academy of Skaramanga and commenced his career onboard large cargo vessels in 1989 as an apprentice, and has been at sea ever since! After traveling the world, he decided to focus on building a career in the yachting industry, and has been working with luxury motor yachts since 1997. His vast experience and love for his work has made Konstantinos an asset to the team. He ensures safety for all onboard, is highly professional, and has a number of skills suited to marine engineering work! It is his second year aboard Endless Summer alongside Captain Christos. Konstantinos is married and enjoys water sports and swimming on his free time.

3rd Officer Loukas Politis
Nationality: Greek
Date of birth: August 24, 1985

A professional and organized team player, it is Loukas second year aboard Endless Summer, and is an asset to the team bringing his excellent communication skills and knowledge onboard. Loukas graduated from the University of Crete, with a Captain Class C diploma from the Merchant Navy Academy. He holds all required certificates such as SSO, Fire prevention and Firefighting, Security Awareness, Medical First Aid, Personal Survival Techniques and many more. Since 2008, Loukas has been at sea and loves to travel and take care of his guests onboard! During his spare time, he likes hiking, snowboarding, swimming, and wind surfing. He speaks English.

Chef Stavros Stavrou
Nationality: Greek
Date of birth: April 1, 1981

A dedicated and innovative chef, Stavros comes onboard with a long experience in the management of kitchen operations and food preparation. His profound knowledge of food and hygiene regulations plus his passion about working with fresh produce and creating innovative dishes, makes him an ideal Chef onboard a luxury yacht.
Stavros's extensive experience in the field, having cooked and managed kitchens from the Hellenic Parliament to known Athenian restaurants, lead him to work as a private chef during the last three years. It is his first year on Endless Summer. He is easygoing, friendly, good at solving problems and assisting the clients making
sure they have an enhanced and unique experience. On his free time, Stavros loves to experiment in the kitchen!

Chief Stewardes Anna Vamvaka
Nationality: Greek
Date of birth: September 1, 1988

Anna's nurturing character makes her the ideal Stewardess, always ready to take action and care for her guests onboard. She commenced her studies to become a nurse from 2004 - 2006, then switched to the hospitality business and then later the yachting industry in 2014. It is her first season on Endless Summer, and her social, polite and responsible nature, along with her love for travel at sea make Anna a very professional and attentive team-player. She speaks English and Greek. On her free time, Anna loves to read and write literature, cycling, dancing and of course, traveling.

Stewardess Zoi Barbara Reppa
Nationality: Greek
Date of birth: January 8, 1991

Zoi is a very efficient and hard-working individual, with excellent communications skills and a a very professional background at sea. Zoi graduated from the Merchant Marine Academy and holds a Captain Class C diploma, along with numerous certificates such as Advanced Fire Fighting & SSO. She worked onboard cargo vessels from 2011, gaining a vast and precious experience. Zoi decided to also experience the yachting industry, and started working on luxury yachts since 2016. This is her first year on Endless Summer and is very dedicated to her duties onboard. On her free time, she enjoys water sports, cooking and gymnastics. She speaks English.


Bosun Dimitris Marinopoulos
Nationality: Hellenic
Date of birth: May 20, 1976

Dimitris has been in the yachting industry for numerous years, and is a very experienced and knowledgeable. He loves the sea, the sun, and is a people person, always ready to take care of all onboard and help his guests enjoy the water equipment, safely and soundly. Dimitris is a hard worker, and enjoys winding down during his spare time with fishing and swimming. It is his first year onboard Endless Summer and speaks English.

Sailor Ilias Rifounas
Nationality: Greek
Date of birth: 1983

Ilias Rifounas was born in Athens, Greece and is 36 years old. Ilias is an architect, however decided to follow his roots, as his family is made up of generations of sea men! It is his third year onboard Endless Summer and is now familiar with the sea life, and looks forward to building a career and expanding his knowledge. He loves people, traveling and has a friendly personality. Ilias speaks English and on his free time enjoys reading and swimming.