Antigua Yacht Show
Power Boats and Mega Yachts for Charter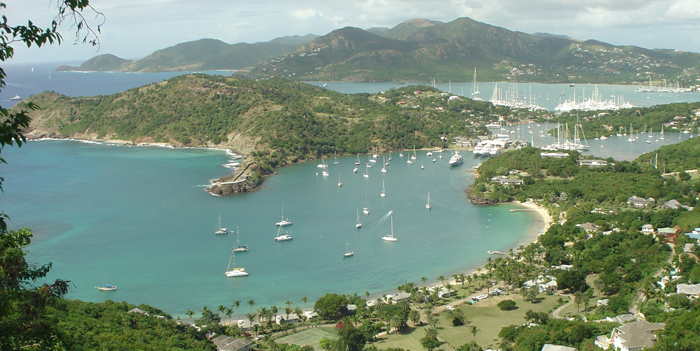 All eyes were on the Antigua Yacht Show for their 49th annual charter broker boat show. Today Antigua is one of the world's top 2 attended luxury boat shows worldwide. December 6-11, 2010 saw 115 high-end luxury power boats, sailboats and catamarans berthed at Falmouth Harbor and English harbor.
No more is their competition from St Martin to host a similar show with dates clashing with this lavish motor yacht show in Antigua. One extra day has been added to this show and Barrington-Hall staff did get to see all the opulent yachts on show. The extra day was set up so that various yachts of all sizes would take brokers to different destinations to show them Islands and coves their guests can expect to find in and around Antigua.
Captain Andrew, Barrington-Hall, spent one year chartering Antigua so all those coves and anchorages are well known to us, so is Barbuda, a coral atoll. Barbuda and Anagada are the only 2 coral atolls in the entire Caribbean chain of islands. All the other islands are volcanic, all have wonderful protection for mega yachts during winds, making the Caribbean Chain of islands much sought after.
During this vital viewing of luxury mega yachts a chefs competition is performed where the best chefs in different classes compete with various dishes. Below are the winners of the top dishes.
The idea of this charter broker boat show is for brokers worldwide to have the prestigious vacation yachts all in one place so brokers such as Barrington-Hall and staff can inspect the yachts, meet the captains and crew teams so we know our product when guests ask us about these different vessels. These annual charter boat shows, open only to charter brokers, take place in Greece, Turkey, Genoa, The Virgin Islands and Antigua. There are other boat shows that showcase yachts for sale that are open to the general public.
Select a power yacht for this area: Luxury Caribbean Power Yachts - Luxury Mega Yachts
Rodney Nicholson December 19, 1927 to November 7, 2010
Rodney Nicholson: the man who bore a child called "private luxury yacht charters"
The father of our modern yacht charter industry
S/Y MOLLIHAWK
Tribute to Rodney Nicholson as attended by 50 or so guests to grace his passing.
During the 2010 charter boat show a short memorial was held for the man who started chartering in the modern day. I am lead to believe that Nero chartered a boat to impress some of his colleagues in 54 ad so he was the first to charter a yacht that we know of. However Rodney Nicholson in 1949 was our first modern day man who introduced private yacht charters to the world from English Harbor with his now famous yacht named Mollihawk.
How did it happen? Well, you see my father, the Commander, was in the Royal Navy and the family followed his appointments, when feasible, to be near him. In wartime, it was possible to rent unfurnished houses, but impossible to find furnished houses. So what did we do? Well, we bought a yacht, cheap - a beautiful 70 ft schooner of 1903 vintage.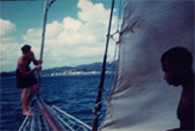 We didn't want the yacht, nobody did in wartime, but this lovely one, the Mollihawk, was lying in a mud berth on the Dart and she was FURNISHED! We bought the yacht just for the knives, forks and spoons, linen and blankets - all the things that were impossible to find, for one needed ration books to buy them in the shops if one could. So we bought the yacht to furnish a house near Plymouth, Devon, England.
After the war, when we two lads came out of the services, the Commander had already started refitting Mollihawk with an idea of going back to the West Indies where he had once patrolled the islands during the war, just as Nelson once did. At the time, Dad was based in Bermuda and we had braved the Battle of the Atlantic to join him there. It was amongst those islands we learnt our first seamanship when going shopping across the Sound.
From this humble beginning they influenced some friends to enjoy their island of Antigua as well as surrounding islands and so the charter industry grew from 1949 onwards. Rodney was at the 2007 Antigua boat show where I saw him, so he had good knowledge how his industry grew.
I am proud to have personally known Rodney his wife Julie and their daughters. Thank you Rodney, Julie and girls for your contribution to our industry. It is now a multimillion dollar industry boasting high-end luxury power yachts, these yachts take guests on opulent yacht vacations on the water. Then there is the deluxe 120 foot sailing yachts designed for the race car driver of our industry. These prestigious sailing yachts are also called mega yachts, they too provide those super yacht charters, to exotic yacht locations world-wide.
Today corporations pay rental prices for mega yachts to spoil their major achievers and this can be a tax right-off to the employer. Corporate incentive charters are a way to have sales staff aim at higher sales, it is a tool to make them strive for better things in life. Thank you Rodney all of this has stemmed from your first charter.
Super yachts featured during this Antigua week were: Super yacht Casino Royal, Solemar, Passion,
Silver Cloud, Sovereign, Shalimar, Namoah. Fathom, Lady Joy, Northern Lights. My Colors, Pearl Noir,
Nemo, King Kalm, Impulsive, Aristo, Caryalli, Class Ship 1, Mi Sueno, Eagles Nest El Jefe and GO.
Two of the Barrington-Hall staff actually worked chartering their own catamaran with Rodney Nicholson in 1990 for one year. We got to know the Nicholson family well.
Islands we got to see during those days were all of Antigua, Guadeloupe, Montserrat, St Kits, Nevis, Saba, Eustatia, Ille Fouche, St Barts, Ille Panelle, Anguilla and St Martin.