Motor Yacht ACACIA
At Barrington Hall we provide motor yacht charters around the world on various luxury yachts. The Motor Yacht listed below, ACACIA, is one of the many motor yachts we offer for charter. Please contact us for up to date information on ACACIA or any other yachts in your desired location.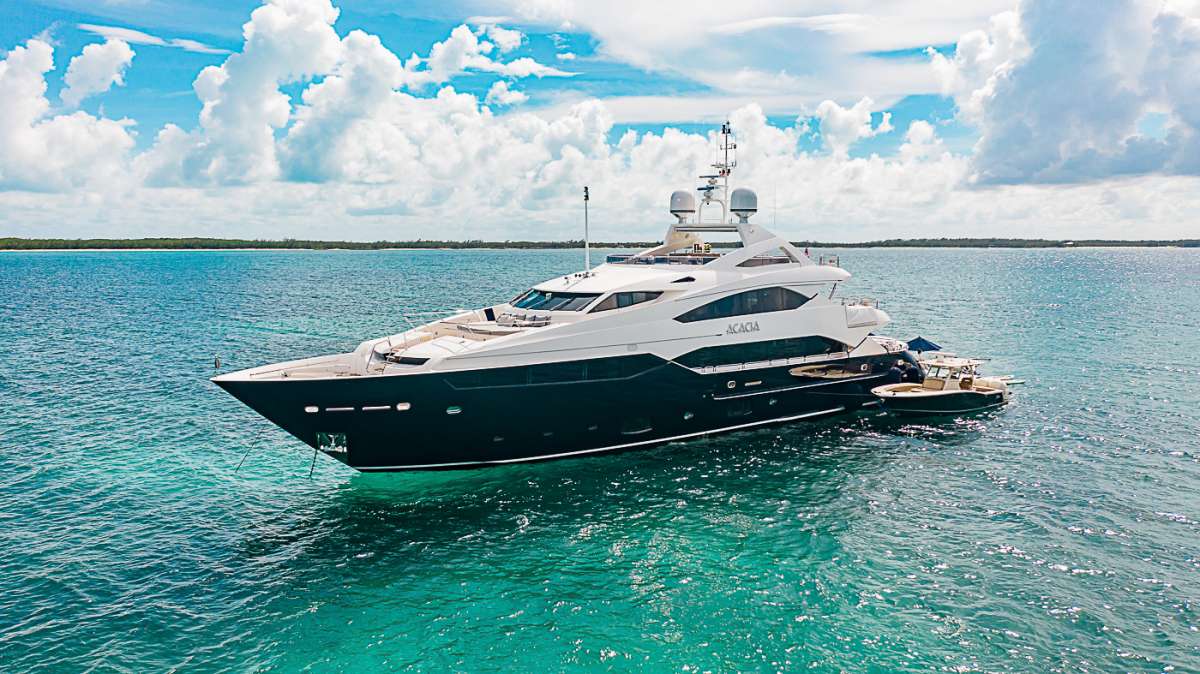 Low Price: $140,000 High Price: $155,000
Accommodations: Main deck:
Master, King with stairs to ensuite bath

Lower deck:
Port aft VIP, Queen
Stbd aft VIP, Queen
Port midship, Twin/Convertible (with Pullman)
Stbd midship, Twin/Convertible (with Pullman)
Amenities
Dinghy Size:
35 Ft Scout Lxf 35Ft With Head & Shower (3x Yamaha 300 Engines)
Dinghy Hp:
19 Ft Williams Sportjet 350
Dinghy Size:
35 Ft Scout Lxf 35Ft With Head & Shower (3x Yamaha 300 Engines)
Dinghy Hp:
19 Ft Williams Sportjet 350
Water Sports
Gear Type:
8 x Shimano Fishing Reels & Pl
Other Toys: Tenders & Toys:
1 x 35 Ft Scout Lxf 35Ft With Head & Shower (3x Yamaha 300 Engines)
1 x 19 Ft Williams Sportjet 350
1 x Lift Foils E3 Cruiser 5'4 with Variety of Wings & Extra Battery
1 x Lift Foils E3 Sport 4'9 with Variety of Wings & Extra Battery
2 x Yamaha Wave runner VX Cruisers
2 x SeaBob Cayago F5S
2 x Bote 11'6" Hd Aero Classic Inflatable Sup
1 x Bote Zeppelin Tandem Kayak Inflatable Classic
1 x Helmets: Children To Adult Sizes
1 x PFD: Children To Adult Sizes
Towable Toys:
2 x Connolly Wakeboards
2 x Connolly Water Skis
1 x Rumble 1 Person Tube Towable
1 x Super Mable 3 Person Towable Tube
Fishing Gear:
8 x Shimano Fishing Reels & Plasma Rods
1 x Children's Fishing Gear
Beach Gear:
2 x 10X10 Gybe Inflatable Tent & Neso Tent
2 x Royal Teak Lounge & Dinning Chairs w/ Umbrellas
2 x Dinning Tables
1 x Massage Table
1 x Sports Gear (Football, Soccer, Frisbee, & Volleyball Set (Incl. Net)
1 x Cornhole, Bocce Ball, & Paddle Ball
1 x Children's Water Guns & Sand Tools
2 x UEBoom Hyper Boom Bluetooth Speaker
1 x Tiki Torches
1 x Funboy Inflatable Floats
1 x FunAir Yacht Golf W/ Turf & Ecobio Balls
Other Misc:
1 x Jackrabbit Ebike
1 x Chasing Gladius Mini Submersible Drone
1 x Gopro Hero10 With Accessories
1 x DJI Maverick
1 x Olympus Underwater Camera
1 x Children's Safety Netting (Skydeck)
Beach Club:
1 x FunAir Sea Pool With Netting
1 x FunAir Beach Club With Lounger
1 x FunAir Toy Dock
Games:
1 x Board & Card Games (Misc.)
1 x Poker Chip Set
1 x Nintendo Switch (4 Person), Docking stations, & Variety Of Popular Games
1 x Arts, Crafts, & Coloring Books

Gym equipment:
THERABODY THERAGUN ELITE
THERABODY THERAGUN MINI
TECHNOGYM BENCH BENCH BLK, GYM BANDS, DUMBELLS, KNUCKLES, AND MAT
TECHNOGYM BIKE SKILLBIKE UNITY MINI
TECHNOGYM Balance Dome
TECHNOGYM Jump Rope
TECHNOGYM Foam Roller
PROLITE MAT- Standard 4.7MM
PROLITE MAT- Long 4.7MM
YOGITOES YOGA HAND TOWEL - Standard
Recycled Foam Yoga Block
Align Yoga Strap 8'
Align Yoga Strap 10'
BOTANICAL MAT CLEANSING SPRAY
Jump Rope
Other Toys: Televisions 40-60" (Salons & Stateroom)
Crestron Media & Kaleidescape
DirecTV (Salon & Staterooms)
Apple TVs (Each Staterooms)
Full streaming service including: DirectTV (XTRA, Entertainment Pack, Premium Music, HBO, Showtime, Starz), Apple TV+, Netflix, Hulu Live TV (No Ads), Disney+, ESPN, Prime Video, HBO Max, YouTube TV, Peacock, Universal+, Starz, Plex, Spotify
Communications:
Highspeed Wi-Fi & Multiple Wireless Access Points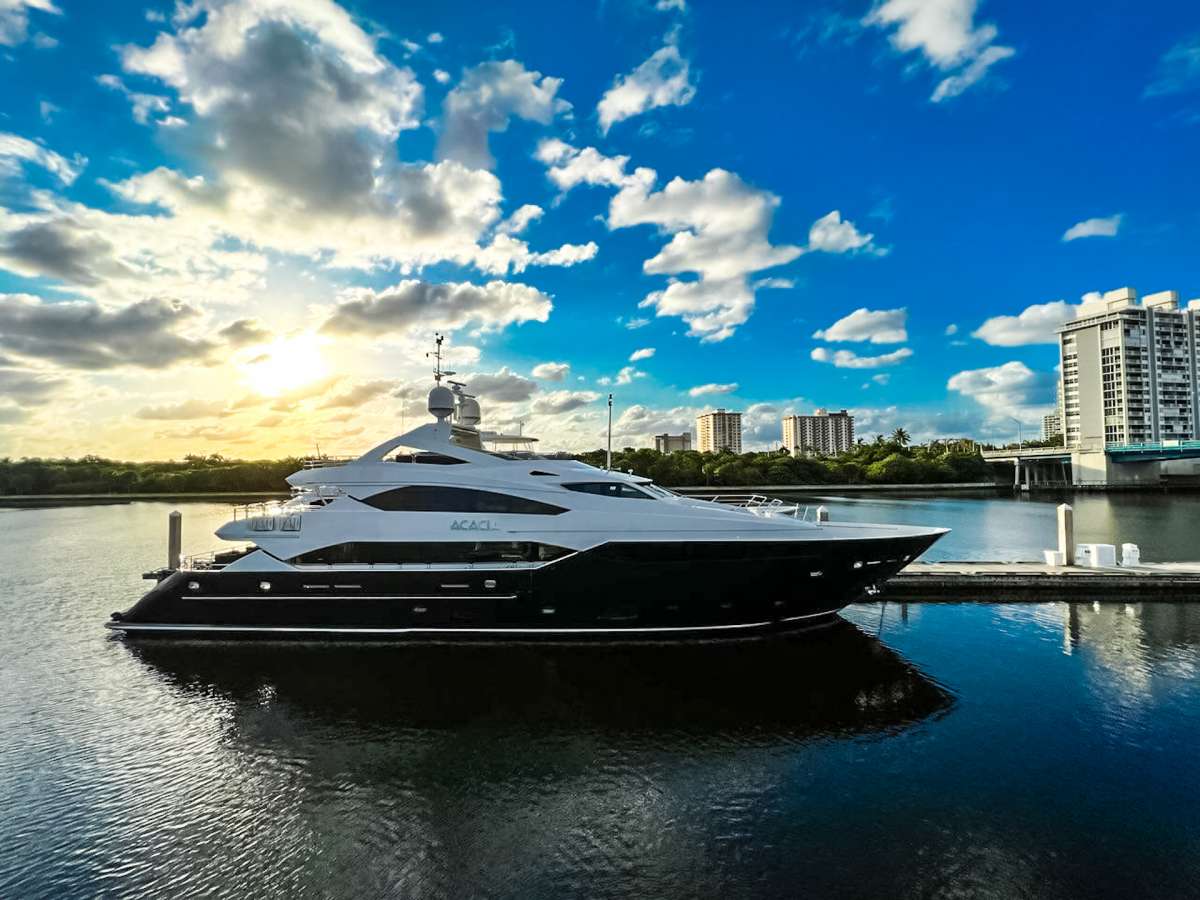 Hamish Hollingsworth (Captain)
Captain Hamish is a character in all forms.
He has extensive experience in cruising along the eastern seaboard from New England to the Caribbean. Not only is Hamish extremely professional & passionate about his career, his desire to entertain and witty sense of humor make him a favorite amongst guests and crew. With ten of the last eleven years in the yachting industry as a captain / engineer, his problem-solving capabilities have taken him far crewing on yachts up to 70m+ while working his way up from deckhand to captain early in his career. His childhood was spent growing up on the islands in Desolation sound British Columbia Canada, where kayaking with orcas & humpback whales was the normal.

Rory Montgomery (Chief Officer):
Rory was born in Scotland, raised in the south of England and has traveled much of the world for work and leisure. Entering the yachting industry in 2013 he was drawn to the engine room with his background in aerospace engineering, but soon found himself more at home in the deck department being outside and active. He is attracted to a range of sports and activities but most of all he is a very keen skier. In his spare time you will find him at the gym, running, playing pool, traveling and exploring new places and of course, skiing. Rory has cruised the waters of the Caribbean and Bahamas, the Mediterranean, SE Asia, East coast USA and has crossed the Atlantic twice. Recently
completing his chief officer 3000gt ticket he is now excited about cruising more of the world in the yachting industry.

Federico Serra (Chief Engineer)
Freddy started his career as a Marine Engineer in the Navy School when was 19 years old. During this time, he was taking different theoretical and practical classes together along with his summertime internship as a cadet. After Six years in Navy School, he began working as a cadet officer in both cargo ships and cruise ships. In 2011 he launched his career as a second engineer on his first yacht. Ever since then his marine engineering has grown exponentially. The interest and self -improvement has motivated him to take several courses and exams (both written and oral) He was able to obtain his Chief Engineer Unlimited Qualification and his United Kingdom Maritime Coastguard Agency Y2 Qualification. A very calm natured person, Freddy has a logical and well thought approach to problem solving. He enjoys keeping fit by playing tennis. Growing up in Montevideo, Uruguay he also loves to scuba dive and surf.

Jessica Rynaski (Chief Stewardess)
Jessica was born and raised in the Pacific Northwest, where she cultivated her artistic and musical skills. Her first job working as a florist is where her love for design and nature flourished. Growing up near the base of Mt. Hood, she always found herself in nature, exploring the hiking trails and chasing waterfalls. After going to college for a Business degree, Jessica worked in guest service, and in office environments, and eventually worked up to be the Accounts Payable manager at a large corporation before making moves to join the Yachting Industry. She was intrigued by the opportunity to make people happy while also utilizing the creativity she was born with. She has taken Interior and Silver Service courses to widen her scope, and has been lucky to have been mentored and trained closely with everyone she's worked with, learning all it takes to create a welcoming and clean environment. Her high attention to detail and affinity for creating unique experiences for everyone around her makes for memorable trips onboard Acacia. Jessica still enjoys creating art and music in her spare time, and loves being near and in the water.

Christy Leather (Deck/Stew):
Christy has lived in various cities and towns in South Africa, where she was born. She studied business and law at university and decided to branch out, finding herself in the yachting industry due to a familiarity with boating and a love for the ocean. Christy intends on sharing her passion by giving you a magical experience on the water.

Brianne Ricketts (2nd stew):
Born and raised in Oregon, Brianne grew up studying dance, Spanish and wine – three passions that collided into inspiration while she was living abroad in Barcelona. After returning to Oregon, Brianne began working as an Event manager at a local winery. Driven to peruse the highest level of excellence in hospitality, Brianne moved to Fort Lauderdale in 2020 to begin her yachting career. Since then, she has worked on yachts in Fort Lauderdale and Europe, honing her stewardess skills along the way. Brianne takes pride in working alongside her crew-mates to create an enchanting experience for all aboard Acacia.

Rhys Channon (Bosun):
Rhys was born and raised in England, Cornwall. From a young age he has loved doing all sort of sports and his main passion is surfing which he has done competitively all over the world. He joined yachting 5 years ago to travel world meeting new people and try amazing foods. Rhys looks forward to making your time on board memorable.

Olga Lupu (Chef):
Olga grew up on a farm in Ukraine, where she learned cooking from her mother and grandmothers. She moved to Odessa, where she graduated cooking school. Her biggest dream was to work at sea! So Olga joined the cruise ship industry for 4 years as a bar waitress/bartender. After that she joined the yacht industry, at first as a stew/cook, sous chef and eventually a sole chef. Olga took additional trainings to perfect her skills and diversify her culinary repertoire. She spent 3 years in the Mediterranean and finally moved to the Bahamas.
Olga loves exploring new flavors and cooking techniques alongside with discovering new destinations!