Motor Yacht MAGNUM RIDE
At Barrington Hall we provide motor yacht charters around the world on various luxury yachts. The Motor Yacht listed below, MAGNUM RIDE, is one of the many motor yachts we offer for charter. Please contact us for up to date information on MAGNUM RIDE or any other yachts in your desired location.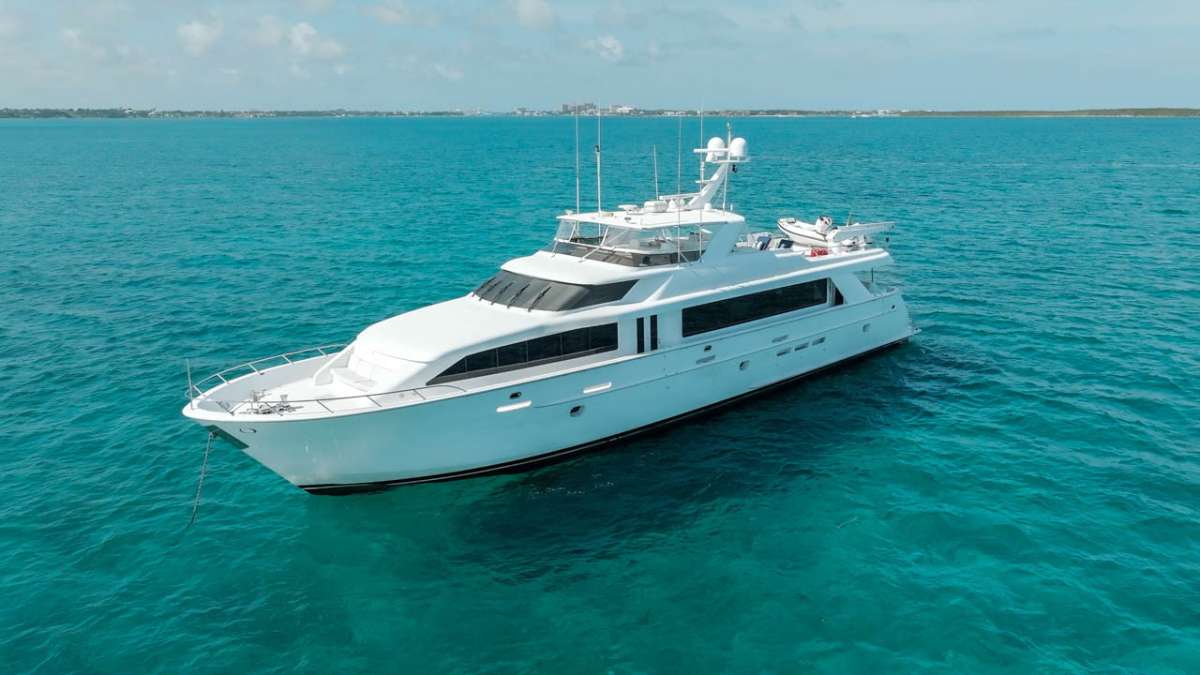 Low Price: $49,000 High Price: $56,350
Accommodations:
Queen Vip berth forward, Below deck full beam master. Queen guest cabin and 1 twin/convertible cabin.
Amenities
Dinghy Size:
33' Grady White
Dinghy Size:
33' Grady White
Water Sports
Other Toys:
Grady White 33'with dual Yahama 300,(not available in New England) Walker RHIB 14", 2 waverunner, Beach set up, floating island , 3 person tube, 2 inflatable paddle boards, fishing equipment, snorkel gear, yoga mats, power bands, dumbbells
Captain David Meyer - Capt. David has been on the water since as long as he can remember. Growing up in Central Illinois he spent his summers running boats on Lake Michigan, Lake of the Ozarks and the rivers of the eastern half of the United States. As his family migrated south he added the Gulf of Mexico, Florida Keys and Atlantic Ocean to his CV before he was fifteen. He ran his first 40 meter yacht at age nineteen and he knew at a very young age that his future was at sea. Since that time he's run vessels up and down the East Coast and Bahamas. "In more than forty years of running private and commercial vessels of all sizes I have gained experience that only miles under the keel can give you. From storms at sea to the most amazing sunrises, sunsets and destinations, the sea brings something new and wonderful to each day. I make it my personal goal to give each guest the safest, most enjoyable experience possible.
Capt. David is a veteran of the United States Navy and holds a Bachelor's Degree from Norfolk State University and a Master of Business Administration from Grand Canyon University. He has also studied at Maritime Professional Training and Resolve Maritime Academy in Fort Lauderdale. When not at the helm you can find David traveling with his wife Arlene, or spending time with their three children and one grandchild

Chef - Arlene Meyer - Chef Arlene was trained in the classical technique of French cooking. Her joy and passion comes from growing vegetables and tropical fruit trees in her Chef's Garden and growing up and living in the Philippines and Japan where fresh fruits, vegetables and seafood are in abundance. "I do what I do because I put passion and love into the ingredients that come into my kitchen. They're not just slabs of meats and bundles of fruits and vegetables to be tossed into the fire. To me, they're alive like children that are meant to be nurtured and brought to their fullest potential in the kitchen so my customers get to enjoy the stars that they really are."
Chef Arlene studied at Le Cordon Bleu College of Culinary Arts and studied International Business at Old Dominion University in Norfolk, VA. She was the founder of Celebration Catering / Joshua's Bistro in Tampa and also did freelance work on day charters and superyachts before joining Magnum Ride. In her free time she enjoys skiing, vegetable gardening, fishing, traveling and cooking Mediterranean and Asian cuisines.

Steward - Josh Anderson - Josh was born and raised in Bradenton, FL. He attended the University of South Florida where he received his Bachelor's Degree in Hospitality Management and a Minor in Business. He's worked in the hospitality industry for over ten years including positions at fine dining restaurants, hotels and a private aviation firm. "Top tier customer service is simply about how you make people feel. People can easily forget about excellent amenities, delicious food or exceptional staterooms. However, if you incorporate these things and make them feel like family, that's how you gain a forever customer."
His Silver Service and Interior training were done at the Seven Seas Preparatory Academy and Maritime Professional Training in Fort Lauderdale. In his spare time he's extremely passionate about traveling and has visited fifteen countries with many more to come. He enjoys spending time with his friends and family and exploring all Florida has to offer.

Mate / Engineer - Ben Meyer - Ben is a Florida native and has spent time on vessels in the Gulf of Mexico, the Bahamas and the Atlantic Coast. He's been a valued crew member on two fifty-meter yachts out of Fort Lauderdale in the deck department and was the Mate on a forty-five-meter yacht out of Boca Raton. Most recently he spent time as a Sr. Deckhand and Second Engineer on an ocean-going tugboat out of Boston, MA. He returned to yachting to join the crew of Magnum Ride where he's looking forward to increasing his skills in engineering, navigation and ship handling. "I love being at sea because no two days are the same. Every horizon brings a new adventure and every mile under the keel is a mile closer to the next destination. I enjoy sharing my love for the ocean with guests and seeing them enjoy the yachting experience."
Ben has studied at Maritime Professional Training and Resolve Maritime Academy in Fort Lauderdale, as well as Gulf Coast Maritime in Tampa. In his free time, Ben enjoys skateboarding, snowboarding, rock climbing, creating online content and working on cars.