Motor Yacht LADY TRUDY
At Barrington Hall we provide motor yacht charters around the world on various luxury yachts. The Motor Yacht listed below, LADY TRUDY, is one of the many motor yachts we offer for charter. Please contact us for up to date information on LADY TRUDY or any other yachts in your desired location.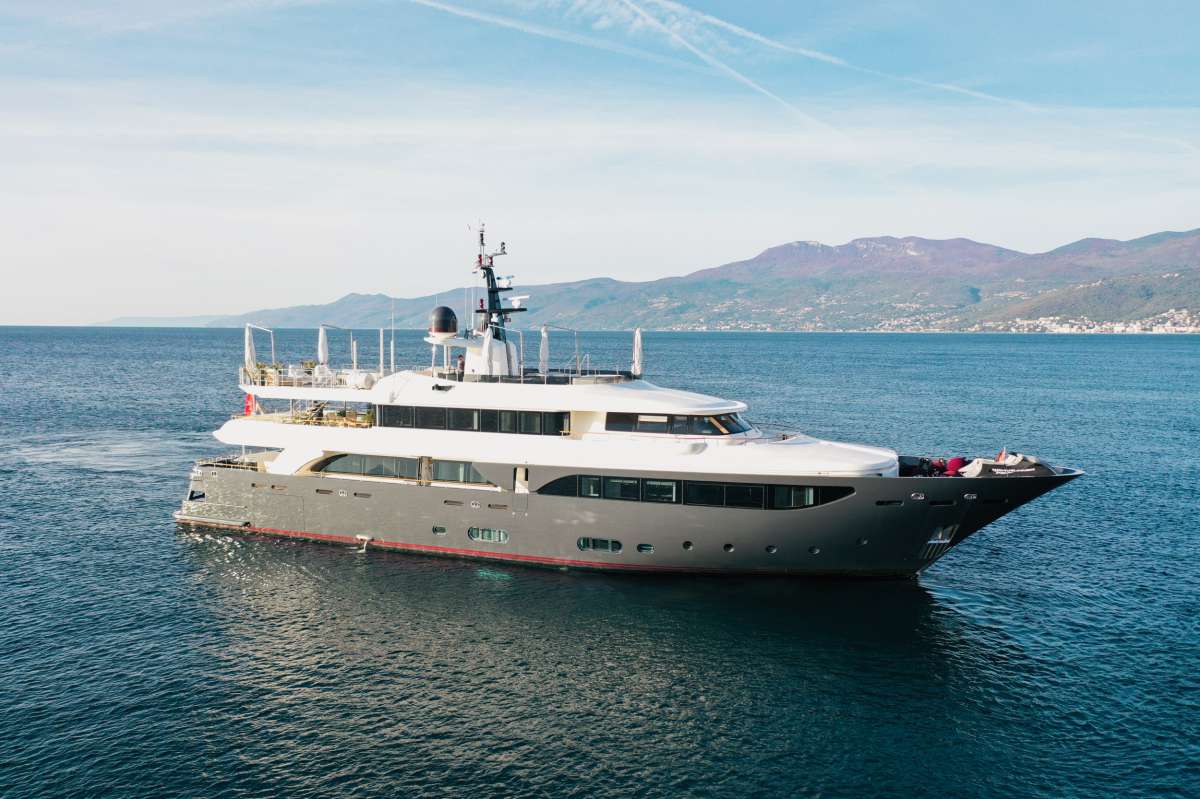 Low Price: €160,000 High Price: €160,000
Accommodations: 1x Master suite (bed dimension 200cm x 180cm) on the main deck with separate HIS and HER ensuite bathrooms with showers, office, and walk-in closet. The balcony of the master's suite is furnished with comfortable chairs and a coffee table, making it an ideal site for exclusive breakfasts by the sea.
The overall dimension of the Master Suite: 43 sqm

3x VIP cabins (bed dimensions 200cm x 160cm) with ensuite bathroom including shower, located on the lower deck
The overall dimension of each VIP cabin: 20 sqm

1x Twin cabin including one large single bed (125cmx200cm) and one standard single bed (90cmx200cm). Additionally, there is a Pullman bed (90cmx200cm). Ensuite bathroom including bathtub.
The overall dimension of Twin cabin: 20 sqm


Amenities
Water Sports
Other Toys: Chase boat: Windy SR44 Blackhawk 2 per 440hp DPI WHIT JOYSTICK for 16 persons 12.53

2x Seabob F5S
1x Seabob Cayago F7
1x Yamaha FX Cruiser Jetski (for 3 persons)
1x Yamaha Wave Runner VX Deluxe (for 2 persons)
1x Cruiser water slide from Sundeck
1x Inflatable Slide sofa
1x Inflatable SUP
1x Inflatable banana
1x Inflatable Aquaglide Blast bag
2x Electric bicycles
2x Sport bicycles
2x Wakeboards
2x Water skis (1 for kids)
3x Fishing rods
Other Toys: Gym/exercise equipment:
Gladiator Cybex whit 85 kgs weight
Treadmill Techno Gym
Dumpels from 2kgs - 20kgs 20pcs
Bench whit various lifting bars and weights
Chill pool (ice water bath for post-workout)
Infrared heater

Captain - Jan Hans Vantuch
With more than two decades of experience in the yachting industry, Captain Jan Hans has risen through the ranks to become a highly experienced captain on both private and charter yachts up the 70-meter length. He has worked for numerous high-end clients, including the royal families. As a captain with a mathematics, physics, and economics background, Jan Hans is uniquely equipped to solve complex problems. During his career, he has been involved in many large refit projects that gave him a deep understanding of yacht operations and crew management. As a professional captain, he is passionate about his job and takes immense pride in it, while also striving to instill the same values in his crew by setting a clear vision and fostering teamwork, collaboration, and exceptional customer service. With fluency in English, Czech, and Spanish, and experience cruising the Mediterranean, Indian Ocean, and Middle East, Captain Jan Hans will make your voyage an unforgettable experience. You can look forward to hearing incredible stories, discovering amazing places, and having a remarkable journey with him.

Chief Officer - Nathan Blair
Nathan is an avid explorer with a passion for the ocean and travelling to new places. He has an extensive knowledge of the yachting industry and is currently working towards obtaining his captain's license. His background in Law and the wine trade has given him the opportunity to learn and take on new experiences. When he's not exploring, Nathan enjoys going for walks, visiting historical sites, hiking, playing or watching sports, travelling, wine tasting, and snorkelling. He loves meeting new people and creating unforgettable experiences for guests. Nathan is fluent in English and Afrikaans, and is a certified Sommelier, so he can provide excellent wine recommendations for guests aboard Lady Trudy.

Chef - TBC

Chief Stewardess - Cerise Scholtz
Cerise is an experienced and passionate traveler who loves to explore different cultures, meet new people, and experience new things. With over 5 years of experience as a yacht stewardess, she is an expert in providing guests with an unforgettable experience. Her enthusiasm and hardworking attitude make her a valuable asset to any team. Cerise is also highly adaptable and flexible, able to think outside the box and act quickly in any situation. Her cheerful and determined nature make her the ideal candidate for a chief stewardess. In her free time, Cerise loves to explore the outdoors, going on hikes, horse rides, and diving. She is also multilingual, speaking both English and Afrikaans fluently.

Chief Engineer - Marino Menegazzo
Marcelo is a passionate Italian seafarer with 30 years of experience in the maritime industry. He started his career as a Cadet and worked his way up to become a Chief Engineer. He has worked on a variety of ships, from containers to chemical tankers, and has also spent 14 years in the yachting industry. Marcelo has a strong background in engineering and is constantly learning new things about engines, electronics, automation, and hydraulics. He is also an avid learner and loves to spend time with his family, study electronics and automation, and walk in the mountains. Marcelo believes that it is important to be humble, ambitious, and curious in life, and that one should never stop learning. He is also multilingual, speaking Italian, English, Spanish and Croatian.

Deckhand - Wesley Pauls
Wesley is an experienced sailor and adventurer who loves to explore the ocean. He has a degree in business administration and is also skilled in plumbing, carpentry, electrical, and engineering. He is a certified lifeguard, surf instructor, and spearfisherman, and has a great understanding of the ocean. He is an optimist and loves to travel, experience different cultures, and try new cuisines. He is passionate about fishing, diving, and surfing and is confident in navigating rough waters. His cheerful and positive personality makes him a great companion for guests, and he is also fluent in both English and Afrikaans.

Deckhand - Edgar Povey
Edgar is an enthusiastic sailor and yachtsman with a lifelong passion for the open seas. He has been sailing since childhood and is a certified dinghy instructor for kids. He has worked as a deckhand on yachts up to 60m, gaining valuable experience with each new adventure. He is considerate, motivated, and mature, and loves travelling, nature, and hiking. He is passionate about the sea and enjoys discovering new places and cuisines. Edgar is fluent in English and has basic French language skills. He also enjoys mountain biking and photography, and will be delighted to help capture the special moments aboard Lady Trudy.

2nd Stewardess - Hannah Holt
Hannah is an experienced and motivated stewardess with a strong background in luxury hospitality. She is career-driven, approachable, and always has a smile on her face. Hannah is passionate about discovering new cultures and cuisine, and loves the opportunity to explore new places while on board the yacht. With fluency in both English and Spanish, she is able to provide a high-level of service to all guests, making her an invaluable asset to the yacht. Committed to delivering an exceptional experience to all who come aboard, Hannah is dedicated to ensuring that each guest has a memorable experience.

3rd Stewardess - Sabrina Nicholson
Sabrina is an enthusiastic and skilled yacht stewardess, committed to delivering exceptional service to her clients. She is well-versed in the hospitality industry and has an eye for detail. Her upbeat attitude and passion for her work make her an invaluable asset to any yacht. In her free time, Sabrina loves to explore new places, sample different cuisines, visit museums, and engage in any ocean-related activity. She is passionate about the yachting industry and appreciates that no two days are ever the same. She is always looking for new ways to challenge herself and advance her career. Her hobbies include health and fitness, yoga, hiking, travel and photography, literature, and writing. She is fluent in English and a beginner in French.