Motor Yacht ZARANIA
At Barrington Hall we provide motor yacht charters around the world on various luxury yachts. The Motor Yacht listed below, ZARANIA, is one of the many motor yachts we offer for charter. Please contact us for up to date information on ZARANIA or any other yachts in your desired location.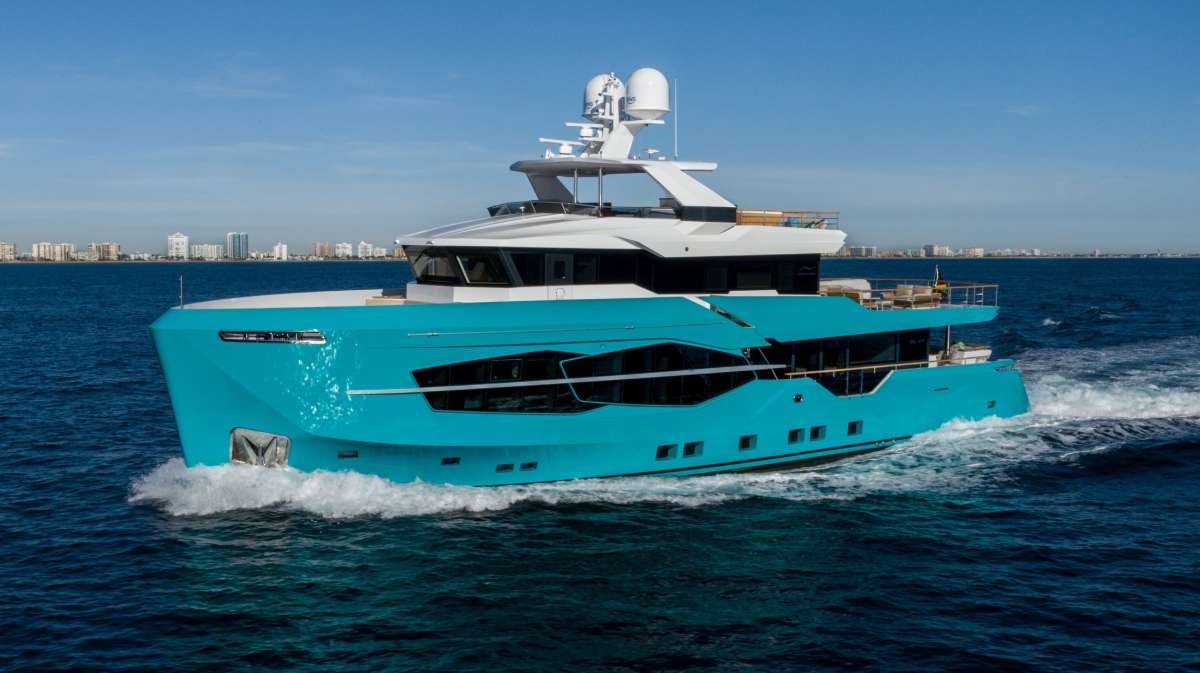 Low Price: $95,000 High Price: $109,250
Accommodations:
ZARANIA interior layout sleeps up to 10 guests in 5 staterooms, featuring a private owner's deck on the upper level with large walk in wardrobe & spacious en suite. Forward on the main deck is the full beam VIP that would normally be the master. It is a beautiful space due to the large windows that are notable in her design and profile lines. Below deck includes 3 large guest cabins, 2 queen and 1 twin with Pullman.
Amenities
Water Sports
Other Toys: Tenders:
11.3m (37ft) Axopar tender
6.4m (21ft) inflatable tender

Toys:
2 x jet skis
2 x SeaBobs
2 x stand up paddle boards
Fishing gear
Snorkelling gear
Aquabanas inflatable raft

Other Toys: Comprehensive audio-visual systems, Apple TV
Satellite TV (USA Direct TV) languages in English, French, Russian
Selection of board games

Communications:
Cellular communications facilities, Wi-Fi internet access
Name: Gerard Rutishauser

Position: Captain
Nationality: South African
Description:
Previous Yachts: M/Y DEEP BLUE (24m), M/Y ALBULA (64m), M/Y ARIOSO (40m), M/Y TALITHA (80m), M/Y NEVER ENOUGH (43m), M/Y HUNTRESS (55m) Interests: Running, Snowboarding, Aussie rules Football, Woodwork, Camping Captain Gerard was born in Durban, South Africa and was raised hitting the beach every chance he and is three siblings got! With a Swiss father and a British mother, the "travel bug" is a part of Gerard's DNA. After college and receiving his National Diploma in Quantity Surveying and Construction Management, Gerard, following in his elder brother's footsteps, joined the yachting industry in 2002 and the rest is history! Land work was never in the cards for Captain Gerard, and through many years on yachts, working his way through the ranks and discovering a passion for a 360 "ocean office view", Gerard has found his home on board ZARANIA. Captain Gerard enjoys sharing his knowledge and expertise with his crew to help their growth in the industry as well as share his favorite, secret Bahamian anchorages with charter guests to show them the beauty of this unique archipelago. Captain Gerard is a natural problem solver and the first to jump in and lend a hand, cracking a joke or two along the way!
________________________________________
Name: Ruthie Kallai

Position: Chef
Nationality: American
Description:
Previous Yachts: M/Y GOLDEN ROSE (32m), M/Y PEARL (24m), M/Y OSSUM DREAM (29m), M/Y RUTLI E (30m), M/Y BAC O BOOC (35m), M/Y ANGELUS (19m) Interests: Yoga, Trying new, local cuisines!, Photography, Design, Painting, Dance Ruthie was born and raised in Oregon, United States and has always had an affinity for cuisine and health! Before joining the luxury yachting industry in 2014, Ruthie achieved her Bachelor's Degree in Psychology from the University of Oregon in 2010 and spent the next four years in the corporate world. First as a Strategic Account Manager at Xerox followed by her time spent as the Creative Director for Festival Productions. Ruthie views this world through a creative lens. Whether it's menu planning or plating; she's sure to add a unique flair. Ruthie is passionate about cooking well balanced, nourishing foods. She loves creating menus that fit her guests' preferences perfectly. Proficient in any fare, Ruthie has mastered it and becomes a friend to anyone who steps in her galley along the way! Outside of the galley, she's a certified yoga teacher, artist and music lover.
________________________________________
Name: Jacinta Dellinger

Position: Chief Stewardess
Nationality: South African
Description:
Previous Yachts: M/Y 7 DIAMONDS (30m), M/Y OUTPOST (19m), M/Y MOTHERSHIP (23m) Interests: Cooking, Hiking, Learning new things! Hailing from the West Coast of Cape Town where she always had the mountain in her view, the ocean at her feet, it seems yachting was Jacinta's destiny. While studying she worked her first hospitality job at the Victoria and Alfred Waterfront, a prominent tourist wharf. It was here that she discovered a natural love for customer service and a hunger to exceed expectations. Her curiosity and endless pursuit to grow led her to become a server for two exclusive country clubs on the East coast of the United States. Working summers in Long Island and winters in Florida she gained experience in fine dining within a high-volume environment. Over and above service she learned to maintain utmost discretion when it came to serving many wealthy and prominent members. After 3 years of seasonal rotations Jacinta moved to California and took on a position as a personal cook and Estate manager to a high-profile musician. In 2018 she eventually made her move back to the Florida shores to pursue yachting. Since then, Jacinta has worked diligently her way through the ranks and has finally found a permanent home with the on ZARANIA. Jac has a very warm and personable approach while remaining professional to her guests. She explains " I like to blend a high level of service with a naturally relaxed feel . It's very important to me that guests feel at ease while spoiled in luxury, as if being hosted in the comfort of their own home."
________________________________________
Name: Mia Viau

Position: Second Stewardess
Nationality: American
Description:
Previous Yachts: M/Y SAJER (21m), M/Y IMPULSIVE (18m) Interests: Hitting the beach, Boating with friends, Taking her puppy to the dog park Born in Michigan as a triplet and raised in South Florida with an additional two step siblings. Mia feels at home wherever there is water, Passionate about soaking up the sun on a Sunday boat day, sunset walks with her dog and working as a full-time nanny. Over the years Mia has worked as a camp counsellor, sales associate and lead hostess. Which lead her to find her love of working on Yachts. She began on two 60ft Yachts located in Miami. Severing and attending to guests always brought her a good feeling, knowing guests were pleased! As she now found her new home with ZARANIA. Being focused, happy and organized keeps her going as she is the youngest in the crew. Mia is excited for upcoming charters to bring guests happiness for their adventures on ZARANIA!
________________________________________
Name: Zack Rasmussen

Position: Chief Engineer
Nationality: American
Description:
Previous Yachts: M/Y MY SEANNA (57m), M/Y HIGH RISE (30m), M/Y REFLECTIONS (32m), M/Y LEADING FEARLESSLY (28m) Interests: Marine science, Spearfishing, Sport fishing, Free diving, Scuba diving, Automotive building Zack grew up in Fort Lauderdale, Florida with the ocean was never more than a few minutes away. His entire life Zack spent all his free time on the water or below the surface discovering a whole new world. Once he graduated high school he knew he wanted a career path that would be in line with his aquatic life so he went to trade school for marine mechanics. While enrolled in school Zack worked as a dockhand at a dry storage marina. Once he finished with school he worked for as a technician for a year, then for a yacht management company for 3 years, gaining an invaluable wealth of knowledge. Zack embarked on his journey to obtain his Captain's license and quickly found himself working on a yacht and cruising New England for a summer season and knew that this is the calling he had been searching for! Zack enjoys it all from fishing the Everglades for Bass to trolling offshore for Marlin to hunting groupers on the reefs. Spear fishing and free diving are his favorite hobbies and some of his many talents. Zack's goal in this industry is exactly what he's doing today, bringing lasting memories to all people in some of the most beautiful places on earth.. "My favorite place is where there's a shade of blue underneath me".
________________________________________
Name: Shane Sonnenfeld

Position: First Officer
Nationality: American
Description:
Previous Yachts: M/Y HALF INE (20m), M/Y JOY (70m), M/Y HAPPY HOWLER (22m) Interests: Freshwater fishing, Being outdoors, Watersports Shane was born and raised in Eustis, Florida, a small town just north of Orlando, where from an early age enjoyed all the outdoor activities from freshwater fishing, exploring, and hunting. He and his family always vacationed in the Florida Keys and the Bahamas where his love for the ocean began. Shane attended college in the Florida Keys and in Fort Lauderdale at Nova Southeastern University ultimately earning his Bachelors degree in Marine Biology. After graduation he would become a dive instructor at a Fort Lauderdale dive shop and earn his 100 ton Captains License by age 23. While working in the dive industry his expanded his education at MPT to break further into the yachting industry. Shane has worked on private yachts for the majority of his time in yachting but looks forward to the excitement and new challenges charters will bring!
________________________________________
Name: Xander Barkhuizen

Position: Deckhand
Nationality: South African
Description:
Joined ZARANIA in January 2021! Interests: Wakeboarding, Skiing, Karate Xander hails from the beautiful Port Elizabeth, South Africa, where he spent his childhood always outdoors playing various sports. A self proclaimed "adrenaline junkie" Xander has excelled in Karate, beginning this practice at the ripe age of 7, taking very seriously the physical and mental dedication Karate requires to succeed. Xander is extremely hard working and with a mind like a sponge, ready to learn everything he can from his fellow crew to grow his knowledge of the yachting industry. Xander finds being on any yacht, big or small, the most exciting feeling, always looking forward to the next destination and this enthusiasm is infectious to any guest that sets foot onboard ZARANIA!
________________________________________