Motor Yacht HOT PURSUIT
At Barrington Hall we provide motor yacht charters around the world on various luxury yachts. The Motor Yacht listed below, HOT PURSUIT, is one of the many motor yachts we offer for charter. Please contact us for up to date information on HOT PURSUIT or any other yachts in your desired location.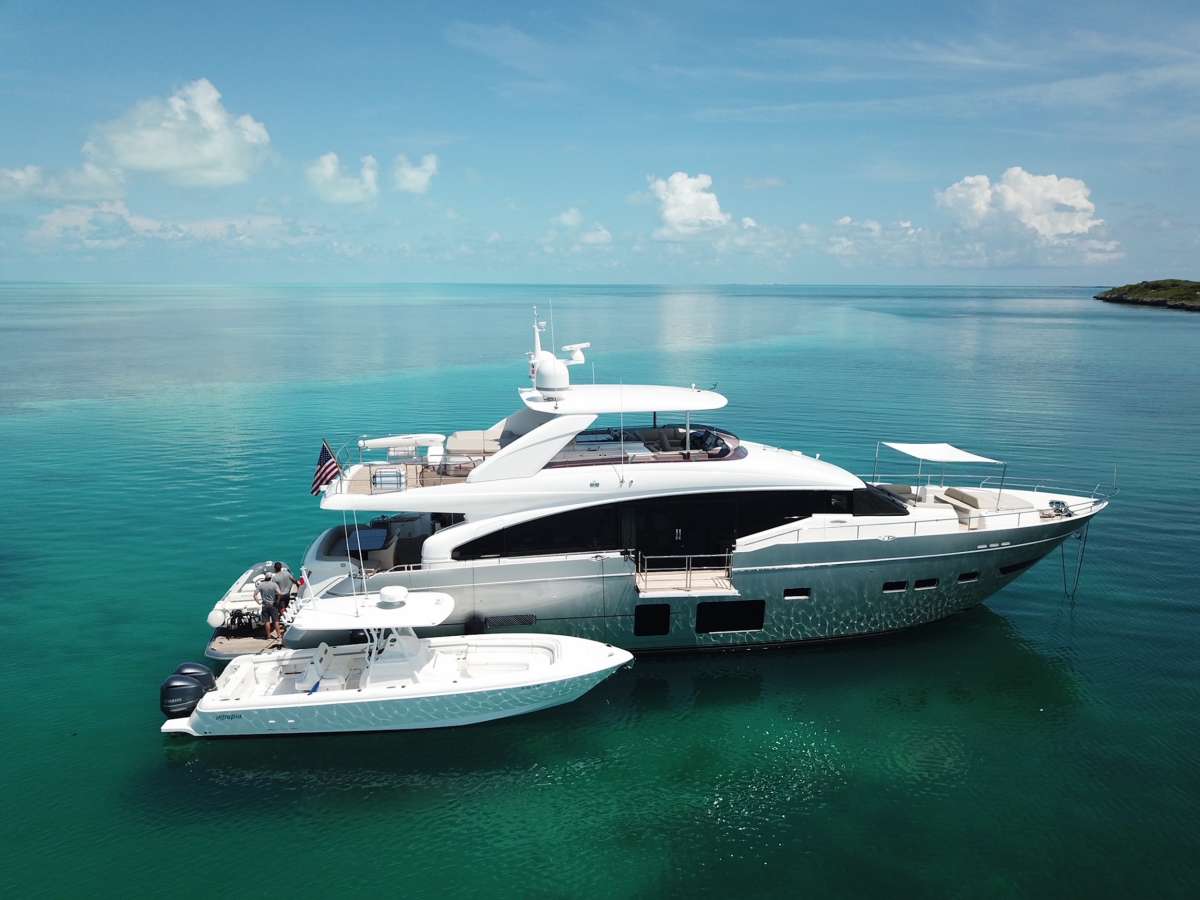 Low Price: $53,000 High Price: $57,000
Amenities
Generator:
Northern Lights 38 KW x 2
Water Capacity:
300 Gallons
Dinghy Size:
32' Intrepid
Water Capacity:
300 Gallons
Dinghy Size:
32' Intrepid
Water Sports
Gear Type:
Pole spears, light spinning, #
Name: Tyler Harris

Position: Captain
Nationality: American
Description:
Tyler was born and raised in Morehead City NC, where his family and ancestors were some of the first 18th century settlers on the outer banks of NC after becoming shipwrecked in the dangerous waters of the Atlantic. Tyler is the 3rd generation in his family to be a captain. His great grandfather was a charter/commercial captain who was an instrumental part in the birth of the sport-fishing and boatbuilding industry. Growing up near the water, he spent a lot of time on and around boats. In middle school, he and his father decided to build a small 18' skiff together. At the young age of 15, Tyler's first job on the water was the second mate onboard a 46' wooden hull charter boat based out of Atlantic Beach, NC. It was then when he began logging hours and sea time to obtain his first US coast guard captains license and obtained his first UCCG credential 3 months before his high school diploma. After graduation, Tyler moved to Orlando Florida to attended Marine Mechanics Institute (MMI) where he honed his outboard and marine diesel skills. Shortly thereafter, he relocated to Ft. Lauderdale FL and began his yachting career as a deckhand on a 110' motor yacht. Since then, his travels have taken him thousands of miles across Alaska, all of the pacific coast of North America, 5 Panama Canal transits, eastern and western Caribbean. Tyler's true passion and favorite place to take charter guests is the Bahamas. In the Bahamas, Tyler knows the secret treasure spots to fish, spearfish, snorkel and experience the adventures and beauty of these incredible waters and the islands. Guests will enjoy a combination of adventure on land and sea. Share in island festivals, restaurants with local flavors and sunsets, hideaway beaches and so much more. When he is not yachting or fishing, Tyler enjoys spending time at home with his wife and 2 kids and coaching his son's youth baseball team. He also enjoys spending time on his airboat in the Florida Everglades.

Name: Kettra Ann Ferda

Position: Chef/Stew
Nationality: American
Description:
Kettra was born and raised in Great Falls, MT. From an early age she realized that even though Montana is full of beauty and adventure, she had an overwhelming pull to the ocean and tropical lifestyle. In 2010 Kettra started her yachting career in Cape Canaveral, Florida as a solo stewardess aboard a 110' Cheoy Lee traveling extensively to Puerto Rico and the Dominican Republic. She then decided to gain more experience in Ft Lauderdale, FL. With more knowledge of the Maritime industry she accepted a position as a Personal Assistant/ Stewardess aboard a fleet of fishing vessels and yachts. She has fished the Black and Blue Marlin tournament in Cabo San Lucas, Mexico and the Triple Crown tournament in Los Suenos, Costa Rica. Her travels to exotic countries have also molded her culinary experience. Fresh tuna, scallops, and beef filet are some of her favorite things to experiment with. Healthy fare cooking, Island cuisines and theme nights add to the charter experience. Kettra is comfortable with dishes based around a low carb, high protein complement, as well as, those with heartier fares . She seeks fresh and organic produce where possible. During her free time, she enjoys going to the beach, water parks, and various springs, or just tinkering in her backyard vegetable garden, where she plans on using a family recipe to start canning pickles. Kettra's love of the hospitality industry is unparalleled. Working as a team, being creative, and keeping it fun and the food delicious is something she strives for each and every day.

Name: Michael Angelo Lagonia II

Position: Mate
Nationality: American
Description:
Angelo was born in Staten Island NY and shortly thereafter moved to Memphis where he was raised. Navigation has always been a family endeavor. His father is a pilot, but Angelo leaned more toward the allure of boats. The seas sound and smell along with swimming, photographing, fishing, surfing, diving, and navigating has always left the most meaningful memories. Angelo attended Lyman Ward Military Academy for high school and excelled in Academics and a fierce love for baseball; he was pitcher. He graduated the 2nd in command and achieved the highest rank possible. When he wasn't at school you could find him with his father hanging out at the airport cleaning their Beechcraft baron twin engine airplane and watching the planes land and take off. The time with his father was well spent because Angelo's engine knowledge makes him a valuable member on Hot Pursuit. After high school Angelo attended Fort Lewis College in Durango Colorado and studied business. After college he worked in the real estate business selling mortgages until he realized there were more exciting and rewarding opportunities. He sold his house and car in 2009 and moved to Central America, Utila, Honduras, in 2010 to begin his dive career. He loved the idea of traveling, exploring as much ocean as possible, and breathing underwater. Angelo has taught SCUBA in Honduras, Panama, Israel, and Thailand. Angelo believes that being near the ocean makes us happier, healthier, reduces stress, and brings peace. Making bubbles is Angelo's passion and he loves taking photos of his adventures as well as our guests! Angelo looks forward to assisting you with your underwater adventures! Yacht chartering has combined all of his passions into one. He began as a deck/stew/crew chef and quickly worked his way up to deckhand, boswain, and then mate. Angelo is currently living in Ft Lauderdale and pursuing his captain's license.