Motor Yacht GIOIA
At Barrington Hall we provide motor yacht charters around the world on various luxury yachts. The Motor Yacht listed below, GIOIA, is one of the many motor yachts we offer for charter. Please contact us for up to date information on GIOIA or any other yachts in your desired location.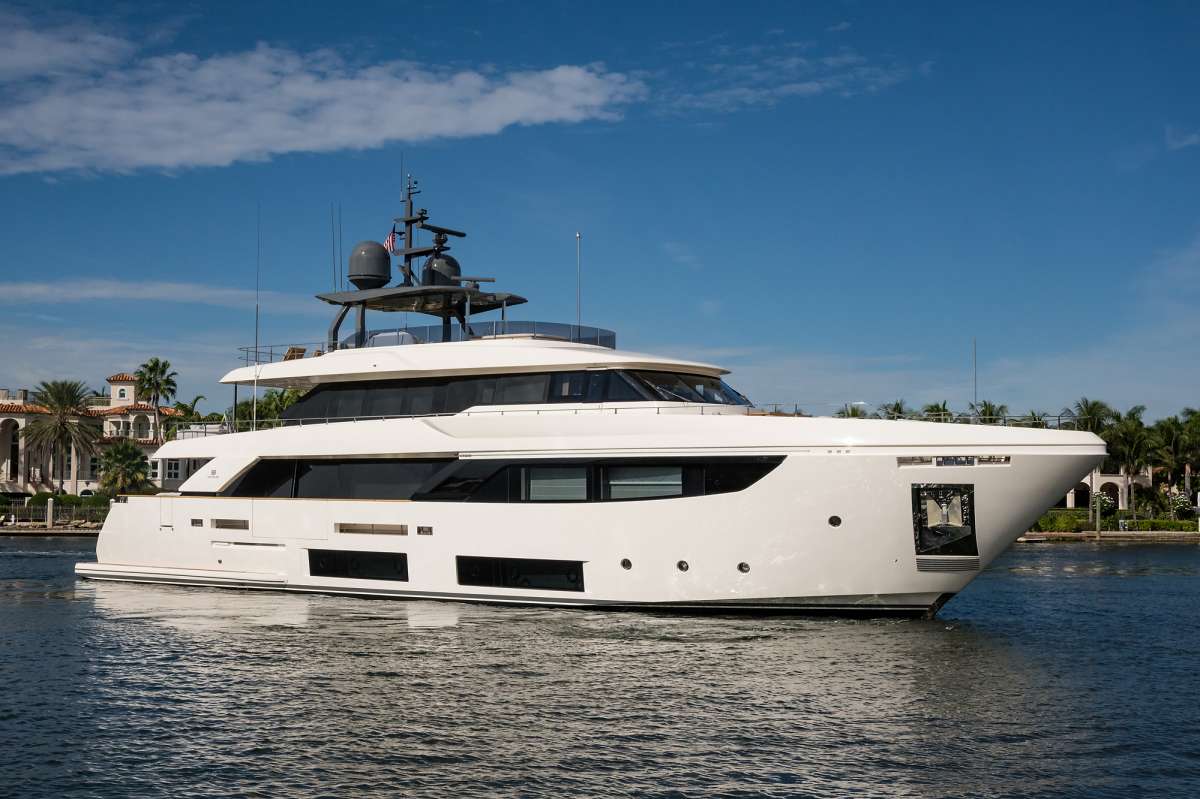 Low Price: $83,000 High Price: $94,300
Accommodations:
Offering 5 lavish cabins this motor yacht can accommodate up to 10 guests. She features an on deck full beam master stateroom with full custom his and hers master head in Bianco Gioia polished marble. Four additional staterooms, 3 queen and 1 twin, are below.
Amenities
Dinghy Size:
35' Intrepid
Dinghy Size:
35' Intrepid
Water Sports
Other Toys:
35' Intrepid, 454 Diesel jet Williams, 2021 Yamaha Ho Wave runner, 2 seabobs, 2 paddleboards, wake board, tube, snorkeling gear, fishing gear, 4 electric bikes, floating Lily Pad swim platform
Captain
Meet KYLE HOLMES: Yacht GIOIA's Captain. Originally from Sacramento, California, he grew up sailing the Pacific Ocean, wakeboarding, and commercial fishing. In his formative years, he often went to his family's house in Mexico where he worked at his family's fishing company. Simply put, Kyle's life has always revolved around the water.
When it came time to choose a profession of his own, Kyle knew that no matter what he could not imagine his life away from aquatic endeavors, which led him to pursue a career as a captain after completing four years at the California Maritime Academy. Immediately after graduating, Kyle received his first job on a yacht. For the next twelve years, he has been employed in the industry, with the last seven of those years working as a captain.
He is confident and passionate about his work and continuously strives to make each guest's experience aboard his vessel memorable in every way conceivable. His extensive knowledge of all things nautical as well as his familiarity with the Islands of the Bahamas make Captain Kyle an invaluable member of the team. When he is not at the helm of Yacht GIOIA, you can find him out racing motocross or cuddled up at home with his beloved French bulldog, Maverick.

Mate
Meet BEN SHIHAB: Yacht GIOIA's First Mate. Born and raised in Tucson, Arizona, he enlisted in the US Marines straight out of high school and started working in the maritime industry in 2007 on dive boats. In the 6 months between graduating high school and being shipped off to Marine Corps Boot Camp, he took his first job aboard such a vessel on the Red Sea.
Throughout his active duty, Ben continued to work on dive boats on the weekends when he wasn't deployed or in training. For five years of active duty and three years in the reserve, while he was finishing college, he acted as a Marine Air-Ground Task Force (MAGTF) Plans Specialist and left the Marines as a Sergeant. He has an extensive amount of higher education as well – attending the University of Arizona for both his undergraduate studies as well as his MBA and doing his graduate studies in Ecology at the University of Alaska.
Ben has worked on everything from dive boats to sailing vessels. He even worked on a U.S. Naval carrier twice, both times aboard the USS Bonhomme Richard (LHD-6) which is a Wasp-class amphibious assault ship. He holds his 200t Captain's license and is currently working on obtaining his OOW/500t license as well. Between work and travel Ben has seen five continents and nearly thirty countries.
That's not all – Ben is also a Safari Guide in Southern Africa, where he guides photo Safaris that focus on conservation. He is an incredibly skilled, award-winning photographer who has had his work published in publications such as National Geographic. Not to mention he speaks fluent Arabic. When he's not on the job, you will find Ben scuba diving, surfing, or engaging with photography and wildlife.



Chief Stewardess
Meet MILENA MILJKOVIC: Yacht GIOIA's Chief Stewardess. Milena's lifelong passion for traveling inspired her to pursue a career in the yachting hospitality and service industry. She began her journey in the small town of Leskovac, Serbia – where she was born and raised. At the age of 18, Milena decided she wanted to cultivate her creative side by studying textiles and design at the university in Belgrade – the capital of Serbia. Throughout her academic career, she fine-tuned her eye for aesthetics by hosting fashion shows and designing garments, primarily dresses.
While working in a service position in the cruise ship industry, she discovered her affinity for the ocean and life on the open water. Her time aboard cruise ships also provided her with invaluable experience as it pertains to teamwork as well as various people skills that become essential when attending to guests from all over the world. She quickly learned that this is a profession she would thrive in, and with all that she had learned working aboard the cruise ships, she was able to make the transition into the yachting space as Chief Stewardess. Her desire to create a warm, friendly and elegant environment for the guests in her care is deeply rooted in who she is – both on and off the job. She sees every fine detail as an opportunity to delight, from her tasteful table settings to delicious drinks and cocktails, her creativity is truly inspired.
In addition to traveling, Milena also enjoys water sports of every kind. More than anything, she loves exploring new places and cultures which she documents through photography. It is ultimately her adoration of sunny spaces and being out on the water while getting to showcase her creative skills that make Milena such an asset to the Yacht GIOIA crew. Her exquisite taste is only matched by her ability to divine the desires of those in her care and deliver an exceptional experience for every guest aboard the yacht at all times. We can't wait for you to meet her!

Second Stewardess
Meet MCKENNA DUGGAN: Yacht GIOIA's Second Stewardess. Having been to 25 countries on four different continents, she is the poster-child for a well-learned, globetrotting traveler. She may have grown up on a ranch in Texas and lived there until she was about 10 years old, but since then she has called a variety of locales and countries home. This includes living on a 45-meter Privilège Catamaran in Spain and Morocco for several years, living in Costa Rica for three months, living in the United Kingdom for six months, living in Washington state for two years, and even attending high school in Spain.
McKenna spent the majority of her childhood traveling internationally and sailing the Mediterranean with her family, and it would seem as though she was destined to work in the yachting industry considering she comes from a dynasty of women in the profession. In fact, her two older sisters are also employed as stewardesses and her mother is first mate/chief of staff – one could say yachting is quite literally in her blood.
Yet travel is far from her only interest. When she's not busy providing exquisite service to guests aboard GIOIA, McKenna can be found studying Economics and Business at one of the premier universities in the world, the University of Edinburgh in Scotland; or, you'll find her brushing up on her second and third languages – Spanish and Mandarin. That's not to say that she doesn't like to have a good time. She loves music (with a particular fondness for Reggaetón, Bachata, and Motown) as well as baking. Fascinating, entertaining, and brimming with a wealth of knowledge – getting to know McKenna is an adventure in and of itself!

Deckhand

Meet STORM CUTHBERT: Yacht GIOIA's Deckhand. Born and raised in coastal towns in South Africa, Storm eventually settled in Knysna in the Western Cape province. The ocean has been and continues to be, an integral part of his entire life and he has made it a point to never stray far from it. Furthermore, his deep love, respect, and appreciation of marine life have amplified his fondness for the open water.
In his free time, Storm enjoys surfing, skating, and playing instruments – particularly the guitar. Prior to beginning his career in the yachting industry, he was employed flexing his creative muscles as a graphic designer. While he no longer works in the trade, he still finds great joy in painting and drawing when inspired. Storm has also previously worked as a surf instructor and in hospitality, making his employment as GIOIA's deckhand a truly natural transition.
When all is said and done, Storm is the kind of guy who always wants to help and he does so with a big smile and a can-do attitude. His outgoing and welcoming nature makes him effortlessly easy to be around and get to know. We have every confidence you will find him as genuinely likable and hardworking as we do!