Motor Yacht 21 SEA SANDS
At Barrington Hall we provide motor yacht charters around the world on various luxury yachts. The Motor Yacht listed below, 21 SEA SANDS , is one of the many motor yachts we offer for charter. Please contact us for up to date information on 21 SEA SANDS or any other yachts in your desired location.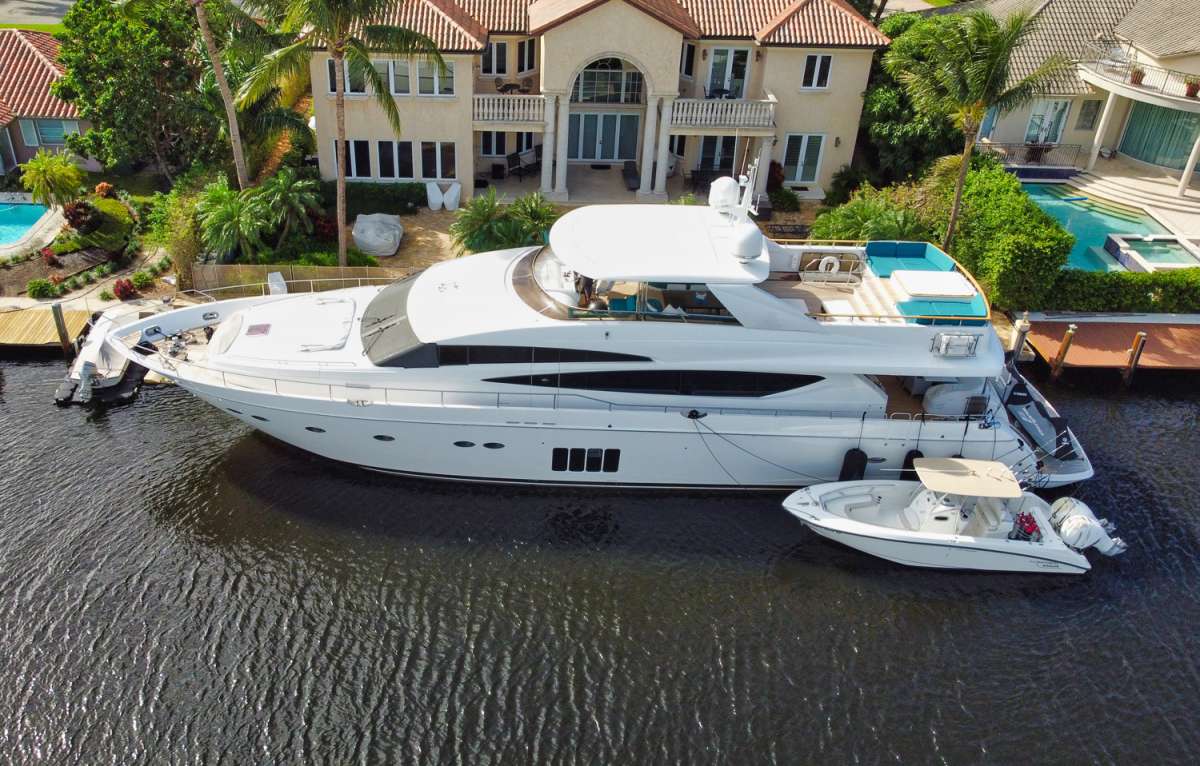 Low Price: $52,000 High Price: $59,000
Accommodations: A fine example of modern styling with a comfortable and inviting appeal. The warmth, richness and symmetry of the interior woodwork give superb flow as you walk through each area, while the elongated salon windows offer a widened perspective especially upon aft entry.

The most common place for dining is typically al fresco on the AFT deck. This area is only one of three dining options aboard and offers plenty of space while enjoying the views at anchor.

The main SALON is very inviting with luxurious oversized chair, L-shaped sofa perfect for more formal cocktail seating or versatile enough to put your feet up on the chaise portion for movie time. The main DINING comfortable seats 8 inelegance and provides a superb alternative to aft deck dining.

Of the four STATEROOMS below deck, the Master is most forward, VIP aft and Twin along with Queen stateroom area midship. Each stateroom features state of the art A/V and flatscreen TV's.

The Master stateroom offers plenty of natural light via 4 rectangular angled windows on each side, has a comfortable settee and ensuite Master bathroom featuring white porcelain double vessel sinks, elegantly tiled stall shower and rich marble top accents. The king size bed faces aft.

The Queen VIP features a side desk or vanity area, natural light from two traditional oblong portholes on each side and ensuite bathroom with similar styling as the others, single sink and stall shower.

The starboard Twin stateroom is modest yet comfortable while the port side stateroom features a Queen. Each of these are ensuite with toilet and shower.

Heading up to the FLYBRIDGE is where most find this yacht has some of the best layout for her size. From another dining area, which can be shaded or not with the retractable sunroof, to the more sunny Jacuzzi and three chaise lounges for relaxing, guests are sure to find 'their spot' on this deck for the majority of each trip. When not on this level, there is even more space to capture the on-deck views forward. Here guests will find a large sunbed with full bimini and bench seating.
Amenities
Dinghy Size:
32' Everglades Tender
Dinghy Size:
32' Everglades Tender
Water Sports
Other Toys: 32' Everglades Tender
1 x 2 person Yamaha waverunner
2 x inflatable paddleboard
2 x Sea Bobs
Waterskis - 2 mono and 1 slalom
Wakeboard
Towable Tube
Snorkeling gear
Beach chairs & umbrellas
2 x Hawaiian slings for spearfishing
Fishing tackle to support trawling, angling and deep drop fishing
Other Toys: Surround sound throughout
Apple Airplay
DirecTV w/ HBO, Showtime and Starz channels
DVD Library/ Server (1000+ movies)

Power: 220v/ 50hz (adapters aboard)
Communications: Telecom: Panasonic Hybrid PBX
WAP for External Wi-Fi Sourcing
CAPTAIN/ENGINEER | PAUL WARNER
Paul was born on a British military installation in Malta! Having grown up in the UK attending boarding schools, Paul found his love for the water while visiting his father in the British Virgin Islands during his summers. Paul first sailed away on a ship at 17 and eventually became a Captain by age 21. Paul's career has included Sailing Ships, Live-aboard Dive ships, Cargo ships, Sportfishing vessels, and Sailing yachts from 300' ft. He eventually traveled to the U.S in the mid-90s where he gained his citizenship and started captaining Motor Yachts. In the U.S Paul has earned several Engineering certifications and takes pride in his ability to not only navigate the vessel but also ensure equipment safety and provide a top-tier experience for all guests onboard. When not on the water Paul enjoys traveling, camping, cooking, and participating in Boy Scott events with his 2 boys!

FUN FACT: Paul's oldest son has just earned his Eagle Scout award and a full scholarship to Florida Gulf Coast University's Honors College.

CHIEF STEWARDESS | MICHELLE FINN
Michelle was born and raised in Miami, Florida. She is a graduate of Florida International University's Stemple College of Public Health with a master's degree in Health Promotion and Disease Prevention. Michelle has grown up on the water and enjoys all water-based activities. She has worked as a Lifeguard Instructor teaching CPR, First aid, and Swim lessons for the Red Cross. She is fluent in both English and Spanish and enjoys traveling, learning about new cultures, and is an avid photographer/videographer. Onboard Michelle takes pride in ensuring that everyone stays safe/healthy and is pursuing her Medical Officer certification. Michelle also specializes in creating unique and delicious cocktails catered to your specific likes and planning fun party/theme nights for guests to enjoy. She loves creating fun table themes and ensuring that guests make the most of their experience, creating lasting memories together.


STEWARDESS/DECKHAND | ISABELLA WOOLF
Isabella or "Isa" was born in Arkansas but raised in Miami, Florida. She is a recent high school graduate and is currently saving up for nursing school. Isabella has grown up on the water and has been boating her entire life. She has worked as a lifeguard, swim instructor, and waitress. Isabella is passionate about maintaining the vessel's cleanliness and providing top-notch service. She looks forward to meeting new people and is excited to help make family memories that you'll always cherish.

FUN FACT: Michelle and Isa are cousins!


CHEF | AMELIA DOLINSKY
Amelia was born and raised in Portland, Oregon. She discovered her passion for cooking growing up with her sisters and mother always in the kitchen. She eventually started cooking in restaurants by age 16. After high school, Amelia decided to pursue her dream of pursuing culinary school where she attended the Le Corden Bleu. From there Amelia has worked amongst chefs in Michelin star and James Beard awarded restaurants for a few years before deciding to leave the land and challenge herself on the water. Amelia started on boutique cruise ships for several years and has been a professional Yacht Chef for the last 5 years. She has traveled from Alaska to Mexico, through the PNW and the northeast USA, and from Florida to the Bahamas. Her favorite cuisines to create include Thai, Japanese, and Mediterranean. Amelia is passionate about traveling, meeting new people, and learning about new cultures. But Amelia is most passionate about "feeding" people and encouraging guests to expand their palates with new and expertly cultivated cuisines.

FUN FACT: Amelia's sister runs a very successful and highly rated Mediterranean food truck in Portland, Oregon. Both she and her sister have been approached by the FOOD network to participate in one of their various cooking competitions shows.


FIRST MATE | NOAH NETHERTON
Noah was born and raised in the suburbs outside of Atlanta, Georgia. In his early 20s, he decided to move to Charleston, South Carolina where he discovered his love for yachting while working as a Marina Manager. He would spend his days on the water and discovering his passion for a brand-new lifestyle. Since then, Noah has been an official crew member on board for the last 6 years, starting as a junior deckhand and working himself up to a first mate. He has taken several on-deck training courses and has trained firsthand under captains and engineers. If he isn't orchestrating fun with our water toys his second passion is being in the engine room. Noah is an avid traveler having been as far as New Zealand and enjoys high adrenaline sports such as snowboarding and water skiing. For daily activities, he enjoys running, fishing, tennis, and playing guitar (which he keeps on board). Noah always exudes high energy and a positive attitude; he looks forward to meeting new people and ensuring the FUN on board.

FUN FACT: Noah was in a band in his teenage years and was a drummer/singer. Noah has also just received his First USCG Captains license!