Motor Yacht CRESCENDO IV
At Barrington Hall we provide motor yacht charters around the world on various luxury yachts. The Motor Yacht listed below, CRESCENDO IV, is one of the many motor yachts we offer for charter. Please contact us for up to date information on CRESCENDO IV or any other yachts in your desired location.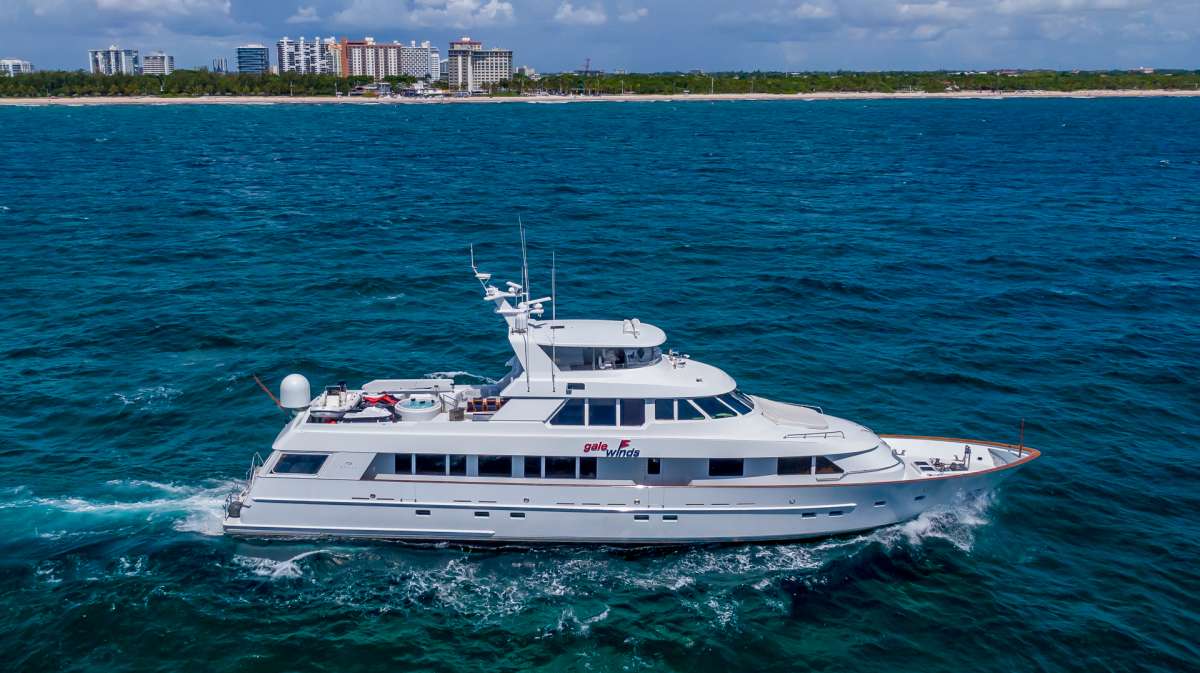 Low Price: $80,000 High Price: $80,000
Amenities
Dinghy Size:
42' Mystic & 14' RIB
Dinghy Size:
42' Mystic & 14' RIB
Water Sports
Other Toys: 42' Mystic Powerboat
14' Inflatable RIB Tender
Jetskis x 2
Super Jet Stand Up Jetski x 1
Seabobs x 2
Carbon Fiber Jetsurf
Bōte Paddleboards x 2
Bōte Kayaks x 2
Inflatable Beach Club with Pool
20' Trampoline with log and slide
Towable Tubes
Wakeboards
Waterskis
Fishing Gear for deepwater sport fishing
Snorkel Gear
BBQ
Pool Table in Skylounge
Fitness Equipment (see below)

SCUBA Diving with Captain/Divemaster
Other Toys: Kettle Bells 5-45 lbs
Adjustable Dumbbells
TRK Suspension Bands
Adjustable Bench
Yoga mats
Garage fitness sand bags 50-250 lbs adjustable
Jump ropes
Captain Michael Tews - After completing time in the US Army as a Security Communications Specialist, Michael started out in yachting as an engineer and dive master on a sportfish boat and then transition over to motor yachts. He has spent many years on successful charter yachts such as, ALANDREA, SOVEREIGN, KALEEN and more. His experience the Bahamas, the US East Coast, spans the entire Caribbean with many years based in Saint Martin. Mike is well versed in fishing and loves all watersports. His 20+ years of navigating the Caribbean lends him the "expert" title and gives guests the comfort of knowing he knows all the best spots!

First Mate Brylin Washington – Brylin grew up between the rivers of Missouri and Mississippi in Iowa and has also called Chicago home. He spent most summers in Florida where he found a love for making music. Between college and his current yachting career, Brylin worked in multiple industries including food, warehousing and trade industries. Brylin was born into the yachting industry by proxy as his dad is a boat Captain, so starting his pursuit to follow in his dad's footsteps of becoming a Captain was inevitable and of course, came naturally. He has completed many successful seasons on board yachts in the last 3 years. Having known Captain Mike since the age of only 6 years old, he was welcomed on board MY CRESCENDO IV where he can apply his hard work and knowledge to continue to bring a vibrant energy and guest experience to our clients.

Chief Stewardess Alana De Jager – Alana is originally from South Africa, where she grew up in the small surf town of Jeffreys Bay. She moved to Cape Town with her twin sister to pursue their passion for garment construction and finished with a BA Degree in Fashion design back in 2014. After completing her BA Degree, she had a quest for travel and adventure. The motivation to live and work on the water came naturally and in 2015 Alana decided to pursue her career within the yachting industry. Having worked on boats ranging between 30m to 60m and completing three crossings in the last 7 years, Alana is committed to give her guests the most enjoyable experience and making sure all their needs are attended to. Alana worked with Captain Mike on board MY ALANDREA where she completed many successful charters and continued to MY CRESCENDO IV where she has transferred and applied her longevity, skills, and experience to complete many more successful charters on board.

Stewardess Shane Marshall – Shane grew up on the little island of Barbados. Having grown up on an island she couldn't help but be drawn to the ocean. Growing up she spent most weekends deep sea fishing with her dad. After graduating college in Canada with a Personal Training Degree, she moved back to Barbados and started working for a sailing Catamaran company doing day charters and she also did Personal training on the side. Shane joined the yachting industry with a want to travel and has been enjoying the last year working mainly in the Bahamas. She is excited to now be a part of the CRESCENDO IV team where she can apply her knowledge and experience and continue to grow and learn within the industry.

Chef Alan Vuksa – Alan grew up in Santa Margherita Ligure, Italy where he started his journey as a chef. He has worked and excelled in many restaurants and has experience working as a private chef. With his knowledge and experience he was happy to apply that within the yachting industry. He can create a wide variety of international dishes, delivering delicious and nutritious food on time - ensuring happy clients all around. He has been working in the kitchen for 15 years total and applied his knowledge into the yachting industry for the last 7 years. Alan has completed two Atlantic crossings. He has previously worked with Captain Mike on MY ALANDREA and continues to be a valued crew member now on board MY CRESCENDO IV.