Motor Yacht PURE BLISS
At Barrington Hall we provide motor yacht charters around the world on various luxury yachts. The Motor Yacht listed below, PURE BLISS, is one of the many motor yachts we offer for charter. Please contact us for up to date information on PURE BLISS or any other yachts in your desired location.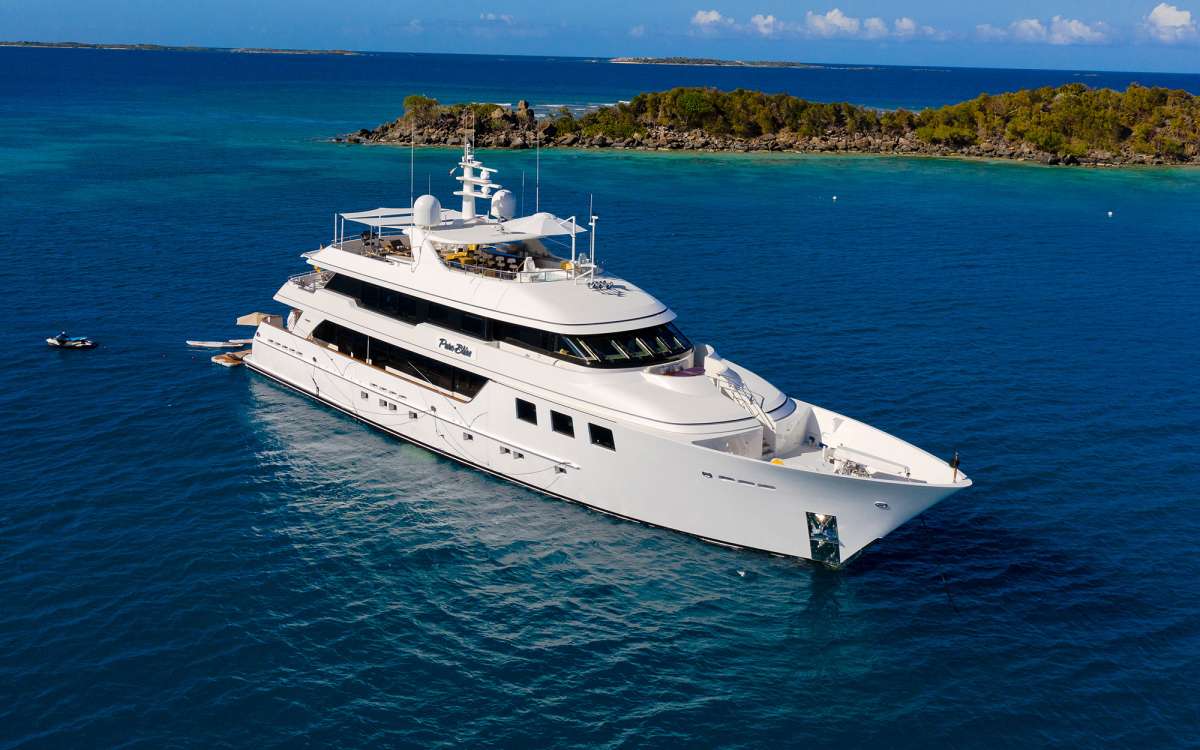 Low Price: $150,000 High Price: $160,000
Accommodations: A total of 12* guests can be accommodated in a rare arrangement of 7 staterooms which not many yachts in this size category can offer as well as an elevator accessible across three deck levels.
*Supernumeraries will be considered on a case by case basis if all regulatory requirements are met.

Refits in 2015, 2017 and 2020 providing upgrades in underlying mechanical and visible living areas where a subtle fusion of classic meets contemporary in design. Warm burl wood panel accents against the sheen of marble counters chosen almost as statement pieces engage your eye in each guest area whether inside or out. Oversized couches and chairs are complemented by unique light fixtures throughout. Especially during the day, the large windows reveal exceptional volume throughout the main salon/dining (for 12) and skylounge which have thoughtfully been arranged in an open plan with inviting spaces. The exclusive feature here is the fold down balcony for guests to enjoy a coffee in the morning or cocktail at sunset while hovering over their own live aquarium at sea.

MASTER SUITE
The Master Stateroom entrance is situated on the Main Deck forward. Upon entering, Owner's office area is to Stbd and features a desk and chair. The walk-around King bed faces aft and features a flat screen TV, surround sound, ample drawer storage to port and full sofa to starboard. Walk-in wardrobe with full length mirror and safe. En-suite bath features a Jacuzzi Tub, separate shower, twin sinks, private toilet and bidet.

VIP STATEROOM
Uniquely positioned on the Bridge deck to port amidship, this very unusual VIP stateroom features a Queen bed with ensuite head including a stall shower. Views from this level are breath taking and unlike any other guest quarters aboard.

BELOW DECK
The 5 below deck guest staterooms are accessed by a wide stairwell with railings on either side and backlit steps light up at night. The guest foyer on this level provides elevator access to 2 more levels above for guests with limited mobility. [Opening dimension: 21" / Circumference: 31"]

Queen Guest (3): The aft starboard and port side guest staterooms as well as the port forward feature a walk around bed each with vanity/desk. En-suite bath features large glass enclosed stall showers.

Twin (2) / Convertible: The portside midship Twin can be used as a King when converted, while the forward starboard side Twin remains fixed with comfortable wide mattresses for adults or children. Each en-suite bath features glass enclosed shower.

From the main salon to the skylounge, guests have a variety of social environments to enjoy. While on the exterior, there are two al fresco dining areas – aft main (8-10 guests) and bridge level featuring a custom and more friendly round table for 12 plus plenty of relaxation and entertaining space from the beach club all the way up to the expansive sundeck. A variety of cocktail bar areas and the alternate option of a spectacular seated view from the Portuguese deck forward of the bridge. An abundance of areas for guests to spread out when desired. Ease of access into the water offered by the cascading wide stairs from the swim platform further extended by floating platforms for water toy activities.
Amenities
Water Sports
Boarding Ladder:
Yes central easy access
Other Toys: 38' Protector "Blissful" - with twin 400 HP engines and an air conditioned cabin with head.
Novurania Catamaran 20 (5.85m) w/150 Yamaha.
2 Yamaha 2021 Jet Ski's
2 Seabobs
2 Paddleboards
3 Kayaks
6 sets of SCUBA gear and dive compressor (additional cost/ separate hire)
Wakeboards
"Slingshot" wake foil
Surfboards
Trampoline
**Wheelchair aboard sized to fit elevator
Other Toys: Audio Visual:
Satellite TV: Seatel Stabilized 4004 Antenna with Sony Sat
B55 DSS receivers and DAC 2200 Antenna control units
Kaleidescape movie library
Control system: Crestron
TV's: Cline projector with 10' drop down screen (Sundeck use)
Upgraded AV system including TV's

*More updates to Audio Visual coming Fall 2021
Communications:
KVH VSAT Internet throughout the vessel (WiFi while cruising)
CAPTAIN | MIKE CONQUEST | British
PREVIOUS YACHTS: M/Y Bojangles, M/Y Golden Eagle

BIO: Mike was born in Bradford where he started his love for sailing. He then moved to South of England and continued to the South of France before settling back in the UK. Mike enjoys many outdoor activities including watersports, skiing, golfing, tennis, and squash, and previously taught technology and P.E. in secondary schools. With over 160,000 Mike is sure to make your journey both safe and enjoyable with the assistance of his crew.
WATERS CRUISED: Mediterranean, Multiple Atlantic Crossings, Caribbean, Cuba, Bahamas, US East Coast
JOB DESCRIPTION: To ensure the safety of crew and guests alike by the prudent navigation, operation, and management of the yacht
LICENSES & CERTIFICATES: MCA Master of Yachts <3000 GT, RYA Coach/Trainer/Instructor in dinghies, powerboats, motor and sailing yacht
HOBBIES: Watersports, Skiing, Golfing, Tennis, Squash, keeping fit

CAPTAIN | ALEX DRUMMOND | British

BIO: Alex comes from a Navel and Sailing family background, and a childhood spent on friends and families' boats in the UK and Mediterranean. Originally qualified as a Boat Builder, Alex had his first professional command aged 23 working for the Royal Navy Commander. It was a tough and informative 6 years which gave an excellent introduction to a yachting career. Alex has now over 30 years of professional experience and has successfully run both Private and Charter yachts.
He is married with two grown up daughters. Alex has a calm and assured personality with an ability to fall back on traditional skills and seamanship, giving crew and guests reassuring confidence that they are in safe hands.

WATERS CRUISED: Caribbean, North Atlantic, Med and UK Waters, North Sea and Baltic
JOB DESCRIPTION To ensure the safety of passangers and crew with prudent navigation and management of the yacht
LICENSES & CERTIFICATES: MCA Master 3000gt, Yachtmaster.
HOBBIES: Family, Classic cars and DIY, Skiing and sailing his 44 ft Laurent Giles Yacht.



1ST OFFICER | SANTIAGO "SANTI" CORDOVA| Mexican
PREVIOUS YACHTS: M/Y Ocean's 11, M/Y Seven Sins, M/Y Camila

BIO: Santiago was born and raised in Mazatlán Mexico located on the Pacific Ocean. He has always enjoyed being on the ocean using watersports and surfing. Santiago truly enjoys the outdoors and going on camping and road trips. His background in commercial vessels has given him an immense amount of knowledge he applies to the yachting industry. Santiago loves to serve others, and his respect for the ocean and being open minded will make your time onboard a special one.
WATERS CRUISED: Northern Pacific, Gulf of Mexico, Mediterranean, Adriatic Sea, Ionian Sea, Caribbean
JOB DESCRIPTION: Rotational Captain along with administrative and safety duties, arranges regular safety drills, maintains deck equipment & inventories, organizes the stowage of the yacht for sea, manages the deck crew and maintains crew discipline. As well as boat handling, watch keeping and navigational skills and has the capability to step in for the captain in his absence.
LICENSES/CERTIFICATES: Master 3000 GT reg ll/2, Ship Security Officer, ECDIS, Radar Operation, GMDSS Operator, Bridge Resource Management, Fast Rescue Boats HOBBIES & INTERESTS: Surfing, Snorkeling, Kayaking, Wakeboarding, Outdoors


CHEF | FERNANDO JEFFREY | Argentinian / British
PREVIOUS YACHTS: Agave M/Y, CHETAH Moon M/Y, Willow M/Y.

BIO: Fernando was born in Buenos Aires. He lived in England for 6 years working in some of the most prestige restaurants thereafter he moved to the beautiful coast of San Sebastian, Spain as well as Barcelona, for 3 years, working in multiple 5-star hotels and restaurants. Fernando soon left the land life to further his career sailing the seas doing what he loves and has since been sailing for 9 years.
WATERS CRUISED: US East Coast, Bahamas, Caribbean, Mediterranean, Baltic
JOB DESCRIPTION: Menu design, provisioning and food preparation for guests and crew. Food budgeting, stock control, management of galley safety standards, etc.
LICENSES & CERTIFICATES: Cookery certificate from IAG, Pastry Certificate from Welsh Institute, HAACP Food Safety and Hygiene (Level II),
HOBBIES & INTERESTS: Reading, Wake boarding, Water polo, Trekking, Exploring new types of cuisine and Travelling.

CHEF | JON LESS | British
PREVIOUS YACHTS: M/Y Zeus, M/Y Alibi, M/Y Volpini, M/Y Solaia, M/Y Oxygen

BIO: Jonathan was born in Cornwell, UK. After training as a Chef in Chester, UK, he went to spend 10 years working in some of the most prestigious hotels and restaurants in and around the UK. His love for the mountains and snowboarding led him to work at 5-star hotels and Chalets in the French and Italian Alps. Jon soon left land life to further his chef career and has been sailing the seas for the last 12 years.
WATERS CRUISED: US East/West Coast, Bahamas, Caribbean, Mediterranean, Panama, SE Asia
JOB DESCRIPTION: Menu design, provisioning and food preperation for guests and crew. Food budgeting, stock control, management of galley safety standards, etc.
LICENSES & CERTIFICATES: City and Guilds Cookery Certificate from West Cheshire College, Food Safety Level III
HOBBIES & INTERESTS: Fishing, Snowboarding, Reading, Cycling, Trekking, Exploring different cuisines.


CHIEF ENGINEER | PATRICK O'DONNELL | Scottish
PREVIOUS YACHTS: M/Y Touch, M/Y Sealyon, M/Y Nassima, M/Y Adora

BIO: Patrick joined the British Merchant Navy at the age of 18 after high school, spending time on deep sea cargo vessels while studying mechanical/marine engineering at the Glasgow College of Nautical Studies. For the past eight years Patrick has been working in the yachting industry as 2nd engineer on larger yachts and for the past six years as sole/chief engineer.
WATERS CRUISED: Worldwide
JOB DESCRIPTION: The chief engineer maintains all the yacht's systems in top condition- engines, generators, electrical, air-conditioning, refrigeration, fueling, sanitation, computers and hydraulics. Together with the assistant engineer, the chief ensures everything is in proper working order.
LICENSES & CERTIFICATES: EOOW unlimited. Dive Master.
HOBBIES & INTERESTS: Golfing, Snowboarding, Wakeboarding, Diving, Rock Climbing and Fencing

CHIEF ENGINEER | NEIL HOLMES | British
PREVIOUS YACHTS: N/A

BIO: Neil started his career on general cargo ships circumnavigating the globe. After several years on commercial boats, he developed a preference for sunshine and sandy beaches which could only be readily found in the yachting industry. He likes to tell people he has worked on "most types of boats" and been to "most" places but when pressed he cannot recall many details. Neil will make sure the engines keep on running, the air condition keeps you cool and everything else works perfectly.
WATERS CRUISED: Worldwide
JOB DESCRIPTION: The Chief Engineer maintains all the yacht's systems in top conditions. Together with the assistant engineer, the chief ensures everything is in proper working order.
LICENSES & CERTIFICATES: Y1, HND in Engineering
HOBBIES & INTERESTS: Reading, Paragliding


CHIEF STEWARDESS | SHARYLINE "SHARY" BANSI | South African
PREVIOUS YACHTS: M/Y Lady J, M/Y Hush, M/Y Carpe Diem II

BIO: Sharyline was born in Durban, South Africa. She lived in England for 2 years before joining the cruise ship industry, as an Assistant Spa Manager / Beauty therapist and since visited over 145 beautiful cities around the world. She easily transitioned into the yachting industry with service levels of the highest standards and is dedicated to making your stay as pleasant and unforgettable as possible.
WATERS CRUISED: East Coast USA, West Coast USA, Alaska, Bahamas, Caribbean, Mediterranean, Panama Canal
JOB DESCRIPTION: The chief stewardess offers the highest standards in all aspects of the interior and service including organizing the interior staff roster for table service, cabin cleaning, meals, and bartending. She orchestrates all guest outings and activities as required and assists with the accounts.
LICENSES & CERTIFICATES: STCW, Food Safety & Hygiene Level II, Security Awareness
HOBBIES & INTERESTS: Reading, Socializing, Yoga, Fitness, Traveling, Listening to music


CHIEF STEWARDESS | SIAN MCGRADY | South African
PREVIOUS YACHTS: M/Y Alpha Nero, M/Y Azteca, M/Y Golden Eagle, M/Y Mysky, M/Y Apricity, M/Y One More Toy

BIO: Sian was born in Johannesburg, South Africa, and spent her teenage years in Zimbabwe, where she completed her schooling. She then went on to complete a two-year diploma in Health and Beauty therapy. As part of her gap year, she went and worked as a lifeguard and summer camp counselor in Minnesota before deciding to follow her dreams of further travel around the world. She spent three years working on various cruise liners and ended her cruise ship career doing a world cruise onboard Cunard QM2. For the last 11 years, Sian has been working onboard private and heavy charter yachts ranging from 45-82m. She has completed an intense internationally recognized Butler Course at the British Butler institute and looks forward to welcoming you onboard PURE BLISS.
WATERS CRUISED: Florida, Bahamas, Caribbean, Cuba, Mediterranean
JOB DESCRIPTION: The Chief Stewardess offers the highest standards in all aspects of the interior and service including organizing the interior staff roster for table service, cabin cleaning, meals and bartending. She orchestrates all guests outings and activities as required and assists with the accounts.
LICENSES & CERTIFICATES: Qualifies Butler (British Butler Institute in London) West Level 1 & 2 in Wine, Management and Leadership, Excellence and Service, Intermediate Stewardess Course, Barista Training, STCW, Food Safety & Hygiene Level II, Security Awareness
HOBBIES & INTERESTS: Reading, Socializing, Baking & Swimming


2ND STEWARDESS | SOFIIA "SOFI" SKOROKHOD | Ukrainian
PREVIOUS YACHTS: M/Y Le Grand Blue, M/Y Constance

BIO: Sofiia is originally from the spectacular port city of Odessa in Ukraine where she studied tourism. Shortly after graduating she became inspired to become a hairdresser which turned out to be her passion for many years. She excelled and became a lead trainer for coloring specialists in an accredited hair academy.
Her successful hairdressing career combined with her tourism studies eventually led her to working on board a Disney cruise line before transitioning into the exciting world of yachting where she has found a new passion for hospitality. She looks forward to
making you feel most welcome on board with her easy-going wit and warm smile.
WATERS CRUISED: Caribbean, East Coast USA, Mediterranean, Bahamas
JOB DESCRIPTION: Sofii works closely with the chief stew and is responsible for accommodating guest needs, maintaining the highest standard of the interior, table presentation, flower arrangements, laundry, housekeeping, service, and bartending. LICENSES & CERTIFICATES: STCW, Food & Hygiene Level II, Security Awareness, PBL II HOBBIES & INTERESTS: Photography, Dancing, Swimming, Cooking, Lettering



3RD STEWARDESS | JENNIFER "JEN" CINQUEMANI| American
PREVIOUS YACHTS: M/Y Now or Never, M/Y Lola T

BIO: Jennifer was born in Pennsylvania and spent most of her life moving around the East Coast of the United States. She attended the University of Alabama where she received a degree in finance. After graduation Jennifer moved to Wyoming and transitioned to hospitality, working in the hotel industry before beginning yachting. Jennifer started her career in yachting in late 2020 and has worked both the interior and exterior of multiple vessels. She has a passion for serving others and cannot wait to welcome you aboard. Jennifer's positivity along with high standards of service will make your trip a memorable one.
WATERS CRUISED: East Coast USA, Bahamas, Caribbean
JOB DESCRIPTION: Responsible for accommodating guest needs, maintaining the highest standard of the interior, table presentation, flower arrangements, laundry, housekeeping, service, and bartending.
LICENSES & CERTIFICATES: STCW, PDSD, WSET Level 1, Food Safety & Hygiene Level II
HOBBIES & INTERESTS: Paddle Boarding, Snorkeling, Hiking, Video/Photo Editing, Humanitarian Work



STEWARDESS/DECKHAND | ELLEN VAN LIEDEKERKE | Belgium
PREVIOUS YACHTS: La Mirage, Zeus, Synthesis, G3

BIO: Ellen was born in Brussels, Belgium. Having a childhood dream to open a surf b&b, she decided to study Hotel Management. After finishing her studies, she finished an internship in in Barcelona and worked as an Events Project Manager in Brussels. Her love for the ocean and passion for travel and hospitality made the transition to the yachting industry natural and exciting. Ellen enjoys traveling and has obtained yoga and diving certifications with her time off from yachting. Ellen's diverse skill set is sure to come in handy during your time onboard.
WATERS CRUISED: Mediterranean, Central- and South America, Bahamas, and Caribbean JOB DESCRIPTION: Responsible for maintaining the yacht's interior and exterior in meticulous order, accommodating guest needs, table presentation, flower arrangements, laundry, housekeeping, service, and bartending.
LICENSES & CERTIFICATES: STCW, PSA, Food Safety & Hygiene Level II, Powerboat level 2, RYA Day skipper, 200HR Hatha YTT, Massage Therapy License, PADI Advanced open water HOBBIES & INTERESTS: Diving, Yoga, Pilates, Running, Watersports, Sailing, Fine Dining



BOSUN | MARK WALKER | British / Irish
PREVIOUS YACHTS: M/Y Tritan, M/Y Illusions Plus, M/Y Avanti

BIO: Born in Mansfield Yorkshire, England, living and working throughout the UK, he developed his love for travelling and the ocean. After university, Mark worked for a Pharmaceutical and a finance / economics company. He took a keen interest in SCUBA diving after a few years and many dives under his belt he became a qualified instructor, 6 years before joining the yachting industry. His passion for diving is what keeps him sailing the seas. Mark's love for travelling is what makes him the adventurous crew member that he is.
WATERS CRUISED: Asia, Mediterranean, Caribbean, South Pacific, North and South America
JOB DESCRIPTION: Assist guests with water toys and in maintaining the yacht's exterior in meticulous order. Extensive knowledge of all equipment and maintenance.
LICENSES & CERTIFICATES: YachtMaster Offshore, OOW-GSK, Helm EDM, PSCRB, PB II, Water Sports Instructor, Dive Instructor
HOBBIES & INTERESTS: Golf, Cricket, SCUBA Diving, Fishing, Road Trips, Traveling, Surfing, Tennis


DECKHAND/ENGINEER | RYAN BATT |South African
PREVIOUS YACHTS: M/Y Island Heiress

BIO: Growing up in South-Africa Ryan developed a passion for adventure and the outdoors. After graduating high school Ryan started and ran his own business. His thirst for adventure instead sent him off to the yachting industry where he grew his love for travel. Ryan has started his career on the exterior working as a deckhand and is keen to grow his knowledge in the engineering department as well. His outgoing and fun personality will make your time onboard one to remember.
WATERS CRUISED: East Coast USA, Caribbean, Bahamas, South-Africa
JOB DESCRIPTION: In charge of continual upkeep of the yacht's exterior in top condition with daily preventive maintenance and detailing. Assists with all water sport activities for guests.
LICENSES & CERTIFICATES: STCW, PWC, Powerboat Level 2, MCA AEC 1& 2, TEFL
HOBBIES & INTERESTS: Rugby, Hiking, Fishing, Watersports