Motor Yacht AT LAST
At Barrington Hall we provide motor yacht charters around the world on various luxury yachts. The Motor Yacht listed below, AT LAST, is one of the many motor yachts we offer for charter. Please contact us for up to date information on AT LAST or any other yachts in your desired location.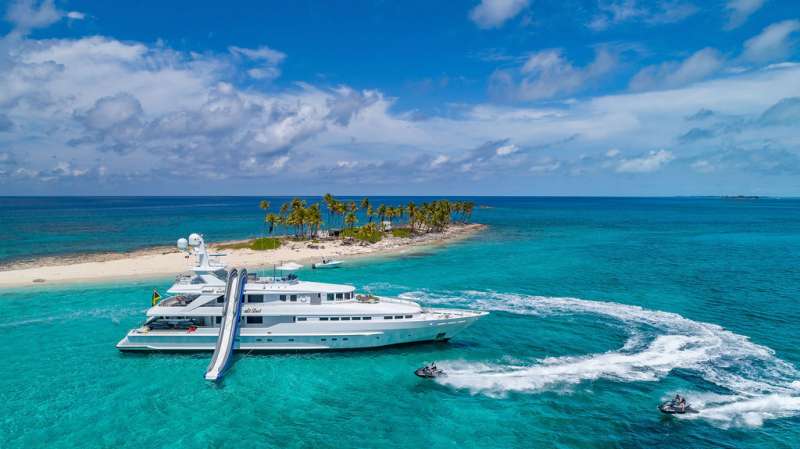 Low Price: $125,000 High Price: $150,000
Amenities
Dinghy Size:
39' SeaVee Tender
Dinghy Size:
39' SeaVee Tender
Water Sports
Other Toys: 39' SeaVee Tender 3 x 300 hp
18' Beavertail Flat Bottom Skiff
4 x 2015 Yamaha GP 1800R waverunners
36' Waterslide from sun deck to water level
2 x Single Ocean Kayak
2 x Donuts
2 x SeaBobs
Hydrofoil
Slalom ski
Wakeboard
4 x Paddle boards
Snorkeling equipment
Assorted fishing gear
Beach set up
Other Toys: Video Equipment

(3) 46" Samsung Main salon, Skylounge (TV in sky lounge automatically swivels via Auton system)
Bridge deck aft TV enclosed in casing that is on a hinge
(1) 40" Panasonic Master
(2) 19" LG Guest cabins
(1) 40" Samsung VIP cabin (Port Forward)
(1) X-BOX Main salon
(7) Sony Blu-Ray 3-D playerMaster cabin, main salon, sky lounge, 4 lower guest cabins
Audio Equipment
(7) Denon AVR Receivers Master cabin, main salon, sky lounge, lower guest cabins
iPod Docks (3) playable in any location on board, iPod cables in all rooms
Device compatible smart system- interacts with smart phones, iPads, iPods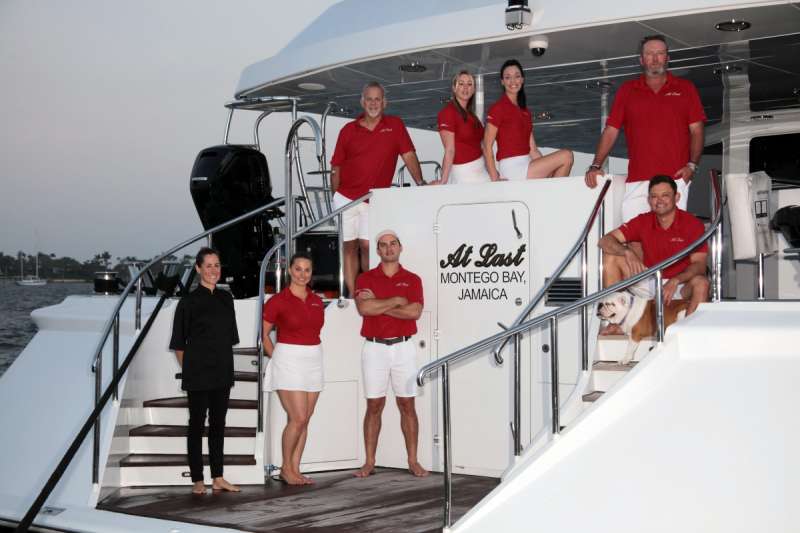 Cameron Neill - Captain

Education/Certifications: MCA Master 3000GT, MCA Master 500GT, MCA Master 200GT Unlimited Area (Power & Sail), MCA OOW 3000GT, MCA Chief Mate 3000GT, MCA AEC Approved Engine Course, MCA ISPS Security Officer, MCA ISM International Safety Management Auditor, GMDSS, ISPS, MCA ENG; Advanced Diploma Applied Science and Nautical Science (Shipmaster), Australian Maritime College; Bachelor of Laws, Bond University
Languages Spoken: English

Captain Cameron "Cam" Neill grew up in Sydney, Australia and has been yachting for most of his life. His family is very active in yacht racing, and he has had thousands of miles of ocean racing under his belt, winning nine world championships in various classes of sailboat and along with his father and brother, sailing in the Olympics.
Before beginning a career in yachting, Cam studied law and practiced maritime law for several years. From there, he held a large shipping captain's license before joining the pro-sailing circuit that progressed into yachting. For the past 15 years, he's been a yacht captain, working in the Mediterranean, Dubai, Southeast Asia, the South Pacific, Australia, the Bahamas, and the United States, covering more than 360,000 sea miles.

Captain Cam looks forward to welcoming you aboard AT LAST for your next charter.



Kobus Krafft First Officer
Education/Certifications: Associates Degree in Business Management; 200T International, 100 USCG
Languages Spoken: English, Afrikaans, and Zulu

Kobus Kraftt grew up on a sugar farm in Heatonville, located in the South African province of KwaZulu-Natal. He started his career in the yachting industry in 2012 when he became a deckhand, and fell in love with marine life and being so close to the ocean. He has worked on charters on both the east and west coasts of Florida, and cruising in the Bahamas. He joins M/Y AT LAST as First Officer and is working toward his Captain's License. When not working at sea, Kobus enjoys water sports, especially in Staniel Cay, or heading to Cape Town, South Africa for golf and quality time with family and friends.



Jesse Ross - Chef

Jesse Was born In Long Island New York on the south shore of the island always near the ocean. He began his culinary training and education in New York City where he was fortunate as a young apprentice to work alongside and for some of New York's top chefs and culinary talent. Since then Jesse has worked and climbed the culinary ladder to be a sous chef at legendary establishments in New York, Las Vegas, and Miami. Jesse made the transition to Yacht chef in 2017 and has not looked back since. He loves to be at sea and put on a memorable culinary performance for all his guests and happy to do so. He has an incredibly positive and energetic attitude with everyone around him and sincerely cares about his team. Jesse also lives a highly active and healthy lifestyle including skating, rollerblading, all beach activities, dancing, and live music just to name a few.



Simona Dobreva - Chief Stew
Education/Certifications: Business Degree in Hospitality Management
Languages Spoken: English and Bulgarian

Simona Dobreva was born in Sofia, Bulgaria and raised in British Columbia on the west coast of Canada, with both the ocean and mountains at her doorstep. She discovered the world of yachting in 2015 when she sailed a catamaran through the Cyclade Islands in Greece, and was immediately captivated by the industry and lifestyle. She transferred her skills as an event planner to a career in yachting and spent her first season working on Westports in Vancouver.



Kerry Lee Sturgeon: 2ND Stewardess
Nationality: South African

Kerry-Lea Coetser grew up on a farm in South Africa where she enjoyed fishing and spending time at sea. In 2019, she was looking for a change and craving adventure, so she embarked on a career in the yachting industry. Never scared of moving outside of her comfort zone, Kerry wants to learn as much as she can about yachting while advancing in the industry and growing as an individual. She joins M/Y AT LAST as Second Stew. Travel is her first passion, but she also enjoys snorkeling and is keen to learn how to dive. She's excited to explore the world but her heart will always be at home in South Africa.



Rosa Sabatino: Third Stewardess
Nationality: Italian

Rosa has worked in the yachting industry for nine years on both private and charter yachts, including the 168-foot LEGEND, the 110-foot ISLAND TIME and the 132-foot SEA DREAMS. She excels at providing silver service to guests and boasts a strong work ethic
and excellent organizational skills. Her upbeat attitude puts smiles on the faces of all on board. In addition to her service skills, Rosa also is a stellar bartender who loves mixing up fun cocktails for guests. She speaks both fluent Spanish and English.



Terry Clarke – Engineer
Education/Certifications: MCA Y3
Languages: English

Terry hails from England where he grew up in the London area until he was 27 years old. He started boating fifteen years ago and hasn't looked back since. Prior to getting into yachting, Terry worked as a mechanic, welder, fabricator, and sheet metal worker. Terry is committed to giving guests a smooth and enjoyable trip. His motto is, "fix it once, properly" so it is safe to say that Terry is thorough and in depth with his work. Aside from 145' AT LAST, Terry has also been onboard M/Y GOLDEN RULE, M/Y INDIGO, M/Y BLIND DATE and more. He has sailed the USA Europe, Alaska, and Asia.

In his spare time, Terry enjoys repairing fast cars and spending time with his wife and dog.



Marcel de Villiers – Bosun
Education/Certifications: Stcw, Pb lvl 2, Vhf Course, Fender Mechanic
Languages: English, Afrikaans

Marcel was born and raised in Welkom, South Africa. Fishing and staying active has always been his go to during his spare time. Marcel first stepped into the yachting industry three and a half years ago after he finished school. Having a huge love for the ocean, he would spend every second of every day in the water so naturally, yachting was the perfect fit. Marcel has been onboard 145' AT LAST for over a year and previously spent time on M/Y ARRIVA and M/Y MAG III. His top priority is ensuring every guest has all of their needs met. From maintaining the exterior of the boat to setting up water sports and beach setups, Marcel always goes above and beyond.

When he isn't busy working towards becoming Captain, you can find him fishing, biking, exploring, swimming. He can teach almost anything that has to do with water sports so there is never a dull moment when this Bosun is around. Marcel strives to provide guests with a relaxed trip, consisting of the most amazing memories and stories to tell by the time they say goodbye.