Motor Yacht ENTREPRENEUR
At Barrington Hall we provide motor yacht charters around the world on various luxury yachts. The Motor Yacht listed below, ENTREPRENEUR, is one of the many motor yachts we offer for charter. Please contact us for up to date information on ENTREPRENEUR or any other yachts in your desired location.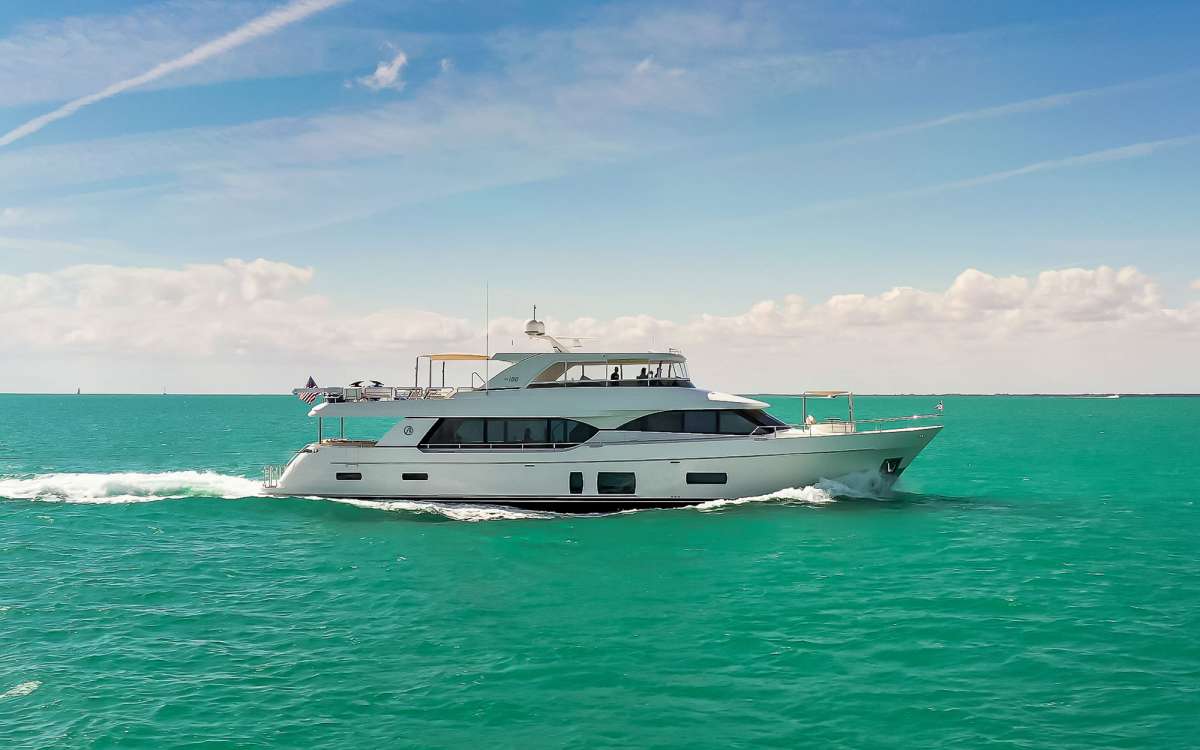 Low Price: $42,500 High Price: $45,000
Accommodations:
Entrepreneur's interior layout sleeps up to 8 guests in 4 staterooms, including a full beam master suite with King berth, a Queen VIP stateroom, one double and one twin.
Amenities
Dinghy Size:
30' Intrepid
Dinghy Size:
30' Intrepid
Water Sports
Other Toys: 30' Intrepid 2X Yamahas 300hp
2 x 3 person waverunners EX Deluxe - 2018
Snorkel gear
4 x Inflatable Paddleboards
1 x 8 person Floating Island
3-person towable tube
Beach Equipment (Chairs & Umbrella)
Floating T Dock/ Jet Ski Dock / Swim Platform

Communications:
WiFi :Pepwave or Alive for Bahamas
CAPTAIN: Shaun Chapman (South African /US Greencard)

- Previous Yachts: First Home / Huntress / Mia Elise / Keiki Kei / Relentless / Oasis / White Cloud
- Waters Cruised: Mediterranean / North East Seaboard / South East Seaboard / Bahamas / The Turks and Caicos / The Virgin Islands / The Caribbean / South America / South Pacific

- BIO/ Originally from Durban South Africa, Shaun grew up on the beach as a little surf beach bum. This is where his true love and respect for the ocean began. After finishing his BA Degree in Communication management in Johannesburg South Africa. Shaun followed his then passion in Advertising until he had had enough of wearing fancy pants leather shoes and spending most of his time staring at a computer screen coming up with witty ads and snappy designs. Shaun swopped those leathers for a pair of flip-flops and entered the world of Yachting in December of 2010. Through all his cruising he has accumulated considerable experience starting off as a deckhand and working his way up to Captain. He has been fortunate to work on a variety of programs starting out on the High-end 200ft Med/Caribbean Charter vessels. To the smaller 100ft Bahamas/Caribbean charter programs. He's had live aboard guests for 6 months to single owner use. Shaun has been fortunate enough to find his passion in the smaller vessel charter programs where he can offer a personalized, relaxed yet professional charter experience to all guests.

- Job Description / As Captain of the vessel, Shaun's primary focus is the safety of his guests and crew. His multitude of duties range from navigation to accounting, planning and managing charters, to the overall management of the yacht and crew.
- Licenses/Certificates / Master of Yachts 200tn / STCW 95 / PADI Open Water
- Education / BA Communication Management
- Languages / Basic Afrikaans
- Hobbies / Surfing / Health & Fitness / Wakeboarding / Snowboarding / Surf Ski Paddling / Fishing / Mountain-biking / Swimming / Golf / Rugby / Cooking / Design / Advertising / People / Photography / Reading / Painting / Architecture / Property.

MATE / ENGINEER: Christian Fruin (American)

- Previous Yachts / First Home / Alchemist
- Waters Cruised / The Caribbean / The Pacific / The Virgin Islands/ The Florida Keys / The Bahamas

- BIO / Christian is a second-generation mariner who spent his childhood and adult life on the water. Living in South Florida he spent most of his time skateboarding, fishing, and diving. After working on dive boats and fishing throughout high school Christian started working as a ramp agent at FedEx loading cargo planes. After a few years in Nashville he decided to move back to the warmth of south Florida and began tournament fishing / working on various sport fishing boats. Shortly after he discovered yachting and knew it was a great opportunity for him. With his past experiences and knowledge about the ocean Christian is ready to help you enjoy your experience aboard to the fullest!

- Job Description / Christian's job as Mate is to assist the Captain in navigation and operation of the vessel. Christian is also responsible for the maintenance of the deck, yacht systems, and toys. He is also here to help our guests enjoy every day activities such as watersports, fishing, diving, shore excursions, and keep them safe through it all.
- Licenses/Certificates / OUPV 6 Pack, STCW 95, PADI Advanced Open Water
- Education / High School Diploma
- Languages / English
- Hobbies / Skateboarding / Surfing / Fishing / Diving / Lobstering / Hunting / Wakeboarding / Skurfing / Travel / Photography / Fine Foods / Engineering / Mechanics



STEWARDESS/ Katie Riechers (American) *freelance

- Previous Yachts / Serendipity / Ice Bear / Talos / Cocktails / Slainte III / Mambo
- Waters Cruised / SE Alaska/ Pacific North West / New England / Bahamas

- BIO / Katie is a bubbly California girl living in Jacksonville, Florida. She grew up in San Jose, Ca where she spent most of her life. Spending time serving and in customer service helped her realize that she really enjoyed interacting with people and doing her best to make sure every guest was happy. Although she had a great life in California she knew that something was missing. Through a chance encounter she stumbled upon the yachting industry and moved to the East Coast to embark on the best adventure she ever took. With a lot of hard work, patience and the help of new friends, she began working in the industry as a stewardess. After four years of traveling and working with a couple boats long term she realized she wanted to freelance. The last two and a half years she has spent traveling to different boats for different charters and has such a great time.

- Job Description / As the stewardess, Katie is here to help you with just about anything. She helps ensure that your trip runs seamlessly and that you have the best service possible, with a smile. She maintains the interior and oversees service and housekeeping.
- Licenses /Certificates / STCW 95 / Silver Service
- Languages / English
- Hobbies / Longboarding / Swimming / Baking / Yoga / Cosmetology / Hiking,

CHEF/ Nelson Cartagena (American) *freelance

- Previous Yachts / Keiki Kei / Andiamo / My Lady
- Waters Cruised / United States / Bahamas / Caribbean / BVI's / Pacific / Gulf

- BIO / Originally from Queens New York. Upon graduating from high school, Nelson enlisted in the US Army where he served 6 years of active duty service decided. After leaving the service, Nelson attended the University of Central Florida where he studied finance and completed his degree. Finding that he HATED every minute of studying finance Nelson decided to make a change and enroll in Culinary school to follow his passion for cooking. The journey has taken him to several interesting locations around the world. Nelson has been on motor yachts as a Temp. Chef for 4 years after having spent a year as a full time Chef in the Leeward and Windward islands. Currently Nelson lives in Long Island, New York where in his spare time he flips houses and cooks for a living.

- Job Description / As the Chef onboard Entrepreneur, Nelson prepares all meals on board and ensures all charter guests are 100% satisfied with the Food and Beverage part of the Charter.
- Licenses/Certificates / PADI open water / ACF certified Executive Chef / USCG Maritime Captain / SCTW 01
- Education / BA Culinary Arts / BA Finance
- Languages / English / Spanish
- Hobbies / Fishing / Boating / Diving / Working out / Spending time with loved ones / Traveling

Note: This is the Owner's chosen crew. Under the USCG Bareboat terms, the Charterer has the option to hire the same crew or other crew pending approval by flag and insurance.