Motor Yacht BIG SKY
At Barrington Hall we provide motor yacht charters around the world on various luxury yachts. The Motor Yacht listed below, BIG SKY, is one of the many motor yachts we offer for charter. Please contact us for up to date information on BIG SKY or any other yachts in your desired location.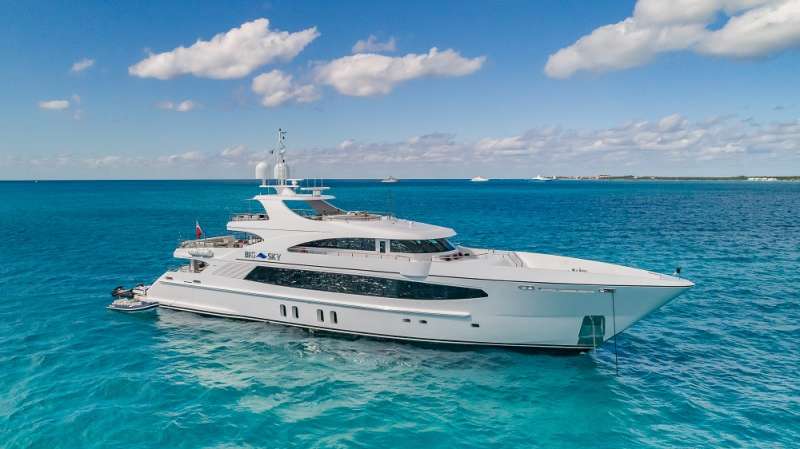 Low Price: $145,000 High Price: $170,000
Accommodations: Main deck: 1 x Full beam Master cabin with large wardrobe and ensuite bathroom with tub

Lower deck: 3 x double cabins with en suite shower rooms
1 x Double cabin with pullman and ensuite shower room.
Amenities
Water Sports
Other Toys: 2015 Nortech 340 (34ft) Center Console Tender : Twin 350 Merc Engines. Top speed 50 kts.
1 x 6.6m BSC Tender with 150hp Yamaha outboard Rib

2015 Yamaha 260 Waverunner
2017 Seadoo 300 Waverunner
5x Snorkels gear (kids)
16x Snorkels gear (adult)
2x wakeboards
2x water skis
2x Seabob (brand new)
Flyboard – Zapata – 75ft hose. Professional series
2 x Nash Stand up paddle boards with windsurfing rigs
Windsurf Board
Windsurf Sail (Learner)
Windsurf Sail (Full size)
Extensive Fishing gear

Inflatable Toys:
Custom slide from bridge deck
Kayak
Blast off Platinum
Syncro dragster
Space Hopper
Trampoline
Lunar towable
Airsoft inflatable platform
6 person Banana

Gym Equipment:
Tread mill
6 x Yoga mats
Exercise ball
4 x Ankle weights
2 x 10kg weights
2 x 5kg weights
4 x 2kg weights
Abs roller

Beach BBQ/gazebo/beach furniture
Beach games
Communications: VSAT wifi
Inmarsat C System
Ulf Schabacker | Captain

Ulf was born and raised in East Germany, before he moved to Munich where he studied Hotel/Catering Management and continued with Sport and Tourism Management. His love for the water started in his early years when he spent all summers at the German beaches, where he also got his first introduction in to sailing. After spending several years working in hotel and restaurant management his urge of exploring the seas led him to a maritime academy in England. He started delivering sail boats from anywhere in Europe until he got hired as a mate on his first Motor Yacht. Within one year he was offered his first position as captain and now has over 18 years experience within the maritime industry.

As the Captain, Ulf's primary focus is to ensure the safety of the guests, crew and the vessel. His duties range from navigation to accounting, planning and managing charters to the overall management of the yacht and the crew. He encourages all departments to work as a team to ensure that each charter will be a rewarding experience. He is operating "Big Sky" with the right balance between a formal and a casual ambiance which is desired by all guests.



Bruce Marks | Chief Officer
Languages Spoken: English

Bruce Marks was born in South Florida and grew up around the Fort Lauderdale area, where his love of boating and the sea started at a young age. You could always find him on the waves with his friends, whether they were wakeboarding and skurfing or deep sea fishing out in the Gulfstream. Immediately following his high school graduation, Bruce joined the yachting industry with the help of his father and older brother who are both captains on private/charter yachts. Since 2011, his work has allowed him to travel around the world. Even when he's not on a yacht, you'll still find him on the water, be it surfing, diving or fishing.



Omar Brown | Chief Engineer
Languages Spoken: English

Omar Brown hails from St. Ann, Jamaica, and started yachting in 2007 after working in engineering for commercial vessels. He has spent the past decade on both private and charter yachts in the Mediterranean, the Caribbean, the Bahamas, the Florida Keys, and the US East Coast. Omar's goal is to continue building his experience as an engineer by working with the latest equipment and innovations in the industry. His travels have taken him too many exciting destinations, but he still loves the Caribbean the most for its tropical climate. When not at sea, you may find Omar playing or watching soccer, or indulging in one of his other passions -- producing reggae music.



Holly Ellingworth | Chief Stewardess
Languages Spoken: English

Holly Ellingworth - Australian Holly is from the city of Perth, Western Australia. With six years in the industry, some of Holly's previous yachts include MY Aquarius, MY Lyana and MY Tuscan Sun. Holly maintains a passion in her role to lead the Interior to exceed your expectations and deliver exceptional service. In her spare Holly spends most of her time at the beach or on her yoga mat.



Cairine Jennifer Whyte | Second Stewardess
Languages Spoken: English and Afrikaans

Cairine was born in South Africa and grew up on an avocado/macadamia farm in Limpopo Province. She worked as a teacher for a year before she decided to travel the world and pursue a career in hospitality in 2015. For the past three years, she has worked on both private and charter yachts, including M/Y Double Down. In her leisure time, Cairine loves scuba diving, tennis, running, reading and music. When not at sea, you'll find her back home on her peaceful farm in South Africa with her dogs.



Camille Soulieres - Third Stewardess
Languages Spoken: English and French

Camille Soulieres grew up in Montreal, Quebec, Canada and recently joined the world of yachting. Growing up, she was very active and played sports, including soccer. Cammy started a career in yachting to experience the world and improve her English skills. She has primarily worked in housekeeping for the past five months, but wishes to expand her skills. Energetic and friendly, she strives to provide exceptional service to charter owners and guests. In her travels to date, she has been charmed by the beauty of the Bahamas and how boating is the best way to experience its islands and cays. When not hard at work, Cammy loves running, freediving and scuba diving.



Ainsworth Ferguson | Chef

Ainsworth was born on a beautiful Mother's Day, in his grandmother's kitchen in the town of Trelawny, Jamaica. At a young age he found his passion for cooking through helping his Aunt Daphne prepare traditional family recipes in her restaurant. In his formative years Ainsworth was raised in Connecticut. He received his culinary training at the Culinary Institute of America in New York and received extensive hands on training through working with world renowned Chefs like "Jean George, Michel Nischan" and others. He has worked privately with many celebrities throughout his 20+ years of culinary experience. As he is a U.S. passport holder, Ainsworth also loves to travel the world and found fulfillment in connecting his passion for food and travel though yachting. He gained his STCW95 / Eng1 and found his forte working with the yachting industry. Chef Ainsworth aims for excellence when tantalizing the palates of our private guest as they explore the seas ready for a VIP experience. Off charter, he loves to play tennis, basketball, run, swim, surf, and jet ski for exercise and fun. He resides in New York and enjoys spending quality time with his family.



Yoann Mironenko – Lead Deckhand
Languages Spoken: English and French

Yoann was born in Monte Carlo, Monaco and grew up in Santa Monica, California. He spent much of his time by the ocean or playing soccer throughout high school and college. In 2015, his love of the ocean and background in Search and Rescue for the Navy started him on his path in the yachting industry. He now has three years of experience working on big boat charters, and cites the Arenal Volcano La Fortuna, Costa Rica as the most impressive place he's visited. In his leisure time, Yoann enjoys playing soccer, snowboarding, surfing, swimming and scuba diving.



Tito Andrade Barredo - Deckhand
Languages Spoken: English, Greek, Tagalog

Tito was born in the Northern Philippines in Lala, located in the province of Lanao del Norte. He spent most of his childhood at sea on his family's fishing boat helping them catch fish and other seafood, or swimming. Following his graduation from university, he worked as a tourist driver and then moved to Greece and worked as a deckhand on a 147' motor yacht, BLUE BELLE. He has also worked on 150' M/Y BINA. Tito enjoys basketball, swimming and jet skiing, and thinks that Cabo San Lucas, Mexico is the most magical place he's visited to date.



Bongani Mabena - Deckhand
Laguages Spoken: English, Afrikans

Bongani was born in Johannesburg, South Africa and moved to Durban at the age of 14. He studied Exercise Science for two years and worked in a gym as a personal trainer and fitness instructor. Bongani joined the yachting industry because of his desire to travel and a passion for the traditions and skills of yachting and seamanship. Bongani also likes to learn the fundamentals of how the engine room runs. He wants to progress in the industry and one day captain a vessel.