Motor Yacht BIG SKY
At Barrington Hall we provide motor yacht charters around the world on various luxury yachts. The Motor Yacht listed below, BIG SKY, is one of the many motor yachts we offer for charter. Please contact us for up to date information on BIG SKY or any other yachts in your desired location.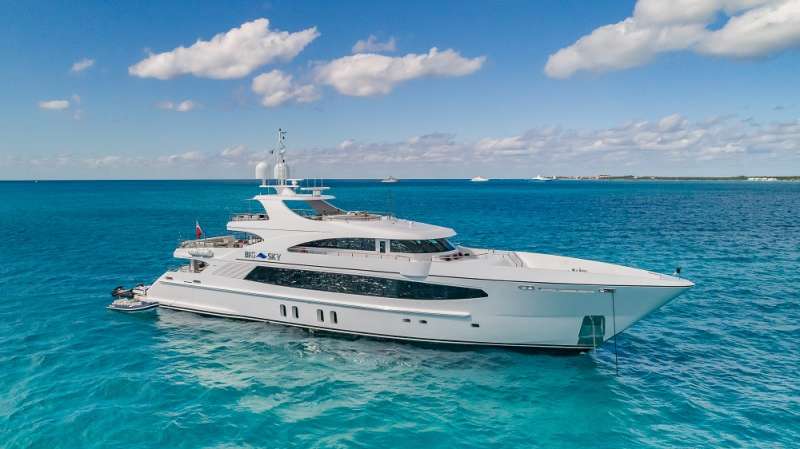 Low Price: $160,000 High Price: $170,000
Accommodations: Main Deck:
1 x Full beam Master cabin with large wardrobe and en-suite bathroom with tub

4 Lower Deck Cabins:
3 x Queen cabins with en suite shower rooms
1 x Double cabin with pullman and en suite shower room.

Well suited for 5 couples as well as family charters.
Amenities
Water Sports
Other Toys: 2015 Nortech 340 (34ft) Center Console Tender with Twin 300 hp
1 x 18.5 ft Williams 565 Diesel Jet Tender with 190hp engine

2015 Yamaha FX cruiser SVHO
2017 Seadoo RXT 300 (dedicated to the flyboard, but can be converted back into man riding jetski on request)
2016 Yamaha FX High output 1.0
2017 Yamaha Super Jet (stand up jet ski)
5 x Snorkels gear (kids)
10 x Snorkels gear (adult)
Brand new Lift Electric Foil board
2x Wakeboards (125, 139), Boots and Bindings for all sizes
1x Katana Wake Surf
1x Kneeboard
1x water-skis

4x Seabob (2017)
1 x jet Flyboard – Zapata – 75ft hose. Professional series (jet driven boots that let you fly)
1 x (2 person) Hobie Mirage Pro Kayak with Footpeddles

Fishing gear:
2x Tiagra 30w
2x TLD 25w
2x Shimano baitcaster 8000

Inflatable Toys:
Jet Ski Dock/Swim Platform
Custom Slide from bridge deck
2 x BOTE HD Stand Up Paddle Boards
Rave Banana WaterBoggan (3 persons)
Lunar towable chariot (3 persons)
Fiesta 8 person island tube

Beach Equipment:
2 umbrellas
3 x gazebo's
14 x beach chairs
3 x Tables
1 x Volley Ball net
Assortment of beach toys and games


Communications: VSAT wifi
Inmarsat C System
Ulf Schabacker | Captain

Ulf was born and raised in East Germany, before he moved to Munich where he studied Hotel/Catering Management and continued with Sport and Tourism Management. His love for the water started in his early years when he spent all summers at the German beaches, where he also got his first introduction in to sailing. After spending several years working in hotel and restaurant management his urge of exploring the seas led him to a maritime academy in England. He started delivering sail boats from anywhere in Europe until he got hired as a mate on his first Motor Yacht. Within one year he was offered his first position as captain and now has over 18 years experience within the maritime industry.

As the Captain, Ulf's primary focus is to ensure the safety of the guests, crew and the vessel. His duties range from navigation to accounting, planning and managing charters to the overall management of the yacht and the crew. He encourages all departments to work as a team to ensure that each charter will be a rewarding experience. He is operating "Big Sky" with the right balance between a formal and a casual ambiance which is desired by all guests.



Bruce Marks | First Officer
Languages Spoken: English

Bruce Marks was born in South Florida and grew up around the Fort Lauderdale area, where his love of boating and the sea started at a young age. You could always find him on the waves with his friends, whether they were wakeboarding and skurfing or deep sea fishing out in the Gulfstream. Immediately following his high school graduation, Bruce joined the yachting industry with the help of his father and older brother who are both captains on private/charter yachts. Since 2011, his work has allowed him to travel around the world. Even when he's not on a yacht, you'll still find him on the water, be it surfing, diving or fishing.



Daniel Lightley | Engineer
Languages Spoken: English

Daniel was born in a coastal South African town called Knysna. He's spent his whole life around boats and in the water. Growing up when he wasn't sailing, canoeing and fishing, you could find him dismantling the lawn mower to see how it worked. His curiosity for mechanics and his sense of adventure brought him into the yachting industry where he found his passion for engineering. Since then he has pursued his engineering license and has been in charge of multiple vessels.



Jessica De Beer | Chief Stewardess
Languages Spoken: English

Jessica was born and raised in South Africa. Jessica has been working in restaurants since the age of 14. She studied Marketing and Hotel management in college where she developed a love for the hospitality industry and couldn't' wait to combine her studies, experience and love for travel together. On the very same day she wrote her final exams in college she joined the yachting industry and has never looked back. She is approachable and is passionate about her career as a chief stewardess. Along with Chef Marvin, Jessica is dedicated to creating the ultimate guest satisfaction on board Motor Yacht Big Sky.



Sasha Harrison | Second Stewardess
Languages Spoken: English and Afrikaans

Sasha was born and raised in Canada. From the small northern town of Smithers buried high in the mountains. She was always outdoors exploring mother nature. At a young age she joined the family business and helped her mother run a restaurant for 4 years. It was here where she found her love for hospitality. Being surrounded by mountains her whole life, she decided to move to Vancouver Island, Canada, where she discovered the ocean. After a few years of enjoying the ocean from the shore, she found a way to bring both her passions together and joined the yachting industry. In charger of the housekeeping department on board it is Sasha´s pleasure to ensure that you have the utmost enjoyable experience on board Motor Yacht Big Sky.



Nashali | Third Stewardess
Languages Spoken: English and Spanish

Nashali, also known as Nash was born in the beautiful Island of Puerto Rico and raised in Boynton Beach, Florida. Living close to the ocean its no surprise that Nash spent most of her free time in the water and on boats. After attending her freshman year at FGCU Nash decided to leave college and travel. Nash speaks Spanish and English fluently and she enjoys traveling, drawing, reading, and learning new songs to play on her ukulele. Her bubbly personality and sweet demeanor will have you feeling welcomed the second you step on board.



Marvin Woods | Chef
Languages Spoken: English

Our Chef, Marvin Woods is an Emmy Award – nominated television host, chef and author of cookbooks, The New Low Country (Harper Collins/William Morrow) and Home Plate Cooking (Thomas Nelson/Hill). His early years were spent in New Jerseys and New York where he worked at some of the city best fine dining establishment. Afterwards he did a four-year stint in Europe returning as an executive chef of a 5-star hotel in London The Milestone. Woods then became Chef at a popular restaurant in Manhattan called Café Beulah and their he began to start his wildly inventive approach to Low Country dishes where he would redefine some of American southern treasure dishes and make them a bit healthier. Since the early 2000's he has trailed blazed, be it with his own cooking show for four years or simply being the first chef chosen by Michelle Obama to launch and lead her Let's Move! cooking series initiative to help busy families create nutritious and affordable meals. Marvin´s culinary skills are unparalleled in my experience and proven by his success. He is experienced in all cuisine and can easily accommodate any and all dietary requirements or preferences.



Bongani Mabena | Bosun
Laguages Spoken: English, Afrikans

Bongani was born in Johannesburg, South Africa and moved to Durban at the age of 14. He studied Exercise Science for two years and worked in a gym as a personal trainer and fitness instructor. Bongani joined the yachting industry because of his desire to travel and a passion for the traditions and skills of yachting and seamanship. Bongani also likes to learn the fundamentals of how the engine room runs. He wants to progress in the industry and one day captain a vessel.



Richard Letang | Deckhand
Languages Spoken: English

Richard was born and raised in sunny Durban. From an early age he participated in various sports including surfing, cycling and skateboarding. With a background in hospitality he has been conditioned to liaise with guests and working in demanding environments. He entered the yachting industry in 2017 and has been accumulating knowledge from his fellow team members ever since.



Trent Muenzer | Deckhand
Languages Spoken: English

Having grown up in Irmo, South Carolina Trent spent every weekend out on the lake doing water sports. His hobbies are golf, hiking and snowboarding and has loved every minute of being in the industry since he joined in 2012. He hopes to one day become a captain and is dedicated to learning and challenging himself every day to reach that goal. Trent uses his deck experience with boat systems, equipment and procedures to help the deck team deliver a quality guest experience.