Motor Yacht SOVEREIGN
At Barrington Hall we provide motor yacht charters around the world on various luxury yachts. The Motor Yacht listed below, SOVEREIGN, is one of the many motor yachts we offer for charter. Please contact us for up to date information on SOVEREIGN or any other yachts in your desired location.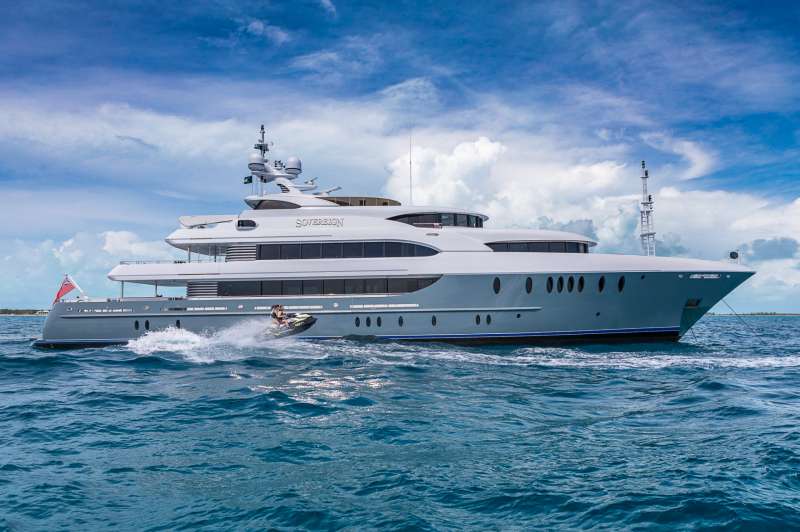 Low Price: €275,000 High Price: €295,000
Builder:
Newcastle Marine Inc.
Accommodations: A total of 6 Staterooms accommodating up to 12 guests.

All accommodations are equipped with Flat Panel TVs, iPod docking stations, Kaleidescape Movie Player, individual satellite receivers, Wi-Fi Access, Crestron controlled lighting and automatic blind operation.

MAIN DECK
MASTER STATEROOM
A full beam stateroom with luxurious wool silk carpeting on the main deck offers guests incredible views through eight large oval windows. Walk around King bed (faces aft) with His-and-Her desks located port and starboard. Large closets offer ample storage space and feature a mini bar fridge. Forward access to His-and-Her en-suite bath, 2 sinks, large soaking jacuzzi tub, separate shared shower, private head for Him and Hers with bidet.

UPPER DECK
2ND MASTER STATEROOM
Located forward Sovereign's second master stateroom offers her guests spectacular 270 degree views. His-and Hers closets. Walk around bed (faces forward) with a desk to the left and sofa to the right. En-suite His-and-Hers bath features a Jacuzzi tub, two vanities, a separate shower and bidet. Access to a private sitting outdoor sitting area on the Portuguese deck is located on the starboard.

LOWER DECK
PORT AFT VIP SUITE
A spacious cabin with walk around king bed, desk and 40" flat panel TV. En-suite bath with double access shower in this His-and-Hers bath.

STARBOARD GUEST STATEROOM
A spacious cabin with walk around King bed, and 40" flat panel TV. En-suite bath with shower.

STARBOARD TWIN CABIN
Guest cabin offering flexibility of a full bed, twin bed, and Pullman. En-suite bath with tub.

PORT TWIN CABIN
Guest cabin offering flexibility of a full bed, twin bed, and Pullman. En-suite bath with tub.

SOVEREIGN's DECK LAYOUT

MAIN DECK
MAIN SALON
Through the main aft doors and past the marbled foyer is the main salon featuring a seating area with multiple tables and settees comfortably hosting any sized group. The collection of settees and tables allows you to enjoy the view from any direction.

DINING AREA
Perfect for intimate dinners located forward of the Main Salon is a separate formal dining area for 12 guests which conveniently resides next to the main deck pantry and ship's galley.

MARBLE FOYER
Located mid deck featuring a large open stairwell next to the elevator which gives guests two ways to access all other interior decks.

DAYHEAD
Main deck dayhead boasts Mother of Pearl wall coverings and a luxurious crystal sink.

MAIN DECK AFT
Great for entertaining the main aft deck features cocktail style lounge seating. Generous in size it can comfortably accommodate all guests on board.

BEACH CLUB/GYM/TENDER GARAGE

UPPER DECK - 2nd Master Stateroom located on this deck

SKYLOUNGE
Panoramic sky lounge area featuring nearly 10 feet of headroom at the center. This Skylounge serves as the primary social area of the yacht with incredible views, a large full-service bar, a nearby service pantry, and quick access to the upper aft deck. This expansive room has plush carpeting throughout, reclining theater-style seating, and features both a 90' projector screen and 80' flat panel TV.

DAYHEAD
A second dayhead is located near the skylounge entry.

SKYLOUNGE DECK
The upper aft deck has a large, circular alfresco dining table for elegant outdoor dining. It can comfortably accommodate 12 guests and features a lazy susan. Aft of the table are several large sun pads, comfortable seating areas and tables to relax outside in privacy, out of view from the dock.

SUNDECK
The sun deck has even more inviting social areas, including bar chairs, massive elevated forward observation/sun deck, day head, outdoor shower, full service wet bar and a beautifully tiled, oversized infinity edge pool/Jacuzzi. The Jacuzzi and bar area are protected from the sun by a hard top.

SOVEREIGN is the ultimate charter yacht. She has six stylish and comfortable staterooms with accommodations for up to 12 guests on board. The upper master stateroom features a 270-degree view. The main-deck master offers guests incredible views through eight large oval windows.

SOVEREIGN's contemporary-styled main deck features a large main salon and dining area, which create the perfect space to relax on board. The upper deck is home to a panoramic skylounge with almost 10 feet of headroom. Her sundeck has incredible seating and lounge space, as well as a full-service wet bar and an infinity-edge pool/Jacuzzi for guests to enjoy. Additionally, SOVEREIGN offers a full compliment of tenders and toys.

SOVEREIGN has been meticulously maintained to the highest standards, in order to provide the highest level of comfort to all guests on board.

SOVEREIGN VIDEO: https://jumpshare.com/v/UNzW35rou7HG1plsviMS?b=YXbebv7WPsz2zi4CTXvI
Amenities
Dinghy Size:
32' Intrepid with cuddy cabin
Dinghy Size:
32' Intrepid with cuddy cabin
Water Sports
Other Toys: 32' Intrepid with cuddy cabin (Not available in the Med)
21' Novurania with Hamilton jet drive
Donuts, towed toys, Banana Boat and 5 person Hot Dog


Large assortment wet suits, spray guards and goggles
Drone with Go-pros
Exercise equipment, free weights, yoga, bands, balls
Board games and Jig Saw puzzles
Other Toys: Local DVD/CD
iPod docking Stations
Kaleidescape Movie Player
Satellite TV
Drop Down Screen & Movie Projector
X-Box
PS -3
Wii
Communications: VSAT
AT&T 4G data capability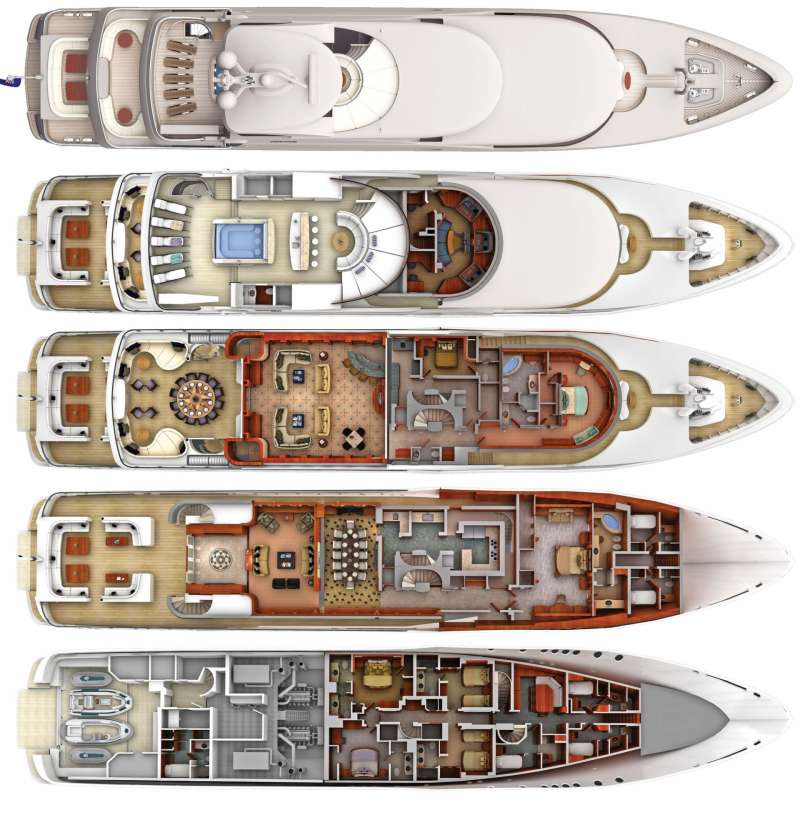 CAPTAIN | STEPHEN BURKE | Australian
Previous Yachts: Majestic, Harbour Island, Iroquois, Kanaloa, Charisma, Neninka and Kahalani
Biography: Stephen was born and raised in rural New South Wales, Australia. He was always one to be involved in various sports and
outdoor activities and represented his home state in Field Hockey. Immediately after graduating from High School, he attended
The University of Wollongong NSW, to study Exercise Science. Soon after he received his Bachelor of Science and worked as a
Personal Fitness Trainer, before the overwhelming urge to travel overseas grew.
At 24, Stephen set forth on a traveling adventure beginning in Europe. While in the Balearic Islands of Spain, he discovered the
once unknown life of yachting and completed his first Transatlantic crossing in 1996. Shortly after that he began working as a junior
Deckhand on 40-50m motor yachts.
Along the way, Stephen has been well mentored by prolific Captains in the industry and worked his way through the ranks steadily
for over 17 years from Deckhand and Bosun to Deck Officer and Captain. His welcoming demeanor, enthusiasm for travel, and keen
sense of leadership lend itself perfectly to the role of Captain.
Waters Cruised: Atlantic Ocean, East and Western Mediterranean, Baltic and North Seas, the Caribbean, East and West coast of
USA (including Alaska).
Job Description: The Captain is responsible for the safety, overall running, and financial management of the vessel, crew and guests.
He always ensures the safe and efficient operation of the yacht, including compliance with all safety procedures and regulations,
as well as adherence to International Flag, Port State and local laws and regulations. The Captain has a close relationship with
his crew and provides leadership, guidance and support, while encouraging both teamwork and individual accountability. He
communicates clearly with the crew to ensure compliance with, and understanding of, the vessel's policies and is responsible for
the delegation of duties and oversight with respect to department heads.
Licenses & Certificates: STCW95, MCA Master 3,000gt, GMDSS, ISM & ISPS & ECDIS Certified, Bachelor of Science (Exercise
Science), PADI Open Water Diving.
Hobbies: Road cycling, mountain biking, tennis, swimming and adventurous travel.

CHIEF OFFICER | DAVID POOLE | South African
Previous Yachts: Huntress II, Constance, Harmony, Lumiere and Aurora B
Biography: David is from the beautiful city of Cape Town, South Africa and has been working in the industry for thirteen years. The
unique city as it is surrounded by two oceans on the West and East coast. Growing up with the ocean so close, it was inevitable
that David would develop a passion for being on the water. His first introduction to sailing was on his father's yacht as a child and
then progressed into racing sailing yachts until he was 19. It was then that he sailed on from Cape Town to Fort Lauderdale on a
47ft yacht to find a job in the industry. Two months after arriving he found his first job as a Deckhand and has worked his way up the
ranks since then, becoming the well-established and professional First Officer he is today.
Waters Cruised: Eastern & Western Mediterranean, Atlantic, Caribbean, North Pacific, East Africa, Indian Ocean, East & West Coast
US, and Bahamas.
Job Description: The First Officer's primary job is to ensure that all safety, security and medical are kept to the highest standards
regulated by Flag, Class and Port State Control. This includes but is not limited to safety equipment, crew training, guest safety
orientation and all drills and safety related procedures are complied with. As the First Officer he manages the Deck Department
including staff and ensures as a team that the exterior of the vessel is kept to the highest standard. He also supports the Captain
and can assume command should the Captain be absent or incapacitated.
Licenses & Certificates: Chief Mate 3,000 GT, Master 200 GT, Ship Security and Safety Officer, Advanced STCW 95, Medical Person
In charge.
Hobbies: Water sports, kite surfing, sailing, diving, surfing, wakeboarding, paddle boarding, fishing, building wooden ship models, and rock climbing.


CHIEF ENGINEER | HERVE NIACADIE | French
Previous Yachts: Platinum, Illusion, DB9, Lady Lara, Arete
Biography: Hervé originates from the Ivory Coast in West Africa but calls Brittany, Northern France home. He is multilingual in
French, Italian, Spanish, and English which has been a great asset for him during his twenty years of experience in the yachting
industry. Being a MCA qualified marine engineer, Hervé takes great pride in overseeing Sovereign's technical department ensuring
the ultimate comfort and safety of the owners, guests, and crew.
Waters Cruised: Atlantic, Caribbean, Mediterranean, Adriatic, Aegean, North Sea, USA
Job Description: The Chief Engineer is responsible for the running, maintenance and repair of all mechanical, electrical and
electronic equipment on board, including all machinery in the engine room, domestic equipment, bridge and deck equipment.
He works closely with the Second Engineer to maintain detailed, up-to-date logs of all equipment, engineering activities and
critical systems, as well as, providing an accurate inventory of spare parts, technical consumables and tools. In addition, he ensures
adherence to International Flag, Port State and local laws and regulations in regard to engine room operations.
Licenses & Certificates: Chief Engineer MCA Y2
Hobbies: Family time, golf, jogging, physical training, reading, theater, traveling, and cinema

SECOND ENGINEER | LAUREN HARRISON | American
Previous Yachts: Carson, Silver Cloud, Incognito, Apogee, Mustang Sally
Biography: From growing up surfing the sandy beaches of California to sailing the majestic islands of Hawaii, Lauren was a natural
fit to join yachting. Starting her maritime career in 2011 as a Deck/Stew, she has since steadily worked her way up the ladder to
Engineer. She has completed five transatlantic crossings as Second Engineer and even attempted the Northwest Passage as Sole
Engineer!
Waters Cruised: Northeast Canada, Greenland, East Coast USA, Bahamas, Caribbean, Baja California, Inside Passage of Alaska,
South Central Alaska.
Job Description Under the direction of the Chief Engineer, the Second Engineer is responsible for the running, maintenance, and
repair of all mechanical, electrical and electronic equipment on board. This includes all machinery in the engine room, domestic
equipment, and bridge/deck equipment. She also works closely with the Chief Engineer to maintain detailed, up-to-date logs of
all equipment, engineering activities, and critical systems. She's in charge of keeping an accurate inventory of spare parts, technical
consumables, and tools. Lastly, she ensures adherence to International Flag, Port State, and local laws and regulations regarding
engine room operations.
Licenses & Certificates:
STCW Rate Forming Part of an Engineering Watch (RFPEW), USCG Qualified Member of the Engine Department: (QMED) FOW,
Pumpman, Machinist, Yacht Marine Engineering Operator's License (YMEOL), MCA Approved Engine Course (AEC), PADI Dive
Master
Hobbies: Riding motorcycles, hiking, diving, travel, board games, homemade tater tots, and of course learning.


BOSUN | MARK CARPENTER | British
Previous Yachts: AMEVi, Legend, SeaWalk
Biography: Mark is an identical twin! He has a degree in Marketing and has previously worked for the Ministry of Defense (MOD) in
England. He joined yachting after traveling to Australia where he sailed around the Whitsunday's, falling asleep on the bow under
the stars, quickly realizing this is the job he wanted to do! He completed his Yachtmaster in Gibraltar in 2012 and headed to Antibes
in search of his first boat. The rest, as they say, is history…
Waters Cruised: Baltic, Mediterranean, Eastern US, and Caribbean
Job Description: The Bosun assists the Chief Officer and Captain in the daily operation of the vessel. As well as being responsible
for maintaining all the deck areas, he also ensures that all the recreational equipment is mechanically sound and cosmetically
flawless. Additional duties include bridge, harbor and anchor watches, guest service operations, administrative work, safety
management and detailing, paintwork, and the repair and maintenance of all surfaces and equipment. The Bosun is also the RYA
Wave Runner Training Instructor.
Licenses & Certificates: Yachtmaster Ocean, GMDSS, HELM Operational, ECDIS, EDH, AEC, PWC Instructor, RYA Level 2 Dinghies,
Ship Security Designated, Advanced Fire Fighting, Advanced PADI
Hobbies: Playing rugby, exercising, watersports, mountain biking, and kite surfing


DECKHAND | SARA SULLIVAN | American
Previous Yachts: Sovereign
Biography: Sara was raised in Boca Raton, Florida. She moved to Fort Myers for college and stayed after graduation, working in
medical billing and retail. After 6 years of being in Fort Myers she moved back to the East Coast working with a chiropractic office
and catering. She has always enjoyed the waters of Florida, spending as much time as possible outdoors. While working parttime
at a catering company, she attended several yachting events and met a lot of great people who introduced her to the world
of superyacthing. It was after meeting those crew members that she took the steps to pursue her new career and dream in the
yachting industry.
Waters Cruised: Caribbean
Licenses and Certificates: STWC95, B.A. of Communication
Hobbies: Running, keeping fit and active, horseback riding, CrossFit, cycling, wakeboarding, and enjoying the outdoors.


DECKHAND | DREW THACKRAY | British
Previous Yachts: Aquavita, Samadhi, Northern Lights
Biography: Drew was born and raised on the South West coast of England in a small town called Salcombe. As a young boy he
showed great enthusiasm for spending time on the water by joining the Salcombe Island Cruising Club Cadettes where he learned
the basics of dingy sailing. At the age of 7 he was granted a scholarship for singing at a boarding school in the city of Exeter
where he was involved in a vast amount of school performances and developed a love for acting. At the age of 16 he went to
Exeter College to study Performing Arts alongside Business Studies but always had a longing to get back out on the water. After
graduating and at the age of 20, Andrew traveled to Antibes, France to pursue a career in yachting and hasn't looked back. Since
joining the yachting community Drew has traveled to many beautiful countries, but his favorite and most recent, was the island of
Koh Samui in Thailand, SE Asia. He went to train for an intensive Muay-Thai course, learning advanced technique and discipline!
Drew loves the potential places that this industry can take him and looks forward to helping the guests onboard Motor Yacht
Sovereign have the best experience possible in every way he can.
Waters Cruised: Atlantic, Mediterranean, Bahamas, Caribbean, Cuba, U.S. East Coast
Licenses and Certificates: STCW95, RYA Yacht Master Offshore (200gt), RYA Powerboat Level 2, RYA SRRC, Proficiency in Designated
Security Duties, BTEC Level 3 Extended Diploma in Performing Arts and a Subsidiary Diploma in Business Studies.
Hobbies: Sailing, Surfing, Long boarding, Jet skiing, Paddle boarding, Acting & Muay-Thai

CHEF & SOUS CHEF TEAM | IAN BUFFINGTON & KIM VAN EYK | American & South African
Previous Yachts: Invictus, Huntress II, Step One, Mine Games
Biography: Ian and Kim are a professionally trained Chef Team with more than fifteen years of experience between
the two of them. They have served elite clientele on land and luxury mega yachts across the globe. Chef Kim
graduated from Le Cordon Bleu in London and has extensive experience serving clients focused on health-conscious
cuisine. Chef Ian is a graduate of The Culinary Institute of America in New York and is also a Certified Specialist of
Wine. They are extensively versed in many styles of cuisine from light, fresh, and casual, to creative and extravagant
multi-course events. They have the knowledge, technique, and experience to provide the highest level of guest
service at all times. The knowledge required in the culinary profession is exceptional; the culture of food, wine,
spirits, beer, coffee, and hospitality is constantly evolving, and Ian and Kim are committed to absorbing and adapting
to the desires of the most discerning clientele.
Waters Cruised: Canada, Central American, Gulf of Mexico, Eastern & Western US, Mediterranean, Caribbean,
Bahamas
Education: Ian: Bachelor of Professional Studies in Culinary Arts Management & Associate in Occupational Studies of
Culinary Arts from The Culinary Institute of America Certified Specialist of Wine from The Society of Wine Educators
Kim: Certificate De Cuisine Superior, Certificate De Cuisine Intermediare, and Certificate De Cuisine De Base, Le
Cordon Bleu London, England. Certified Health and Nutrition Coach, Institute for Integrative Nutrition, New York.
Baccalaureus Commercial (BCOM) Marketing Management, University of Johannesburg, South Africa
Job Description: The Head Chef undertakes all cuisine requirements for guests while tailoring charter menus with
an artistic flare. He specializes in fusion cuisine with a clean mosaic style providing a whimsical tapestry of flavors to
tantalize and amuse your palate. The Sous Chef assists in the preparation of meals under the direction of the Head
Chef and plans menus and caters to guests' preferences and dietary requirements.


CHIEF STEWARDESS | SAMANTHA KLEPPER | American
Previous Yachts: Huntress, Huntress II, Lady Michelle, Penny Mae
Biography: Samantha is a native of the Sunshine State but has called Savannah, Georgia home since 2006. Ten days after graduating
with her master's degree in Clinical Social Work, she was enticed by her previous owners to join the luxury yachting world aboard
their original vessels, M/Y Huntress and M/Y Huntress II. What started as a celebratory summer adventure quickly grew into a
passion the likes of which even she could not have anticipated. Samantha has a heavy background in formal fine dining having put
herself through 6+ years of college moonlighting in the service industry. Her years in hospitality always helped instill in her a desire
to achieve and maintain the highest standards of guest satisfaction. She prides herself on providing each group of guests with a
"wow factor" that will keep them talking for years to come.
Waters Cruised: Atlantic, Caribbean, Mediterranean, Bahamas, Gulf of Mexico
Job Description: The Chief Stewardess provides superior service and aims to exceed the owners' and guests' expectations. She is
responsible for the overall smooth operation of the interior crew and provides direction, guidance, and encouragement daily. She
maintains an accurate inventory of all service items and supplies and oversees provisioning the vessel for both guests and crew.
She also handles the organization and management of all interior spaces and guest storage areas. In addition to ensuring that all
guest needs are attended to with the utmost care and enthusiasm, she also provides valet services, care of personal and specialty
items, and arrangements for activities ashore.
Licenses & Certificates: WSET Level 2 Wine & Spirits Award, PYA G.U.E.S.T. Interior Intermediate Service, Interior Yacht
Management Service Arts Certification, Master of Social Work, Clinical Concentration, Bachelor of Psychology, 200hr Vinyasa Flow
Yoga Certification
Hobbies: Community outreach, exploring local sites and cultures, soaking up sunrays, practicing yoga, and studying all things
Croatian


SECOND STEWARDESS | NICOLA COWIE | South African
Previous Yachts: Top Five, Rebel, Bella Una, Pure Bliss, Lionshare
Biography: With roots that extend from Cape Town, South Africa to Sunny San Diego, California, Nikola has grown up amidst two
vibrant cultures. An early love and fascination of people, diversity, and travel prompted her to advance her studies in Psychology
and Sociology. Surrounded by the beautiful and internationally renowned vineyards of Stellenbosch University, Nikola developed
a passion for food, wine and the hospitality industry. An avid streak for adventure saw her set sail for the seas where she found her
course in yachting. Here, she tackles obstacles with little fear and eagerly embraces every experience as one in which to strengthen
and grow. Nikola loves to keep fit and experience everything that life has to offer. Her ultimate goal is to deliver the highest quality
of service and to ensure that your stay onboard is not only excellent but unforgettable.
Waters Cruised: USA and Caribbean
Job Description: Full support of the Chief Stewardess in all interior duties including, but not limited to: guest interaction, excellent
personalized service, and managing housekeeping and laundry. She also assists with fine dining and wine service as well as
inventory management, skilled organization, and administration of interior items.
Licenses & Certificates: STCW 95, PDSD, Power Boat Level 2, PYA Interior Administration & HR, Food and Hygiene Certificate
Hobbies: Skateboarding, photography, tennis, horse riding, traveling, swimming and cycling


THIRD STEWARDESS | DANIELLE HADLINGTON | Canadian
Previous Yachts: Sovereign
Biography: Danielle was born and raised in Toronto, Canada and has recently resided in both the Bahamas and Mexico. Danielle
was first introduced to the yachting industry when she was a provisioning agent in the Bahamas and then while working as a Charter
booking agent in Mexico. With an extensive background in Hospitality and Event Management, Danielle knows the importance of
superior service and maintaining a high standard of guest satisfaction. With her knowledge of all things nautical, love of adventure,
and experience in hospitality, Danielle knew that a career on board superyachts would be a natural fit! Her long-term aspiration is
to work her way up into the role of Purser on large megayachts.
Waters Cruised: South Pacific, West & East Coast US, and Canada
Job Description: As stewardess, and part of the Interior crew, her duties include laundry, housekeeping, meal and beverage service,
and attending to the charter guests. She also assists with administrative tasks, inventories, and scheduled interior maintenance.
Licenses & Certificates: STCW 95, Proficiency in Designated Security Duties, Level 2 Food & Hygiene, Silver Service, Certified
Barista
Hobbies: Sailing, Equestrian, Yoga, Running, Water sports, hiking, and non-fiction literature.


STEWARDESS | MIMI TRUNG | British
Previous Yachts: M/Y Freedom
Biography: Although born in Vietnam to Chinese parents, Mimi grew up in London so she often tells people she experienced
the best of both Eastern and Western cultures in her childhood. She speaks Cantonese as well as English. Growing up in London
she was always curious about different cultures. After graduating from University her adventurous spirit took her backpacking
throughout Australia, New Zealand, SE Asia, South Africa, and Central America. Mimi enjoys learning new skills which means she
has had various careers from being a Kiwi fruit sorter in New Zealand, Manicurist in England, to Caregiver for the elderly in the US.
Her segue into yachting was a perfect fit and the greatest adventure of her life to date!
Waters Cruised: Mediterranean, USA and Caribbean.
Job Description: As stewardess and part of the Interior crew her duties include laundry, housekeeping, meal and beverage services
and attending to the charter guests. She also assists with administrative tasks, inventories and scheduled interior maintenance.
Licenses & Certificates: STCW 95, PDSD, Food and Hygiene Certificate Level 2
Hobbies: Hiking, camping, scuba diving, cycling, fabric arts, reading fictional history novels, and trying cuisines from different
cultures.

CHASE BOAT CAPTAIN | FRASER FLIGHT | UK
Previous Yachts: Mustang Sally, Solemates, Huntress II
Biography: Fraser comes from a Zimbabwean farming background and has sailed and been on the water since he could walk, he
was a competitive Sailor and Rower in Zimbabwe before moving to Cape Town to continue sailing, he fell in love with cruising
sailing and followed this passion into Yachting where he has found the ideal profession to cruise the world while sharing amazing
experiences with guests and crew alike.
Waters Cruised: South Eastern USA, S. America, Caribbean, Mediterranean, Southern Africa, South Atlantic.
Job Description: The Chase Boat Captain takes charge of the 32ft Intrepid, in this role he maintains and operates the Chase boat
to a very high standard and so aims to be at the guests' disposal for all related activities. In addition, he joins the rest of the deck
crew under the instruction of the Bosun to maintain the larger Yacht and ensure the best experience aboard both.
Licenses & Certificates: STCW 95, RYA Yacht Masters Oceans, Various supplementary courses.
Hobbies: Sailing, Rowing, Stand up Paddle-boarding, Longboarding.