Motor Yacht SOVEREIGN
At Barrington Hall we provide motor yacht charters around the world on various luxury yachts. The Motor Yacht listed below, SOVEREIGN, is one of the many motor yachts we offer for charter. Please contact us for up to date information on SOVEREIGN or any other yachts in your desired location.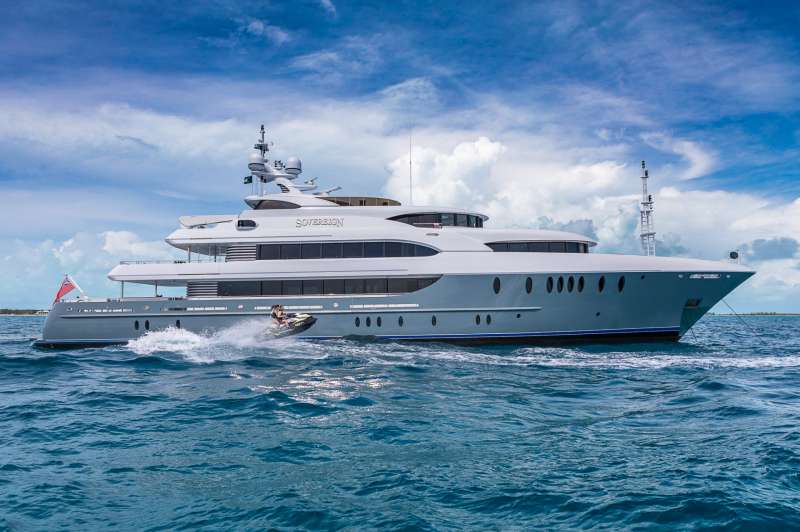 Low Price: €275,000 High Price: €295,000
Builder:
Newcastle Marine Inc.
Accommodations: A total of 6 Staterooms accommodating up to 12 guests.

All accommodations are equipped with Flat Panel TVs, iPod docking stations, Kaleidescape Movie Player, individual satellite receivers, Wi-Fi Access, Crestron controlled lighting and automatic blind operation.

MAIN DECK
MASTER STATEROOM
A full beam stateroom with luxurious wool silk carpeting on the main deck offers guests incredible views through eight large oval windows. Walk around King bed (faces aft) with His-and-Her desks located port and starboard. Large closets offer ample storage space and feature a mini bar fridge. Forward access to His-and-Her en-suite bath, 2 sinks, large soaking jacuzzi tub, separate shared shower, private head for Him and Hers with bidet.

UPPER DECK
2ND MASTER STATEROOM
Located forward Sovereign's second master stateroom offers her guests spectacular 270 degree views. His-and Hers closets. Walk around bed (faces forward) with a desk to the left and sofa to the right. En-suite His-and-Hers bath features a Jacuzzi tub, two vanities, a separate shower and bidet. Access to a private sitting outdoor sitting area on the Portuguese deck is located on the starboard.

LOWER DECK
PORT AFT VIP SUITE
A spacious cabin with walk around king bed, desk and 40" flat panel TV. En-suite bath with double access shower in this His-and-Hers bath.

STARBOARD GUEST STATEROOM
A spacious cabin with walk around King bed, and 40" flat panel TV. En-suite bath with shower.

STARBOARD TWIN CABIN
Guest cabin offering flexibility of a full bed, twin bed, and Pullman. En-suite bath with tub.

PORT TWIN CABIN
Guest cabin offering flexibility of a full bed, twin bed, and Pullman. En-suite bath with tub.

SOVEREIGN's DECK LAYOUT

MAIN DECK
MAIN SALON
Through the main aft doors and past the marbled foyer is the main salon featuring a seating area with multiple tables and settees comfortably hosting any sized group. The collection of settees and tables allows you to enjoy the view from any direction.

DINING AREA
Perfect for intimate dinners located forward of the Main Salon is a separate formal dining area for 12 guests which conveniently resides next to the main deck pantry and ship's galley.

MARBLE FOYER
Located mid deck featuring a large open stairwell next to the elevator which gives guests two ways to access all other interior decks.

DAYHEAD
Main deck dayhead boasts Mother of Pearl wall coverings and a luxurious crystal sink.

MAIN DECK AFT
Great for entertaining the main aft deck features cocktail style lounge seating. Generous in size it can comfortably accommodate all guests on board.

BEACH CLUB/GYM/TENDER GARAGE

UPPER DECK - 2nd Master Stateroom located on this deck

SKYLOUNGE
Panoramic sky lounge area featuring nearly 10 feet of headroom at the center. This Skylounge serves as the primary social area of the yacht with incredible views, a large full-service bar, a nearby service pantry, and quick access to the upper aft deck. This expansive room has plush carpeting throughout, reclining theater-style seating, and features both a 90' projector screen and 80' flat panel TV.

DAYHEAD
A second dayhead is located near the skylounge entry.

SKYLOUNGE DECK
The upper aft deck has a large, circular alfresco dining table for elegant outdoor dining. It can comfortably accommodate 12 guests and features a lazy susan. Aft of the table are several large sun pads, comfortable seating areas and tables to relax outside in privacy, out of view from the dock.

SUNDECK
The sun deck has even more inviting social areas, including bar chairs, massive elevated forward observation/sun deck, day head, outdoor shower, full service wet bar and a beautifully tiled, oversized infinity edge pool/Jacuzzi. The Jacuzzi and bar area are protected from the sun by a hard top.

SOVEREIGN is the ultimate charter yacht. She has six stylish and comfortable staterooms with accommodations for up to 12 guests on board. The upper master stateroom features a 270-degree view. The main-deck master offers guests incredible views through eight large oval windows.

SOVEREIGN's contemporary-styled main deck features a large main salon and dining area, which create the perfect space to relax on board. The upper deck is home to a panoramic skylounge with almost 10 feet of headroom. Her sundeck has incredible seating and lounge space, as well as a full-service wet bar and an infinity-edge pool/Jacuzzi for guests to enjoy. Additionally, SOVEREIGN offers a full compliment of tenders and toys.

SOVEREIGN has been meticulously maintained to the highest standards, in order to provide the highest level of comfort to all guests on board.

SOVEREIGN VIDEO: https://jumpshare.com/v/UNzW35rou7HG1plsviMS?b=YXbebv7WPsz2zi4CTXvI
Amenities
Dinghy Size:
32' Intrepid with cuddy cabin
Dinghy Size:
32' Intrepid with cuddy cabin
Water Sports
Other Toys: 32' Intrepid with cuddy cabin (Not available in the Med)
21' Novurania with Hamilton jet drive
Donuts, towed toys, Banana Boat and 5 person Hot Dog


Large assortment wet suits, spray guards and goggles
Drone with Go-pros
Exercise equipment, free weights, yoga, bands, balls
Board games and Jig Saw puzzles
Other Toys: Local DVD/CD
iPod docking Stations
Kaleidescape Movie Player
Satellite TV
Drop Down Screen & Movie Projector
X-Box
PS -3
Wii
Communications: VSAT
AT&T 4G data capability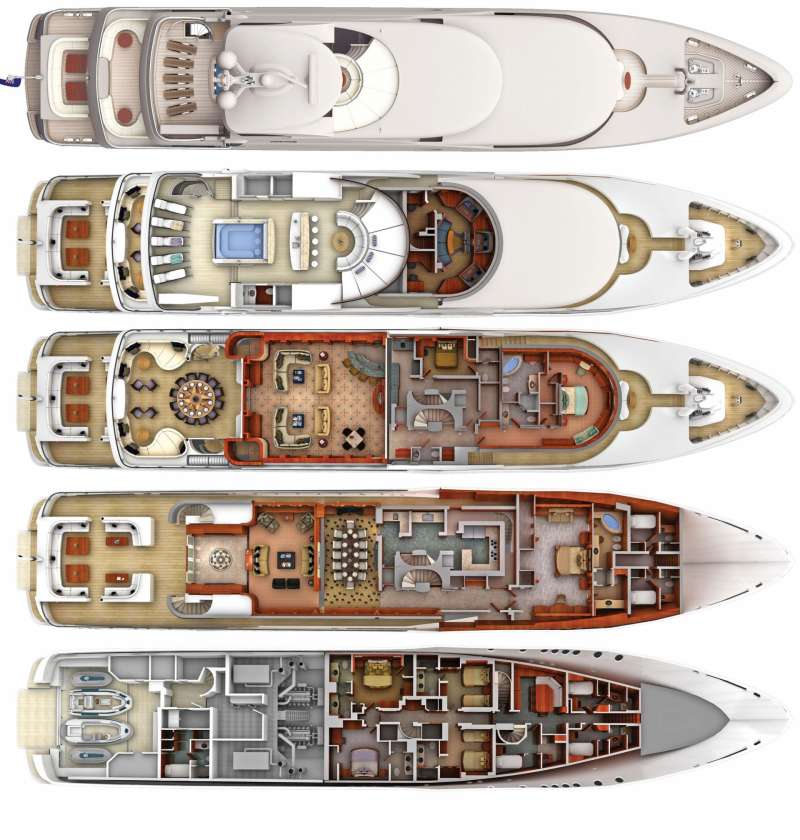 CAPTAIN | STEPHEN BURKE | Australian
PREVIOUS YACHTS: Majestic, Harbour Island, Iroquois, Kanaloa, Charisma
ABOUT: Stephen was born and raised in Australia. He is always one to be involved in recreation and outdoor activities. He attended The University of Wollongong, straight out of High School, to study Exercise Science. Upon completion, he worked as a Personal Fitness Trainer, before the overwhelming urge to travel the globe ensued a few years later. At 24 Stephen packed up his belongings to set forth on a travel adventure beginning in Europe. While in the Balearic Islands of Spain, he discovered the once unknown life of yachting and completed his first trans- Atlantic crossing. From there, as they say, the rest is history.
WATERS CRUISED: East and Western Mediterranean, Baltic and North Seas, the Caribbean, East and West coast of USA (including Alaska)
JOB DESCRIPTION: The Captain is responsible for the safety, overall running and financial management of the vessel, crew and guests. He ensures the safe and efficient operation of the yacht at all times, including compliance with all safety procedures and regulations, as well as adherence to International Flag, Port State and local laws and regulations. The Captain has a close relationship with his crew and provides leadership, guidance and support, while encouraging both teamwork and individual accountability. He communicates clearly with the crew to ensure compliance with, and understanding of, the vessel's policies and is responsible for the delegation of duties and oversight with respect to department heads.
JOB RELATED LICENSES & CERTIFICATES: MCA Master <3,000gt, Yachtmaster Offshore, GMDSS, ISM & ISPS & ECDIS Certified, PADI Open Water Diving
EDUCATION: Bachelor of Science (Exercise Science) The University of Wollongong Diploma of Remedial Massage
HOBBIES: Road cycling, mountain biking, tennis & adventurous travel.

CHIEF OFFICER | CRAIG MAREE | South African
PREVIOUS YACHTS: Lady Sara, Mustang Sally, Tuscan Sun, Relentless, Cakewalk, Pegasus
ABOUT: Craig grew up in the sunny coast town of Durban, South Africa and conveniently Africa's biggest shipping port. At a young age, he found a love for the ocean and all it had to offer. Between school and studying Craig spent most his free time on the beach surfing and lifesaving where he achieved national success competing at local competitions. Later his travels lead him to surf the waves across Hawaii, Indonesia and Tahiti. It was then with a desire to see the world Craig joined the hotel industry working at Club-Med resorts through Malaysia, Thailand, Bali and Japan. These resorts offered a sailing school where Craig excelled at teaching and found a passion for yachting. It was soon decided that a career in Super Yachts would be fitting and after the necessary training and courses Craig joined his first vessel in Fort Lauderdale. He quickly moved up the ranks and has traveled the world extensively on Chartered and private Motor yachts around the world.
WATERS CRUISED: East and West Mediterranean, Atlantic, Caribbean, South Pacific, East Africa, Australia, New Zealand.
JOB DESCRIPTION: The Chief Officer manages the Deck Department, delegating duties to ensure the highest standards in the detailing and maintenance of the exterior areas, the tenders and deck equipment. He also supports the Captain and is able to assume command should the Captain be absent or incapacitated. His other duties include being responsible for the ISPS and SMS protocol of the vessel and providing accurate chart work and passage planning. When guests are on board, he participates in all deck operations and oversees all charter activities.
JOB RELATED LICENSES & CERTIFICATES: STCW 95, Chief Mate 3,000 GT.
HOBBIES: All Water Sports, Soccer, Golf.

CHEF | SEAN DOYLE | Canadian
ABOUT: Sean grew up in between the Western and Eastern cultures. Canadian and Japanese traditions blend together forming purpose for Sean. An avid traveler, Sean lives by the quote, "not all who wander are lost"; having under taken many solo motorcycle adventures, touring the globe. Sean is trained in a vast array of cuisine and can create menus to delight the most discerning palate. His unique style, knowledge and personality are sure to make your voyage aboard Sovereign a memorable one.
WATERS CRUISED: All oceans
JOB DESCRIPTION: Sean undertakes all cuisine requirements for crew while tailoring guest menus with an artistic flare. Sean specializes in fusion cuisine with a clean mosaic style providing whimsical tapestry of flavors to tantalize and amuse your pallet.
EDUCATION: Culinary Apprenticeship, Sommelier
HOBBIES: Oenophile, Motorrad Enthusiast, Iaido, Violinist

CHIEF STEWARDESS | ILZA JONKER | South African
PREVIOUS YACHTS: Mitshea; Reef Chief; Nice and Easy; Angiamo;
ABOUTWATERS CRUISED: Caribbean, Mediterranean, Bahamas, Panama
JOB RELATED LICENSES & CERTIFICATES: WSET level 2, RYA Personal watercraft Instructor, Professional yacht attendant master course,
HOBBIES: Mountain biking, golf, water sports

CHIEF ENGINEER | BILL STEELY | American
ABOUT: Since the age of 12 Bill has lived and/or worked on the water. One stint living ashore was enough to convince him; a lifestyle on and around boats was more to his liking than a more traditional one ashore. Bill has worked on both yachts and commercial vessels; with multiple transoceanic crossings under his belt. While he has served as First Officer and Captain, Bill is most comfortable in the Engine Room making sure the yacht's critical equipment and systems are working correctly.
WATERS CRUISED: US River System/Great Lakes, the Atlantic, Caribbean, Mediterranean, & Pacific
JOB DESCRIPTION: The Chief Engineer is responsible for the running, maintenance and repair of all mechanical, electrical and electronic equipment on board, including all machinery in the engine room, domestic equipment, bridge and deck equipment. He works closely with the Second Engineer to maintain detailed, up-to-date logs of all equipment, engineering activities and critical systems, as well as, providing an accurate inventory of spare parts, technical consumables and tools. In addition, he ensures adherence to International Flag, Port State and local laws and regulations in regard to engine room operations.
JOB RELATED LICENSES & CERTIFICATES: USCG Chief Engineer and various lesser USCG Licenses & ratings
HOBBIES: When not onboard M/Y Sovereign Bill can be found renovation/improving his house in St. Augustine.

BOSUN | JENS RUST | Namibian
PREVIOUS YACHTS: Paraffin, Azteca, Areti
ABOUT: Jens comes from Windhoek, Namibia and speaks both English and German. He studied Environmental & Engineering Geology at the University of Pretoria. In 2012 for a change of pace during his gap year he tried yachting. He loved working on boats so much he decided to pursue it as a career
WATERS CRUISED: SE Asia, Europe, Africa, East Coast U.S.A.
JOB DESCRIPTION: The Bosun assists the Chief Officer and Captain in the daily operation of the vessel. As well as being responsible for maintaining all the deck areas, he also ensures that all the recreational equipment is mechanically sound and cosmetically flawless. Additional duties include bridge, harbor and anchor watches, guest service operations, administrative work, safety management and detailing, paintwork, and the repair and maintenance of all surfaces and equipment. The Bosun is also the RYA Wave Runner Training Instructor.
JOB RELATED LICENSES & CERTIFICATES: STCW 95, RYA Yacht Masters Oceans.
EDUCATION: Bsc. Environmental & Engineering Geology.
HOBBIES: Adventure motorcycle touring

SOUS CHEF | HAYLEY READING | Australian
PREVIOUS YACHTS: Elisa, Majestic, Diamond A, Saint Nicholas, Helios, Silencio
ABOUT: Hayley comes from the Northern Beaches of Sydney, Australia. Prior to yachting she worked in film, television, print media, events, marketing and has also cared for people with disabilities. Hayley also loves sports and in particular basketball where she has played at a representative level. Hayley lives by the quote "To live is the rarest thing in the world…..most people just exist".
WATERS CRUISED: Indian, Red, Pacific, Atlantic
JOB DESCRIPTION: The Sous Chef assists in the preparation of guest and crew meals under the direction of the Head Chef and plans menus and caters to guests' preferences and dietary requirements. She is also responsible for provisioning within a specified food budget. She maintains safe and efficient galley standards by keeping all areas and stores immaculately clean and organized, and remaining current on relevant safety procedures and equipment.
JOB RELATED LICENSES & CERTIFICATES: STCW 95, Culinary School.
HOBBIES: Photography, Film, Travel and Food.

SECOND STEWARDESS | RENEE SIMPSON

SECOND ENGINEER | STEPHEN EYSSEN

LEAD DECKHAND | ANDRE ALBERT

THIRD STEWARDESS | BRITTANY SCHNARE| Canadian
ABOUT: Brittany comes from Halifax, Nova Scotia, Canada. She moved to Montreal at the age of 18 to study International Relations and Economics. After finishing her degree, she travelled to New Zealand to pursue competitive sailing. After two years of dynamic sailboat racing she was ready to make the switch to larger scale boats and became interested in the yachting industry. She loves the travel, meeting people from all around the world and being close to the ocean.
JOB DESCRIPTION: As stewardess and part of the Interior crew her duties include laundry, housekeeping, meal and beverage services and attending to the charter guests. She also assists with administrative tasks, inventories and scheduled interior maintenance.
WATERS CRUISED: South Pacific, West/ East Coast of the U.S.A & Canada
JOB RELATED LICENSES & CERTIFICATES: STCW 95, Proficiency in Designated Security Duties, Level 2 Food Hygiene & Safety, Silver Service, certified Barista
HOBBIES: Sailing, Equestrian, Yoga, Running, Water sports, hiking, and non-fiction literature.

DECKHAND | JAMES FOSTER | South African
ABOUT: James was born in Pietermaritzburg, the capital and second largest city in the province of KwaZulu-Natal. James's mother tongue is English, however, has mastered the art of languages, and is also fluent in Afrikaans, Zulu and Xhosa. James studied Agriculture at school leading him into beef and dairy farming in South Africa. He had always wanted to travel and so took his work with him to Texas where he spent the year of 2015. Sovereign is James's first job in the industry and so he comes with lots of enthusiasm.
JOB DESCRIPTION: Responsible for cleaning and maintaining the exterior and technical spaces of the vessel to standards and procedures set down by the Captain, Chief Officer and Bosun. These duties include bridge watches, harbor watches, guest services and administrative work. An integral part of the Emergency Fire response team onboard. James assists with preparing, painting, repairing and maintaining all surfaces and equipment, as well as tender operations and all water sports activities onboard.
JOB RELATED LICENSES & CERTIFICATES: STCW 95, Powerboat Level 2
EDUCATION: Agricultural Management - Diploma
HOBBIES: Polo, Hiking, Fishing, Hunting, Cycling and Exploring.