Motor Yacht ISLAND HEIRESS
At Barrington Hall we provide motor yacht charters around the world on various luxury yachts. The Motor Yacht listed below, ISLAND HEIRESS, is one of the many motor yachts we offer for charter. Please contact us for up to date information on ISLAND HEIRESS or any other yachts in your desired location.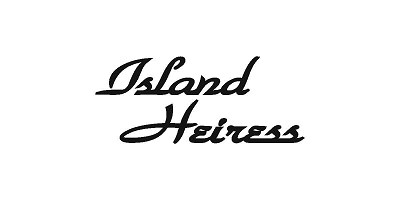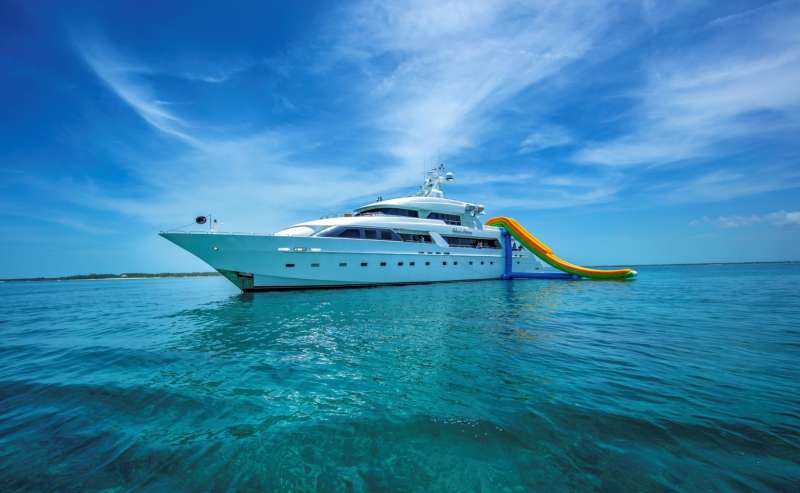 Low Price: $110,000 High Price: $130,000
Amenities
Water Sports
Other Toys: • 34' Center Console Towed Tender
• 20' RIB
• Wet-Sub – for certified divers only (pending Pilot assessment for safety and comfort)
• 4 x Wave runners
• 4 X paddle Boards
• 4 X Kayaks
• Scuba (rendezvous diving) and snorkel gear
• NEW Giant water slide
• NEW Climbing Wall
• Fishing gear
• Airhead Bigshot - 2 person open top tube
• Airhead Force Three - 3 person deck tube
• Banana - 5 person
• Wakeboard

Other Toys:
New 6 person Jacuzzi.
Communications: 6 Apple TV's
8 Samsung LED TV's
DVD and CD Library
DSS satellite TV - Europe/USA/Bahamas/Caribbean
Surround sound throughout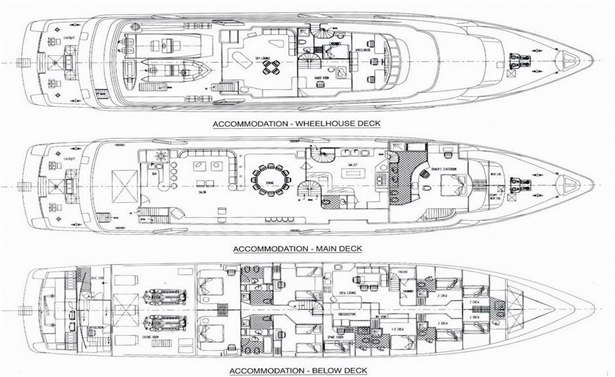 Captain John Gaffley has been working in the yachting industry since 2005. With over 13 years experience, he has worked on yachts from 100' to 200'+. Captain Gaffley was extensively involved in the refit of Island Heiress from 2013-2017. Captain Gaffley is a native South African. He enjoys traveling the world, not just by boat but also by motorcycle. He recently drove across the United States on his motorcycle. He has worked as an air traffic controller and also has a private pilots licence. In his off time, he enjoys spending time with family and friends. His first love is of course, yachting!

John was born and raised in Cape Town, South Africa where he spent 8 years as an air traffic controller until a visit to Ft Lauderdale introduced him to the world of yachting. He has worked extensively on various megayachts throughout the Bahamas, Exuma Islands, Caribbean and South Florida. His favorite cruising area is The Exumas due to its tranquil and untouched nature. In addition to water sports, rugby and tennis he has a love for aviation and holds his FAA Private Pilots License.

1st Mate Nichola Van O
Nic is from Durban, South Africa. Always being drawn to the ocean she completed her honors degree in Marine Science. Following this she worked as an intern in an aquaculture unit in Thailand. Discovering her love for travel and meeting new people she naturally fell into yachting 8 years ago where she has worked her way up the ranks to First Mate. She loves any outdoor activity especially wakeboarding and other water sports.

Bosun Cameron Jackson
Cameron grew up across the road from the beach in Durban, South Africa. He is a former landscaper/horticulturist with a great eye for all things green and beautiful. The pull of the ocean drew Cameron to yachting at an early age. Having worked on yachts for over four years now, he has proven to be a very hard worker, a strong team player and always willing to learn new things. Cameron is also a very talented sports fisherman. He holds a national record in his home country and there is nothing that makes him happier than helping guests target and catch game fish while enjoying their time aboard.


Deckhand Grant Christain
Grant is from Auckland, New Zealand and was introduced to yachting as a way to gain some life experience and travel before he joins the airfare to pursue a career as a search and rescue pilot. His love for the outdoors flourished in exploring the beautiful New Zealand wilderness. Fishing, diving, surfing and other water sports are all things that attract Grant to the ocean. When he's not in the water, Grant enjoys hiking, hunting and camping.

Rosie Harsen - Chief Stewardess
Rosie was born in Denver, Colorado and grew up in the suburbs close to the city. Her love for the ocean drew her to study marine biology at the University of the Virgin Islands on St. Thomas. While studying, Rosie discovered yachting and quickly made a career change. She has now been working on yachts for almost four years and has loved every second of it. Rosie loves all things involving marine life, nature, and traveling and has found yachting to be the perfect career to tie all of that together. After her yachting adventure, Rosie hopes to become a wedding planner and continue to provide an exceptional hospitality experience.


Anna Wright - Second Stewardess
Born and Raised in Boothbay, Maine, Anna's love for the water began at a very young age. Her curiosity grew into passion spending each summer cruising the Maine coast on both sailboats and smaller motor yachts. While attending Suffolk University in Boston, where she obtained a degree in Communications and Public Relations, she found she still craved the freedom of the ocean. Upon graduation she moved to Florida to fulfill her dream of working in the yachting industry. Hearing stories from her grandparents and their friends, all former yacht professionals, she knew this was the job for her. After two years, Anna has found a love for open seas unlike any other. She plans to continue her yachting career and follow wherever the seas may take her.


Juliea Hollingsworth - Third Stewardess
Juliea is from Toronto, Canada where she's earned a B.A. in Urban Studies and a Project Management certificate. After working a few years as a marketing manager, she grew tired of office life - especially during those cold Canadian winters. She then learned from a friend about the world of yachting and fell in love with the idea. Well that was enough, her bags were packed and she set out to accomplish a new dream. Juliea's now been in yachting for 2 years and truly enjoys both the challenges and rewards it provides.

Nigel Burrows - Chief Engineer
Nigel was born and raised in Guyana in South America. He has been working in the marine industry for almost 20 years. He loves working hard to make sure that everything mechanical is working as it should. Nigel loves fishing and spending
time with his kids

Alexa Hansen - Assistant Engineer/Deckhand
Alexa grew up in the small state of Wisconsin but has been everywhere but since. After graduating with a degree in mechanical engineering her passion for travel inspired her to take a year long backpacking trip across the globe. Knowing that an office could not contain her free spirit, she turned to the adventurous career of yachting. Her hobbies include motorcycles, hiking, diving and music.