Motor Yacht ISLAND HEIRESS
At Barrington Hall we provide motor yacht charters around the world on various luxury yachts. The Motor Yacht listed below, ISLAND HEIRESS, is one of the many motor yachts we offer for charter. Please contact us for up to date information on ISLAND HEIRESS or any other yachts in your desired location.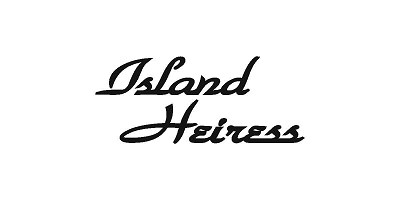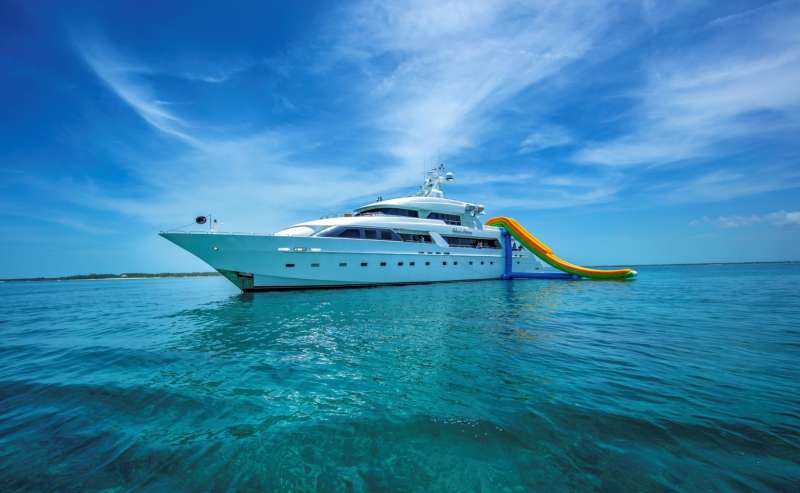 Low Price: $125,000 High Price: $135,000
Amenities
Water Sports
Other Toys: • 34' Center Console Towed Tender
• 20' RIB
• 4 x Wave runners
• 4 X paddle Boards
• 4 X Kayaks
• Scuba (rendezvous diving) and snorkel gear
• Giant water slide
• Climbing Wall
• Fishing gear
• Airhead Bigshot - 2 person open top tube
• Airhead Force Three - 3 person deck tube
• Banana - 5 person
• Wakeboard

Other Toys:
New 6 person Jacuzzi.
Communications: 6 Apple TV's
8 Samsung LED TV's
DVD and CD Library
DSS satellite TV - Europe/USA/Bahamas/Caribbean
Surround sound throughout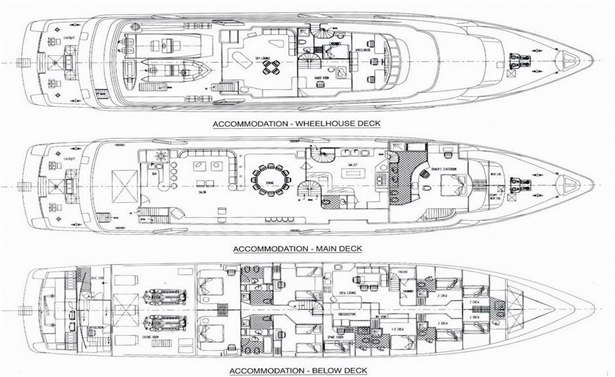 John Gaffley
Captain

Captain Gaffley has been working in the yachting industry since
2005. With over 16 years experience, he has worked on yachts from
100' to 200'+. Captain Gaffley is a native South African. He enjoys
traveling the world, not just by boat but also by motorcycle. He
recently drove across the United States on his motorcycle. He has
worked as an air traffic controller and also has a private pilots
license. In his off time, he enjoys spending time with family and
friends. His first love is of course, yachting!
John was born and raised in Cape Town, South Africa where he spent eight years as an air traffic
controller until a visit to Ft Lauderdale introduced him to the world of yachting. He has worked
extensively on various mega yachts throughout the Bahamas, Exuma Islands, Caribbean and
South Florida. His favorite cruising area is the Exuma's due to its tranquil and untouched nature.
In addition to water sports, rugby and tennis he has a love for aviation and holds his FAA Private
Pilots License.

Shashake Nabbie
First Mate

Shashake was born and raised in Nassau, Bahamas. Before yachting he
worked on domestic interisland ferry ships and tankers where he
traveled all over the Caribbean seas
He joined yachting for a change in scenery and new experiences. His
goal is to obtain his captain's license.
In his free time Shashake enjoys listening to audiobooks and spending
time with friends and family.

Erik Eisenbarth
Deckhand

Erik comes from the great plains of Kansas. He grew up ranching with
his family and always dreamed of finding his way to the ocean. His
favorite activities include scuba diving and jumping out of perfectly
good airplanes.


Martin De Jager
Deckhand

Martin grew up on a farmland in South Africa. He discovered his love
for sailing and yachting later in life but is very passionate about it. His
favourite activities include any fun sports activities.


Gabriella Halcovich
Deckhand

Gabriella is from Palm Springs, CA where she grew up playing
volleyball. She discovered a passion for the ocean while traveling in
the Bahamas. While her university was online, she took up working
on the water. Her favorite pastimes include snorkeling, fishing, and
of course, beach volleyball.


Luis Lopez
Chief Engineer

Luis is from a town Veracruz, Mexico, where he grew up knowing
about ships and the maritime industry. He has traveled around the
world onboard commercial vessels before transitioning over to the
luxury yachting industry.
In his free time he enjoy running, traveling, dancing and meet
wonderful people.

LoQuisha Beasley
Chef

Chef LoQuisha is from Michigan. She came to Florida in March on
vacation and decided to pursue her dreams as a private chef. She fell
in love with the Yachting industry which fulfills her desire to travel as
well as her passion for cooking. In her free time she enjoys trips to the
beach, kayaking, and spending time with Family.

Elisa Correa
Chief Stewardess

Elisa grew up in the coastal city of La Paz, Mexico where she found a
passion for the sea from a young age in kayaking competitions. She
has a bachelor's degree in Tourism and in her spare time she
volunteers at the SF Wildlife Center. She enjoys paddle boarding,
diving, fishing and hiking. She has been in the yachting industry for 5
years.

Ashlyn Roberts
Stewardess

Ashlyn is from Houston, Texas. She graduated from the University of
Texas. She found out about yachting from her dad who used to sail
when he was younger. She loves travel photography, cooking, and free
diving.

Natasha Johnson
Stewardess

Natasha, although born in the USA, grew up in the UK. After going to
university to study music and live events management, when Covid hit,
it put a stop to the future of large events and she decided to pursue
yachting. She loves all things sporty and has competed competitively
in cheerleading, trampolining, and netball.