Motor Yacht PLUS TOO
At Barrington Hall we provide motor yacht charters around the world on various luxury yachts. The Motor Yacht listed below, PLUS TOO, is one of the many motor yachts we offer for charter. Please contact us for up to date information on PLUS TOO or any other yachts in your desired location.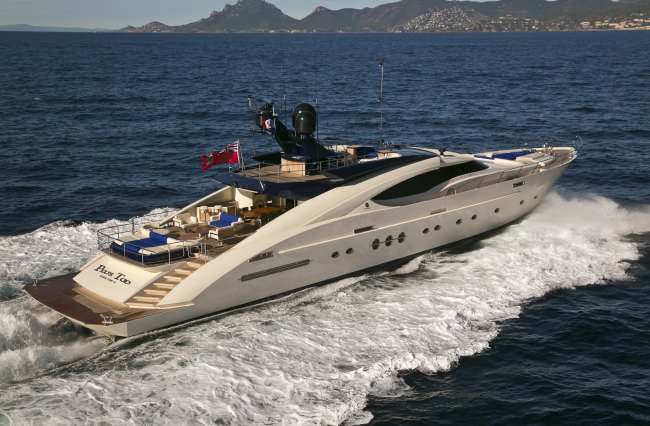 Low Price: €135,000 High Price: €150,000
Accommodations:
On lower deck, five guest cabins at guests disposal including the superb full beam Master suite; two identical Double guest cabins; and two Twin guest cabins each with additional Pullman for children use. All cabins feature an en suite and independent audio/visual library.
Amenities
Dinghy Size:
Castoldi Jet tender
Dinghy Size:
Castoldi Jet tender
Water Sports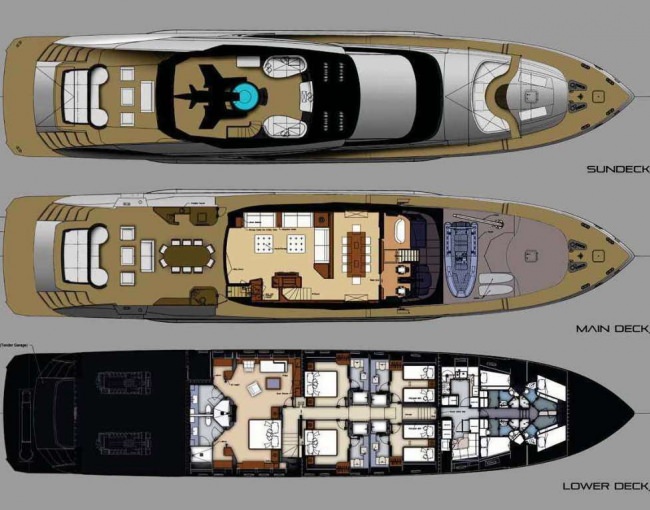 Captain Simon Hankins
Captain Hankins was born in 1963 in Shoreham, United Kingdom.
He decided to join the yachting industry when he was quite young and since then he records thirty two years of experience. He started onboard the 45m M/Y Khalidia cruising the Caribbean for two years and he then served as a Deckhand on the 32m M/Y Gitana. For the next four years on the 55m M/Y Stefaren before joining the 52m M/Y Rio Rita for six years as a Deckhand. For nine years he was the first mate on the 40m M/Y Desamis B. Captain Hankins joined M/Y PLUS TOO as First Mate in January 2009. He is a licensed open water scuba diver. He is married and lives in Antibes.
He speaks English, French and basic Italian.

Chief Engineer Emmanuel Meleissis
Chief Meleissis was born in 1953 on the island of Karpathos, Greece. He is French/Greek.
During his forty five year career he has served on various types of vessels. He started working on Commercial vessels in Greek companies and Passenger cruise liners as a 3rd and 2nd Engineer. After twenty five years of experience he joined the yachting industry in 1995 starting on the 28m M/Y Al Johara for six years and then on the 25m M/Y Argo B for seven years as a Chief Engineer. Chief Meleissis has served onboard the M/Y PLUS TOO and holds the position of Chief Engineer since her construction in 2008. He is married and lives in Antibes.
He speaks French, Greek and English.

Chief Officer Neil Bruce
Chief Bruce was born in 1978 in New Zealand. He is New Zealander/British.
He started his career in 2003 on the 46m M/Y No Escape as a day worker and was promoted to the Bosun rank for 6 years. For the next three years on the 26m M/Y Icon as a Bosun and Ship Security Officer before joining the 40m M/Y Larissa and the M/Y Waverunner for one year. He took training courses for safety, medical care and he also holds Certificate of open water diver. He lives in Antibes.
He speaks English, Spanish and French.

Deckhand Reynaldo B. Gammad
Mr. Gammad was born in 1968 in Lagayan Abra, Philippines.
He started his career in 2000 on the 28m M/Y Aljohara and after four years he continued on the 57m M/Y Lady Mona K. He works onboard M/Y PLUS TOO as a Deck hand since 2006. He took training courses for safety, medical care and he also holds Certificate of Completion and Proficiency in Survival and Rescue Boats. He is married and lives in Antibes.
He speaks English.

Chef Susanne Karlsson
Chef Karlsson was born in 1966 in Kung Karl, Sweden.
In her earlier days she traveled throughout Europe and Australia and worked in the hospitality industry. In 1993 she served in a Private Villa for five years as Operation Manager. Following this experience, she decided to join the yachting industry in 1998 onboard the 54m M/Y Sarafsa. She was responsible for the interior maintenance, including food and beverage service. After having a good education and attending courses in food and beverage, she became Chef onboard the 55m private family M/Y Rio Rita, where she catered for the Owner, VIP guests and a crew of 12. For two years she worked as a Seasonal Chef in Villas on the French Riviera with different agencies and catering companies. In April 2009, Chef Karlsson was offered the position of Head Chef onboard M/Y PLUS TOO. She lives in Valbonne, France.
She speaks fluent Swedish and English, conversational French and basic German.

Stewardess Christina I. Germino
Ms Germino was born in 1980 in Cabanatuan, Philippines.
She has 9 years of experience in the yachting industry and an in-depth knowledge of service gained after joining the 117m M/V Turama in 2006 as a Stewardess. She continued her career on the 43m M/Y Athina II, before joining the long-standing team of M/Y PLUS TOO in 2009. Hardworking and committed to quality, Christina prides herself for attention to detail.
She speaks Philippine and English.