Motor Yacht BURKUT
At Barrington Hall we provide motor yacht charters around the world on various luxury yachts. The Motor Yacht listed below, BURKUT, is one of the many motor yachts we offer for charter. Please contact us for up to date information on BURKUT or any other yachts in your desired location.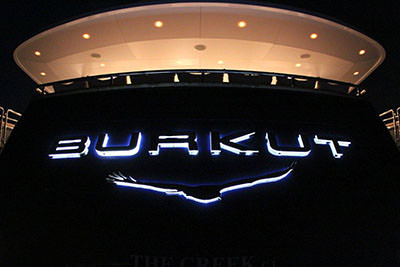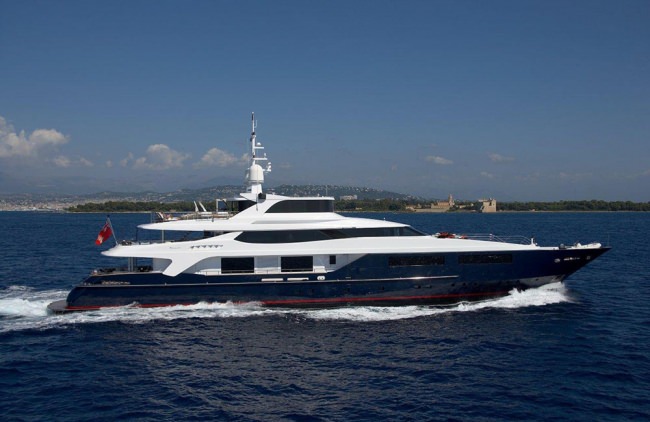 Low Price: €245,000 High Price: €270,000
Accommodations: All guest furniture and fabrics are from the luxury Italian design house Fendi.

Main deck, full beam master cabin with king size bed with walk through bathroom including twin basins and large bath. Master suite includes office, two walk-in dressing rooms.

An guest elevator is from the lower cabin deck to the main deck only. The four lower cabins consist of three double cabins with queen beds and a twin with pullman.

Amenities
Water Sports
Other Toys: Tenders:
Custom Tender 7m TS (14 passengers)
RIB Tender 6.5m BSC66 (14 passengers)
Rescue Tender 4.5m Nautica DL15 (8 passengers)

Toys:
2 x Sea Doo Jet ski RXT 260 RS
1 x Sea Doo Jet ski GTX 260 Limited
2 x Seabob
Towable Raft Airhead Transformer (3 person)
Towable Raft Sportssuff Shockwave 3 (3 person)
Towable Banana Island Hopper (5 person)
Towable Donut Sportsstuff Frequent Flyer (3 person)
Slide Aquaglide Platinum Freefall
Inflatable floating dock Aquaglide Platinum
Water Trampoline Island Hopper
Floating Swimming pool net Henshaw Sea pool

Diving equipment:
Bauer compressor
Diving gear
Snorkelling gear
Wetsuits

Gym equipment:
Running machine (Technogym Run Personal)
Elliptical stepper (Technogym Syncro Excite)
Spinning bike
Free weights
Gym bench

Other special amenities:
Health and Beauty Spa and Treatment Room
Sauna
Steam Room
Outdoor Jacuzzi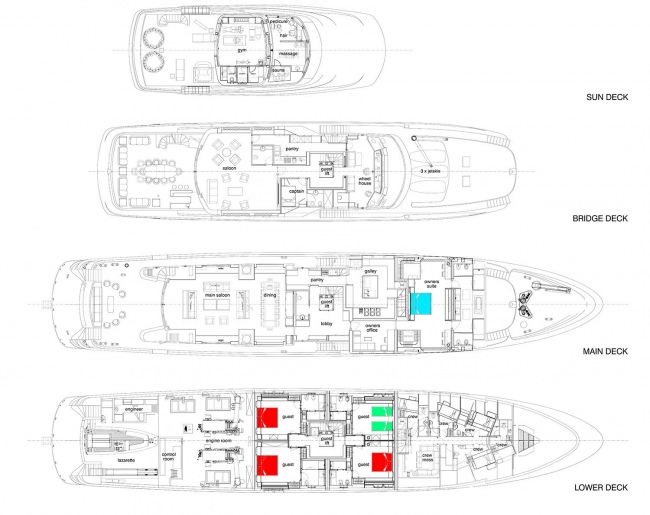 January 2018 Update

__________________________________________________________

CAPTAIN: Mark Stout (Scottish, 43 years old)

Mark was born in the beautiful country Scotland and from there he starts his nautical joinery. Mark started his nautical career as a commercial fisherman in the North Sea where he worked his way up to become Captain. He holds three different types of Captains licenses for different areas in the maritime industry. Mark has been at sea for more than 20 years and has over 500,000 nautical miles under his belt. He has taken luxury yachts all over and takes great pleasure in putting together detailed cruising itineraries for guests who like to experience the best in travel, food, culture and adventure. Mark's experience will guarantee that your cruise aboard Burkut will be an unforgettable journey.

Licenses: MCA - Master (Yachts) 3000GT,

Hobbies: Football, Skiing, Cars and visiting new places.

Waters cruised: Mediterranean, Caribbean, North Sea, Black Sea, Atlantic Ocean, Bahamas, East Coast – USA, New Zealand, Gulf of Oman, Arabian Sea.
___________________________________________________________

CHIEF STEWARDESS: Adela Zurmova (Czech)
Originally from the Czech Republic, Adela moved to Spain at age of 19 where she has lived most of the time since then. She gained a Bachelor's Degree in Tourism in Management and Masters Degree in International Management. Due to her studies she relocated to Finland and India, meanwhile spending her summer working on luxury superyachts looking after a few high profile owners. Six years ago she decided to pursue a full time career in yachting working towards becoming Purser on a mega yacht.

It is always her pleasure to make our guests happy, comfortable and relaxed. She will go the extra mile to ensure that they have a great time on board of M/Y BURKUT and leave with the best memories of their holidays.

Interests: Cycling, Hiking, Rollerblading, Reading, Travelling, Environment

Waters cruised: Western and Eastern Mediterranean, Middle East, Arabian Sea, Mexico
___________________________________________________________

CHEF: Belinda Brewin (British)

Born in London and brought up in the English countryside Belinda has always had a love for nature on both land and water. Once her children became independent she felt urge for change in her life and that is when her passion for cooking and love for the nature took her to yachting 7 years ago.
Belinda obtained a Diploma at Ashburton's Cookery School and she never looked back. Since then she has travelled extensively and visited and stayed in some of the most remote places such as both Poles, Arctica and Antarctica. So far highlights of her career and most memorable ones have been her time aboard of MV Alucia and Umbra that were carrying the scientists and filming crew of the BBC series Blue Planet II as well as sailing to Vanuatu Island In the South Pacific Ocean after it had been hit by Hurricane Pam and contributing to relieve work and teaching the local children how to cook.
Belinda has worked on yachts of up to 96 meters of length and she specializes in Asian cuisine, especially Vietnamese, Thai, Chinese and Japanese which she learned from the best local chefs.

Hobbies: Diving, Horse riding and taking Cooking classes.

Waters cruised: Worldwide.
___________________________________________________________

SECOND STEWARDESS: Caitlin Killassy (South African, 28 years old)

Caitlin was born and brought up in Cape Town, South Africa. Since her childhood she had been very artistic and decided to study graphic design, photography and film and TV make up. Before she joined the yachting industry, she worked as make up artist, graphic designer and in production in film and fashion industry for 7 years. She joined yachting 4 years ago to pursue her dream to travel the World and meet like minded people.
Caitlin is a person that You will remember for her wonderful big smile and gentle and approachable attitude.

Qualifications: Degrees in both Graphic and Applied Design, Make Up and Special Effects.

Hobbies: Painting, Drawing, Sewing, Hiking, Anything Creative

Waters cruised: Mediterranean and Caribbean ___________________________________________________________

SOUS CHEF: Ivana Vulic (Croatian, 26 years old)

In 2016, Ivana finished college and earned a Masters degree in Entrepreneurship in Culture and Tourism. Since high school Hospitality and Tourism have been her field of study and she has been working on various job positions in this sector (from Maid and Waitress to Head of reception). Now she is working in the yachting industry where she has a chance to develop her skills in foreign languages of which she is fluent in English, German and Italian and has a basic knowledge of Russian, Spanish and Bulgarian. She also likes working with people and all the challenges that kind of job brings. Her last employment was as a solo stew on a private yacht. A position that included service, housekeeping and occasional babysitting.

Hobbies: spending her free time with her friends and family, outdoor activities, traveling and reading, especially foreign books.

Waters cruised: Mediterranean and Caribbean
___________________________________________________________

Jr. STEWARDESS: Kimberley Proper (South African)

Kim also comes from Cape Town and set her foot on board of a yacht already as a child when she was going sailing with her family. When she got older she tried and grew fond of all sorts of water sports thus always being connected to the Ocean.

Before joining yachting industry, Kim had been always involved in service, working in different exotic countries such as India and Indonesia. At one point she also worked alongside a veterinarian and her dream is to have a job finding adoptive families for abandoned pets.

Her first season, Kim worked as a housekeeping stewardess on board of M/Y Christina O where she provided best service for VIP guests.

Hobbies and Interests: Hiking, Running, Kitesurfing, Wakeboarding, Cultural Enthusiast

Waters cruised: Western and Eastern Mediterranean

___________________________________________________________

STEWARDESS/MASSEUSE: Raquel Cavaco (Portuguese)

Since high school Rachel's dream was to become a masseuse so once she graduated she went for a course in Swedish Massage and she loved it. Since that she started studying and practicing all sorts of massages in many different places that she visited. So far she has obtained Certificates in Oriental Massages, Therapeutic and Sports Massage. She has been also trained in Hot Stone, Deep Tissue, Aromatherapy and Facials at Steiner Training Academy in London. Shortly after that, she was offered a position on Disney Wonder Cruise Ship as Massage Therapist where she spoiled many guests. Next, she became Sports Massage Therapist in Luxury Spa in French Alps. To pursue further her dream to travel as much as possible she decided to join the yachting industry hoping to visit many places and give her treatments to our special guests. Her first yacht was the beautiful MY Grand Ocean, a very busy charter yacht.

Hobbies: Reading, Hiking, Yoga, Cycling, Travelling

Waters cruised: Mediterranean, Caribbean, East Coast of USA, Alaska

___________________________________________________________

CHIEF OFFICER: Damien Peterson (South African, 36 years old)

Damien's driven personality has brought him 9 years in the yachting industry, within the 9 years he has become a qualified Chief Officer and is also working towards becoming a captain hopefully in the near future. Damien has cruised all over the world, he has seen the Mediterranean, Caribbean and Pacific extensively. His background is from sailing in Cape Town, so his love for the sea runs deep. Damien has loved his time on yachts and is looking forward to many more exciting years ahead.

Licenses: MCA - Chief Mate (3,000gt)

Hobbies: Water Sports, Trail running, Camping, Photography

Waters cruised: Mediterranean, Caribbean, and Pacific
___________________________________________________________

SECOND OFFICER: Ivan Ivanac (Croatian, 26 years old)

After coming from the merchant navy, Ivan found his way to MY Burkut. He joined us in spring after a 9 month spell on a 60m private yacht. And is looking forward to a busy charter season.
Although Ivan is relatively new to the Yachting industry he is a quick learner and well-mannered around guests like the rest of Burkut crew.

Licenses: Officer of the Watch (Unlimited), Personal Watercraft Instructor

Waters cruised: Chinese coast, Pacific, North & South America, Mediterranean and Caribbean

Hobbies: Mountain climbing, swimming, reading and learning new languages.
___________________________________________________________

LEAD DECKHAND: Kelton Gianni (British, 22 years old)

Kelton was originally born in South Africa and moved to London when he was 2 years old, at 14 he attended college to study car and bike mechanics. At 18 he decided to join his brothers in the Yachting industry. Since then Kelton has worked on M/Y Rising Sun and is working hard to achieve his goal of getting all his qualifications needed to become an officer.

Hobbies: Football, Rugby, Scuba Diving, Traveling

Waters cruised: Mediterranean, Caribbean, Bahamas, Miami, Cuba.
___________________________________________________________

DECKHAND: Paget Berry (British)

Born and raised in England, Paget has been a keen sailor since age of 13. His dedication to outdoors and sports lead him to study Sports Management. After graduating he became a Skipper on 25m sailing yacht and has worked on yachts up to 35m. He joined MY Burkut in order to gain more experience as he is working towards his OOW and hoping to become Captain of a large Super Yacht one day.

Hobbies: Sailing, Exercising, Water sports, Playing guitar

Waters cruised: Caribbean, Western and Eastern Mediterranean
___________________________________________________________

CHIEF ENGINEER 1: Georgi Georgiev Kostadinov (Bulgarian)

Georgi is coming from a family with long tradition in sailing. His father used to be an ocean going Captain and he set foot on a ship for the first time at the age of 5. Ever since that moment he knew that the sea will be his life. He graduated Merchant naval academy and continued his qualifications in Varna's Maritime University, where he studied for his class II unlimited. He has over 15 years of experience at sea and even today sometimes he looks at the open ocean with the same passion as he used to, when he set his first step on board.

Hobbies and Interests: Fishing, diving, car racing

Waters cruised: Atlantic and Indian Ocean, North, Black and Mediterranean Sea
_________________________________________________________

SECOND ENGINEER: Olivier Revel (French, 32 years old)

From a young age Olivier has always had a love for engineering. Deciding to follow his passion he joined the Merchant navy in Saint Malo for 2 years which lead him to find a job on sailing boats as a deck/engineer before becoming an engineer on a Corsica Passenger ship for 3 seasons. Olivier then joined the yachting industry last year and plans to carry on in yachting while furthering his studies to obtain his Chief engineer ticket.

Hobbies: Running, Diving, Hiking

Waters cruised: Mediterranean
___________________________________________________________