Motor Yacht MOSAIQUE
At Barrington Hall we provide motor yacht charters around the world on various luxury yachts. The Motor Yacht listed below, MOSAIQUE, is one of the many motor yachts we offer for charter. Please contact us for up to date information on MOSAIQUE or any other yachts in your desired location.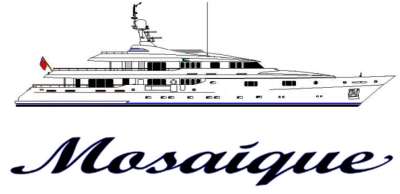 Low Price: €180,000 High Price: €180,000
Builder:
Proteksan - Turquoise
Accommodations: MAIN DECK:
Master full beam suite (cabin size 3m50 x 6m) with king sized bed (2m x 2m)is located forward on the main deck and boasts a spacious study, a separate seating area, and stunning bathroom with a Jacuzzi tub and steam shower, double vanity unit, lavishly decorated in onyx and marble.

VIP stateroom (cabin size 3.4m x 4.2m)with large double bed (2m x 1m80)located mid-ship on the main deck with gorgeous ensuite bathroom and double vanity unit.


LOWER DECK:
2 x double guest cabins(cabin size 3.2m x 4m) both with double beds(2m x 1m80) both with ensuite bathrooms with single vanity units.

1 x double guest cabin (cabin size 3m x 4m)with double bed (2m x 1m55) ensuite bathroom and single vanity unit.

1 x twin guest cabin (cabin size 3m x 4m) with ensuite shower room and single vanity unit.

* Extras available; personal safe, hairdrier in cabin, adapters for plugs
* electricity is 220v, 50Hz, French / Italian style (2 or 3 round pin) sockets
Amenities
Water Sports
Other Toys: 26.25ft (8.00m) Zodiac prolux 630 tender with aVolvo 290 z drive inboard diesel engine, seats 8 to 10.
4.2m Joker tender with latest 4-stroke 60HP Yamaha petrol OB engine. This for water sports mainly but can seat 4 or 5.
1 x new 2017 model stand up jet Ski, Yamaha superjet 700.
1 x jet ski, Yamaha 4 stroke machine (with reverse gear) - model Yamaha FX 160 high output. (1052 cc) It is a 3-seater.
1 x 2 person inflatable sofa
1 x 5 person sea wasp (banana) inflatable
2 x 1 person inflatable donuts
1 x 2 person inflatable donut
Mono ski
Full scuba diving equipment (for certified divers only)
Gym equipment - running machine, recumbent bike, cross trainer (new 2012), polartis training equipment and mats, on the top deck, with retractable sun awnings for maximum comfort.

NB: Mosaique is now a registered Jet ski school with an instructor who with an hour of training can issue charter guests with a licence valid only for the duration of the charter.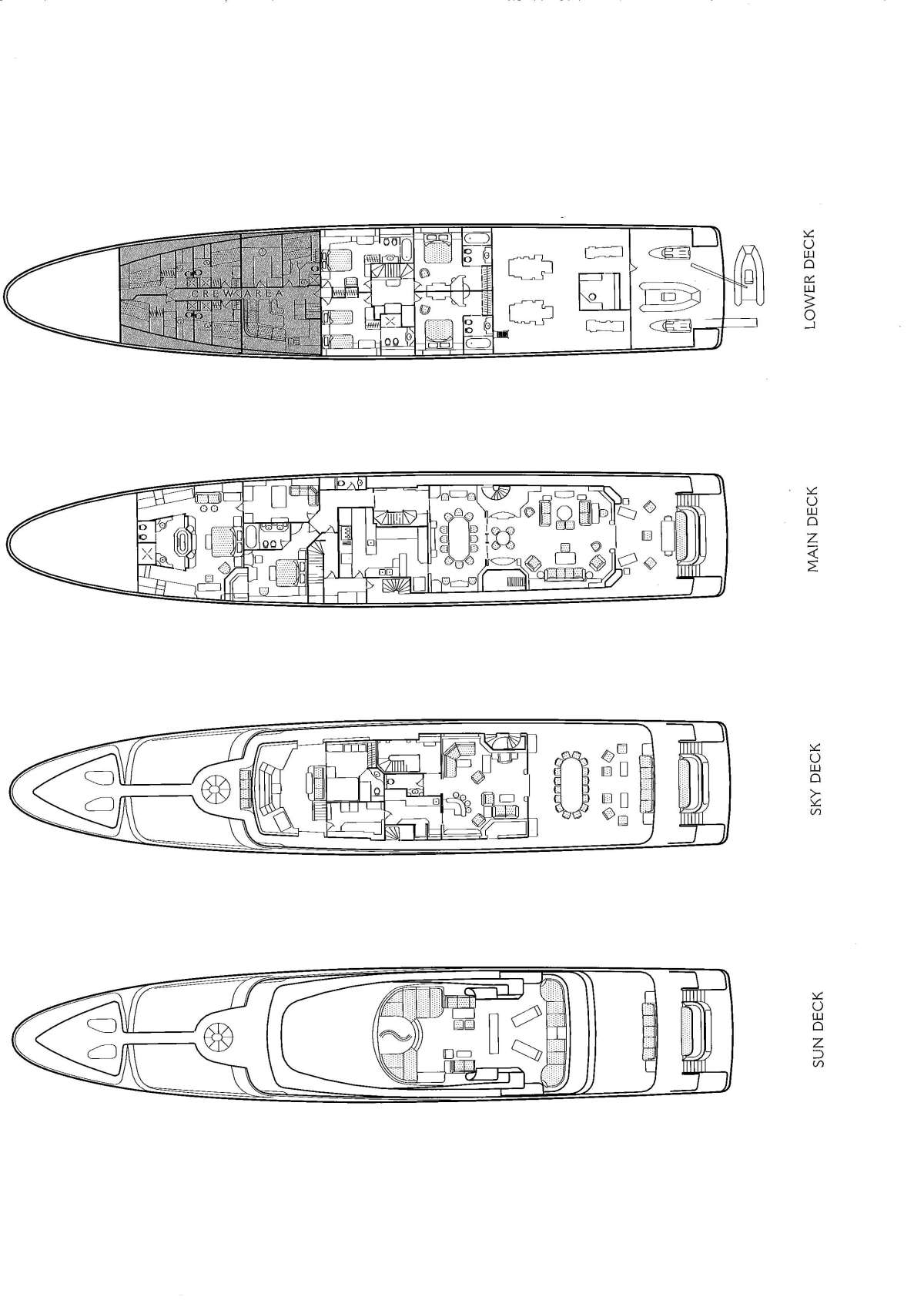 CAPTAIN: Jeremy Dean (Jez) – British
Joined Spring 2010
Jez has some 24 years' experience in the superyacht industry. With this his eighth season on Mosaique, he has gained a really excellent charter reputation in his current command and also his previous captaincy position on Wild Thyme (37m Benetti Classic) with fantastic feedback from brokers and clients alike. Having worked previously on other busy yachts such as M/Y Ilona, M/Y Northern Cross & M/Y Verena V, Jez's easygoing, affable personality ensures your clients trip will be one to remember. Jez in his younger days travelled the world extensively both on the water and across land and is now a keen golfer, and an avid lover of off road biking in the North African desert.
Languages: English, French

FIRST MATE: Mark Lambert – Australian
Joined Summer 2011
Mark returns to Mosaique for his fourth full season. Hailing from Perth in Australia he grew up around the sea. Mark previously worked on Maxi yachts in the Whitsundays, dinghy sailing to national level on 420's and instructing children to sail as well as becoming a rescue diver.
Languages: English

BOSUN: George Thatcher – British
Joined Spring 2015
George started his yachting career on board Mosaique and prior to this spent one year at the Superyacht Cadetship UKSA where he gained a clear understanding of the superyacht industry.
George was selected for an Oxford Football Scholarship and played for professional academies. He also did a six week trial for Chelsea Football Club, and was then offered a scholarship at Reading Academy but chose the Superyacht Cadetship at UKSA to pursue a career at sea.
George enjoys Water skiing, wake-boarding and rugby.
Languages: English

DECKHAND: John (Jonty) Gates – British
Joined Spring 2017
Living on an Island (Jersey) and coming from a family of water sports enthusiasts Jonty knew from an early age that he wanted a career on the sea.
Jonty was very fortunate that in March 2016 he joined the 47m M/Y Secret which was half way through a world tour he got to see many new countries and learn the industry.
Jonty studied at UKSA, Isle of Wight where he achieved his Yachtmaster Offshore qualification.
Recently climbing Mount Kilimanjaro which took 6 days, Jontys other hobbies are classic cars and he owns a Classic VW which he is currently restoring.
Languages: English

DECKHAND: Joshua Harbut – British
Joined Spring 2017
Joshua first started sailing at the age 10 where he developed a love for the water and he decided that his future would lie in yachting. Joshua studied at UKSA where he gained valuable experience and skills.
Joshua spent last season on-board a 27m sailing yacht as sole deckhand.
Joshua holds a Power Boat Level 2 instructors certificate.
Hobbies include: Tennis, rugby and squash.
Languages: English


CHIEF ENGINEER: Terry Field – British
Joined Spring 2016
Terry joined the yachting industry in 1976 and during this time has gained a wealth of knowledge, skills and invaluable experience. He started his career as a Technical Mechanic and then moved into Yachting and Engineering, gradually working his way up the ladder to be Chief Engineer.
Terry has cruised extensively in the Mediterranean, Red Sea, Caribbean and USA.
Previous yachts: M/Y taTii (41m), M/Y Wild Orchid (48m), M/Y Oxygen (43m) to name but a few.
Languages: English, basic French and Spanish.

2nd ENGINEER: Christopher Gray – British
Joined Spring 2017
Chris is a hands-on engineer with over 12 years' experience gained as a Maritime Engineering Artificer in the Royal Navy and as a field engineer for the oil and gas industry. Mosaique is Chris's first job in yachting and he is looking forward to working in as part of a team whilst striving to maintain high standards.
Chris holds a Y3 and Y4 for Chief Engineer eligibility.
Languages: English

CHEF: Michelle Bonetti – Australian
Joined Summer 2016
Australian born Michelle is a culinary trained chef well versed in all cuisines, she has worked alongside many Michelin star chefs. Michelle has also completed an intensive sushi training course.
Joining the yachting industry early 2015 she went on to win first place at the 2015 Antigua Boat Show Chefs Competition on board M/Y Zeepard. Prior to joining the yachting industry Michelle was 'Chef de Partie' at Print Hall one of Western Australia's best restaurants.
Michelle's objective is to satisfy culinary desires, embrace local produce, and provide guests with the highest level of cuisine.
Michelle has a diploma of business and photography.
Previous yachts: M/Y Gladius (38m), M/Y Huntress (55m) and M/Y Zeepard (37m)
Languages: English, Swiss- German


CHIEF STEWARDESS: Beth Palk – British
Joined Spring 2016
Beth started her yachting career in 2010 as stewardess on the 49m M/Y Larissa, moving up the ranks to become Chief Stewardess for the 2015 season on the 50m S/Y Red Dragon.
Beth previously worked on Mosaique for the 2011 Med season and has happily returned each year since to do the MIPIM charter. Having now worked on both private and charter yachts Beth is excited to be bringing her increased knowledge in hospitality back to Mosaique.
Beth has a BA (Hons) in Business Management.
Previous yachts: S/Y Red Dragon (50m), Force India (50m), Cheeky Tiger (34m), M/Y Larissa (49m)
Languages: English, basic French


2nd STEWARDESS: Neringa Kiskyte - Lithuanian
Joined Spring 2017
Neringa hails from Lithuania and joins Mosaique for the Mediterranean season in the position of 2nd stewardess, she has plenty of hospitality experience having worked as a Deputy Food and Beverage Manager at The Ramada Hotel and Suites a 5* establishment in Lithuania. Over the past few months before joining Mosaique she has been a cook/nanny for an ex-pat family in the SOF.
Neringa is very excited to have joined Mosaique and is looking forward to welcoming you on-board.
Languages: Lithuanian and English

3rd STEWARDESS: Kim Whitehead – British/South African
Joined Spring 2017
Kim spent last season on-board the 35m busy charter yacht Jurata. As 3rd stewardess Prior to joining the yachting industry Kim worked as a waitress at the Turl Street Kitchen a Georgian style restaurant in the UK.
Kim has a Bachelor's Degree in Psychology and English Language from Nelson Mandela Metropolitan University South Africa.
Languages: English

4th STEWARDESS: Janneke Schulze - South African
Joined Spring 2017
Joining Mosaique as her first ever job in yachting Janneke is really looking forward to experiencing new challenges and wants to progress in the industry. Previously Janneke has worked in administration roles on Wine Estates in Stellenbosch, South Africa.
Studying at the University of Stellenbosch she gained a Bachelor's Degree in Educational Support.
Hobbies include: running, hiking, swimming.
Languages: English