Motor Yacht BERZINC
At Barrington Hall we provide motor yacht charters around the world on various luxury yachts. The Motor Yacht listed below, BERZINC, is one of the many motor yachts we offer for charter. Please contact us for up to date information on BERZINC or any other yachts in your desired location.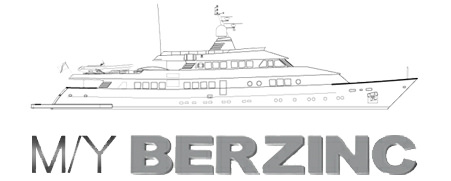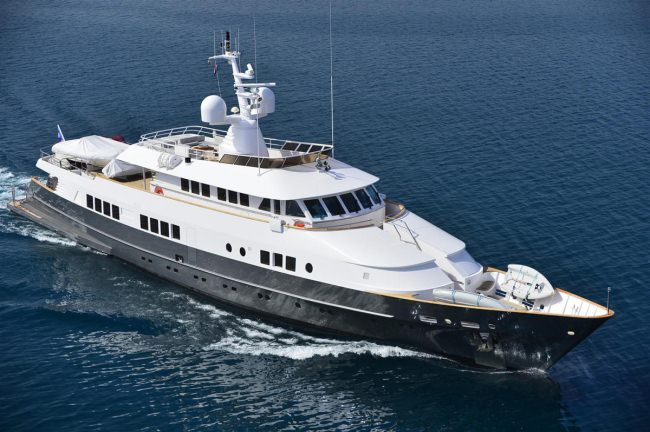 Low Price: €85,000 High Price: €95,000
Builder:
Camper & Nicholsons
Accommodations: Number of Cabins: 5 Cabins
Cabin Configuration: 1 Double master cabin, 2 double cabins, 2 twin cabins (with pullman berth each).
Dimensions of beds:
Owners cabin: 210 x 200cm
Guest 1: 200 x 160cm (1 double) Guest 3: 200 x 90cm (3 single beds)
Guest 2: 200 x 160cm (1 double) Guest 4: 200 x 90cm (3 single beds)

Amenities
Dinghy Size:
3.5 m rigid inflatable Lomac with 30HP out board engine
Dinghy Size:
3.5 m rigid inflatable Lomac with 30HP out board engine
Water Sports
Dinghy # Pax:
23ft/6.5 m rigid tender with c
Swim Platform:
adjustable to below water surf
Other Toys: - Hobie Mirage Tandem Island
- 6 Scubadiving complete equipment, diving air compressor and snorkel gears
- Polaris Amfib Deltaplano 65 HP Rotax engine for 2 (Only available with Pilot license or hiring pilote on charterers expense)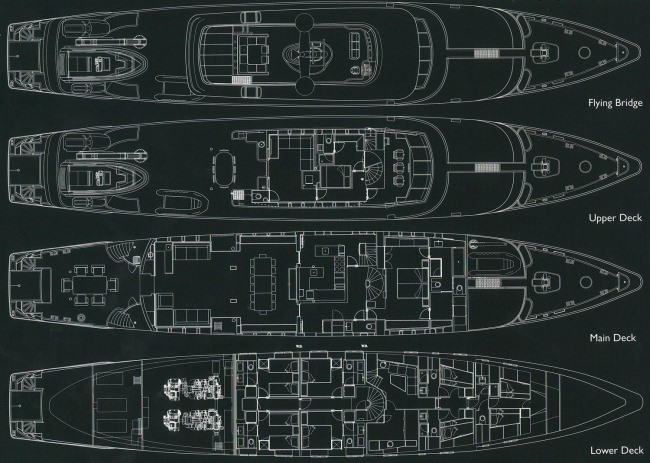 MICKAEL TANGUY
YEAR OF BIRTH: 1968
NATIONALITY: FRENCH
LANGUAGES SPOKEN: ENGLISH & FRENCH
CAPTAIN
Mika was born in Brittany, France and grew up on an island named "Belle Isle en Mer" and from a young age he dreamt of
becoming a seaman. His main experience was on a passenger ship where he started as a boson and upgraded to first mate.
With this experience he wanted to have a new challenge and worked on the charter sailing yacht Douce France in Southeast Asia
as first mate in 2006 for 5yrs and then to relief captain. Following this Mika turned again too commercial shipping on a passenger
ship, then Chief engineer on a Multicat in 2014. Mika's knowledge and experience has expanded in safety, charter services and
daily management and is now on board M/Y BERZINC providing the best service and is always very attentive to the wishes of
his guests. Mika has completed 2 summers on board and is looking forward to his third.
Being athletic Mika enjoys all water sports as well as tennis and running. His other interests include photography and the cinema.

MARINO VRCAN
CHIEF ENGINEER (ON ROTATION)
NATIONALITY: CROATIAN
YEAR OF BIRTH: 1978
LANGUAGES SPOKEN: CROATIAN & ENGLISH

After finishing the maritime school in Bakar, Marino spent 17 years on cargo and container ships and RO-RO passenger ferries.When he received a job offer in the yachting industry he was excited to bring his immense experience to the luxury yachting business. He is a professional and lovable crew member and is always in a good mood; always a smiley face! This is
Marino's third summer season on board M/Y BERZINC.

MARINKO DEBELIC
CHIEF ENGINEER (ON ROTATION)
NATIONALITY: CROATIAN
YEAR OF BIRTH: 1965
LANGUAGES SPOKEN: CROATIAN & ENGLISH

After he finished his studies at the maritime school in Bakar, Marinko spent 17 years on RO-RO vessels, passenger ships and ferries in Croatian waters.From 2010 until 2012,Marinko worked for a Belgian dredging company,when he received an offer
to join the luxury yachting industry,utilizing his vast experience. Along with Marino,Marinko ensures that M/Y BERZINC runs smoothly and efficiently.He is a proficient engineer with a happy demeanor and this is his fourth summer season on board. In his free time Marinko enjoys travelling and mountaineering with his family.

GREGORY PANNETIER
CHIEF OFFICER
NATIONALITY: FRENCH
YEAR OF BIRTH: 1982
LANGUAGES SPOKEN: FRENCH & ENGLISH



MAROTEE "HARRY" BHIWA
CHEF
NATIONALITY: MAURITIAN
YEAR OF BIRTH: 1980
LANGUAGES SPOKEN: ENGLISH, FRENCH & CREOLE

Harry commenced his career in 2001 as an apprentice at the Hilton Resort and Spa, Mauritius, then quickly moved onto senior chef de partie at Lemuria Resort in the Seychelles for 3 years. 2005 took Harry onto the water working for Princess Cruises for 2 years before moving onto sous chef at Relais & Château, Mauritius. Having the taste for travel and wanting to learn more in the world of cuisine, Harry worked in Canada, Maldives, Mozambique to then Head Chef in Italy come 2012 to 2014 developing a technique he could call his own. Harry then stepped on board SV Douce France & following that SV Demoiselles,
and now onto BERZINC.
Harry uses the fundamental and technical ideas from tropical cuisine blended with flavours from Asia, Africa and Europe, all these are brought together to develop a tasty, light and elegant dish with simple, fresh and use of seasonal products. Cooking technique skills include sous vide.


JANICE PEDIONGCO
CHIEF STEWARDESS
NATIONALITY: FILIPINO
YEAR OF BIRTH: 1982
LANGUAGES SPOKEN: FILIPINO & ENGLISH

Janice was born in Boac, Marinduque, Philippines. She graduated college with a degree in Bachelor of Science in Tourism at Centro Escolar University in Manila and found herself in the yachting industry in 2009.. For over 3 summers Janice worked
on board Seagull II learning all the skills of a good stewardess.
Now on BERZINC Janice is confident working with different crew members, nationalities, cultures, food and beverages and also enjoys communicating with a wide range of guests providing a high standard consistently and a good work ethic. Janice has a good sense of humour, friendly and hospitable. She will make sure that your stay on board will be happy and satisfied.



DECKHAND
NATIONALITY: FILIPINO
YEAR OF BIRTH:
LANGUAGES SPOKEN:


TAYLOR STANCOMBE
DECKHAND
NATIONALITY: NEW ZEALAND
YEAR OF BIRTH: 1996
LANGUAGES SPOKEN: ENGLISH

Taylor was raised in Auckland, New Zealand and he has grown up by the beach, enjoying a range of sports and water sports activities.Although young, he has achieved success in gaining his maritime qualifications.
Excited at the prospect of learning all he can from the experienced crew on board M/Y BERZINC,Taylor is looking forward to experiencing new challenges head on. He is an experienced diver and will assist you in your activities with great pleasure.

Angelica Quiambao
SECOND STEW
NATIONALITY: FILIPINO
YEAR OF BIRTH: 1978
LANGUAGES SPOKEN: FILIPINO & ENGLISH

Angelica was born and raised in the Philippines and is a graduate in Hotel & Restaurant Management. Angelica started her career as a waitress gaining important experience in the field of hospitality. In 2016 she entered the maritime world onboard a cruise ship as a stewardess. As of this winter she has qualified as a masseuse. Angelica returns for her scond season at sea, this time onboard BERZINC for summer 2017.