Motor Yacht O'MEGA
At Barrington Hall we provide motor yacht charters around the world on various luxury yachts. The Motor Yacht listed below, O'MEGA, is one of the many motor yachts we offer for charter. Please contact us for up to date information on O'MEGA or any other yachts in your desired location.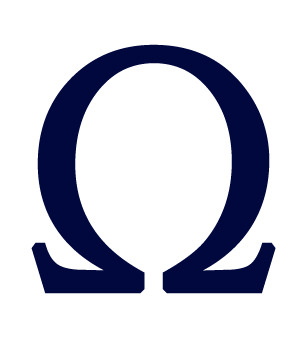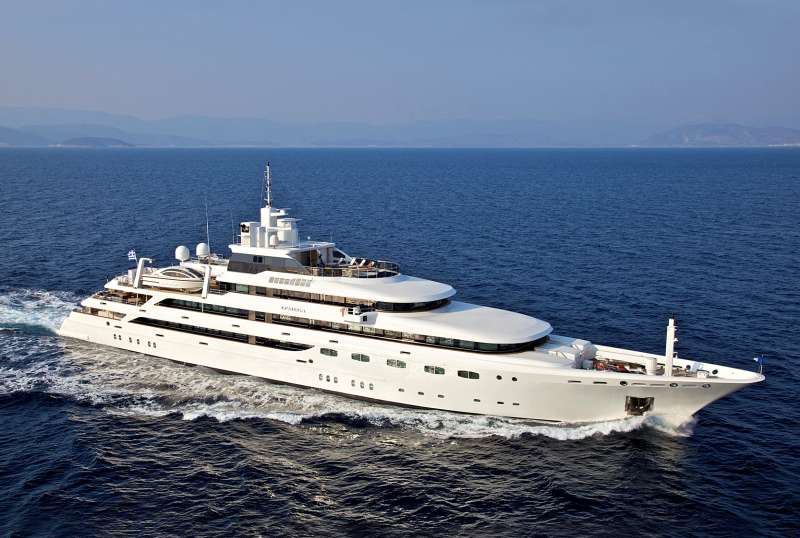 Low Price: €525,000 High Price: €525,000
Accommodations:
Master suite with a king size bed. Five VIP cabins with queen size beds. Five double-bedded cabins. Four twin-bedded cabins. All cabins are fitted with Plasma Monitors and Home Theatre systems.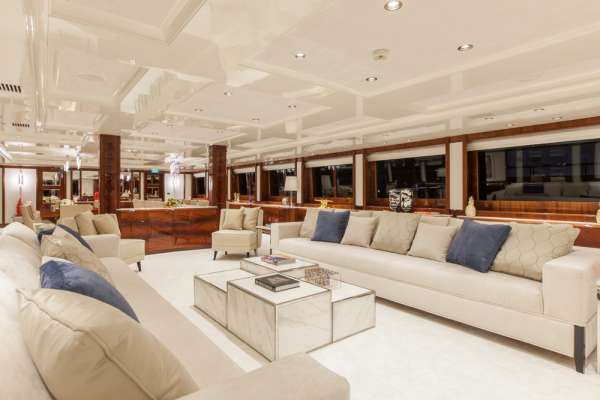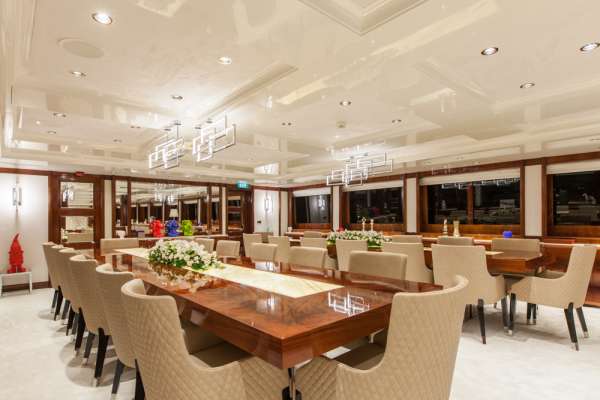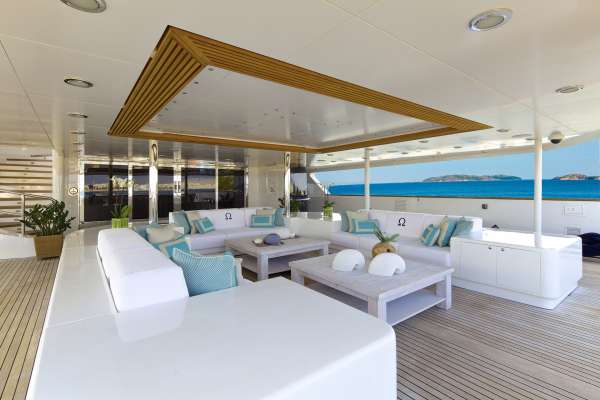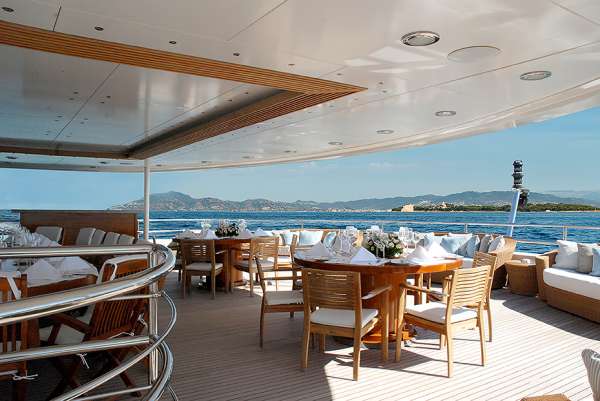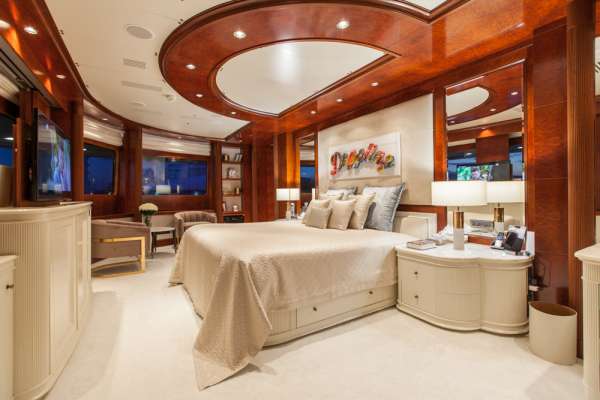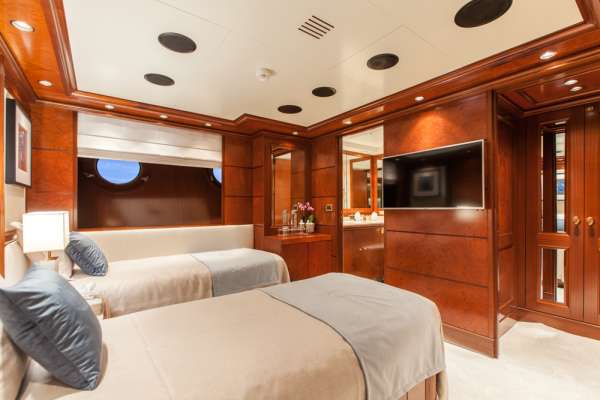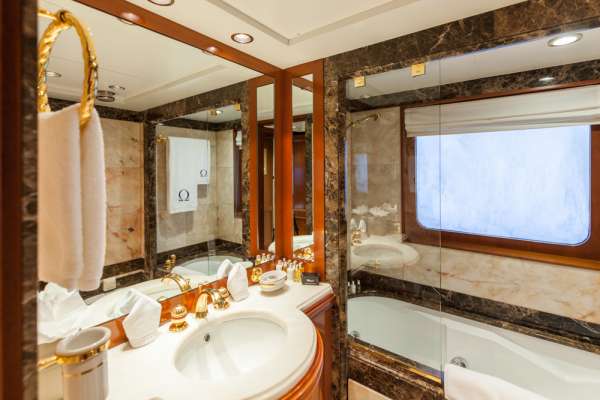 Amenities
Guest Smokes:
On deck only
Water Sports
Boarding Ladder:
Stern and Side
Other Toys: 2 x 9.2m Fassmer enclosed limousine tenders with air conditioning, audio equipment and leather upholstery
1 x 6 m Custom RIB
1 x Sea Doo GTX 260 Limited 3 Guests
1 x Sea Doo RXP-X 260 2 Guests
1 x Kaswasaki ZXI 900 2 Guests
2 x Seabobs Cayago F7
Floating Trampoline
2 x Nuclear Globes
Retractable swimming platform
Cinema Room with 65" screen seating 8 guests in La-Z-Boy armchairs
Beauty Salon/Massage room with resident masseuse

Other Toys: All salons are fitted with Plasma Monitors and Home Theatre systems.
Book / DVD / PS2 Games Library
Cinema with 62" screen
Communications: SATCOM (Voice-Fax-Data)
GSM (Voice-Fax-Data)
SSB Transceiever
VHF Radio, Internal Telephones, Autopilot, GMDFSS, Colour Radar, Colour Echo Sounder, Gyro Compass/Plotter/GPS, Nasvtex Weather Fax.
Personal Computer - Internet/E-mail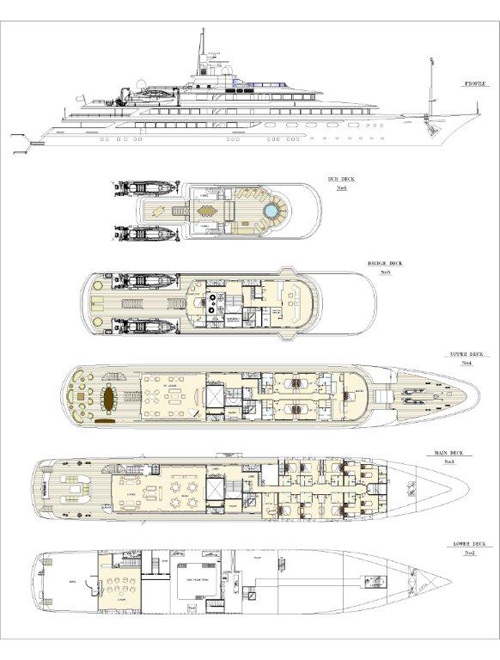 Dimitris Argirakis, Master, Greek, Born: 24 November 1961
Languages: Greek, English
We are delighted to have Captain Dimitris as the master of our team. He started his career in 1979 as a youngster on board the cruise ship Pegasus of Royal Olympic Cruises. He remained with the company for 22 years having attained the position of Captain Class A in 1995. His experience on the high seas is extensive having travelled worldwide. In 2003 he joined the OMega and although we lost him for a few years to Royal Olympic, we are thrilled to have him back with us. His devotion to his work ensures the safety and happiness of our guests.
His hobbies are diving and skiing.

Evaggelos Pefanis, Sailor, Greek, Born: 4 July 1969
Highly experienced professional involved in various water-sea activities. Master diver and diving instructor and water sports instructor. Evaggelos is a responsible, positive, direct person, ready to deliver any task assigned to him. He is a hard working team member whose love and knowledge of water sports is renowned.
Hobbies include sailing, windsurfing, music, riding, water skiing, cross country 4x4

Makis Mandolas, Chief Engineer, Greek, Born: 24 August 1958
Languages: Greek, English
Makis finished the Merchant Marine Accademy of Greece in 1980 and has ever since been on passenger vessels. He has been with us since the beginning of the major refit in 2009 and needless to say knows the yacht back to front.
I asked him what his hobbies are and his responses was anything mechnical!!!

Yiannis Giannelis, Hotel Manager, Greek, Born: 13 January 1966
Languages: Greek, English
Yiannis is considered amongst the best Hotel Managers in the world. He is now entering his fourth season with OMega. He brings with him tremendous experience having served as Hotel Manger for 3 years with the Privatsea Group aboard the 120m Turama and Alexander followed by 6 years on board the 72m RM Elegant. Those who have worked with him know that he is a perfectionist and always ensures the success of his charters. His motto is to make everything possible for the client.

Simone Simoncini, Executive Chef, Italian, Born: 2 November 1962
Languages: Italian, English
Simone has been with OMega for four years now and in this time he has faced many challenges that he has overcome with great aplomb and professionalism. His experience comes from working in the industry for many years. He started and remained at the Grand Hotel la Pacce in Monte Catine for eight years prior to opening his own restaurant in Florence which he ran for 10 years. He specializes in Italian cuisine but is happy to cater to any of our clients culinary desires.
His hobbies include football and fishing.

Theodoros Kassavetis, Sous Chef, Greek, Born: 5 February 1978
Languages: Greek, English, French
Theodore joined OMega last year. He has huge experience having worked in Michelin starred restaurants for several years and came directly to us from the Four Seasons Hotel de Bergues in Geneva, Switzerland. His range of cuisine is wide. He loves creative cuisine and excels in Spanish, French and Greek cuisine watch your waistlines!
His hobbies include reading and football.